Last updated on September 11th, 2019 at 09:13 pm
Throw a little fun into your breakfast mix with my pull-apart breakfast muffins.  Bacon, egg, cheese, and fluffy biscuits baked warm in the oven and ready for sharing!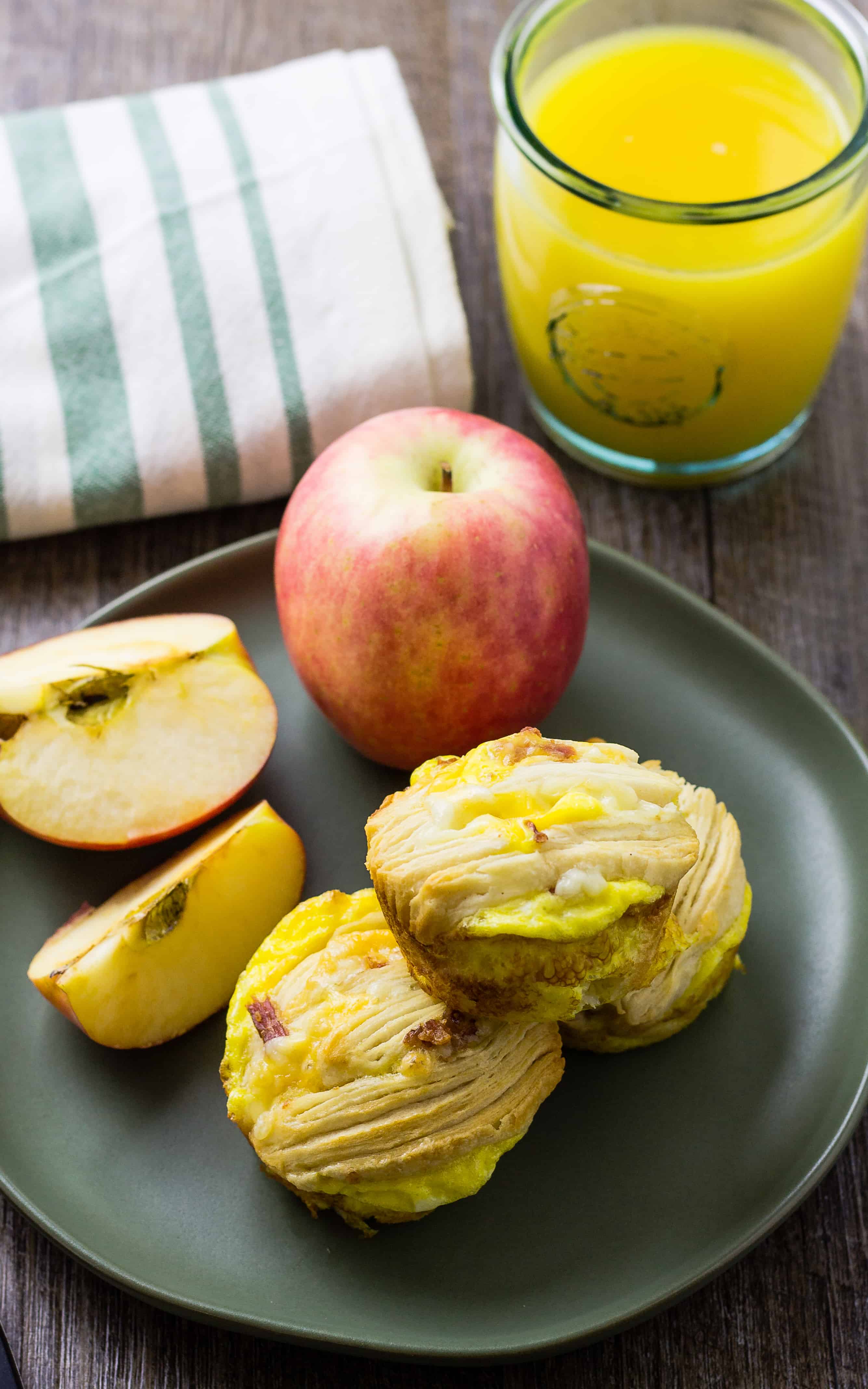 What are pull-apart breakfast muffins?
I know you have seen pull-apart bread on Pinterest but if you haven't check out these sweet and savory versions.  This Apple Pecan Streusel sweet version from Julie from Hostess at Heart and this savory Cheesy Pesto Pull-Apart Bread from Spill the Spices.
Basically, pull-apart bread is layers of bread stuffed with spices, cheese, meats, sauces, etc. and then baked in a loaf pan.  The bread dough layers cook and puff up to mimic a loaf of bread that is "pre-sliced" with the layers you put together.  You pull-apart or peel off your slice and enjoy all the goodness.
This sounds fun to me for sure, but here at Take Two Tapas we are all about small portions so let's shrink it down a bit!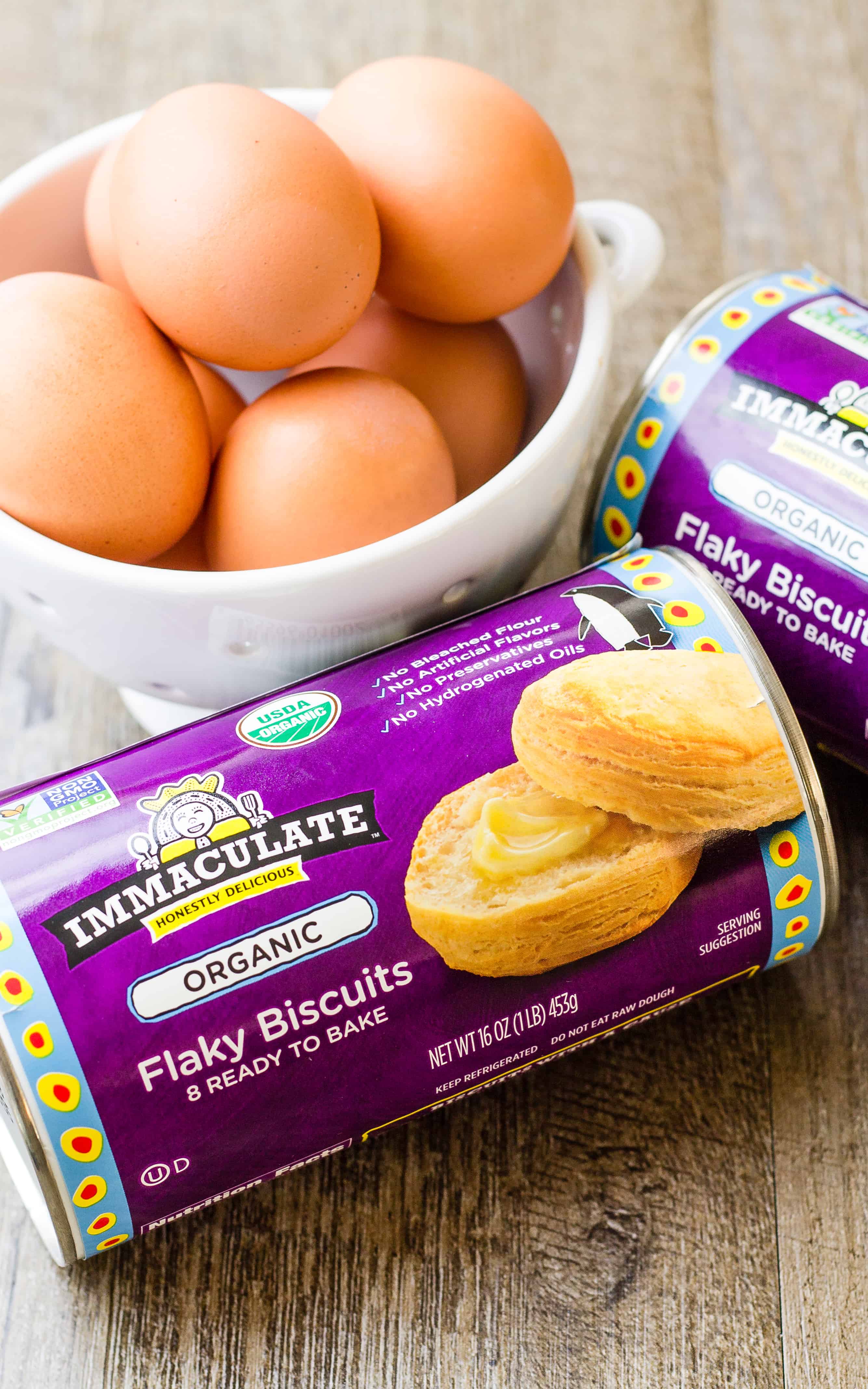 Before I show you how to make the pull-apart breakfast muffins I need to tell you about the biscuits that I use for them.  Since they are breakfast muffins and for morning time I prefer to use a "breakfast bread" like biscuits. I like to use Immaculate Baking Company's flaky biscuits because the layers peel apart easily.
Immaculate Baking Company is set on making wholesome products that are perfect for baking all sorts of sweet and savory recipes.  Many of their products are organic and gluten-free which is perfect for those struggling to find delicious gluten-free items to cook with. If you have questions about their products check out there FAQ page here.
You need to run out and get their biscuits and their cookie dough for sure.  Click here for $1 off any Immaculate Baking product!  Now let's get on with the recipe for these pull-apart breakfast muffins!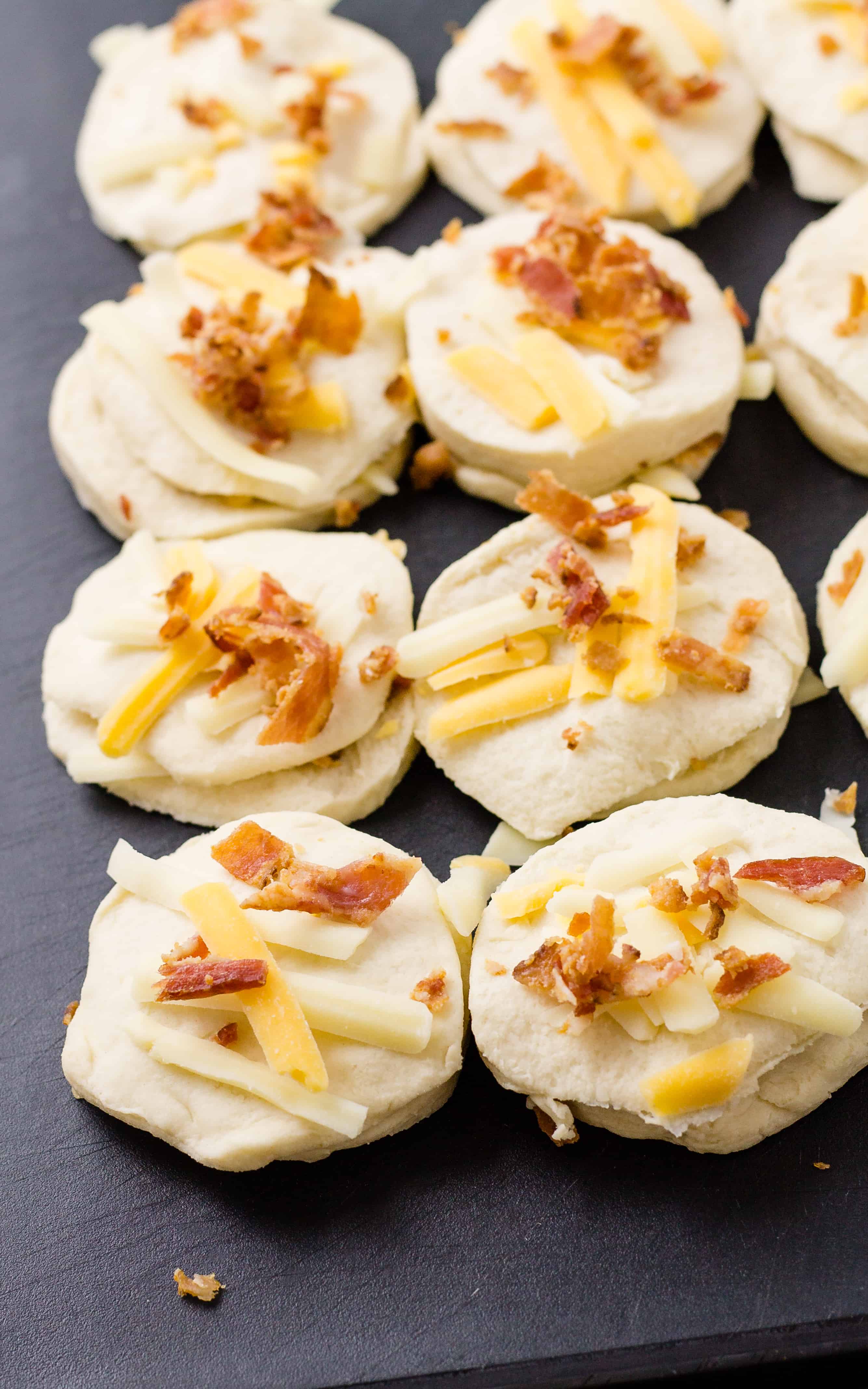 There is a little prep involved but it is fun, I promise.  First off, cook the bacon that you use in the pull-apart breakfast muffins.  I don't like to use bacon bits or precooked bacon because I love to smell bacon cooking in my house and my boys love to eat bacon.  So, cook your bacon and chop or crumble it up.  You will need a cup of crumbled cooked bacon.
Now gather your two muffin pans, muffin ingredients, some non-stick spray, and your biscuits.
Find a clean space on a cutting board or baking sheet.  Peel each biscuit into 4 layers.  Immaculate Baking Co. flaky biscuits peel apart easily which is why they bake up extra flaky!  You can peel the biscuits in stages so you don't have 96 layers all over your countertop.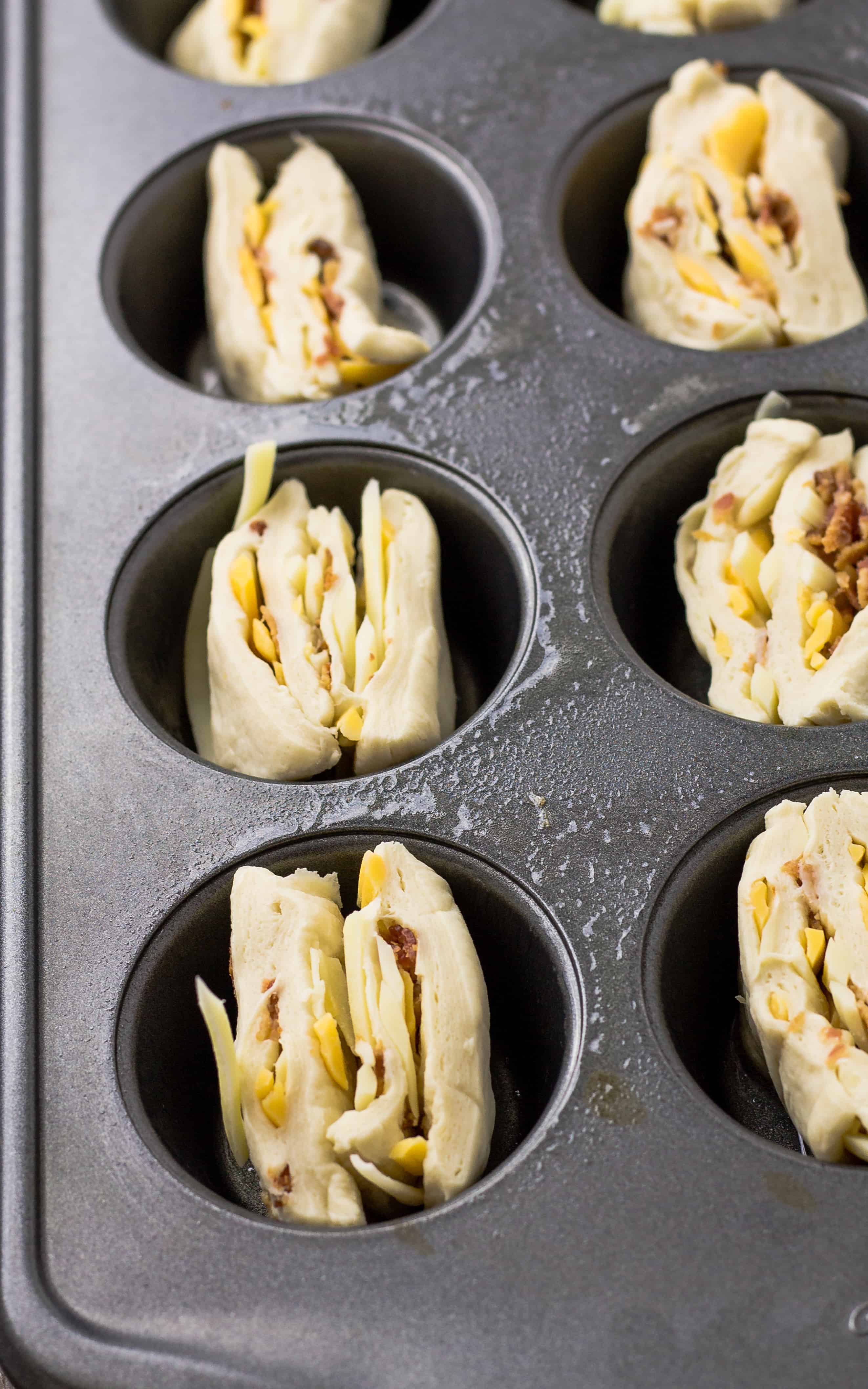 Start by placing 12 biscuit layers down.  I like to make a square to keep the mess to a minimum but go with what makes you happy.  Sprinkle each layer with a little bacon and cheese.  Don't overdo it too early as you will be doing two more layers of cheese and bacon but again, go with what makes you happy.
Continue until you have three layers of biscuit, bacon, and cheese.  Top with one last layer of biscuit and press down to slightly smush them to get the layers to stick together.  Cut each stack in half.
Place a half of each stack in a prepared muffin pan well, cut side up, until you have filled all 24 wells.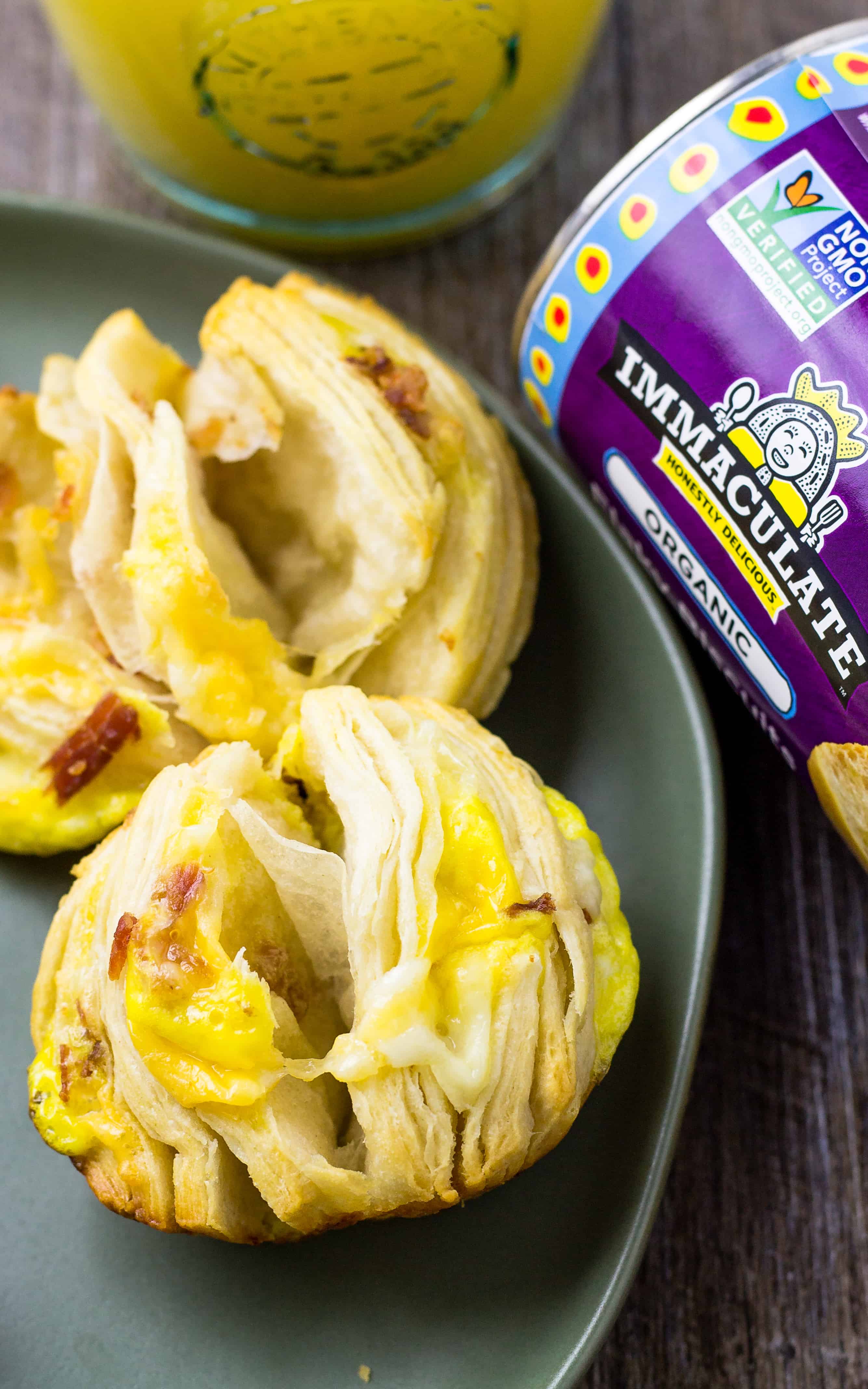 In a separate bowl, combine your eggs and milk.  Whisk or stir quickly to break up the eggs and mix them into the milk completely. Pour the egg and milk mixture over each of the pull-apart breakfast muffin halves dividing it evenly in the 24 muffins.  When I pour mine it fills up about 1/2 to 2/3 of the muffin pan with the biscuit layers in them.
Bake in the oven at 375F for 10 minutes.  At the 10 minute mark, switch the pans in the oven while rotating the pans as well.  This ensures that the bottoms don't burn and the eggs cook evenly.
Bake for another 6-8 minutes or until the eggs are done to your liking.  Remove the pans when the pull-apart breakfast muffins are done and slightly golden brown on top.  Let cool for a minute or two and then remove to a serving pan.  Serve warm and enjoy!
These Pull-Apart Breakfast Muffins will pair nicely with my Breakfast Cheese Ball with blackberries and granola!
Print
Pull-Apart Breakfast Muffins
---
Author:

Prep Time:

10 minutes

Cook Time:

20 minutes

Total Time:

30 minutes

Yield:

12

people

1

x
Scale
Ingredients
2

cans flaky biscuits (8) (I love Immaculate Baking's biscuits)

1 cup

cheddar cheese (shredded)

1 cup

bacon (cooked and crumbled)

6

eggs (large)

1 cup

milk (I use skim but whole will work)
---
Instructions
Preheat oven to 375F.
Spray two 12-well muffin pans with non-stick spray.
Peel apart each biscuit into 6 layers. Don't worry if they are not even.
On a cutting board or sheet pan place 12 layers out.
Sprinkle a little cheese and bacon on each layer.
Top with another layer of biscuit.
Sprinkle with more cheese and bacon.
Top with another layer of biscuit.
Sprinkle with the remaining cheese and bacon.
Top with the last layer of biscuit.
Cut each biscuit stack in half.
Place each half in a well of the muffin pans cut side up.
In a separate bowl mix the eggs and milk.
Pour the egg and milk mixture over the cut biscuits in the muffin wells dividing evenly in the 24 muffin wells.
Bake at 375F for 10 minutes.
Rotate the pans and cook for another 6-8 minutes or until egg is done to your liking.
Remove the pans from the oven and let cool for 2 minutes.
Remove from the pans and serve warm.
Enjoy!
---
Notes
*If you like this recipe, rate it with some stars!!!