If you love Orange Cashew Chicken at your local Chinese restaurant, you can make it at home, but as an orange cashew chicken wings! Sticky orange glaze covering crispy baked chicken wings and rolled in roasted cashews for even more crunch! Doesn't that sound delicious?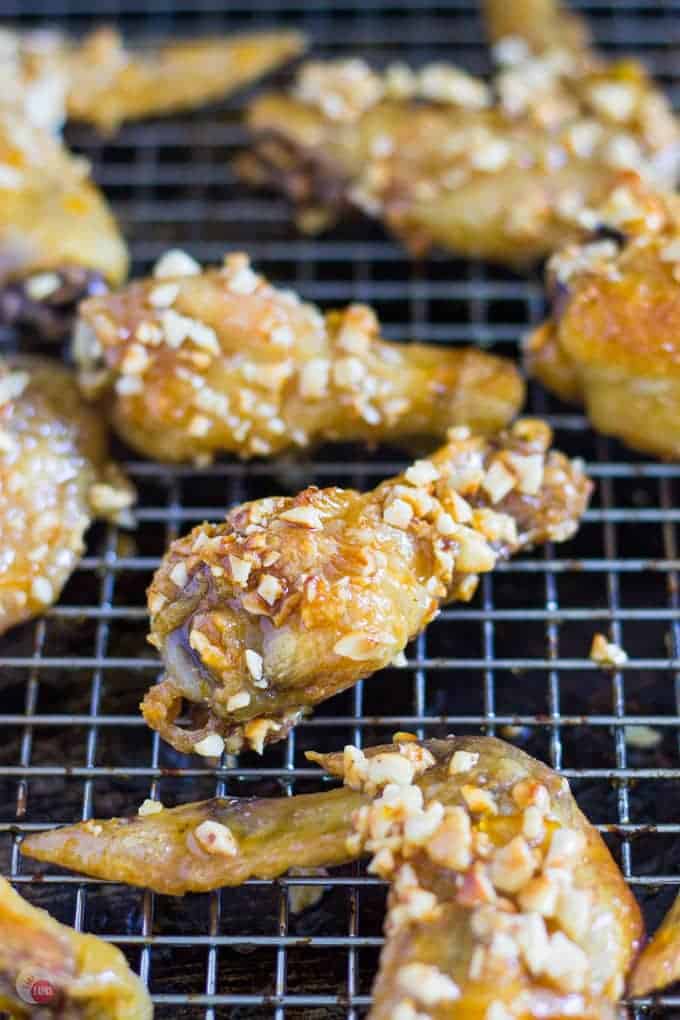 Have you ever have Orange Cashew Chicken in a Chinese Restaurant? I mean actually sit down at the restaurant and not get take-out?
When I was young my parents owned, operated, and did all the cooking in an Italian Restaurant. Even people that have restaurants like to go out to eat and have someone else cook once in a while. And do the dishes.
My favorite place that we went to when we wanted to eat out was the local Chinese restaurant. I loved it for the very reason that their menu and the way you ordered dinner was unique.
Growing up on pasta, Chinese food seemed very exotic and when you ordered your meal, you ordered from columns of choices. A meal consisted of "one from Column A, one from Column B, and one from Column C." How great to get so many choices as a kid!

If you'd rather skip my essential cooking tips and tricks and get straight to this delicious recipe – simply scroll to the bottom of the page where you can find the printable recipe card.
Column A had appetizer type foods; soup, salad, crispy wontons, etc. Column B was your main entree; Orange Cashew Chicken, Pepper Steak, Moo Goo Gai Pan, etc.
And Column C was your side dish along with rice. Pepper steak was what I ordered the most because I was a sucker for peppers, and still am, but I loved the Orange Cashew chicken too. Sticky, sweet, and who doesn't love fried chicken tender pieces?!?
Those crunchy cashews were such a treat to pick up with my chopsticks and have the sweet, candy-like, syrup dripping off them. The sauce always created a pool at the bottom and I loved to swirl my rice around in it.
Another cool factor was the silver serving dishes that were so dramatic when the waiter took the top off at the table and all the steam rose up from the food.
This post may contain affiliate links. As an Amazon Associate, I earn from qualifying purchases. Read my disclosure policy here.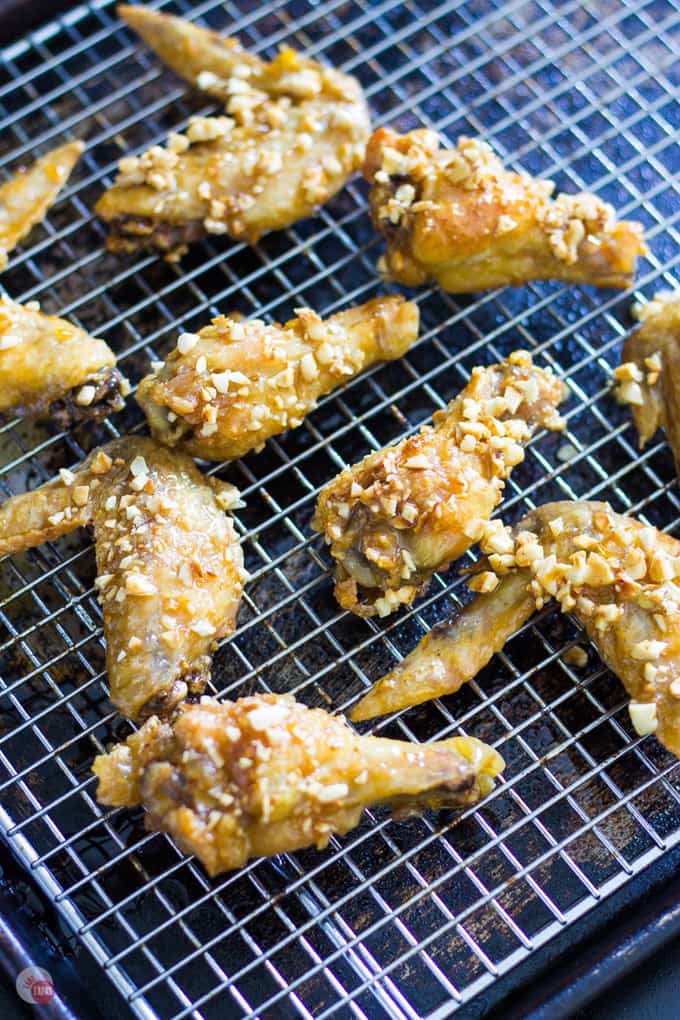 Topping off the meal with fortune cookies was great too. Hearing the family taking turns reading out our ridiculous fortunes was the best way to end the meal. I love those memories!
My kids don't understand going to a Chinese restaurant and getting the soup, the crunchy cracker strips, and all that goes with it because all the Chinese restaurants in our town are buffets or take-out stations. Boo!!!
We have one that still serves in a dining room, but long gone are the days of Column A, B, and C and the dramatic presentations. Plus it is so busy that you can't get in to sit down so we end up getting take-out.
For more insider tips & tricks, and a candid behind the scenes look follow me on social media! Check use out on Pinterest, Facebook, Instagram, & Twitter (yes, people still use Twitter, LOL!)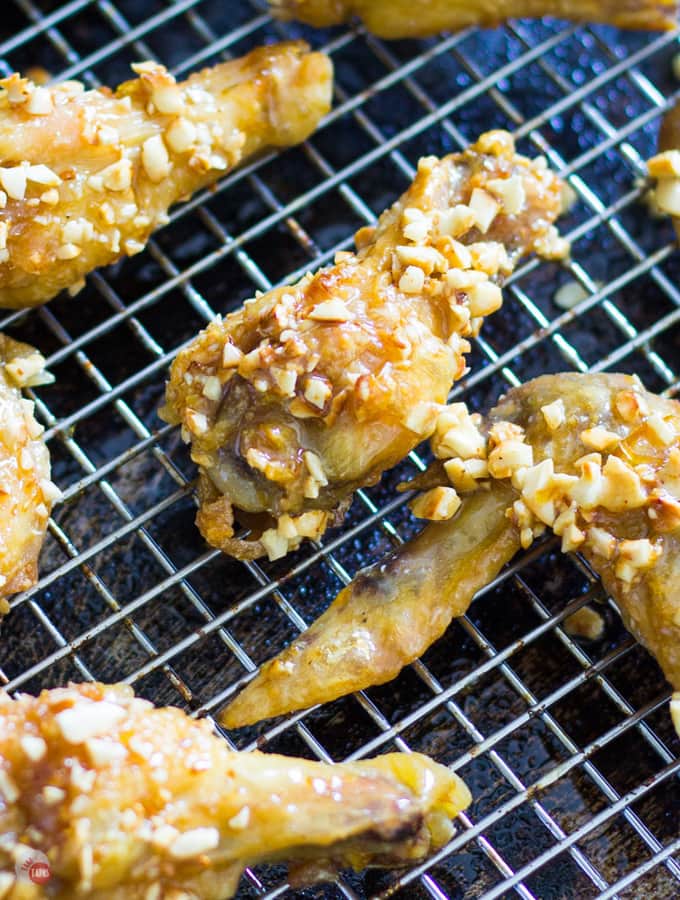 Remembering those fun times is what gave me the idea of having my favorite Chinese food meal turned into Orange Cashew chicken wings I know my boys will love.
Nostalgia, and these Orange Cashew Chicken Wings is a great way to finish up my month-long Chicken Wing series! If you haven't checked out my Sriracha Pineapple Wings, my Southwest Spiced Wings, or my Garlic Honey Lime Wings, you need to do that STAT!
The orange glaze can be made a few days ahead of time, along with the toasted cashews, and when you are ready to serve just toss your wings in it. You can even use boneless wings if you don't want to worry about bones and such!
These easy to make, sticky, sweet, orange cashew chicken wings are great for parties. Rolled in chopped and toasted cashews brings, even more, texture and crunch to your mouth!
MORE FINGER FOODS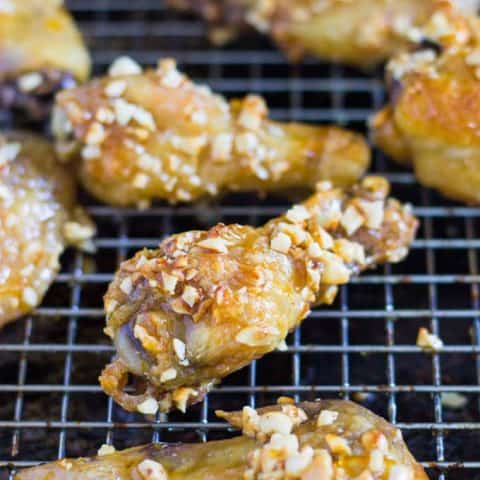 Orange Cashew Chicken Wings Instead of Take-Out
Cook Time:
1 hour
10 minutes
Total Time:
1 hour
40 minutes
If you love Orange Cashew Chicken at your local Chinese restaurant, you can make it at home but as a chicken wing! Sticky orange glaze covering crispy baked chicken wings and rolled in roasted cashews for even more crunch!
Ingredients
Chicken Wings
1 pound chicken wings (trimmed, separated into drums and flats)
2 tablespoons baking powder
Orange Cashew Glaze
1/2 cup orange marmalade
3 tablespoons orange juice (fresh is best)
2 tablespoons soy sauce or liquid aminos
3 tablespoons Apple Cider Vinegar
2 tablespoons Orange zest
1/2 cup Cashews (toasted, chopped small)
Instructions
Prep your chicken wings
Dry out your wings either with paper towels or by leaving on a baking sheet, uncovered, overnight in the refrigerator.
Toss your wings in a zip-top bag with the baking powder and mix or shake until coated.
Place your wings on a cooling rack over a baking sheet that you sprayed with non-stick spray.
Cook the chicken wings
Bake in the lower third of your oven for 30 minutes.
Raise the temperature to 425F.
Raise the oven rack with the wings to the upper third of your oven and bake for another 40-50 minutes or until they are as crispy as you would like.
Remove from the oven when done.
Make the orange cashew glaze
In a medium saucepan, combine the orange marmalade, soy, vinegar, juice, and zest.
Stir to combine and bring to a boil.
Boil for 2 minutes and remove from the heat.
Cool slightly.
Store in a container or toss your wings in the glaze right away.
Once the wings are coated, roll in chopped toasted cashews.
Serve!
Notes
*If you like this recipe, please leave me a comment and rate it with some stars. Thank you!
Nutrition Information:
Yield:

4
Serving Size:

1
Amount Per Serving:
Calories:

586
Total Fat:

36g
Saturated Fat:

11g
Trans Fat:

0g
Unsaturated Fat:

21g
Cholesterol:

93mg
Sodium:

1828mg
Carbohydrates:

48g
Fiber:

2g
Sugar:

26g
Protein:

23g
This nutrition information was generated via a third party, Nutritionix, and can not be held liable for any discrepancies in the information provided.
Orange Cashew Chicken Wing Recipe Notes:
I have used this baked wing technique before because it is the BOMB! Hop on over to Nagi's blog Recipe Tin Eats to see how the magic works. Plus you don't have to worry about all that hot oil.
I like to use coconut or liquid aminos because the sodium/salt level is not as high as with traditional soy and it doesn't use soybeans. It's also non-GMO and gluten-free if that's important to you. If you have never seen these aminos before, venture into the "natural" or "health food" section of your store and see if they have it.
I have made the glaze a few days in advance and stored in the refrigerator until I was ready to coat my wings. I did this when we went on vacation so I could serve them a few days into it. Feel free to do this too and streamline your cooking time.
You don't have to toast your cashews for the orange cashew chicken wings if you don't want to but they are so much better if you do. Read my Perfectly Toasted Pecans post to see how I did it. I left out the butter when I did the cashews since the wings were going to be rich already, not that we can't all use a little more butter in our lives:) Make a big batch of toasted cashews and store them in your freezer until ready to use. This will save you time in the future and you will have a great snack on hand.
©TakeTwoTapas.com. Content and photographs are copyright protected. Sharing of this recipe is both encouraged and appreciated. Copying and/or pasting full recipes to any social media is strictly prohibited.