These ginger lime Moscow Mule doughnut holes are glazed with lime and mint to remind you of the Moscow Mule cocktail that you love to drink!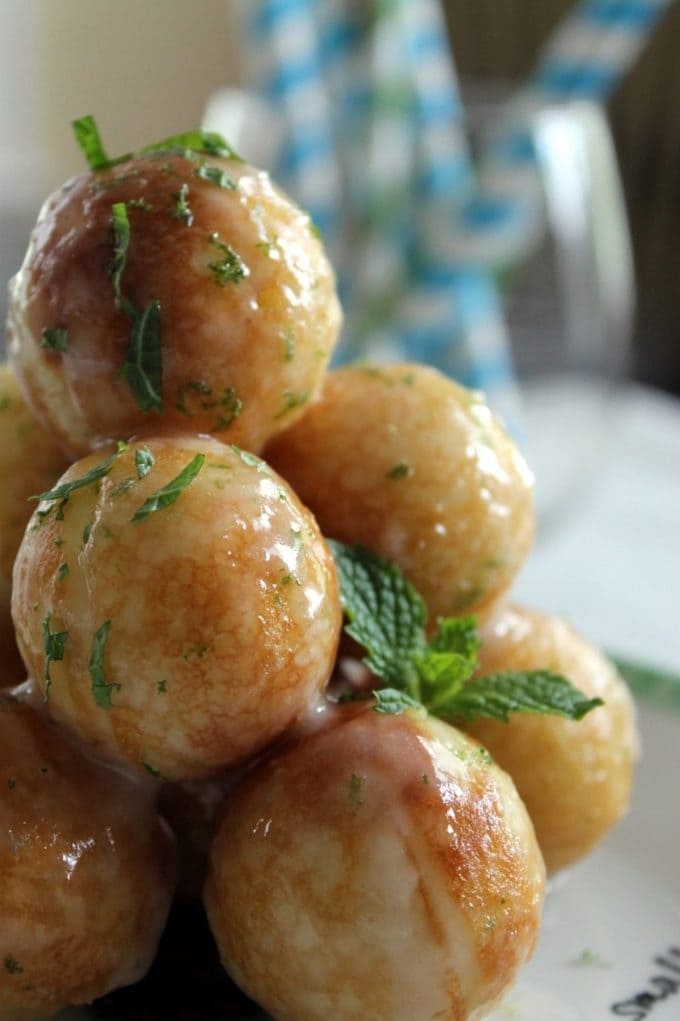 Two years ago my friend Nina gave me a doughnut hole maker for my birthday and much like all my other kitchen gadgets, I'm sorry to say, I used it a few times and then it got stuck in my appliance garage.
By garage, I mean the closet in the hall by the kid's playroom, because the total square footage of kitchen counter space I have is equal to a piece of notebook paper. Being that I like to cook, I have more than one garage in my house: the appliance garage, the platter garage, the snack garage, baking garage. Funny that I do not have an actual garage for my car.
Priorities…
Anyway, I love the doughnut hole maker and felt guilty that I don't use it more often so I have been trying to come up with recipes to make in it. The speed in which it cooks is faster than Road Runner so it would be perfect for breakfast!
What could be better for breakfast than doughnuts? I've made a few batches and now, because of this marvelous invention, my kids think my doughnuts are WAY better than the "Dunkin" kind.
Please don't ask them about the "Krispy" kind because I don't want my kids to have to lie to keep from wounding my fragile ego. Nothing compares with "Krispy" in their eyes. Who can blame them?
Paper hats and watching the doughnut conveyor belt is hard to beat. Plus that ginormous "hot and ready" sign won't fit in my tiny kitchen. I can barely turn around in it without getting a bruise from bumping into something.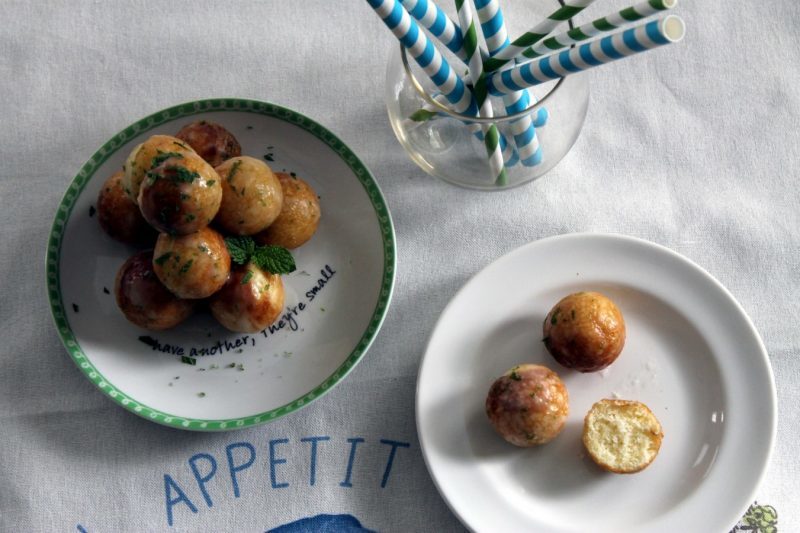 Sorry, must be the sugar buzz getting me off track again.
During one of my guilty pleasure shows, The Real Housewives of ANY CITY, one of the husbands was drinking a Moscow Mule. I recently had my first one at a supper club and LOVED IT! Not sure that I would because I am not a huge fan of ginger, but since my Paleo Challenge, my taste buds have changed and I actually enjoy the taste. Not huge spoonfuls but any small amount is an improvement. My trainer will get on me for using doughnut and Paleo in the same sentence!
With my new found "like" of ginger, I thought about putting the flavors of a Moscow Mule into a Moscow Mule doughnut hole. Much like a rum ball, only BETTER!
This post may contain affiliate links. As an Amazon Associate, I earn from qualifying purchases. Read my disclosure policy here.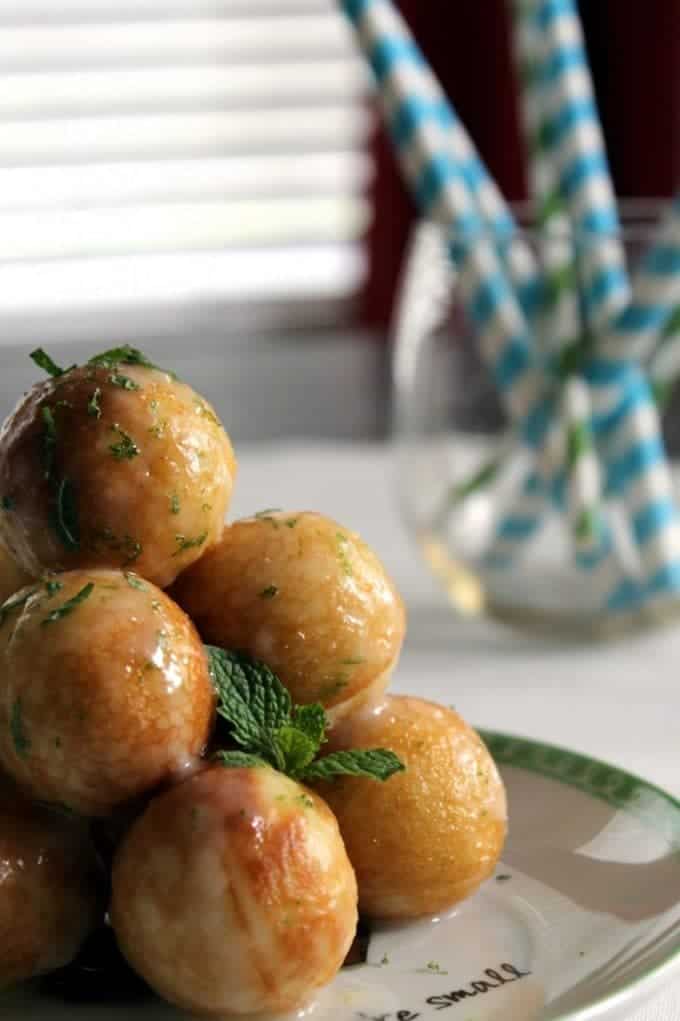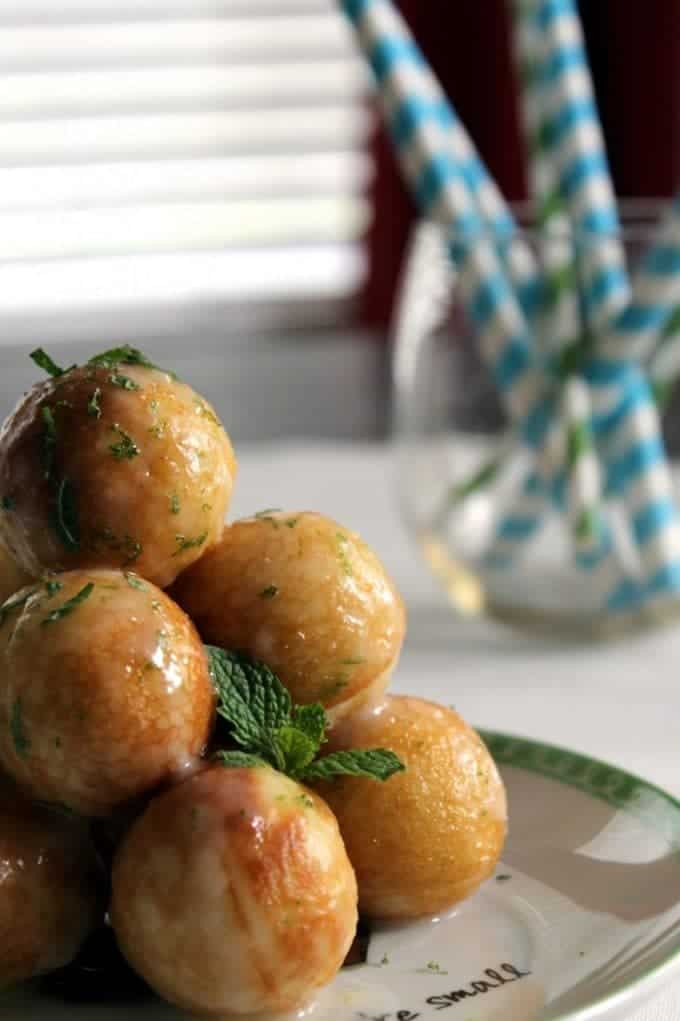 For more insider tips & tricks, and a candid behind the scenes look follow me on social media! Check use out on Pinterest, Facebook, Instagram, & Twitter (yes, people still use Twitter, LOL!)
These Moscow Mule Doughnut Holes are amazing! The fluffy texture of the doughnut holes rolled in the bright glaze full of ginger, lime, and mint. Perfect for eating right along with a Moscow Mule cocktail!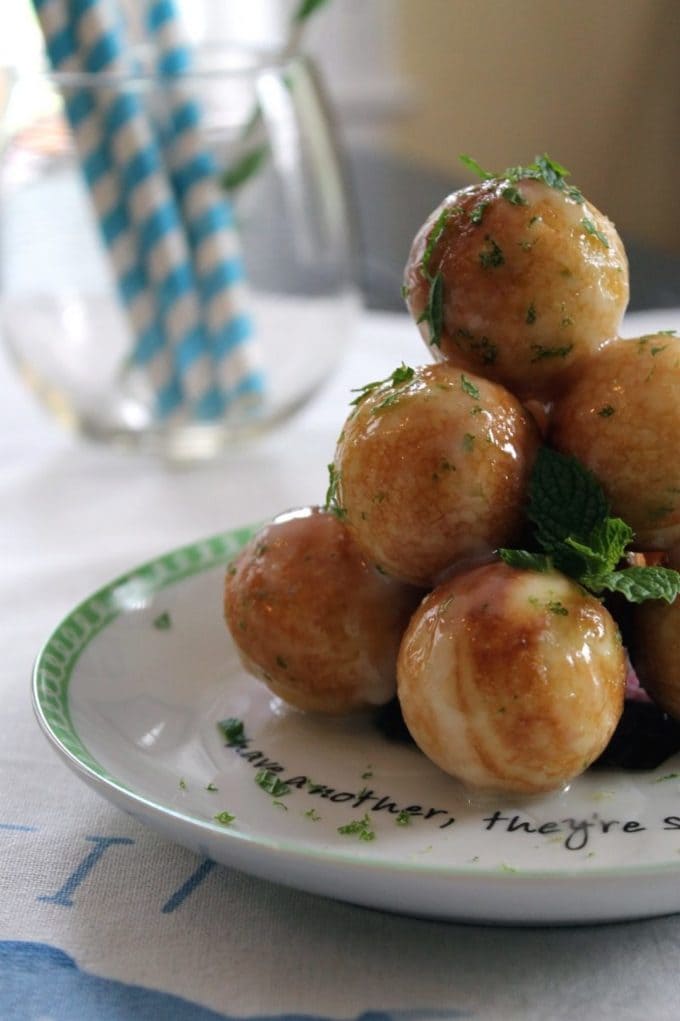 Here is my recipe for Moscow Mule Doughnut Holes!
Sorry, I didn't have the cool copper mug to take the picture with but when I actually get one, I'll retake the picture. Maybe I will even start a glassware garage if I haven't run out of closets by then.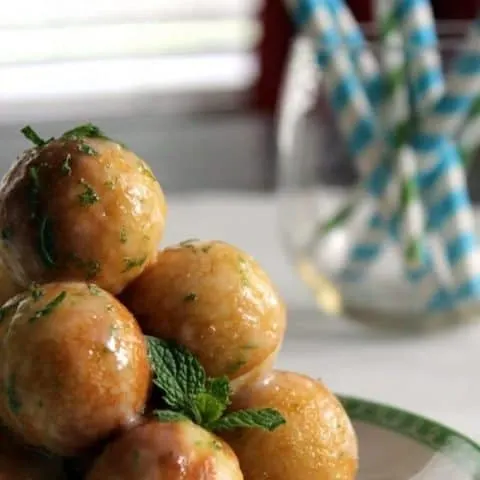 Moscow Mule Doughnut Holes
These Moscow Mule Doughnuts are little bites of heaven with the flavors of ginger, lime and mint will remind you of drinking a Moscow Mule!
Ingredients
Doughnuts
1 1/4 cups cake flour (sifted)
1/2 cup sugar
1 1/2 teaspoons baking powder
1 teaspoon fresh ginger (grated or 1/4 teaspoon ground ginger)
1 teaspoon salt
1 teaspoon lime zest
1/2 milk
1 egg (lightly beaten)
1 1/2 tablespoons melted butter
Glaze
1 1/2 cups confectioners sugar
1/4 cup milk
1 tablespoon vodka (this can be left out)
1 teaspoon lime zest
1 teaspoon mint (chopped fine)
Instructions
Make your doughnut holes
Preheat your doughnut hole/cake pop maker. If you do not have one, feel free to use a mini muffin pan and your oven at 425F.
Spray with non-stick spray or grease how you normally do.
Mix all the dry ingredients.
Combine all the wet ingredients.
Slowly combine the wet ingredients into the dry ones and stir just to combine.
Do not over mix or the doughnuts will be tough.
Add the recommended amount to doughnut hole maker or if you are using the mini muffin pan, fill 3/4 full.
Bake according to instructions (5 minutes in doughnut hole maker) or 10 minutes in the oven.
Remove and cool.
Mix the glaze
Combine the milk, powdered sugar, vodka, mint, and lime zest.
Whisk to remove all the clumps.
Glaze the doughnut holes
Roll in glaze and let sit on a cooling rack to catch excess glaze.
Sprinkle with lime zest and mint for garnish.
Notes
*If you like this recipe, leave me a comment and rate it with some stars. Thank you!
Nutrition Information:
Yield:

24
Serving Size:

1
Amount Per Serving:
Calories:

84
Total Fat:

1g
Saturated Fat:

1g
Trans Fat:

0g
Unsaturated Fat:

0g
Cholesterol:

10mg
Sodium:

132mg
Carbohydrates:

17g
Fiber:

0g
Sugar:

11g
Protein:

1g
This nutrition information was generated via a third party, Nutritionix, and can not be held liable for any discrepancies in the information provided.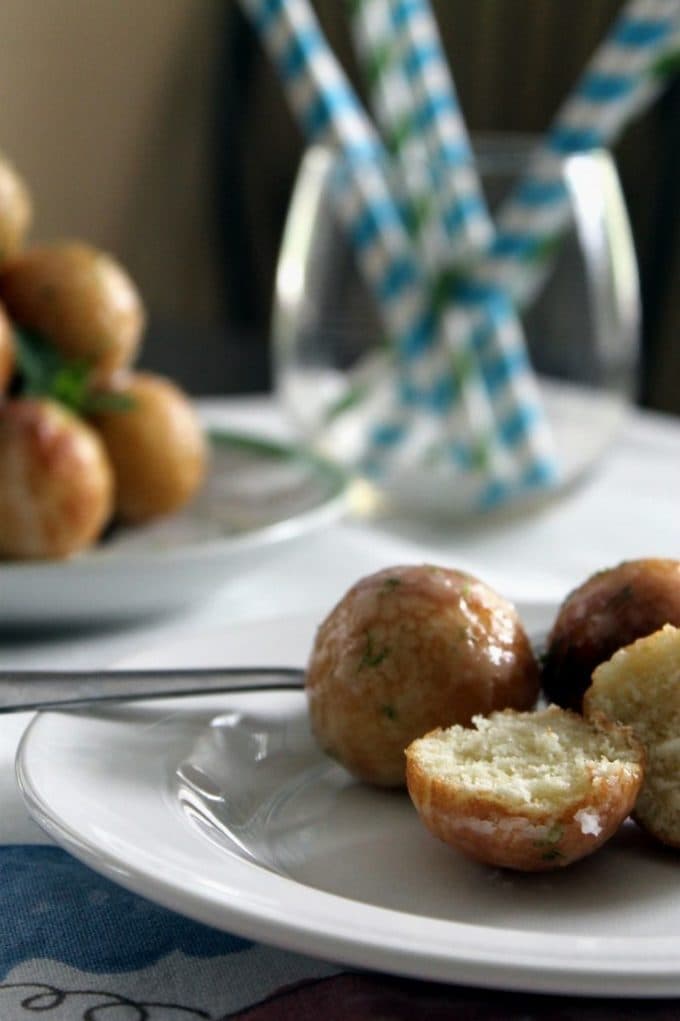 ©TakeTwoTapas.com. Content and photographs are copyright protected. Sharing of this recipe is both encouraged and appreciated. Copying and/or pasting full recipes to any social media is strictly prohibited.