I am so thankful for everyone who reads my blog and likes my recipes! I want to wish everyone a Merry Christmas and a Happy Holidays! May they be filled with family, friends, and of course, great food!
Here are my boys decorating our tree! When Brooks and I got married we started a tradition where we buy each other an ornament each year. These are the only ones that go on the tree, along with the ones that the boys get each year. The first few years the tree looked pretty bare. It is starting to fill out nicely after 15 years!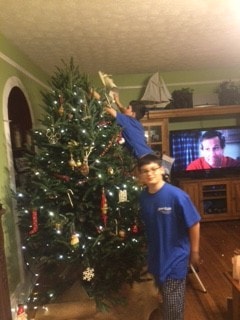 National Lampoon's Christmas playing in the background is a new tradition this year…
Tonight we are celebrating with a Low Country Boil followed by lunch tomorrow after the wrapping paper tornado is over! I made my Coconut Bundt Cake for my father-in-law for dessert tomorrow and a Dark Chocolate Caramel Pie that I found over at Kevin and Amanda! Thanks for the great recipe, I know it will be a hit with the family!
Merry Christmas!