This post has been sponsored by Duncan Hines. All thoughts, opinions, and recipes are my own.
Have you heard of Magic Cookie Bars? If so, how about a Magic Cookie Bars Individual Cake for one that you can enjoy all by yourself? Sounds good right?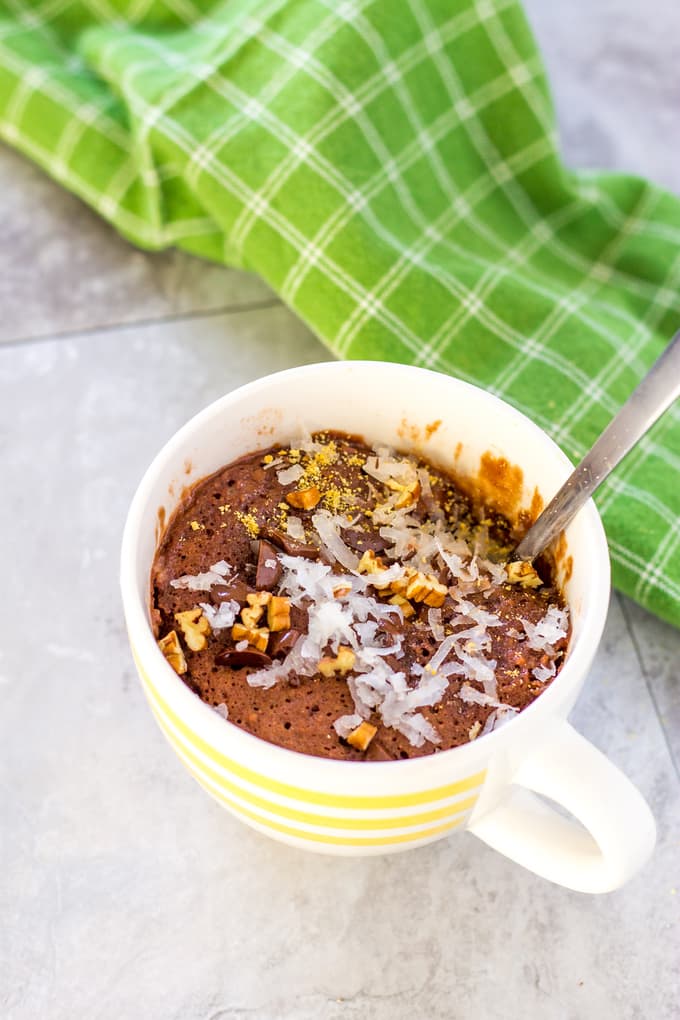 Have you ever heard of Magic Cookie Bars? I used to make them as a child but they were called "Holly Dollies" by my friend's family. Being away from friends and family makes me long to reminisce and taste these bars again. No one else in my house really eats them so I will make a Magic Cookie Bars Individual Cake that I can enjoy all by myself while scrolling through pictures on my phone.
Cooking is my happy place and baking is a real stress relief for me. Being a scientist by trade I love the rigidness of baking recipes. The chemistry needs to be exact for all the reactions to take place correctly. Leavening agents, fats, liquids, gluten, etc all need specific conditions to occur like they are supposed to and generate a delicious baked treat.
Duncan Hines has taken the guess work out of this process, making it quicker to get the delicious dessert in my mouth!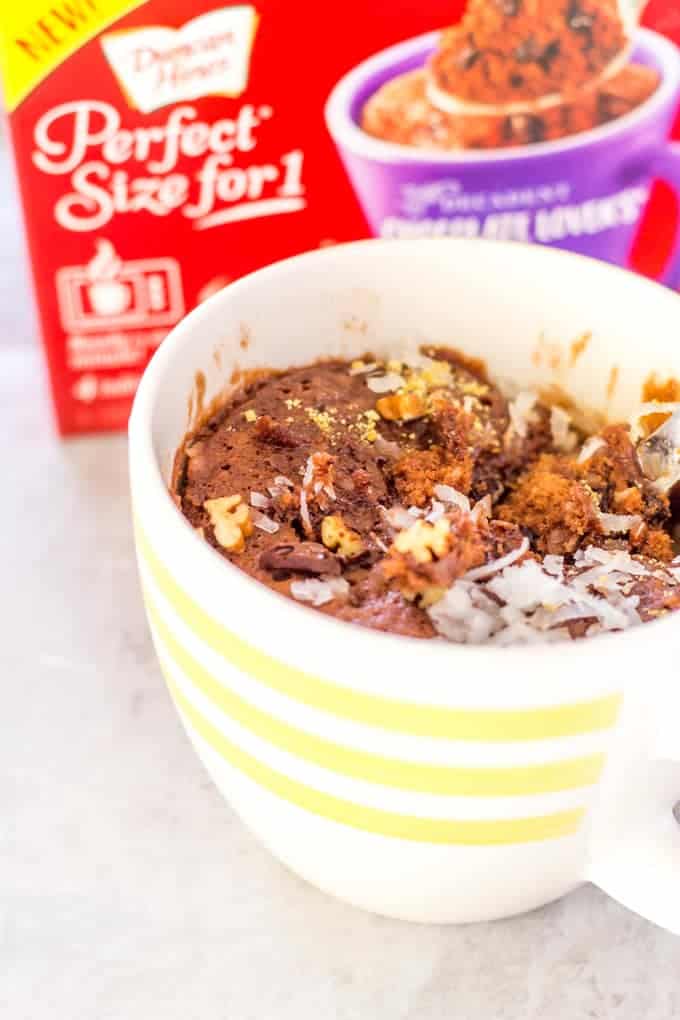 If you'd rather skip my essential cooking tips and tricks and get straight to this delicious recipe – simply scroll to the bottom of the page where you can find the printable recipe card.
Duncan Hines® Perfect Size for 1® Chocolate Lover's Cake is available in pouches that are perfect for enjoying all by myself! I can sneak away, and in just about a minute, have a dessert that is just for me.
I came upon this individual miracle while shopping at Fry's and strolling through the baking aisle to get inspiration for my next treat. Being that I love coconut I try to incorporate it into most of my sweet treats. I recently came upon some coconut, almond, and chocolate bites that are amazing and made me once again think of my childhood sweets. If you haven't heard of Magic Cookies Bars let me break it down for you.
Imagine a layer of graham crackers mixed with melted butter. Next a layer of sweetened, shredded coconut and a healthy dose of chocolate chips. Sprinkle with some toasted pecans and drizzle the whole pan with sweetened condensed milk. Bake until the coconut turns a golden brown and all the layers are melted together!
Cool and slice into bars and gobble them down.
Doesn't that sound magical? Yet there are so many bars that I could really eat the whole pan in one sitting. What I crave is the taste and flavors without the lure of an entire pan and that's how this Magic Cookie Bars Individual Cake came about.
This post may contain affiliate links. As an Amazon Associate, I earn from qualifying purchases. Read my disclosure policy here.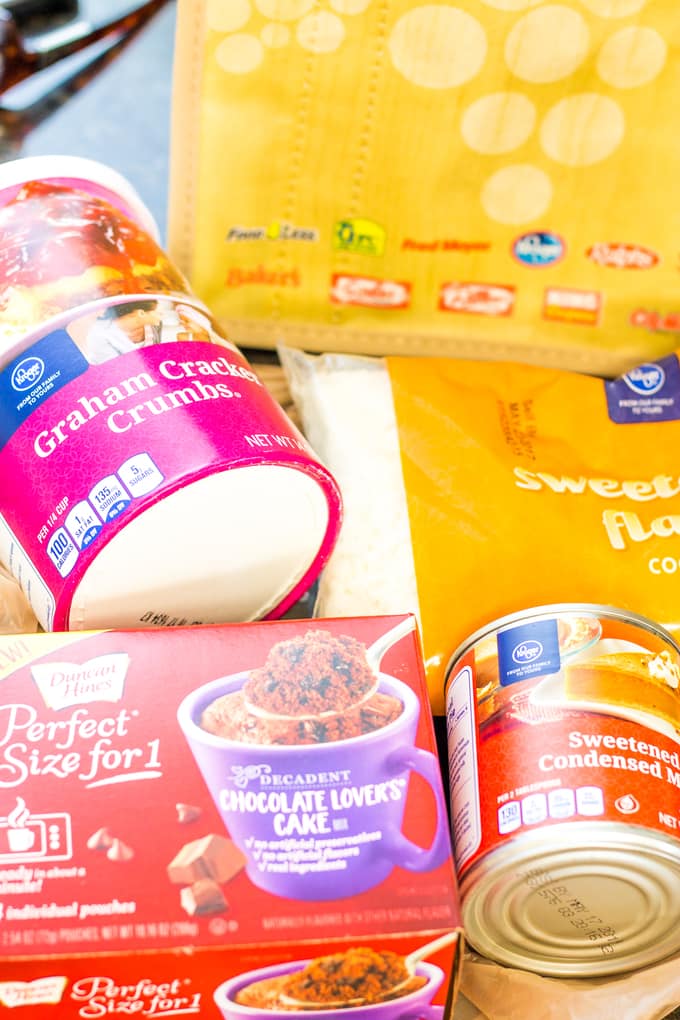 While grabbing my Duncan Hines Perfect Size for 1 mix I noticed that Fry's has all the other ingredients I need in the same aisle. The coconut, graham crackers (already in crumbs – thank you!), and the sweetened condensed milk. I always have dark chocolate chips at home along with my Toasted Pecans so no need to get those. The Duncan Hines Perfect for 1 packages are right next to their full-size cake mixes so they are easy to find.
Now to get home and make my perfect-sized treat for one! ME!! Believe me when I say that staying and working from home with two crazy boys all day (when is school starting back?) requires a little me time. Alone. And with this yummy cake.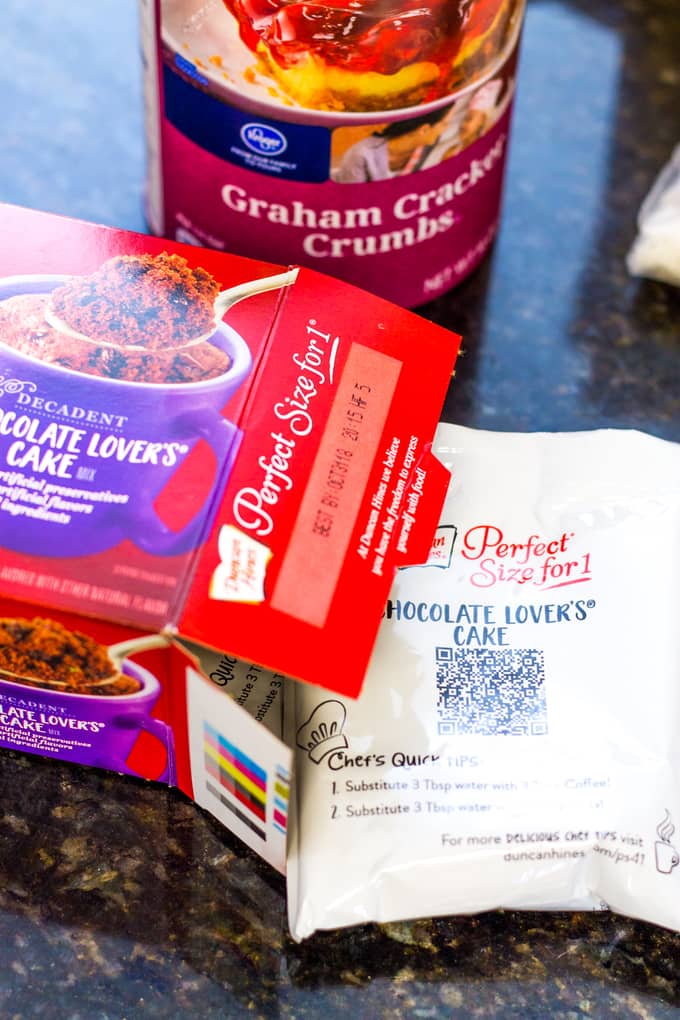 For more insider tips & tricks, and a candid behind the scenes look follow me on social media! Check use out on Pinterest, Facebook, Instagram, & Twitter (yes, people still use Twitter, LOL!)
Grab a coffee cup or oversized mug and your other ingredients to get started.
This process for the Magic Cookie Bars Individual Cake goes very quickly so you want to have everything at hand when you get the craving!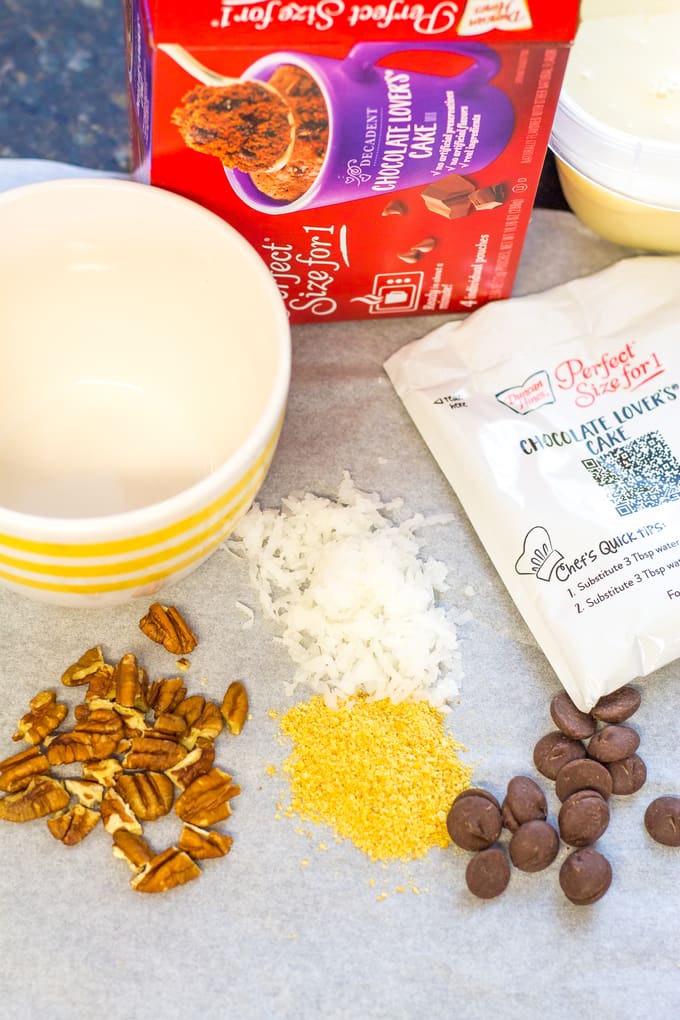 The only other item to get is some water.
Duncan Hines has all the other hard stuff figured out so that you can just enjoy your treat that is perfect for one.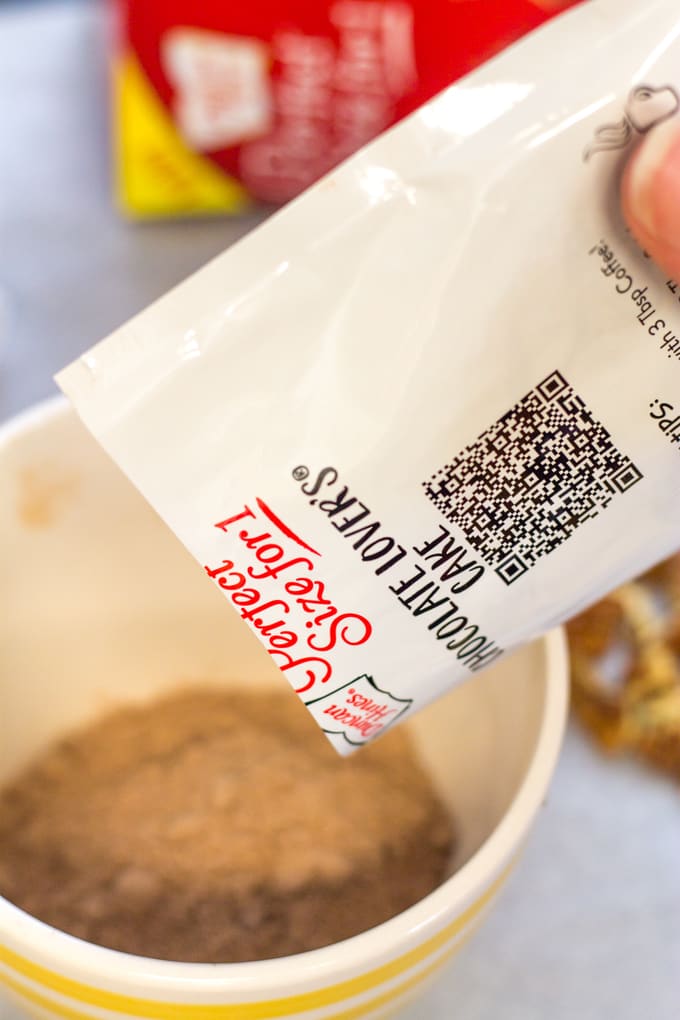 Add your 3 tablespoons of water to the mix and stir to combine.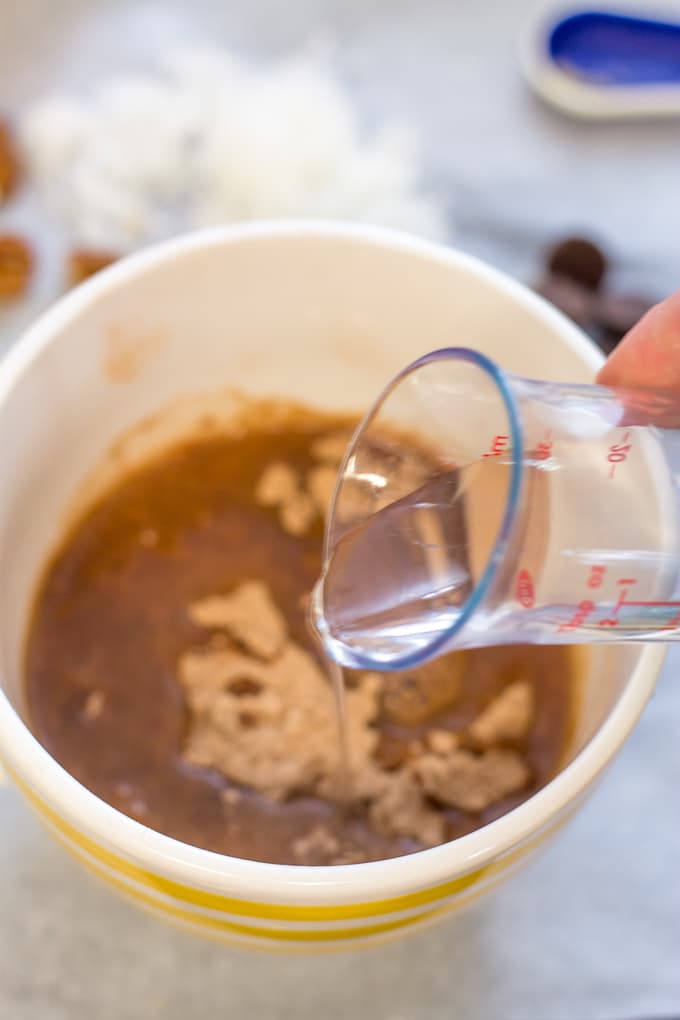 Next mix in your Magic Cookie Bar Individual Cake ingredients to get that nostalgic flavor!
Can't you taste the coconut and chocolate now?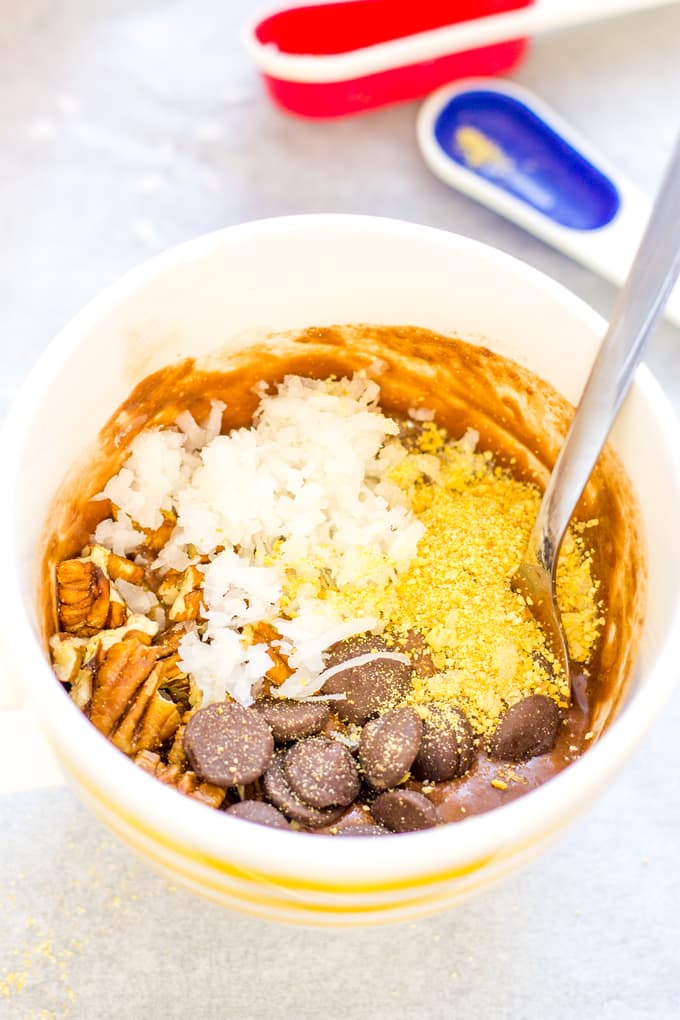 I want to dive in right now but I will wait for 60 seconds…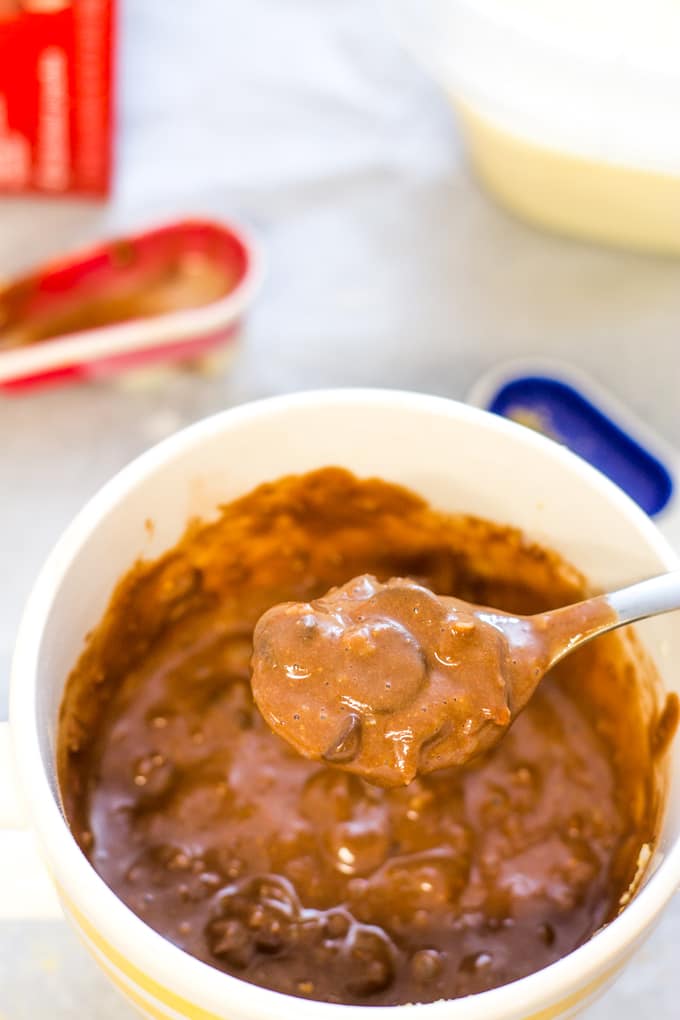 This looks so good I could eat it right out of the coffee cup before I cook it but I will wait so I can get it hot and melty!
By the way, cooking takes about 1 minute.
Yes, I said, ONE MINUTE!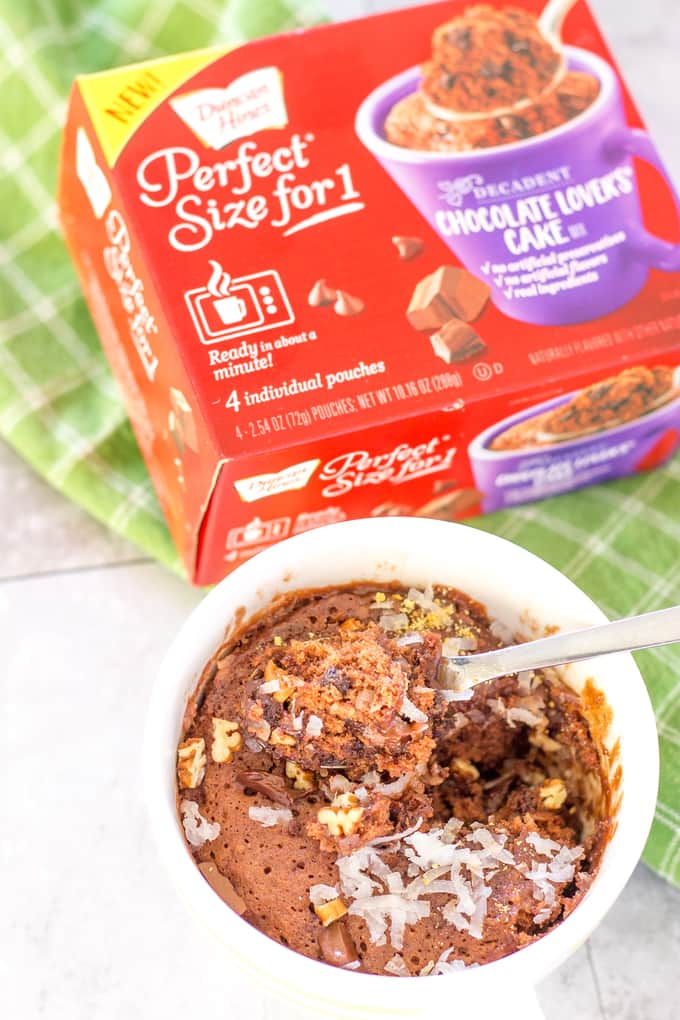 Look how yummy this warm, rich, moist, chocolatey, Magic Cookie Bar Individual Cake is! All for me!
Garnishing my individual cake with a few more coconut pieces and chocolate chips makes me crave it even more.
I still can't believe this individual cake took 1 minute to cook and I don't have to share it with anyone else but me, myself, and I.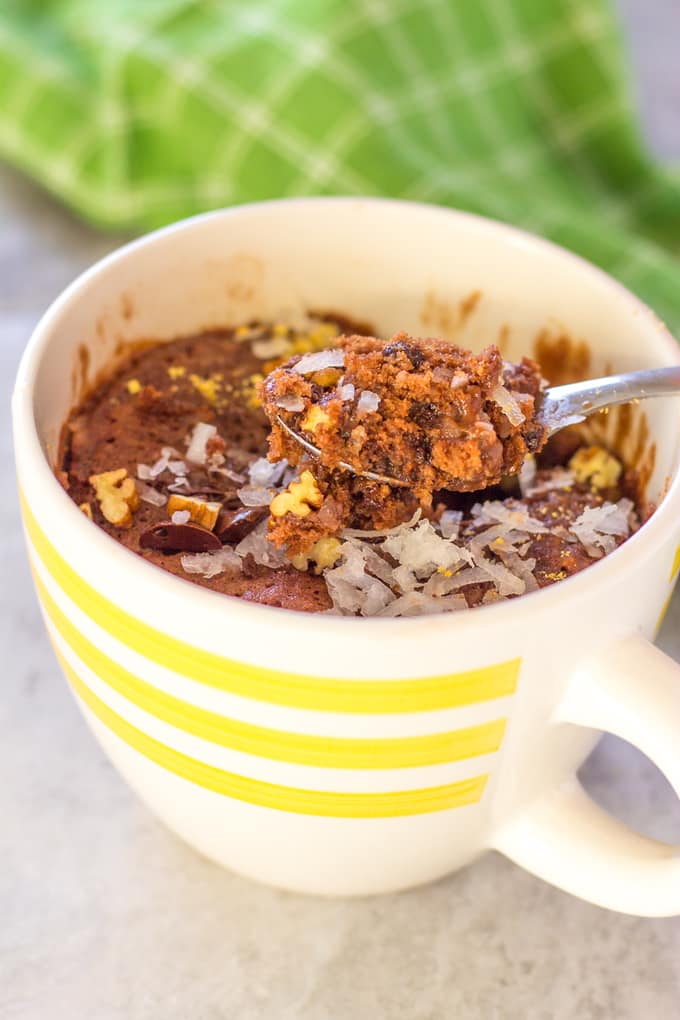 The Duncan Hines Chocolate Lover's Cake Perfect Size for 1 pouches already have a lot of chocolate chunks in them but what is a few more?
Look at all this warm, yummy, gooeyness!!
How perfect is that?!?!?!?!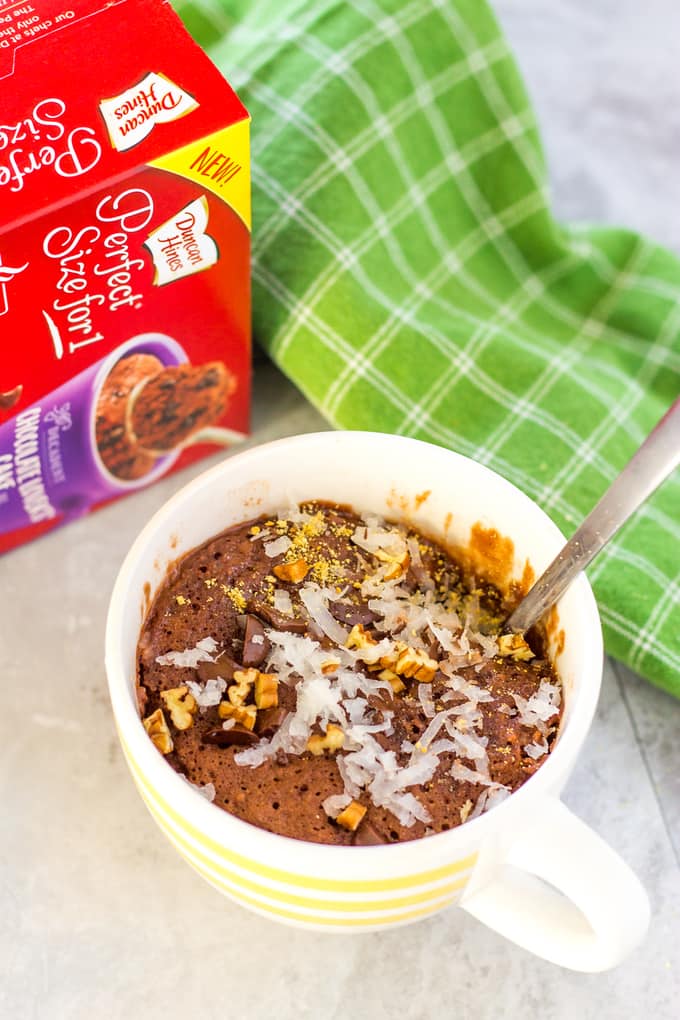 Where will you enjoy your Magic Cookie Bar Individual Cake? Whip it up in a hot minute, snap a photo, and share with me on social media. Just tag #TakeTwoTapas @RealDuncanHines #Perfectsizefor1 or even #HowPerfectIsThat. I can't wait to see you enjoying your cake!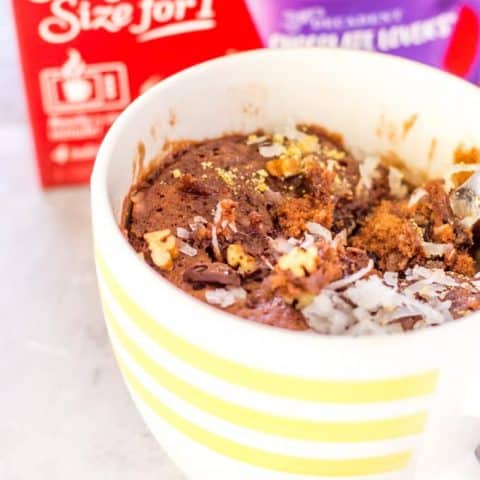 Magic Cookie Bars Individual Cakes
Have you heard of Magic Cookie Bars? If so, how about a Magic Cookie Bars Individual Cake for one that you can enjoy all by yourself? Sounds good right?
Ingredients
1 pouch Duncan Hines Chocolate Chocolate Lovers Cake (mug size)
3 tablespoons water
1 tablespoon toasted pecans (chipped small)
1 tablespoon coconut (shredded)
1 tablespoon graham cracker crumbs
1 tablespoon sweetened condensed milk
1 tablespoon dark chocolate chips
Instructions
Gather your ingredients
Add Chocolate Lovers Cake Perfect For One Pouch to a coffee mug.
Add water and stir to combine.
Add chocolate chips, coconut, pecans, and graham cracker crumbs.
Stir to combine.
Add sweetened condensed milk and stir to combine.
Microwave for 1 minute on high.
Remove from the microwave and let sit for 2 minutes.
Garnish with additional chocolate, pecans, and coconut if desired.
Enjoy it all yourself as it is perfect for one!
Nutrition Information:
Yield:

1
Serving Size:

1
Amount Per Serving:
Calories:

549
Total Fat:

28g
Saturated Fat:

9g
Trans Fat:

0g
Unsaturated Fat:

17g
Cholesterol:

61mg
Sodium:

261mg
Carbohydrates:

71g
Fiber:

3g
Sugar:

54g
Protein:

6g
This nutrition information was generated via a third party, Nutritionix, and can not be held liable for any discrepancies in the information provided.