The nostalgic cookie bar from your childhood is transformed into bite-sized layers of goodness in my Magic Cookie Bar Bites!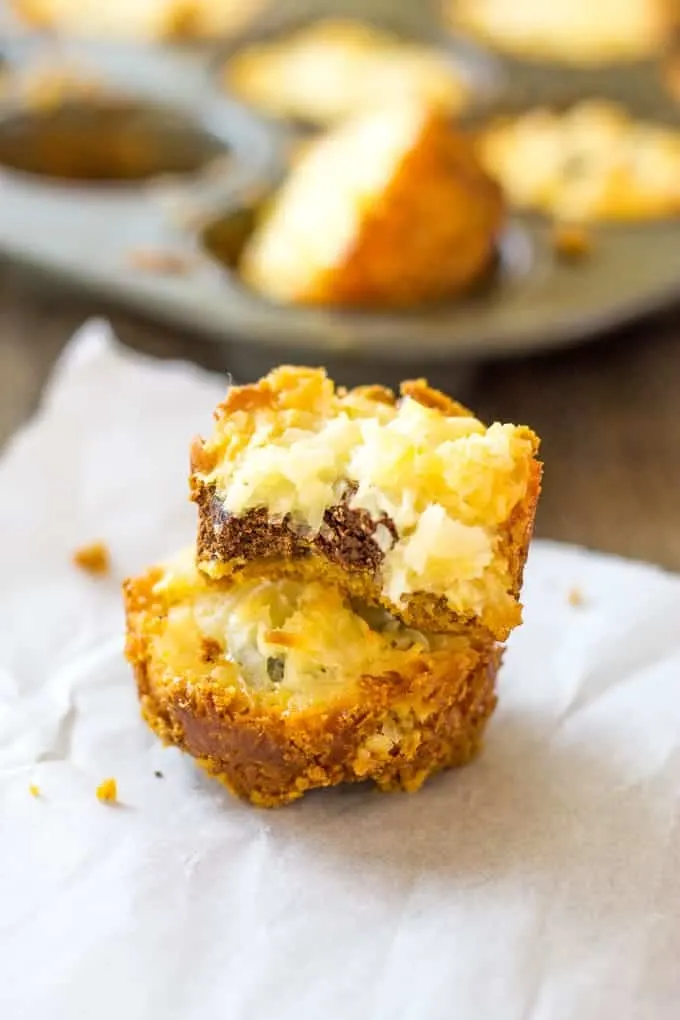 Last week I posted a recipe for an Individual Cake that resembles my favorite childhood cookie bar. This week I am making these nostalgic bar cookies but in bite-sized form. The graham crackers, pecans, chocolate chips, and coconut all held together by sweetened condensed milk make perfect Magic Cookie Bar Bites!
A little background, if you please…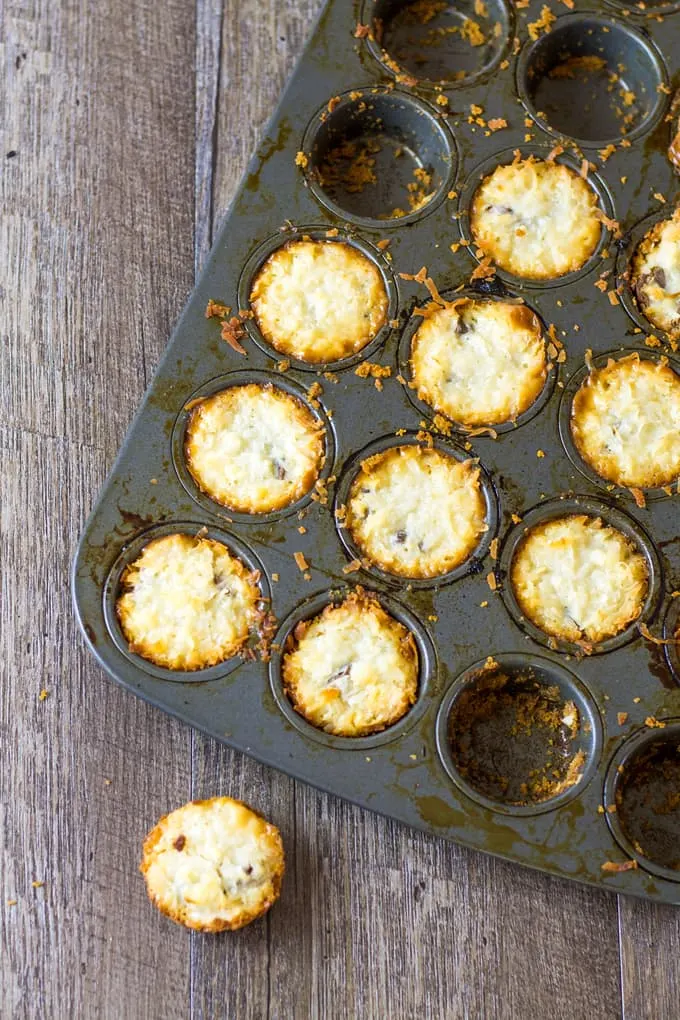 Magic Cookie Bars have been around for a while, I believe since the 1960s. Eagle Brand Sweetened Condensed Milk is the star ingredient but they also go by another name, Hello Dolly Bars. Funny thing is when I was introduced to these bars by my friend she called them "Holly Dollies."
It must be a generational game of telephone to get the name from Hello Dolly Bars to Hello Dollies to Holly Dollies. Just like all those Junior High rumors that get distorted when people verbally tell stories. Not like now when you can screenshot a text message.
I don't really give a crap what they are called. All I care about is that they are delicious.
This post may contain affiliate links. As an Amazon Associate, I earn from qualifying purchases. Read my disclosure policy here.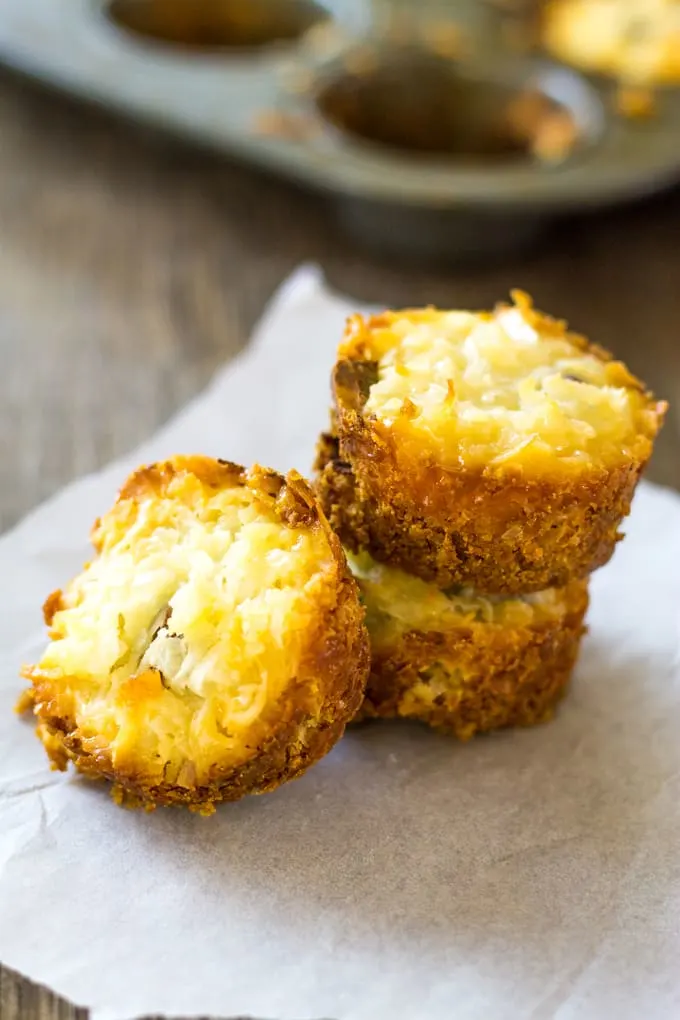 And what is not to like about these bars? I used to eat the entire batch at once because I have total self-control, so I need to find a way to portion these babies out.
The genius of Magic Cookie Bars is that you don't need a bowl to mix them in. Melt the butter in your 9×13 baking dish and then add the graham cracker crumbs. Mix them together right in the dish, layer all the other ingredients, and bake. BOOM! Done.

One dish doesn't inspire portion control or sharing for that matter. The same one bowl method works for these Magic Cookie Bar Bites only it will be one bowl and one pan. One bowl to mix the melted butter and graham cracker crumbs. One pan to layer away.
Add 2 teaspoons of the butter and graham cracker mix to the bottom of your mini muffin pan. Please spray with non-stick spray first! I pat it down to make a flat layer, add some of my buttery toasted pecans, a few chocolate chips, and a tablespoon of coconut. Once all the 24 wells have been filled, it is time for sweetened condensed milk.
The whole can is used for the 24 mini muffin wells. A tablespoon on each well will use it up. Can't have any of that lying around for dipping a spoon in.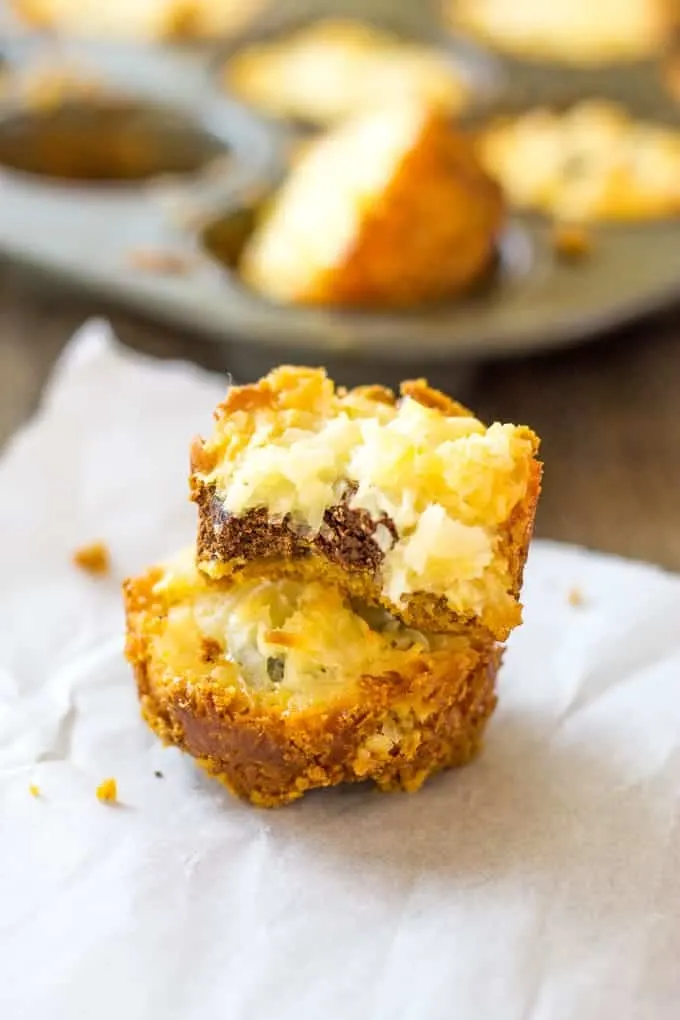 When these Magic Cookie Bar Bites come out of the oven, all golden and toasty on the top and chewy and gooey in the middle, you have to control yourself until they cool down. Or risk serious burns to your tongue. Trust me, I speak from experience.
If you don't manage to eat them all, feel free to share! I eat one and then send them to my hubby's office so they are not within grasp. I don't think they mind as the storage container comes back empty every time.
For more insider tips & tricks, and a candid behind the scenes look follow me on social media! Check use out on Pinterest, Facebook, Instagram, & Twitter (yes, people still use Twitter, LOL!)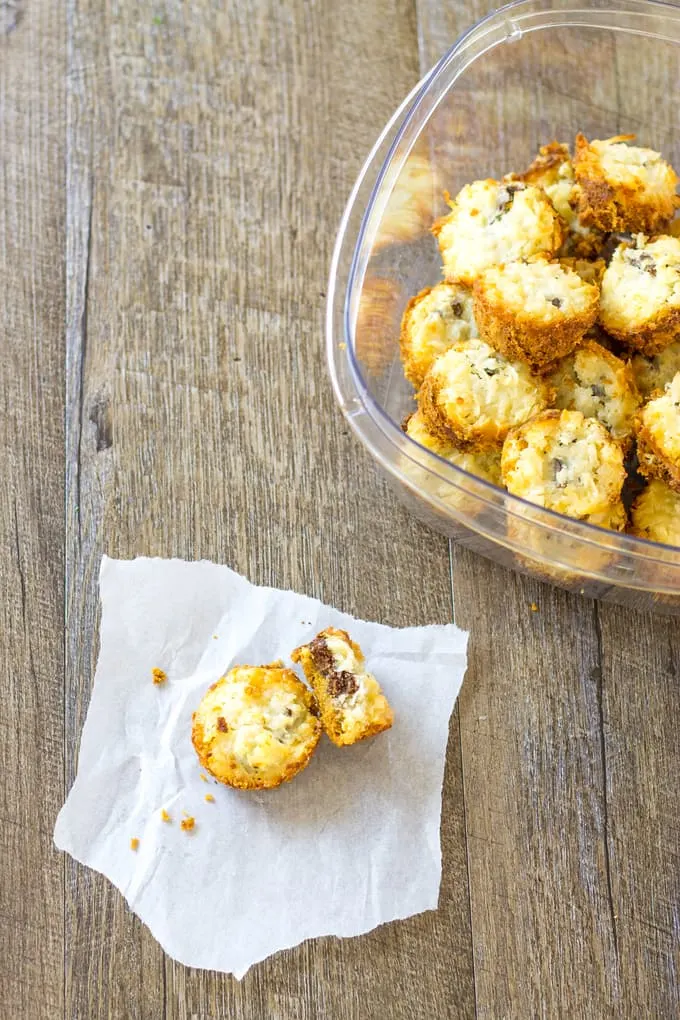 Whatever you want to call these delicious treats, Magic Cookie Bars, Holly Dolly Bars, 7 Layer Bars, Holly Dollies, or the best dessert ever, just make them, share them, and eat them up!
Easy Magic Cookie Bar Bites Recipe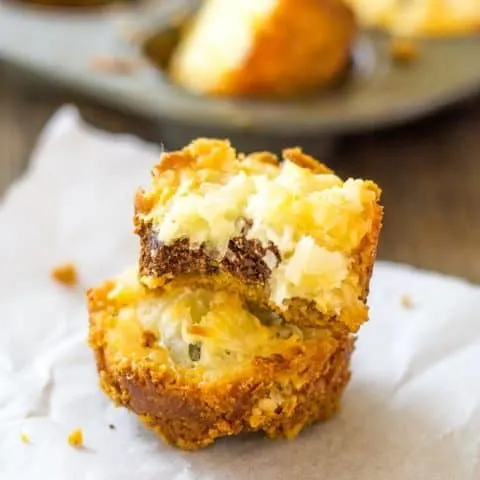 Magic Cookie Bar Bites
The nostalgic cookie bar from your childhood is transformed into bite-sized layers of goodness in my Magic Cookie Bar Bites!
Ingredients
1/2 cup butter (melted)
1.5 cups graham cracker crumbs
1 cup coconut (shredded)
2 cups dark chocolate chips
1 can sweetened condensed milk
non-stick spray
1 cup toasted pecans (chopped)
Instructions
Spray your mini-muffin pan with non-stick spray.
Mix the graham cracker crumbs and melted butter.
Add 2 teaspoons of the graham cracker crumb mixture to each mini-muffin well.
Press it down until flat.
Add a teaspoon to toasted pecans to each well.
Add 2 tablespoons chocolate chips to each well.
Top with 1 tablespoon shredded coconut.
Press down to compact the layers.
Drizzle each one with 1 tablespoon sweetened condensed milk over the top of each mini muffin well.
Bake at 350F for 15 minutes or until golden brown.
Remove the pan from the oven.
Run a knife around the outside of each one to loosen slightly.
Let cool for 5-10 minutes.
Remove from each mini muffin well with a small spatula or spoon.
Store in an air-tight container for up to a week. If they last that long...
Nutrition Information:
Yield:

24
Serving Size:

1
Amount Per Serving:
Calories:

184
Total Fat:

13g
Saturated Fat:

6g
Trans Fat:

0g
Unsaturated Fat:

6g
Cholesterol:

12mg
Sodium:

70mg
Carbohydrates:

16g
Fiber:

2g
Sugar:

10g
Protein:

2g
This nutrition information was generated via a third party, Nutritionix, and can not be held liable for any discrepancies in the information provided.
Recipe inspired from here.
©TakeTwoTapas.com. Content and photographs are copyright protected. Sharing of this recipe is both encouraged and appreciated. Copying and/or pasting full recipes to any social media is strictly prohibited.