In case you missed the last two posts, and you haven't heard about it on Facebook or Twitter or Instagram (impossible because I have advertised all week) there is a new party in town!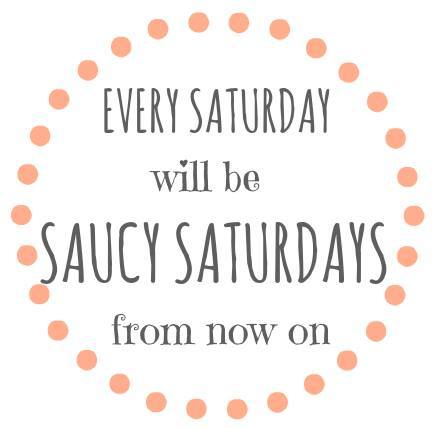 This is a link party for all food, craft, and DIY bloggers! Link up your latest project and share it with everyone! If you are not a blogger yourself but like to read stories of my insane life and eat my food, you can still join us. How, you ask? I'll tell you… A link party is a collection of recipes, crafts, and DIY projects from a bunch of different bloggers all in one place! Just like Pinterest, other bloggers place a link to their recipe or project on this page and you can look at all of them. It's like a giant Pinterest board right here on this very page. Every week we will have another party and bloggers will link up new projects and recipes for you to see.
Come back every week and look at all the links because you might find something that you didn't see anywhere else. You can also help those bloggers by sharing the party on your social media channels using the #SaucySaturday! If you make a recipe or craft that was linked on this page, tell us about it. Send smoke signals, right it on a billboard, or just tweet it out with that hashtag. You can also leave a comment on this page! We bloggers love it when you make one of our recipes/crafts!
Enough about that…
Welcome to Saucy Saturdays!
This is a link party for all food, craft, and DIY bloggers.
Shout it from the rooftops to spread the word and invite all your friends.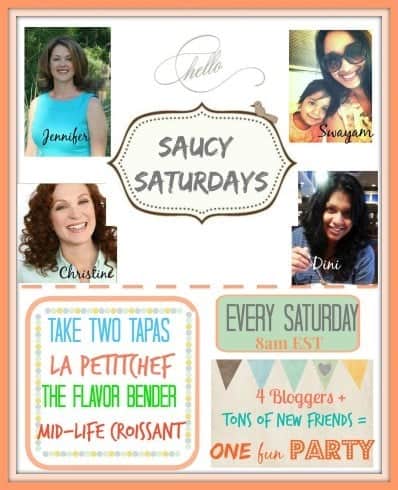 Lets meet the hosts of this fabulous link party!
Jennifer from
Follow Jennifer on Social Media
Swayam from
Follow Swayam on Social Media
Dini from
The Flavor Bender (formally known as Giramuk's Kitchen)
Follow Dini on Social Media
Christine from
Follow Christine on Social Media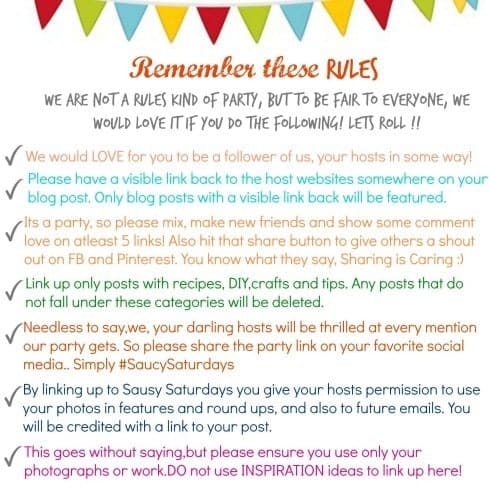 All links will be Pinned to our Saucy Saturday Pinterest Board.
We would love it if you would follow our board too!
Enough of the rules and red tape, on to the party!