Crispy chicken wings are delicious and tasty appetizers for any occasion: a potluck, game day, holiday dinners, and so much more. What makes chicken wings an even greater snack is that they are so easy to make at home. But how long do I bake chicken wings to make them crispy?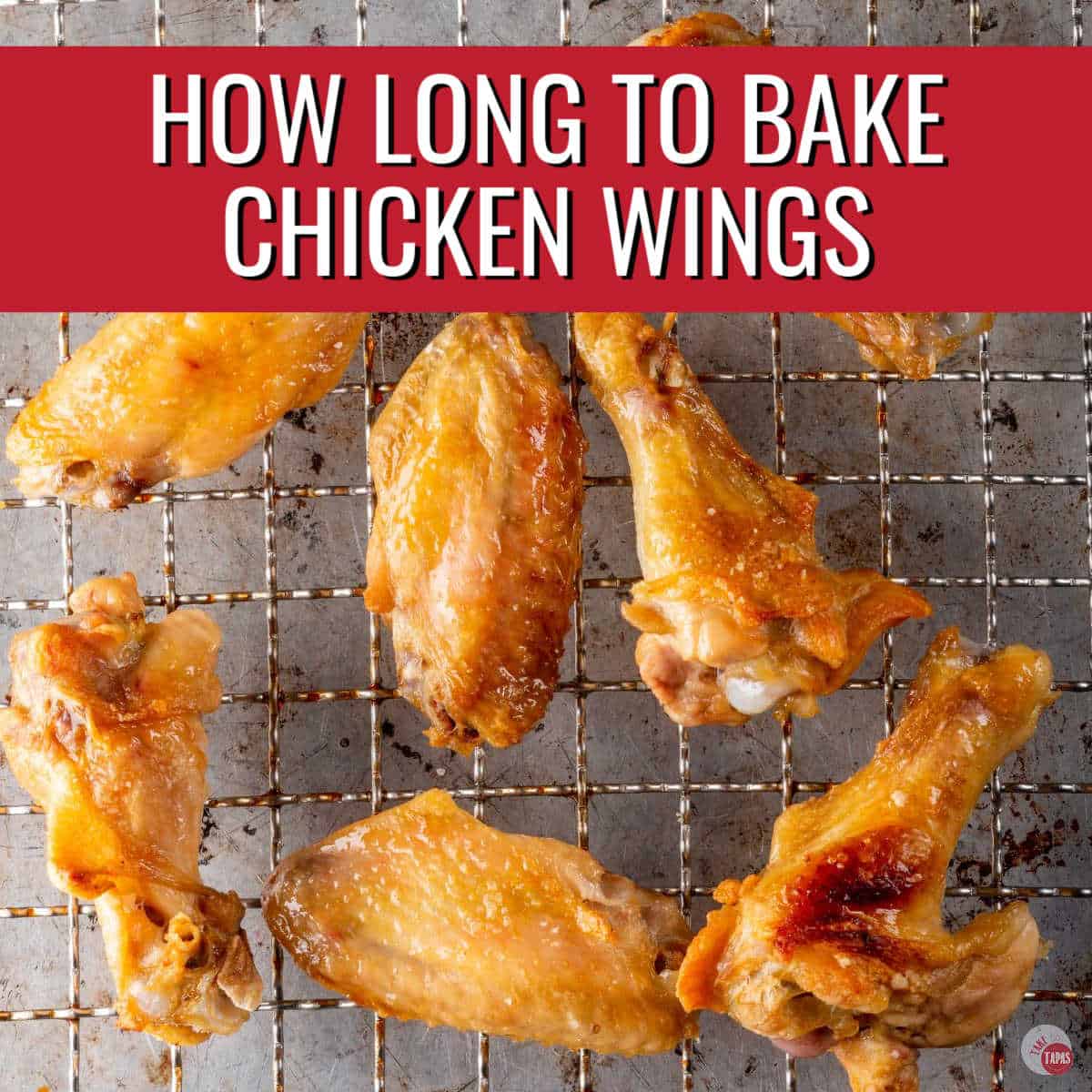 Baking Chicken Wings
As with any meat, it's important to bake wings properly to ensure the best flavor and safety.
Not cooking the wings long enough will lead to undercooked meat, which is dangerous to eat, but overcooking them can make them dry.
My favorite way to cook chicken wings is in the oven. Baking wings is so easy because you can just pop them in and let the oven do all the work!
Oven-baked chicken wings are a healthier option compared to deep fryer wings, and they taste just as delicious.
Follow along for my tips on how long to bake chicken wings, so they are crispy and flavorful every time.
This post may contain affiliate links. As an Amazon Associate, I earn from qualifying purchases. Read my disclosure policy here.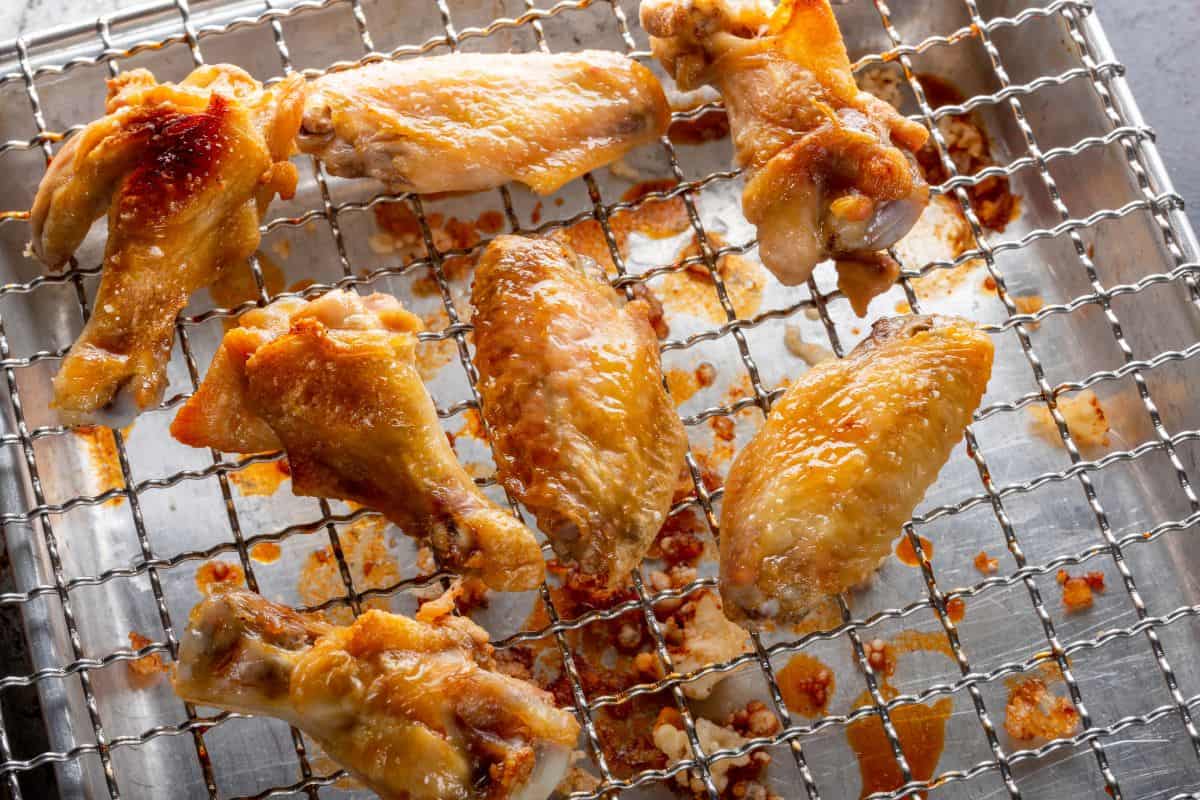 How Long to Bake Chicken Wings
Cooking time for chicken wings will vary based on a couple of factors.
First, baking time varies depending on the size of the wings. Smaller wings will bake faster than larger wings.
Second, baking time changes based on oven temperature. The hotter the oven, the shorter the cooking time will be. Reduce cooking time if you are using a convection oven.
The most common temperature to bake chicken wings is 350 degrees Fahrenheit. At this temperature, average sized wings will take about 60 to 70 minutes to bake.
For every 15 degree increase in temperature, lower the cooking time by 10 minutes. For example, 50-60 minutes at 375 degrees Fahrenheit, 40-50 minutes at 400 degrees Fahrenheit, 30-40 minutes at 425 degrees Fahrenheit, and so on.
If you're adding sauce to the wings, use a lower temperature to prevent the sauce from burning. I recommend baking saucy wings at 350 degrees Fahrenheit.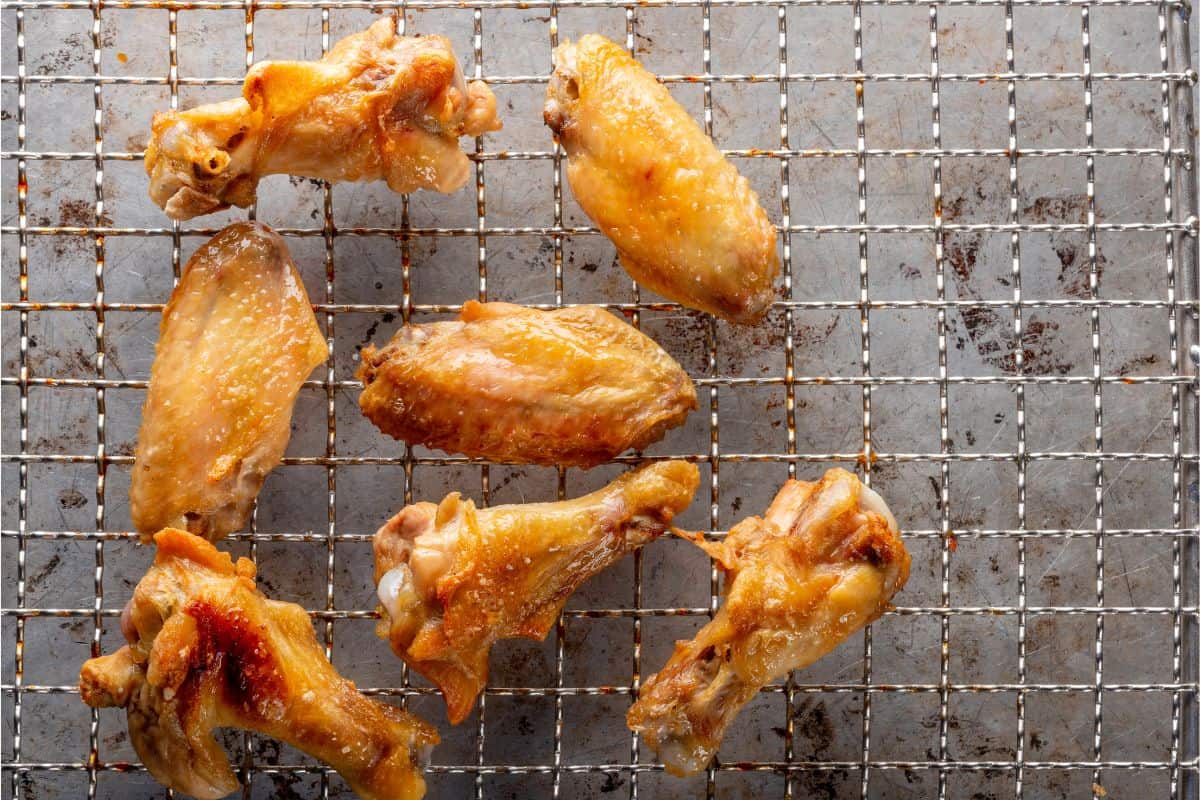 How to Tell if Chicken Wings are Done
The best way (and safest way) to tell if your chicken wings are done is to use a meat thermometer to measure the internal temperature of the thickest part of the wing.
The thickest part of the wing should be at least 165 degrees Fahrenheit to be considered fully cooked.
Though a thermometer is the best and safest way to make sure your wings are done, the color of the meat can also indicate doneness.
If you don't have a thermometer, use a fork or a knife to pierce into the thickest part of the meat.
If the meat is red or pink, it is not fully cooked. When the meat is white, it is done.
The juices also offer some indication of the meat's cooking status. When the juices run clear when cutting the meat, then the chicken is fully cooked. Pink or red juices indicate that the chicken is undercooked.
For more insider tips & tricks, and a candid behind the scenes look follow me on social media! Check use out on Pinterest, Facebook, Instagram, & Twitter (yes, people still use Twitter, LOL!)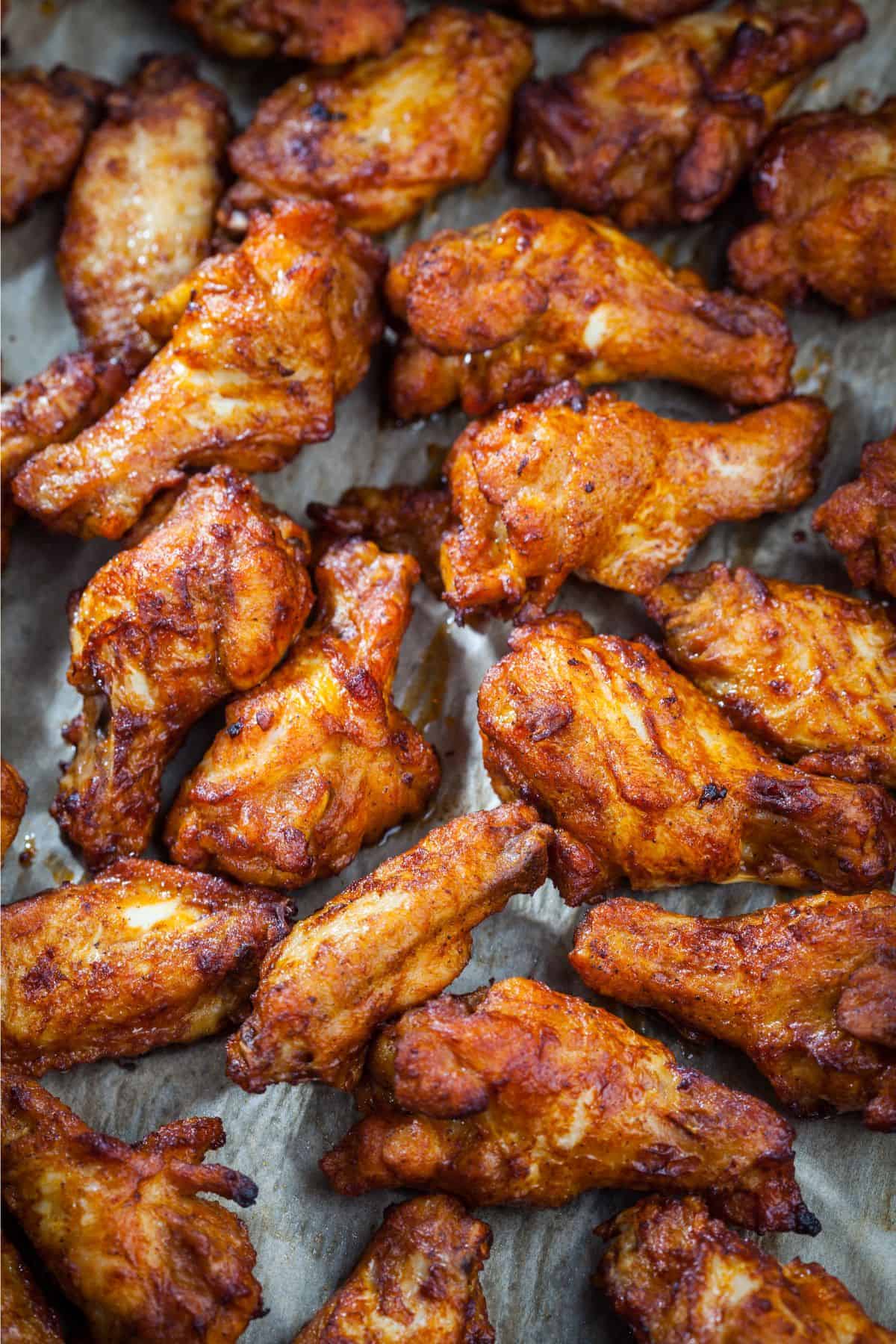 How to Bake Chicken Wings
Proper preparation is important for juicy chicken wings.
Begin by patting the chicken wings dry with paper towels. Then, line a rimmed baking sheet with parchment paper. Place a wire rack on top of the paper-lined sheet.
Arrange the wings on the rack on top of the baking sheet and place them in the oven on the middle rack.
Halfway through baking, turn the wings, so they cook evenly.
For extra crispy wings, mix baking powder and kosher salt and coat the chicken wings before arranging them on the wire rack.
If you are baking the chicken wings in sauce, follow all of the same steps, but skip the wire rack. Instead, place the sauce covered wings right onto the sheet pan.
If you don't want to heat up the entire oven, air fryers are also great for baking chicken wings.
I don't recommend baking sauce covered wings in the air fryer because it can make clean up very messy, but for plain wings, the air fryer is great!
After putting the chicken wings in the air fryer basket, season them with your favorite seasonings.
I recommend black pepper, garlic powder, salt, and if you're feeling bold, chili powder. Bake these for about 30 minutes at 350 degrees Fahrenheit.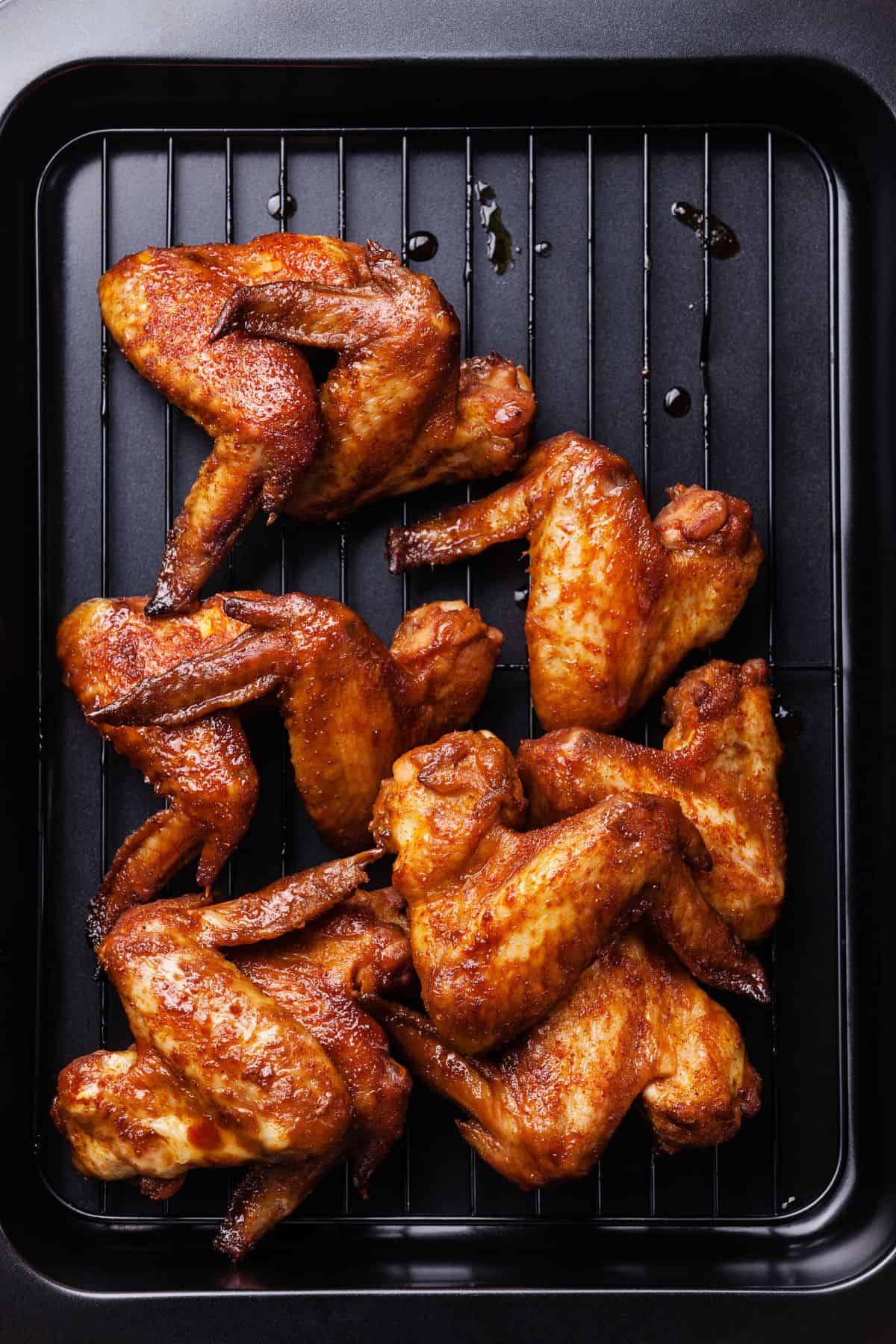 How to Keep Chicken Wings from Drying out while Baking
Dry chicken wings are a tough thing to swallow–both literally and figuratively. The easiest way to avoid dry wings is to avoid overcooking them.
Overcooking wings is easy to do if you're new to baking wings. You worry the wings are undercooked, and accidentally overcook them.
Though overcooking wings might be a solution to undercooking, overcooked wings are very dry.
In addition to not overcooking wings, cooking the wings at a lower temperature also helps keep the wings juicy.
A lower cooking temperature means that the cooking process slows down, and the chicken can retain its moisture.
Finally, try cooking the wings in a sauce and basting them with that sauce every few minutes. This method means you will have to actively tend to the wings as they bake, but it is also a great way to get flavorful wings.
My favorite and super simple sauce is a mixture of olive oil, hot sauce, melted butter, garlic powder, onion powder, cayenne pepper, salt, and pepper.
It's so easy to whisk those ingredients together and pour them over the wings.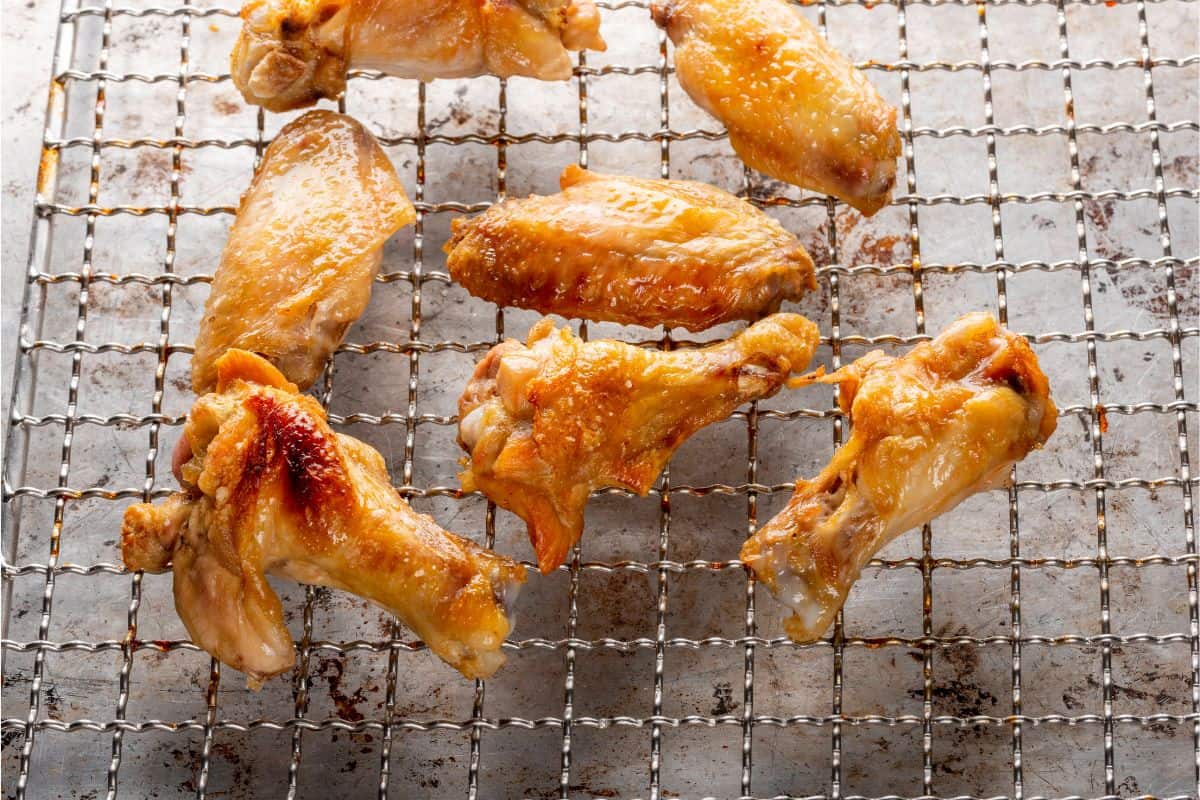 Can I bake chicken wings in advance?
If you know me, you know that I love baking dishes in advance.
Baked chicken wings can be stored in the fridge for up to four days if they are stored properly.
After the wings are done baking, allow them to cool slightly. Then, wrap the wings in aluminum foil or store them in an airtight container.
I recommend storing the wings dry and adding your favorite dipping sauce on the day you want to serve the wings. The sauce can turn crispy wings into soggy wings overnight.
When you are ready to eat the chicken wings, reheat them in the oven at 350 degrees Fahrenheit for about 15 minutes to preserve that crispy exterior.
For a quicker prep time, you can also reheat the wings in the microwave, but microwaved wings won't have that same crispy texture to them.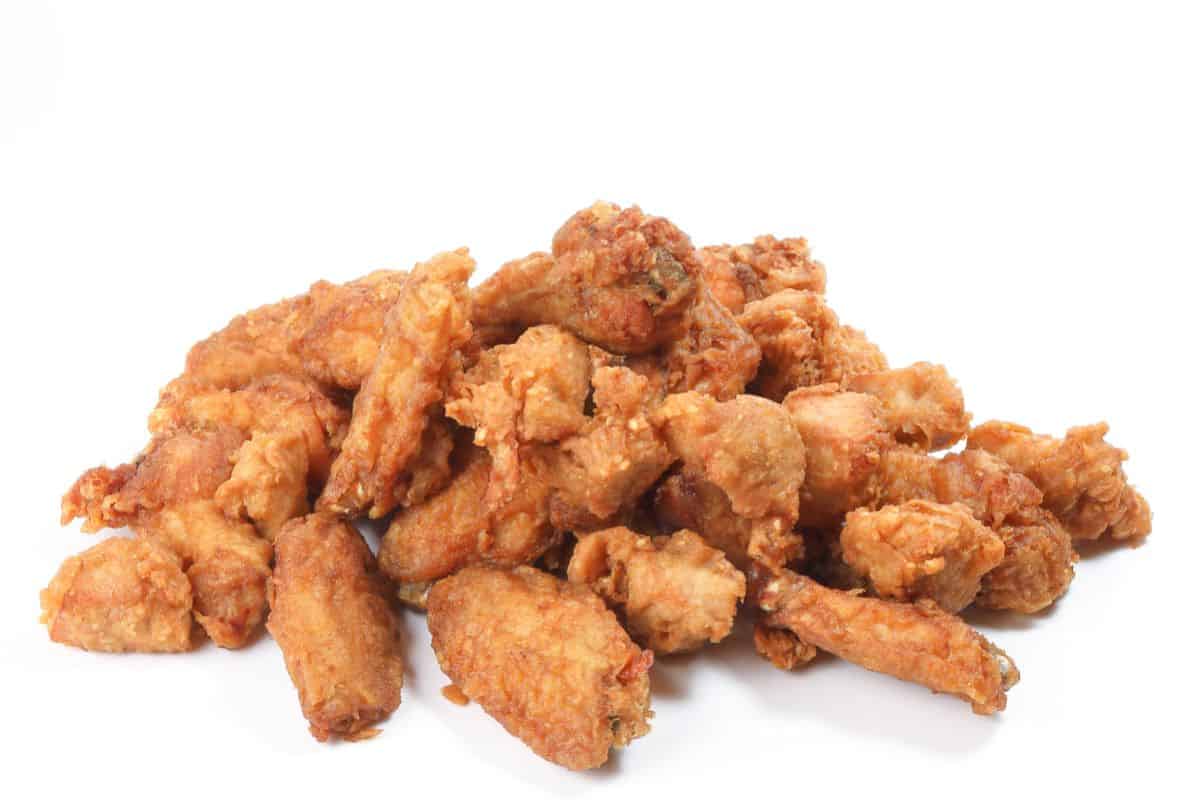 What to Serve with Chicken Wings
My favorite part about chicken wings is the sauce. There are so many sauces that can add such a variety of flavor.
Buffalo sauce, BBQ sauce, and garlic parmesan sauce are all great options.
Also, you can't have chicken wings without blue cheese dressing!
There are so many great options of seasonings, dips, and sauces to go with chicken wings that you really can't go wrong.
If you're having hot wings like buffalo wings, add a side of carrot sticks and celery to tame the heat.
If you decide on lemon pepper wings, try adding some rice to make it a main course meal.
There are probably thousands of ways to serve wings, and they are all guaranteed to be delicious.
Chicken wings are so versatile because of the variety of sauces and sides that go well with them and because they make great appetizers and filling main courses.
If you love this recipe as much as I do, please write a five-star review in the comment section below (or on Pinterest with the "tried it" button – you can now add pictures into reviews, too!), and be sure to help me share on facebook!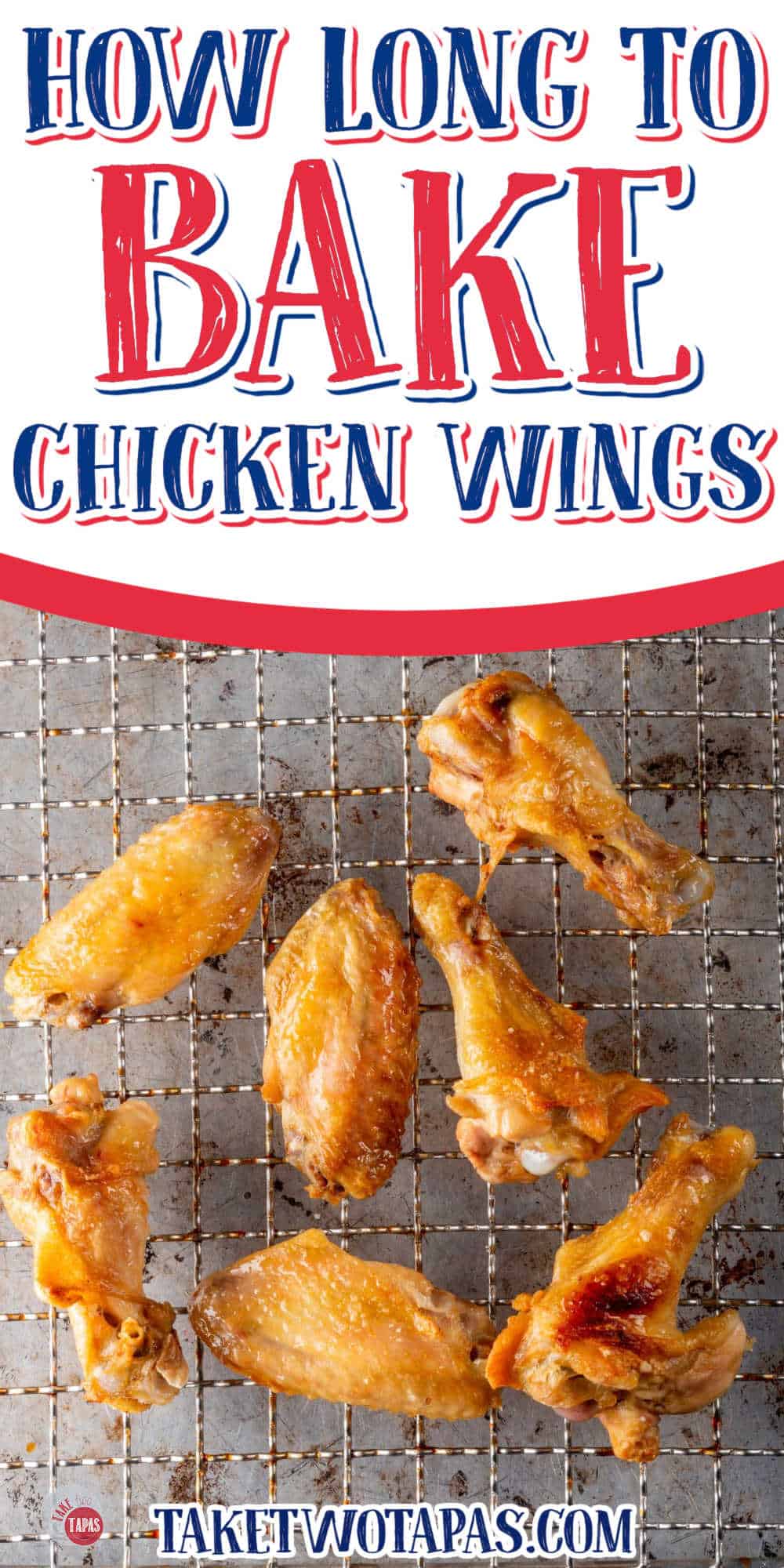 Next time you are looking for a dish to pass around at the big game, something to bring to the potluck, or an easy weeknight dish, follow these tips and tricks for the best crispy baked chicken wings.
More Easy Recipes
TakeTwoTapas.com. Content and photographs are copyright protected. Sharing of this recipe is both encouraged and appreciated. Copying and/or pasting full recipes to any social media is strictly prohibited.