This is an updated version of the previous post, in case you forgot all the fabulous tips I shared with you. Read it!
I have a habit of reading my cookbooks like I read my trashy romance novels. Staying up late to devour them cover to cover instead of just heading straight for a specific recipe, and re-reading them when I start to miss the characters, is par for the course. I am drawn to books that are out of print and those from churches and Junior Leagues. I am talking about cookbooks now, not novels! Aside from the recipes, I find these culinary treasures full of interesting tales that incorporate family histories, food, and glimpses of daily life from the time period in which they were written. In addition to the anecdotes, I can always find helpful hints that I never knew I needed and would have never thought to search for. When I say hints, I am not just talking about your usual measurement conversion tables and ingredient substitutions, but noteworthy nuggets of useful information that all mothers and grandmothers seem to have pre-programmed into their genetic material. As someone who has previously taken a few Biology courses, I know that their knowledge has been acquired through years of being on the front lines of the war zone we now call "Domestic Engineering," not from their DNA. Do not think me sexist for only including mothers, I am simply stating my beloved female elders tend to share tips about cooking and cleaning. This is good for me since I am not proficient in important life skills like linen organization, silver polishing, and any type of general cleaning. If you do not believe me, just ask my husband!
While looking through one cookbook, in particular, I found an unusually large section of these juicy tidbits near the back. A whopping 427 tips! Some were entertaining, some I thought a little outdated, but most were very useful. They included everything from fixing lumpy gravy to how to properly polish your leather suitcase before you travel. Were people really doing this on a regular basis back then? This must have been before soccer moms had carpool duty and juicing classes. My suitcase is made of a material you can hose off if it gets dirty.
After reading all 427 tips, I am ashamed to admit how little I know about housekeeping. I am sure that my mother already knew all of them since she took Home Economics every year in High School. I wonder if they still offer these courses and if it would be possible to sneak into the back row without getting ridiculed.
Below are just a few of the tips that I found relevant to my status in life: Over-Extended Home Room Mom/Wine-Deficient Wife. I hope they will be as useful to you as they are to me!
#5-To prevent cakes from burning, sprinkle salt in the oven under the baking pans.
For the record, this sounds crazy and very messy. Does this mean that I will have to sweep out my oven each time I bake a cake? I'll try it at least once. My oven needs cleaning anyway.
#17-Baking powder cans make good molds for brown bread. Set the cans on a rack in a pan, with enough boiling water to come up two-thirds the height of the cans, then cover the pan. Bake as the recipe recommends.
They must have used an ungodly amount of baking powder back then. If you happen to have a stockpile from the last decade, these would be great for tapas!
Did you notice the large gap in the numbers? That's because the 300 or so I skipped were geared toward laundry. I read them, but since I despise laundry, I did not feel the need to share. I probably should read them since I suck at laundry. I think stains are a conspiracy against me. God gave me boys too. Stains everywhere!
#309-Dust your pie pans with flour before lining them with the crusts. This will prevent the pies from sticking after baking.
I have used cornmeal for my pizza and flatbread crusts in the past. Depending on the pie filling, I think you could use either with great results and it might add a little extra texture.
#328-If muffins brown too quickly around the edges, omit one muffin and partially fill the empty space with water on the next batch.
I have always heard of filling an empty space with water if you do not have enough batter to fill a complete pan, but not to prevent browning. I'm going to try this next time I make mini cakes. I only wish they specified which space to leave empty in case it makes a difference. My husband actually bragged that he knew this one due to the fact his mother made him take a year of Home Ec. He probably annoyed the crap out of the teacher because he's such a know-it-all.
#393-If you need black frosting for party cupcakes, add blue food coloring to chocolate frosting.
What a great tip! I make a lot of cakes and when I need black frosting I end up using quite a bit of the black food coloring to get the shade dark enough. By "quite a bit" I mean the whole bottle which leaves you looking like a Sharpie marker broke in your mouth. On the flip side, I can't see this working if your cake flavor doesn't jive with chocolate.
Who am I kidding? Everything goes with chocolate!
I hope you find these tips as useful as I have. I certainly enjoyed reading them and learning a few new pointers. Thanks to #221, I will have the most organized and best smelling collection of bathing caps in town.
(Tips taken from "A Gourmet's Delight," G&R Publishing Co., 1982.)
Looking for some substitutions for missing ingredients? Read my Substitution School post!
If you like reading my posts and seeing my recipes, follow me on your favorite social media channel for behind the scenes photos and much, much more: Pinterest, Facebook, Instagram, and Twitter!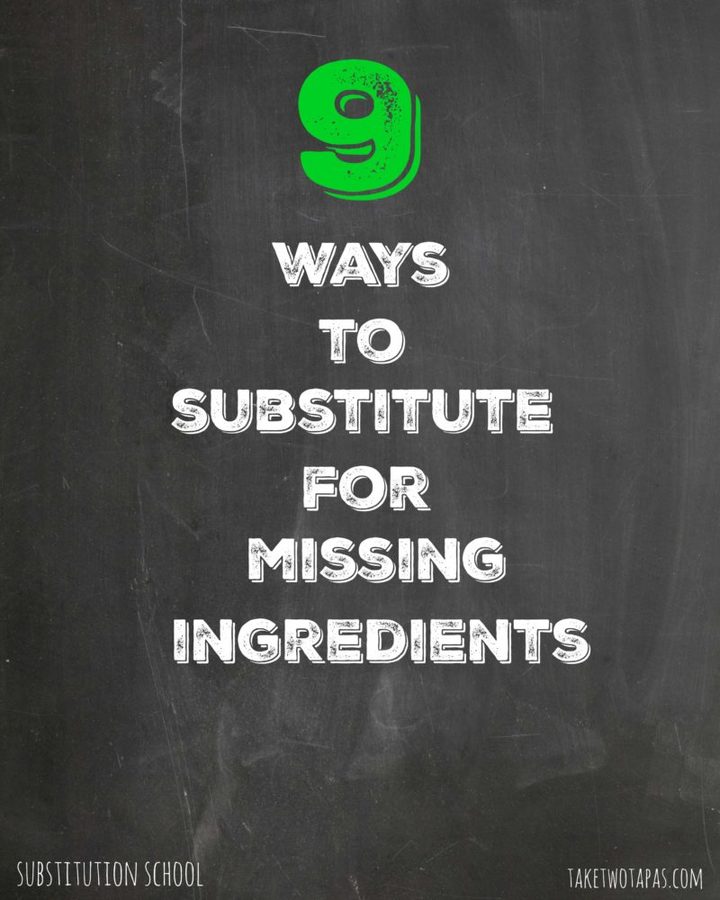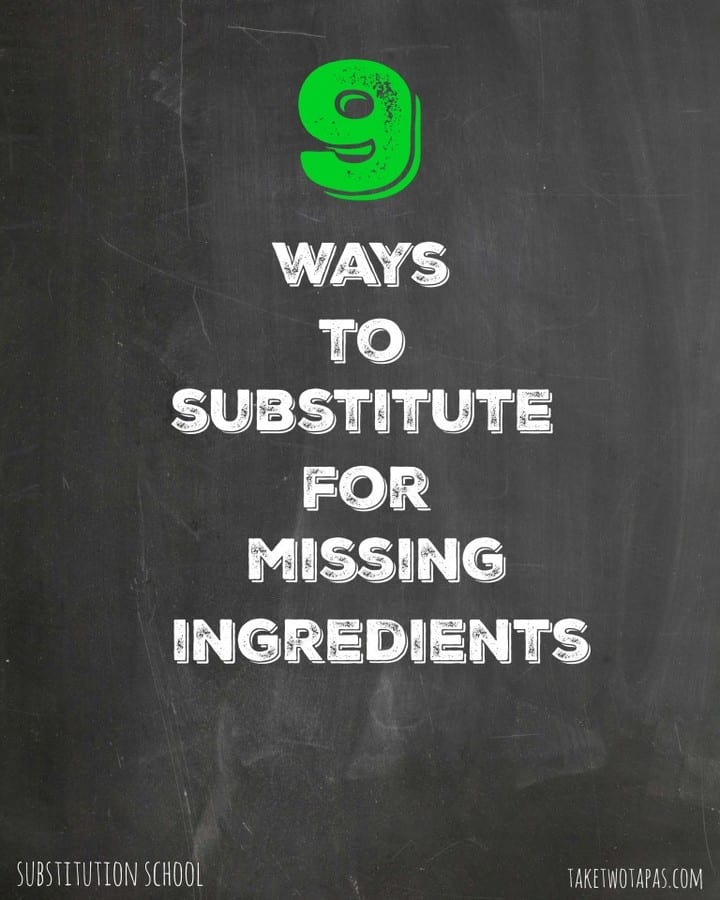 ©TakeTwoTapas.com. Content and photographs are copyright protected. Sharing of this recipe is both encouraged and appreciated. Copying and/or pasting full recipes to any social media is strictly prohibited.