Want a fun twist on an antipasto salad? Try these Hasselback Antipasto Tomatoes! All the delicious ingredients of an antipasto salad all tucked into a tomato.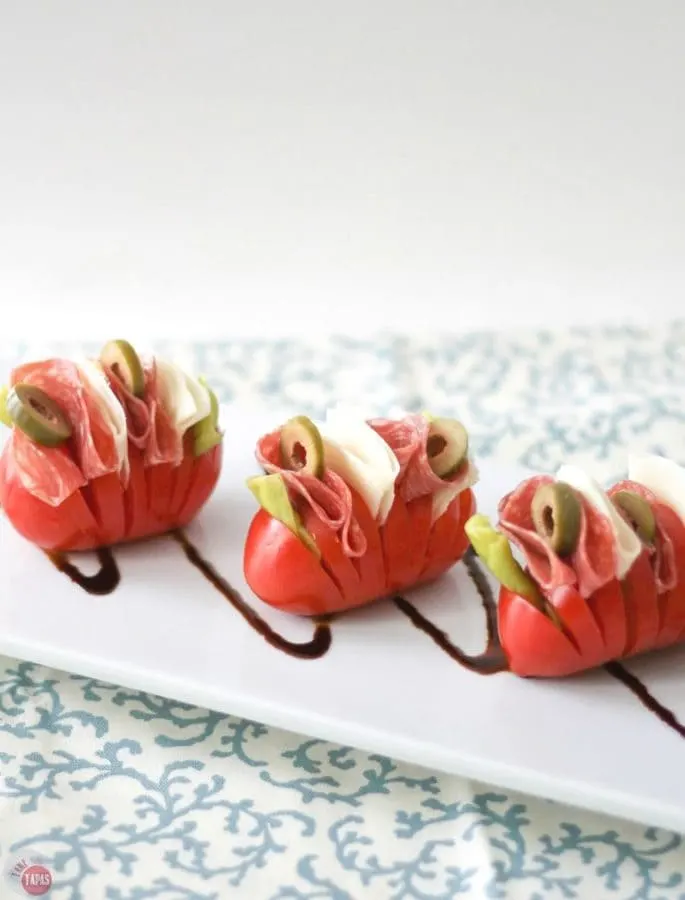 Do you know where Hasselback potatoes started? I thought they were named after someone so it's obvious I have no idea.
I'm going to say something stupid, and you are going to laugh, but I thought they were created by Elizabeth Hasselback. You know, the ex-shoe designer who was on Survivor and then went on to host "The View" and eventually "Fox and Friends" on Fox News?
I had never heard of a Hasselback potato until a few years ago after I had seen her on "Survivor" and watched her move to "The View."
I guess I'm crazy. I had to start doing a little digging and I found out that Hasselback potatoes really come from Sweden. A restaurant in Stockholm to be exact. They got their name from the Hasselbacken Restaurant when they introduced "hasselbackspotatis" in the 1940s.
It is a type of potato dish, not an actual variety of potato. The slicing gets it crispy on the outside and stays light, fluffy, and creamy on the inside. Plus, it makes a great cranny to stuff some butter in. Maybe some sour cream and bacon in the nooks?
How stupid do I seem now? If you were as foolish as I was, please comment below and let me know that I am not totally alone in my ignorance:) Pretty please…
This post may contain affiliate links. As an Amazon Associate, I earn from qualifying purchases. Read my disclosure policy here.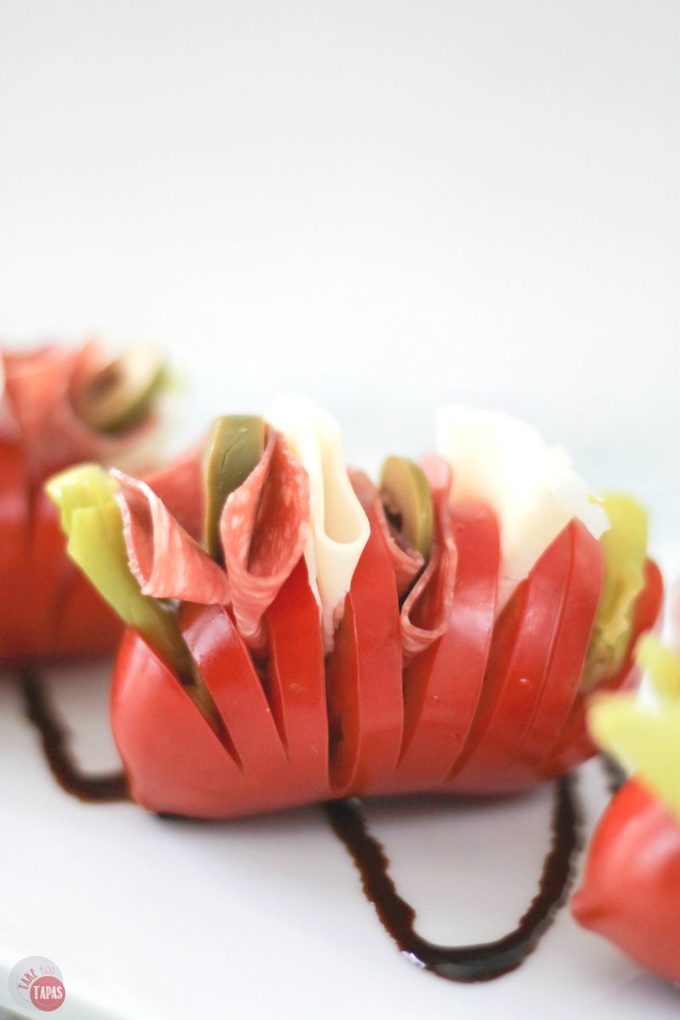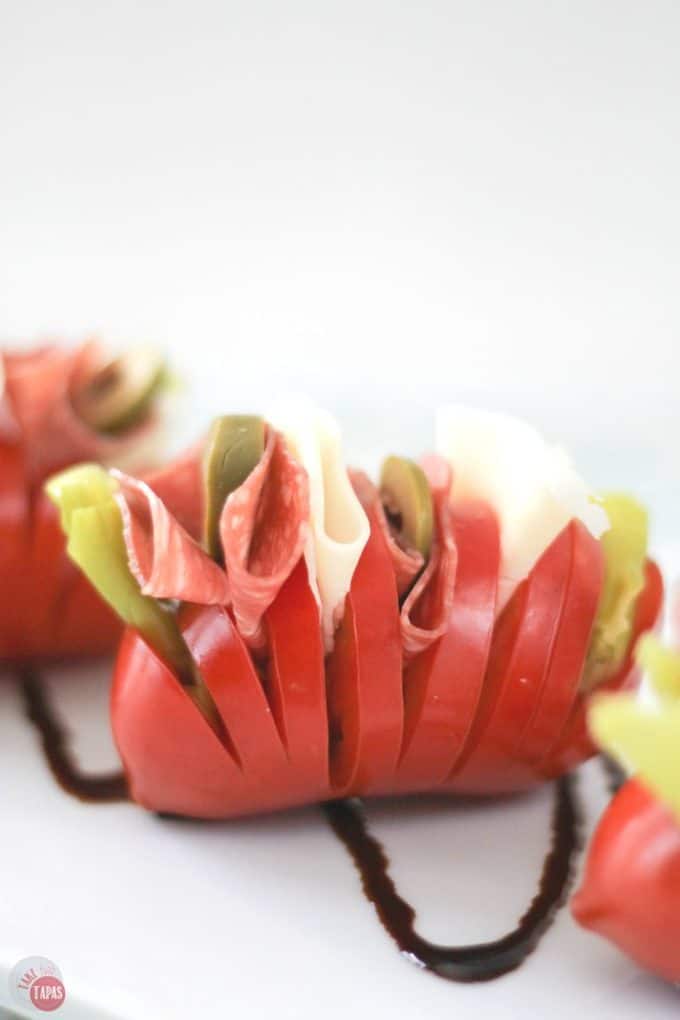 So now that I have shown you my ignorance, let me show you a recipe I created called Hasselback Antipasto Tomatoes using the "Hasselback" technique.
The technique itself is easy, but executing it is a little tricky. The gist is to slice your potato, or whatever else you are using, into thin slices but not all the way through to the bottom. This allows the food to open slightly making a fan. The easiest way of doing this is with patience and chopsticks. Yes, chopsticks.
I put a chopstick on either side of the food, and when I slice through, I know that I won't go all the way to the bottom because the knife lands on the chopstick about a 1/4 of an inch off the cutting board. Just the right amount left unsliced to hold it together.
I did break a few chopsticks in the process because I was getting a little impatient but they were leftover from some takeout so I didn't care.
We have used this technique on a variety of vegetables, like potatoes, sweet potatoes, and zucchini and I have loved them all. Since I am all about the small portions, I started looking for small vegetables to work with.
I am obsessed with tomatoes and antipasto salads so while I was making one the other day, I paused while slicing the tomatoes, and thought I could shove all these yummy antipasto ingredients down in the slices of the tomato and serve it all at once.
Each person would get their own antipasto salad AND it would make a cute presentation.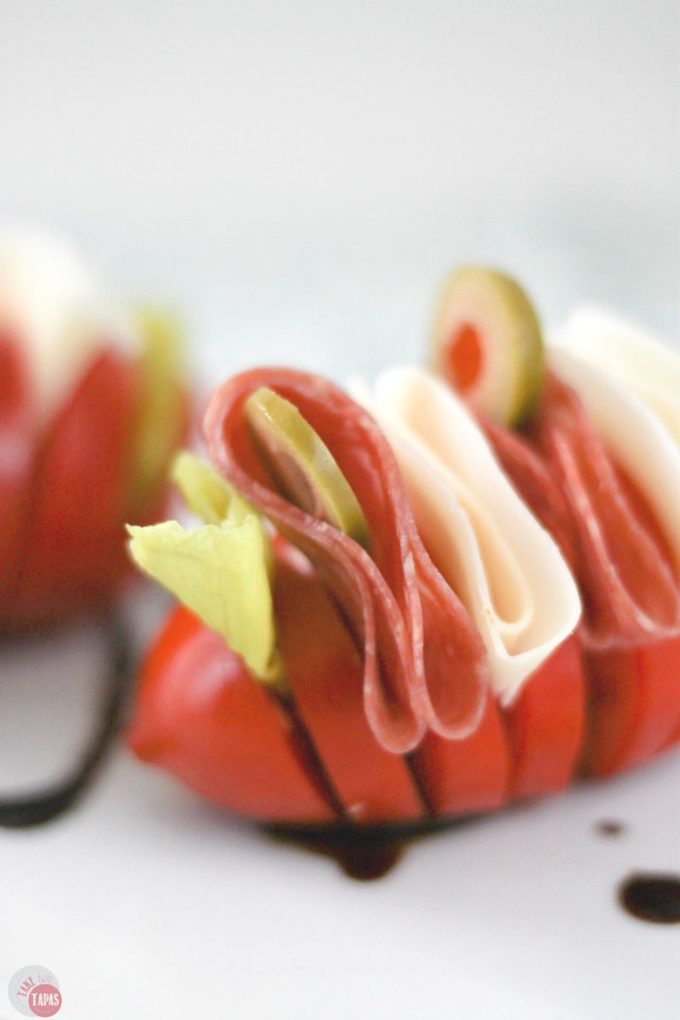 For more insider tips & tricks, and a candid behind the scenes look follow me on social media! Check use out on Pinterest, Facebook, Instagram, & Twitter (yes, people still use Twitter, LOL!)
Look how fun these Hasselback Antipasto Tomatoes are!! A few slices of cheese and salami, nestled in with a couple of pepperoncini peppers and olives, and you have a full salad all tucked into your Hasselback sliced Roma tomato. The perfect sized portion for a salad and so cute! I also make Bite-Sized Greek Salads and Mediterranean Salad Stacks. You should check them out too.
You need to use the Roma tomatoes because they are shaped like a potato. The round, vine-ripened ones tend to roll slightly and you can't get as many slices out of each one. Those are better for stuffing. Roma tomatoes tend to be "meatier" and can stand up to the slicing, and they are always cheaper at the store for me than the other varieties.
Grab some tomatoes, a few slices of salami and cheese from the deli, and Hasselback Antipasto Tomato away! These will store beautifully in the fridge, already sliced and stuffed, and make a great lunch option!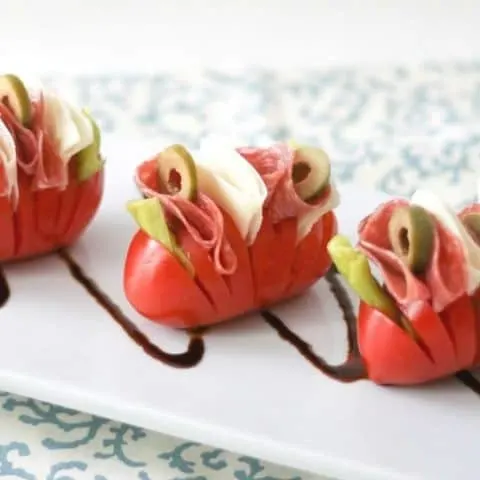 Hasselback Antipasto Tomatoes
Yield:
4 hasselback tomatoes
Want a fun twist on an antipasto salad? Try these Hasselback Antipasto Tomatoes! All the delicious ingredients of an antipasto salad all tucked into a tomato.
Ingredients
4 Roma tomatoes
8 slices salami
8 slices provolone cheese
8 pepperoncini peppers
4 olives
2 tablespoon balsamic glaze
Instructions
Place your chopsticks on either side of the tomato and slice through to the chopstick. I got about 6-8 slices out of each tomato.
Fold your cheese and salami into triangles.
Slide one cheese or salami slice in each of the tomato cuts.
Alternate with peppers and olives to all the cuts are filled.
Serve on a plate that has been drizzled with balsamic glaze.
Notes
*If you like this recipe, please leave me a comment and rate it with some stars. Thank you!
Nutrition Information:
Yield:

4
Serving Size:

1
Amount Per Serving:
Calories:

342
Total Fat:

22g
Saturated Fat:

12g
Trans Fat:

0g
Unsaturated Fat:

9g
Cholesterol:

59mg
Sodium:

2568mg
Carbohydrates:

18g
Fiber:

3g
Sugar:

12g
Protein:

20g
This nutrition information was generated via a third party, Nutritionix, and can not be held liable for any discrepancies in the information provided.
What vegetable do you want to "Hasselback?" Can I use that as a verb? Comment below and let me know what you are making!!
©TakeTwoTapas.com. Content and photographs are copyright protected. Sharing of this recipe is both encouraged and appreciated. Copying and/or pasting full recipes to any social media is strictly prohibited.