Hosting an amazing Game Day Get Together is easier than you think! Check out these stress free tips and tricks to feed your team while watching the Big Game!
This post is sponsored by BabbleBoxx.com.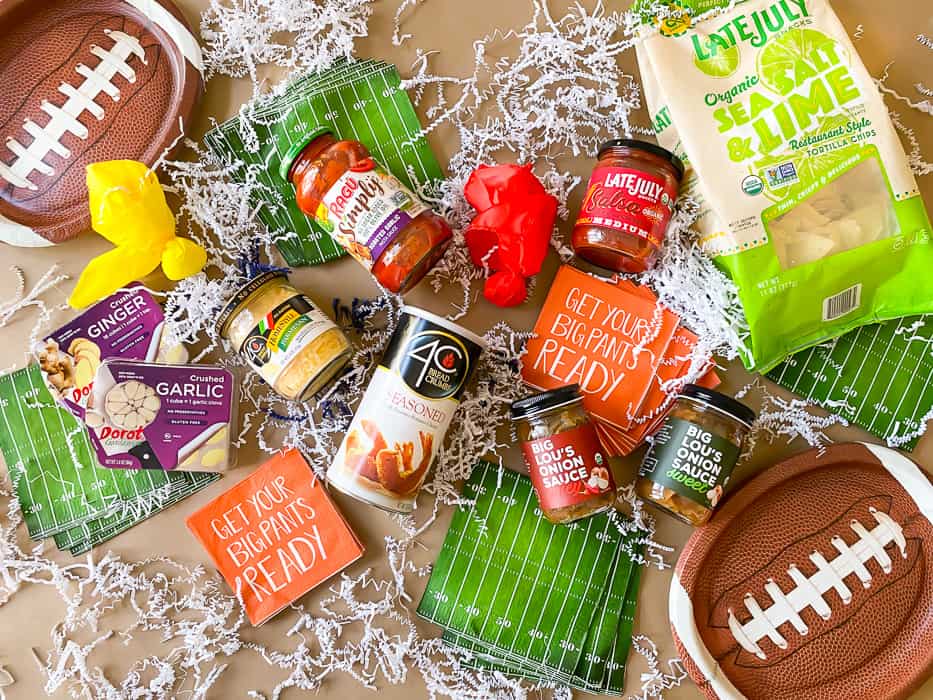 How do you throw a stress free party for the big game?
Are you excited for the Big Game? Are you gathering all your team gear, dressing in team colors, and getting ready to have a house full of friends and family?
If you love hosting parties, you know that there is a little bit of planning, and sometimes a little stress, even if you are an expert at entertaining.
I'm going to show you some tips and tricks to opening your home to a crowd and leave the stress at the door!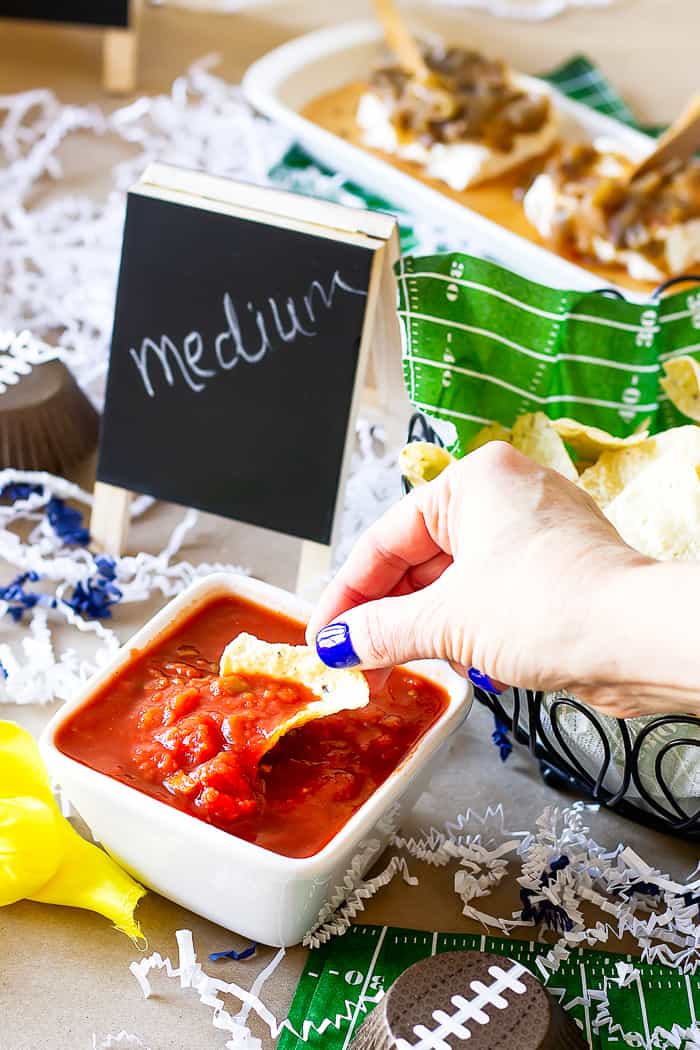 How can I be a good party host?
Any gathering starts with an easy finger food to keep your guests happy while you are prepping the rest of the table spread. And nothing is easier than chips and salsa.
When you are having people over, the best advice is to keep it simple. Simple is good because you can taste the quality of the ingredients!
There are a ton of options when if comes to tortilla chips and salsa but my "GO TO" brand is Late July Chips and Salsa.
Their chips are made with white corn, rolled thin, cooked till nice and crispy! They make the perfect team when paired with their Thick & Chunky Medium Salsa. Plus they are organic, non-GMO, gluten-free, and kosher. Try them with guacamole too!
Check out Late July Snacks and all their tortilla chips, salsa varieties, and popcorns. A good party host always has a variety of finger foods that everyone can enjoy.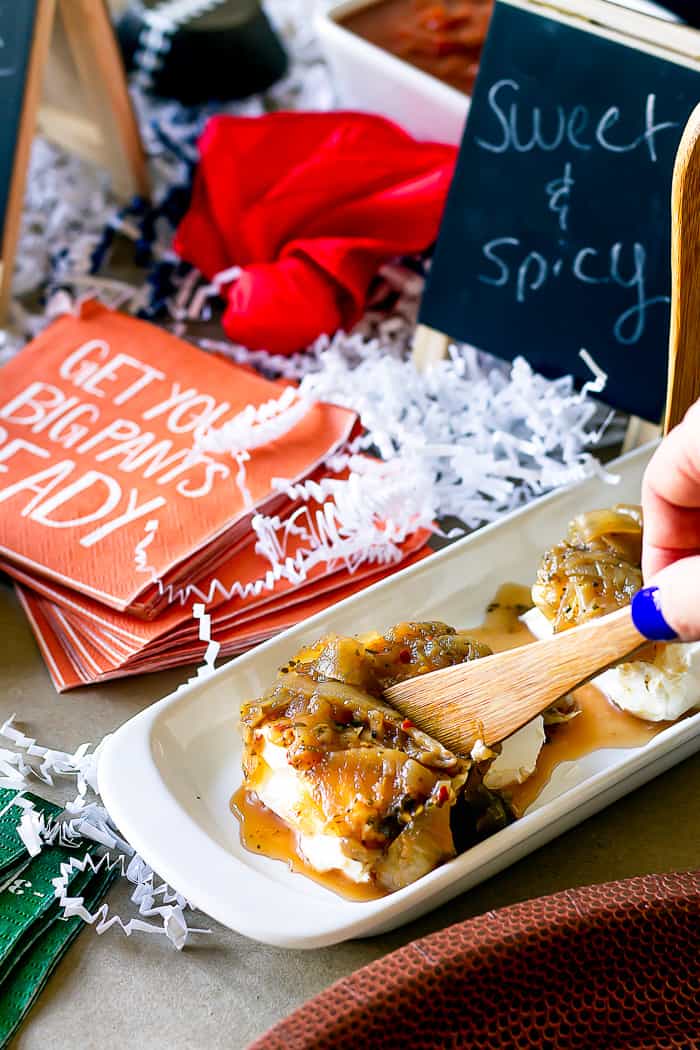 How do you throw a killer party for the Big Game!
A killer party starts with a killer cheese spread. The easiest hack for throwing a party is to have a great topping for cream cheese.
What's easier than unwrapping a block of cream cheese, pouring on a delicious topping, and serving with a basket of crackers? Not much else!
You can go with the typical jelly and relish, but I prefer something with a little more oomph. Bring on the onions!
Big Lou's small batch, sweet or spicy onion sauce is a tasty way to top your nachos, make French onion dip or take your pigs in a blanket to the next level. I pour a jar of each on some softened cream cheese, add some crackers, and sit back and enjoy the deliciousness as I gobble it up one cracker at a time.
For a limited time you can enjoy Big Lou's with a special discount. Use by December 31, 2020 and use the Coupon Code: babbleboxx10 to get 10% off your first order!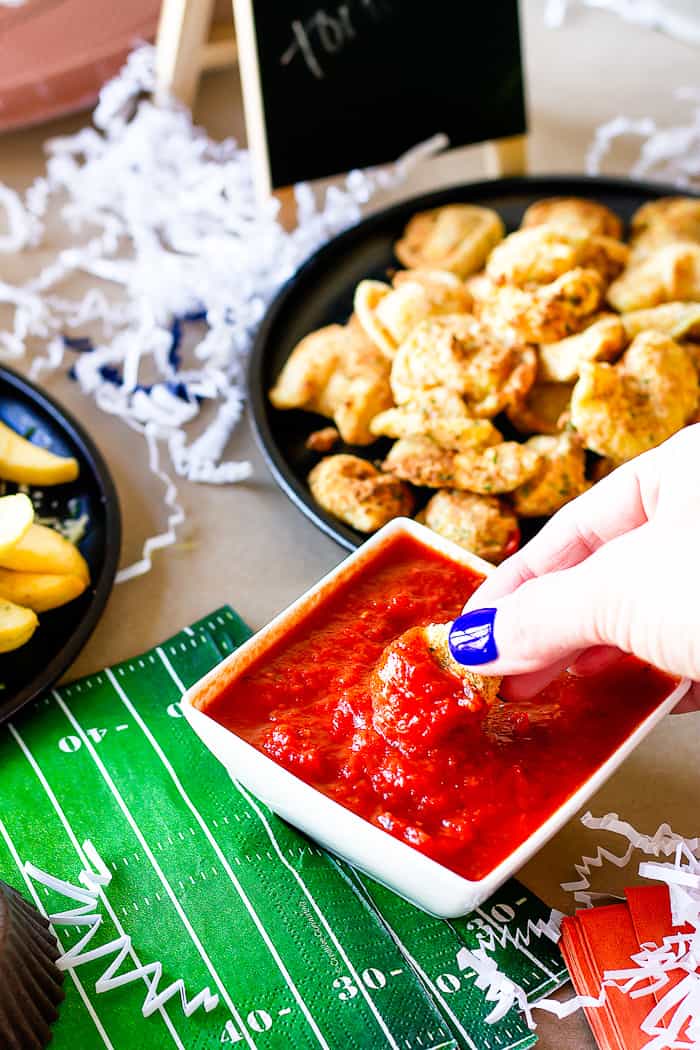 How do you relax when hosting a party for the big game?
Once you have your guests busy with finger foods like raw veggies, cheese spreads, or chips and salsa, you can get the hearty appetizers ready to go.
I love pasta, so when I want something filling, I always grab pasta. Toasted cheese tortellini with a crispy coating are always a winning recipe. Plus you can make them in the air fryer and keep your oven off.
A lot of people in your house will heat it up quickly so using your air fryer will keep your house from overheating, cook things quickly, and get get you a crispy coating!
Once you have a plate full of hot and crispy air fryer cheese tortellini, you need something to dip it in. Don't spend hours making a sauce when RAGU Simply™ Roasted Garlic Sauce tastes like homemade!
RAGU Simply™ Roasted Garlic Sauce is make with high quality 100% olive oil, has no added sugar, and is the best when paired with you favorite football party recipes.
A delicious jar of sauce, with simply delicious flavor, is an easy way to take the stress out of entertaining and allow you to relax with your guests instead of spending hours in the kitchen!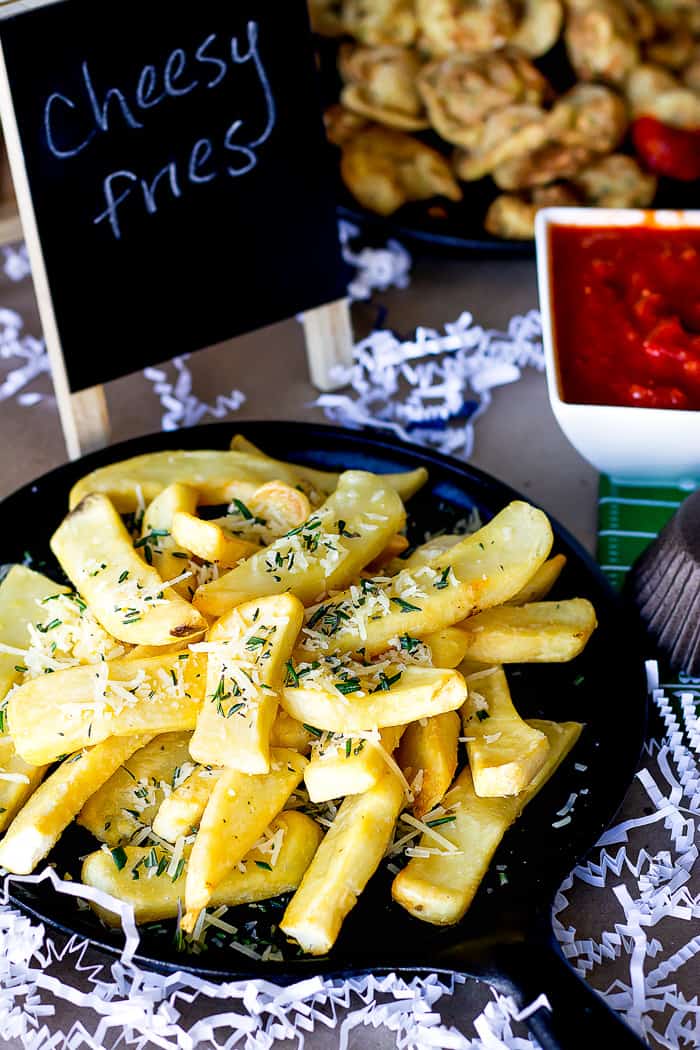 What makes a great party host?
Serving at least on appetizer that everyone likes is a great start. One thing that everyone loves is french fries! Whether they are regular, sweet potato, or eggplant fries, everyone can't wait to dig into hot and crispy fries.
A great party host will serve hot fries with a tasty dipping sauce or toss them in an herb infused olive oil. I love truffle fries, but not everyone has those on hand, but everyone (most everyone anyway) has garlic and rosemary in their pantry.
Toss some hot and crispy fries, straight out of the air fryer, in a mixture of garlic and rosemary and serve on plate. Take them to another level and sprinkle them with Parmesan.
Don't worry about having an expensive block and a fancy grater, 4C Homestyle Parmesan Cheese, is a nutty and delicious and 100% cheese. A sprinkle of their grated cheese and your fries are out of this world!
check out their website and all their other products here 4C Foods and follow them on Facebook for recipe ideas!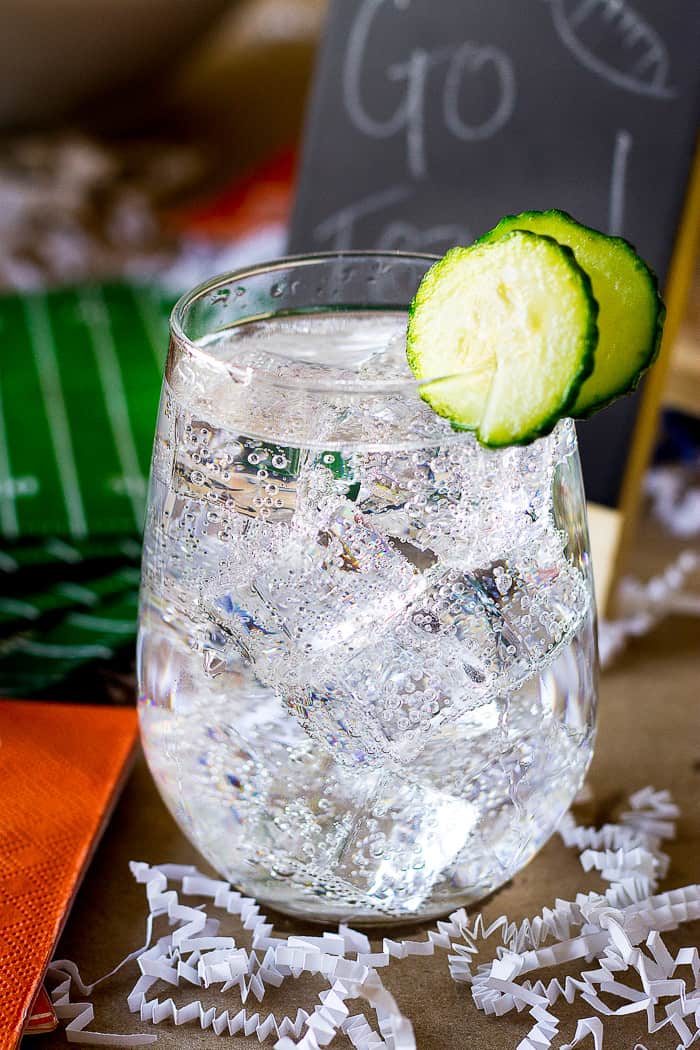 How do you entertain guests at a party?
After all the food is out, your guests will need something to wash it down with. You can't forget about the drinks and cocktails!
The best way to serve drinks is to have a variety of soda, tea, water (sparkling, still, fruit flavored), beer, and mixers. You can even have a signature cocktail!
I love making an adult beverage that is based one the theme of the party, or really to use up a mixer I currently have on hand. If you are recreating a cocktail and need to add something to switch it up, I like using Dorot Gardens.
Dorot Gardens has pre-portioned herbs in the freezer section that are a great kitchen hack. I use the garlic when I make the infused oil to toss my french fries in. But the ginger is great for cocktails.
A simple cocktail of lime sparkling water, fresh ginger, and muddled cucumber is easy to make as a single drink or mix up a pitcher and set out as your signature Game Day cocktail.
The frozen cubes of fresh ginger that add a unique flavor profile that pairs perfectly with the fresh cucumber and the tart lime. It works great in beer too!
If you are brave, the garlic might be a bold choice for a cocktail! I love using the garlic cubes in the infused olive oil that I toss my hot and crispy fries in.
Their frozen garlic cubes are great because pre-portioned garlic eliminates chopping and measuring, making it effortless to season and flavor your cooking.
Check out Dorot Gardens on Instagram, Facebook, and YouTube for even more kitchen hacks!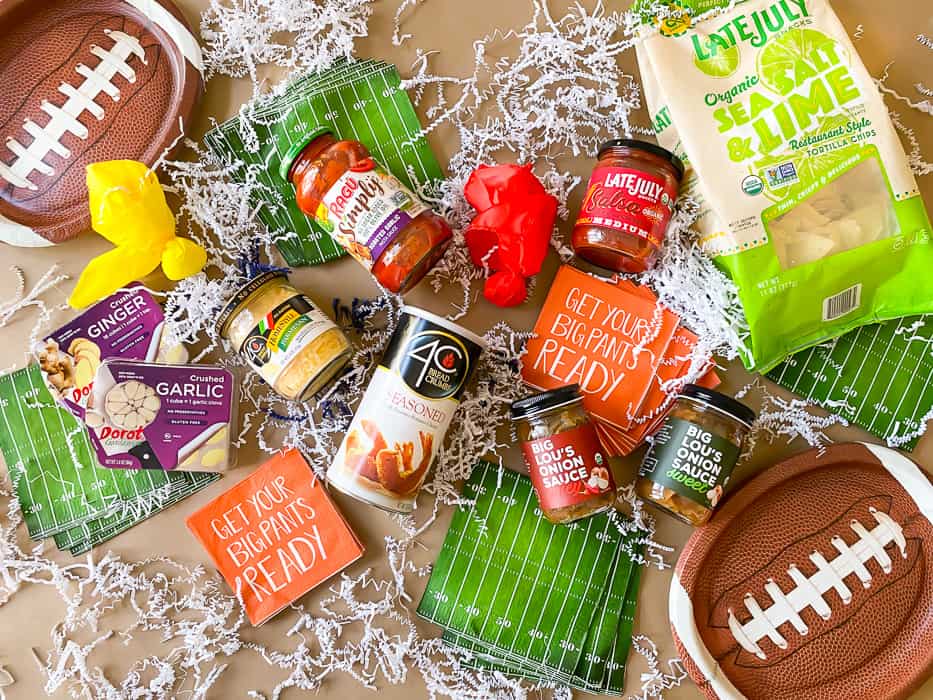 What you should not forget on Game Day!
Don't forget to enjoy time with your friends and family, eat all the great food, and relax a bit.
The dishes can wait until tomorrow…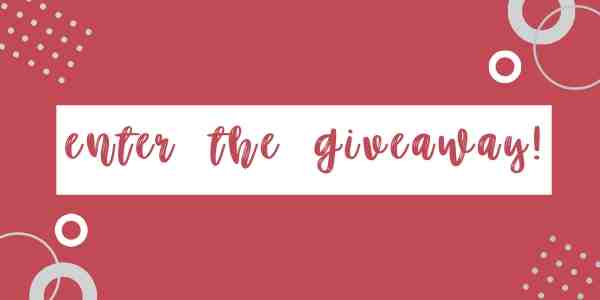 Score with this Prize Package!
Want to win some delicious items to help you host the perfect Game Gay Get Together?
Comment on this post (at the bottom of this page) and click that you commented in the giveaway box below. Then you are entered to win the following prize package from RAGÚ.
Five (5) Grand Prize Winners will receive – 1 Jar of RAGU Simply Roasted Garlic Sauce, 1 Jar of RAGU Butter Parmesan Sauce, 1 Jar of RAGU Creamy Alfredo Sauce with Cauliflower, (5 x) $1 Off RAGU Coupons + 1 RAGU Pot Holder + 1 RAGU Aprons + (2x) RAGU T-shirts (one small, one XL)
Want more entries to increase your chances of winning? Once you click the "Leave a blog post comment" button below, more chance to enter will appear! These extra chances are not mandatory to win, they just provide additional entries. Terms & conditions apply.
BabbleBoxx will randomly select winners from all program entries and will be responsible for fulfillment of prizes to the winner.
a Rafflecopter giveaway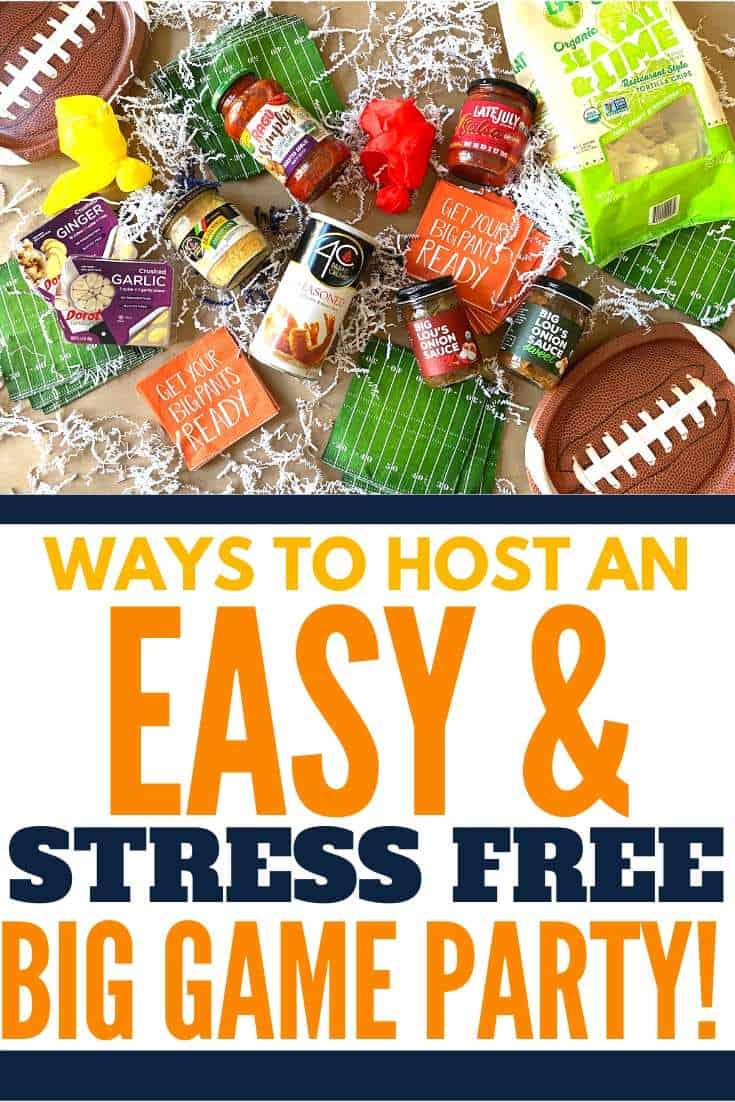 Need help hosting other occasions? Here are things to keep on hand for surprise guests, a summer tapas party, and the Kentucky Derby.
@TakeTwoTapas.com. Content and photographs are copyright protected. Sharing of this recipe is both encouraged and appreciated. Copying and/or pasting full recipes to any social media is strictly prohibited.