Take a much-needed break from wrapping all those holiday gifts with a few friends and a homemade hot cocoa mocha. Show up with a Gift Wrapping Get Away Gift Basket and enjoy time with friends.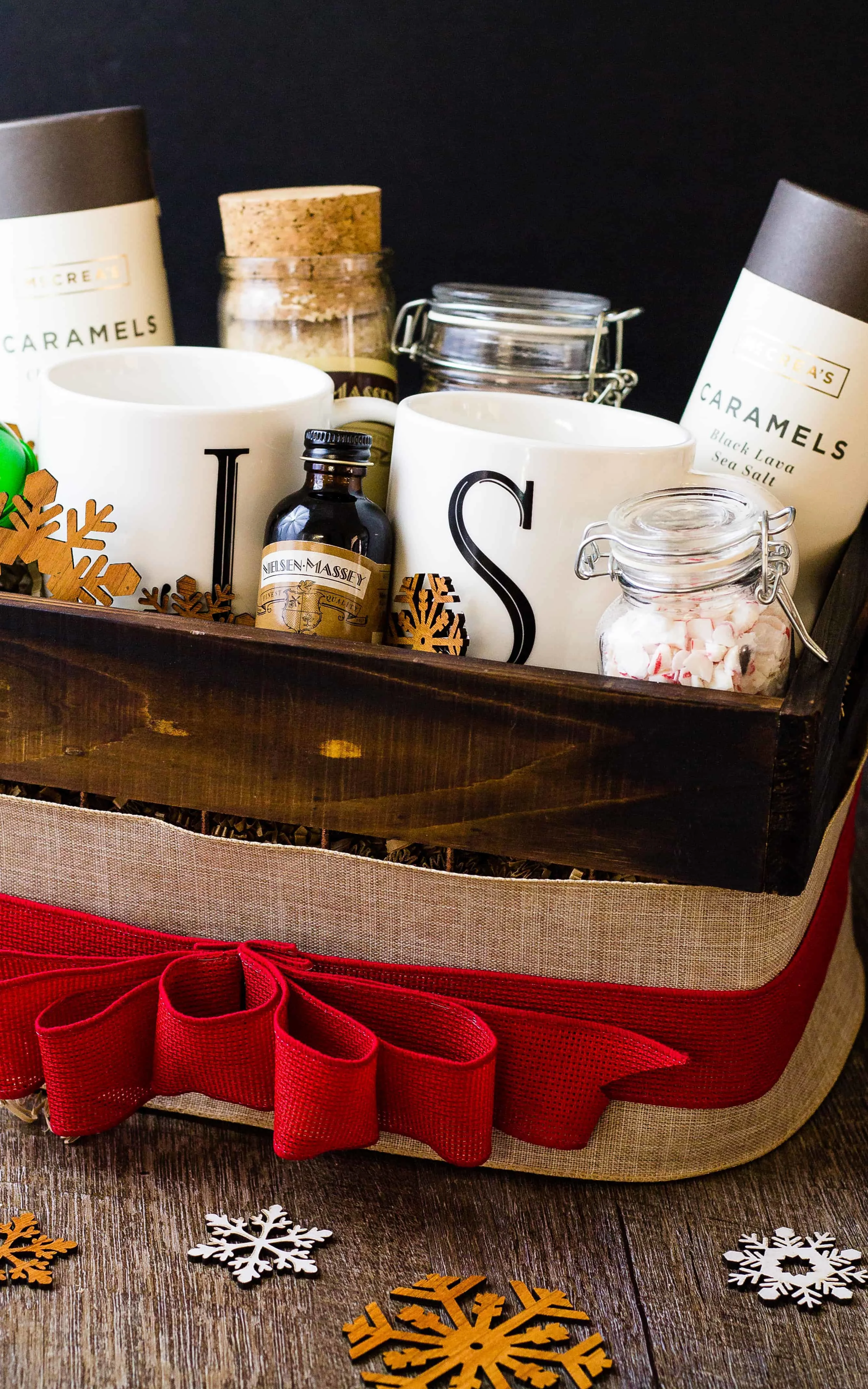 Gift Wrap Basket
As if the holiday season isn't stressful enough, trying to find the perfect gifts for everyone and then getting them all wrapped in time, leaves very little room for relaxing and just enjoying this time of year.
My husband and I usually wait and wrap all the gifts for the kids on Christmas Eve. After attending the candlelight service, we go to my in-laws for dinner and family time then the hubby and I head back home to sleep while the kids stay there.
We retrieve all the gifts from their hiding places and spend a few hours wrapping them.
That may sound weird like we don't have any gifts under our tree before Christmas Day but we do, they are just for other people.
This keeps the shaking and guessing by the youngsters to a minimum while emphasizing that the holidays are about helping others.
But wrapping all the gifts for other people gets stressful too! What if you could take a break and give a gift at the same time?
My Gift Wrapping Get Away Gift Basket is the perfect way to do it!
This post may contain affiliate links. As an Amazon Associate, I earn from qualifying purchases. Read my disclosure policy here.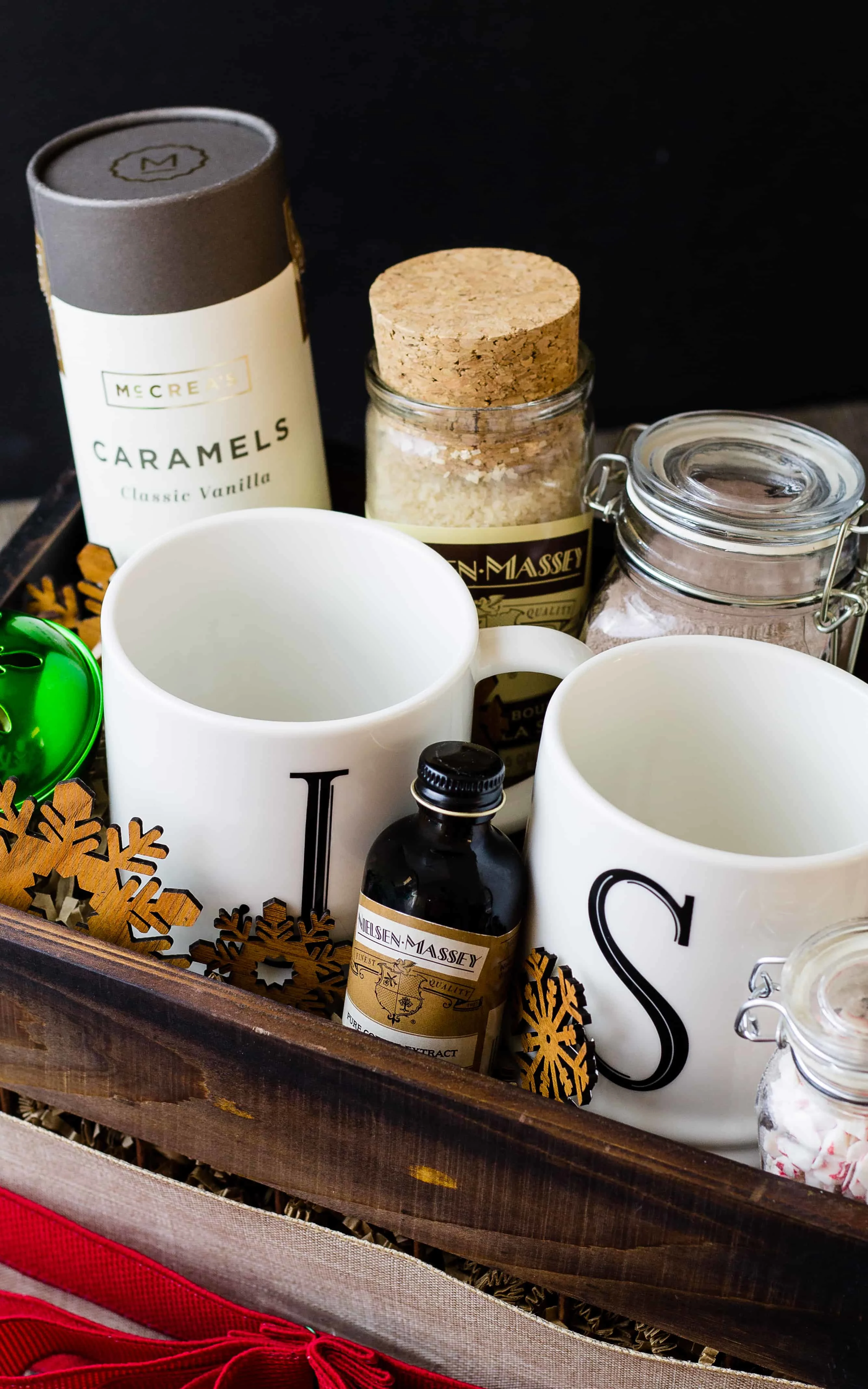 What's in a Hot Cocoa Gift Basket?
Well, just about anything you want to give really but I created this one for my girlfriends specifically. It is only a few items but they will give you and the recipient the perfect opportunity to take a break from spastically wrapping gifts, let your paper cuts and scissor wounds heal, and spend quality time with loved ones that are more special than anything you can buy.
My Gift Wrapping Get Away Gift Basket contains just a few precious items but each one is exquisite. Since I will be making one for each of my girlfriends I try to personalize it a little.
I start off by buying a basket that is a multi-tasker. This one has a sturdy wood top and a wire bottom this is perfect for books, magazines, toys, etc.
The gift basket as a whole is centered around a homemade cocoa mix for making a Hot Cocoa Mocha so I add in two personalized mugs. Coffee, tea, or cocoa will fill these perfectly.
Then I add a jar of the homemade cocoa mix (recipe below) made with Nielsen-Massey Madagascar Bourbon Vanilla Sugar and a small jar of crushed peppermint candies for a garnish.
You can really add any candy or garnish you like I just don't like to give empty jars as gifts.The jars are really part of the gift as everyone can always use a jar to store things in like paperclips, extra salt, leftover mini chocolate chips that need a new home.
Your favorite spice mix, like my Homemade Jerk or Italian Seasoning, would work too.
A Hot Cocoa Mocha is a hot chocolate with a little coffee in it. Much like the mochas you get at other coffee houses that are coffee with milk and chocolate syrup, I do this one in reverse.
A hot cocoa with a touch of coffee extract! I include a small jar of coffee extract from Nielsen-Massey. Their coffee extract is made with premium ingredients sourced from all over the world.
I received a bottle of their Chocolate Extract in a gift bag and have enjoyed using it ever since!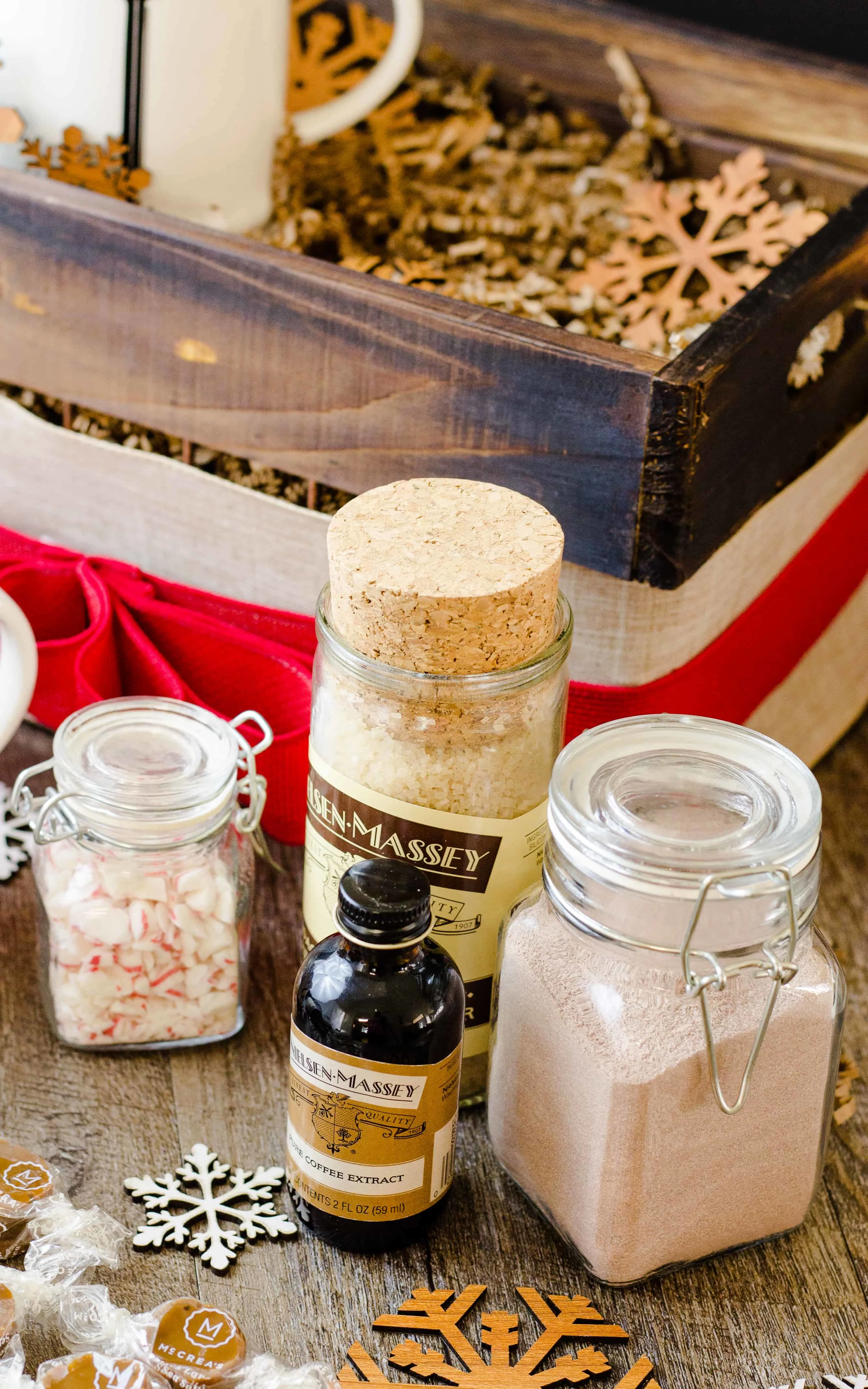 Treat Yourself
The homemade cocoa mix is the perfect start to your Gift Wrapping Get Away visit.
I love a mug of hot cocoa myself, but I enjoy it even more with a nip of bourbon or rum like my eggnog. My friends enjoy a bit of Bailey's Irish Cream in theirs!
If you are a bit of a wild card don't rule out adding a little red wine to your Hot Cocoa Mocha, you may be pleasantly surprised.
After the Hot Cocoa Mocha items are added to the Gift Wrapping Get Away Gift Basket I like to throw in a few treats too.
While enjoying the warm cocoa I like to have a few caramels. McCrea's Candies makes the most amazing caramels.
Founded by husband-wife team Jason and Kate McCrea, McCrea's has received numerous awards for its caramel and is a Good Food Award winner, an honor given to outstanding American food producers.
McCrea's quest to find the perfect combinations of smooth, sweet, fresh, and unexpected using the fewest possible ingredients shows in their caramels.
Their Rosemary Truffle Sea Salt Caramels are amazing but I am most taken with their Black Lava Sea Salt and their signature Classic Vanilla. I can't believe they still handroll their caramel and package it in biodegradable containers that are beautiful enough to leave unwrapped.
Add in two containers of McCrea's Caramels to anchor the Gift Basket and then add a few wood snowflakes and an ornament in a color that will pop. A festive ribbon along the bottom completes the look!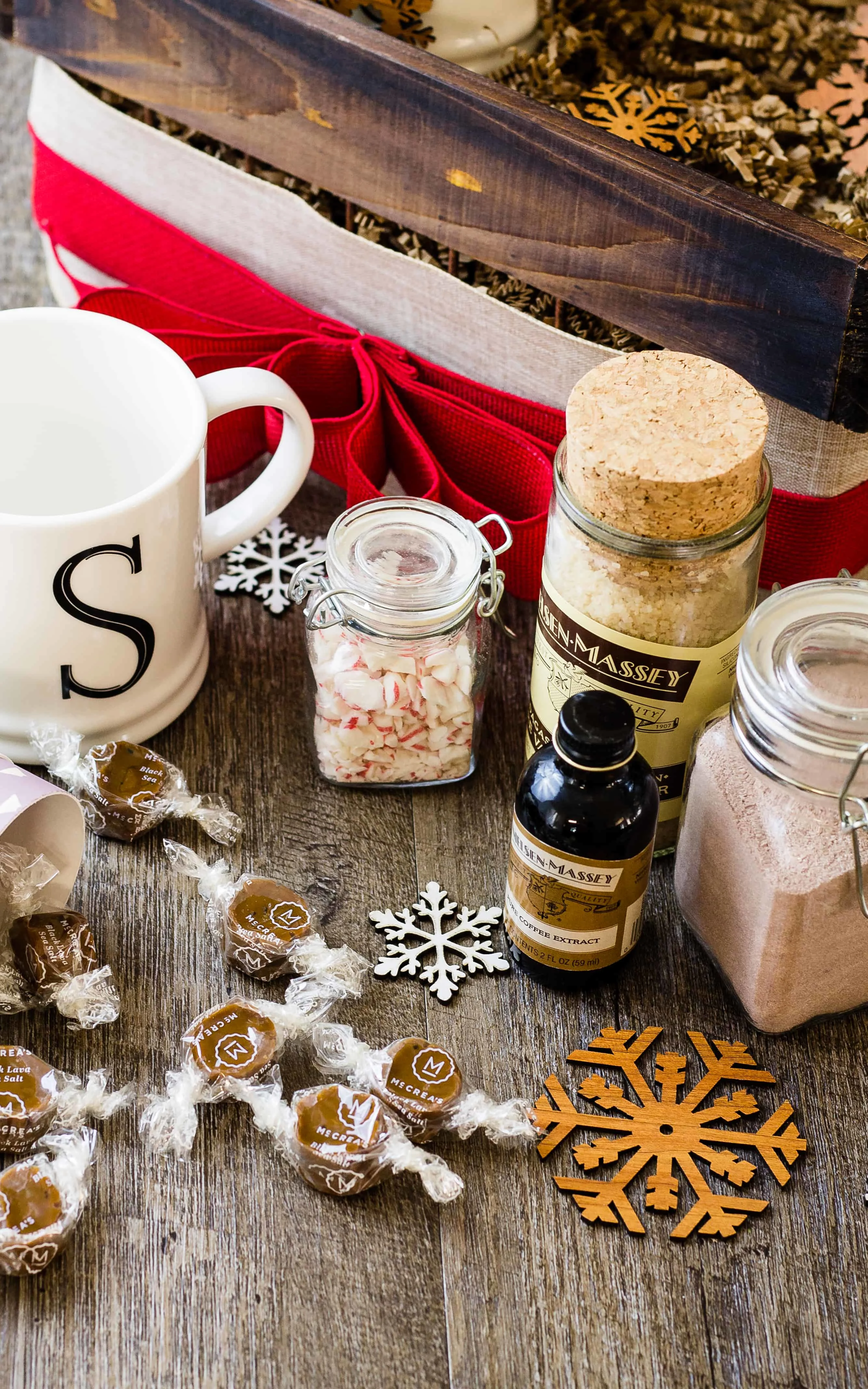 More Snacks To Enjoy!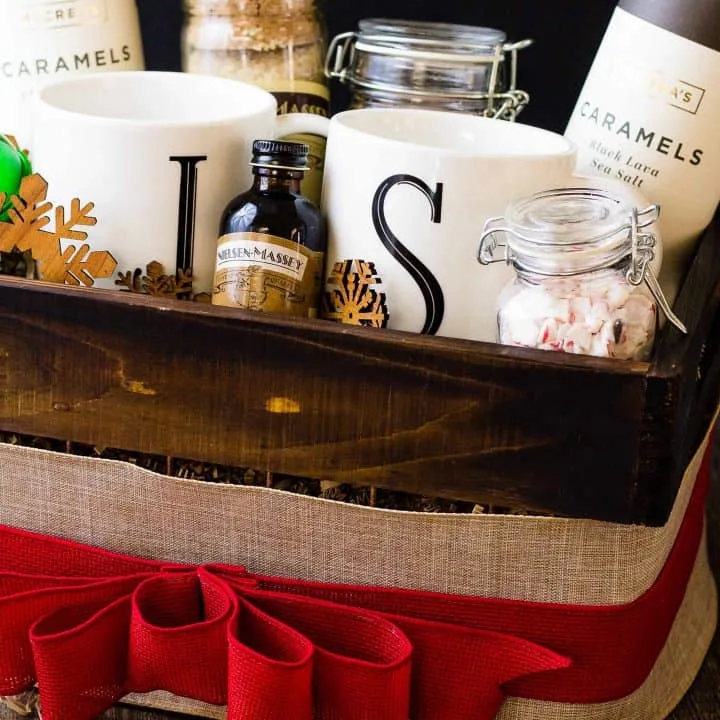 Gift Wrapping Get Away Gift Basket - Homemade Cocoa Mocha
Take a much-needed break from wrapping all those holiday gifts with a few friends and my homemade hot cocoa mocha. Show up with a Gift Wrapping Get Away Gift Basket and enjoy time with friends.
Ingredients
Homemade Cocoa Mix
1/2 cup sugar (granulated)
1/3 cup Bourbon Pure Vanilla Sugar (I use Nielsen-Massey)
1/2 cup cocoa (unsweetened)
1/4 teaspoon sea salt
To make the Hot Cocoa Mocha
2 tablespoons homemde cocoa mix
1 teaspoon coffee extract (I use Nielsen-Massey)
1 ounce optional holiday spirit (I use bourbon or Irish Cream)
8 ounces hot milk
marshmallows, whipped cream, and crushed peppermint (for garnish)
Instructions
Mix the Homemade Cocoa Mix
Combine the granulated sugar, bourbon vanilla sugar, cocoa, and salt.
Mix thouroughly.
Store in an airtight container until ready to use.
Make the Holiday Spirit Cocoa Mocha
Heat the milk to your preferred temperature.
Add 2 tablespoons of the homemade cocoa mix and stir to combine.
Add the coffee extract and stire to combine.
Garnish with marshmallows, whipped cream, and crushed peppermint candies.
Enjoy your time off from gift wrapping with friends and family to celebrate the true meaning of the season.
Notes
*If you like this recipe, rate it with some stars!!!
Nutrition Information:
Yield:

10
Serving Size:

1
Amount Per Serving:
Calories:

109
Total Fat:

1g
Saturated Fat:

1g
Trans Fat:

0g
Unsaturated Fat:

0g
Cholesterol:

2mg
Sodium:

95mg
Carbohydrates:

19g
Fiber:

1g
Sugar:

15g
Protein:

2g
This nutrition information was generated via a third party, Nutritionix, and can not be held liable for any discrepancies in the information provided.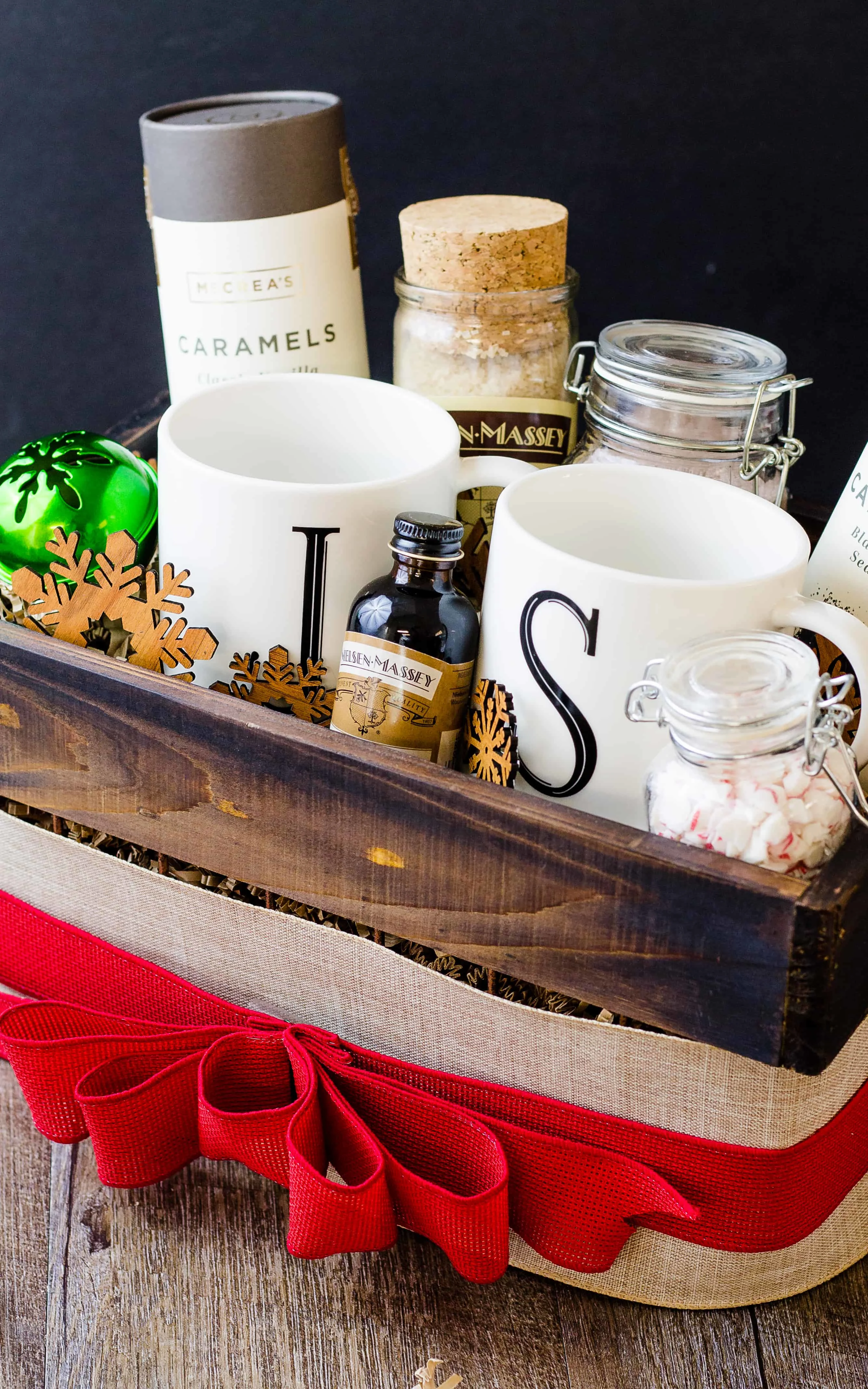 I adapted this recipe for use in this gift basket.
TakeTwoTapas.com. Content and photographs are copyright protected. Sharing of this recipe is both encouraged and appreciated. Copying and/or pasting full recipes to any social media is strictly prohibited.