Forget the whole cake, enjoy all the flavors of German Chocolate cake but in a two-bite deep-fried treat, my German Chocolate Wontons!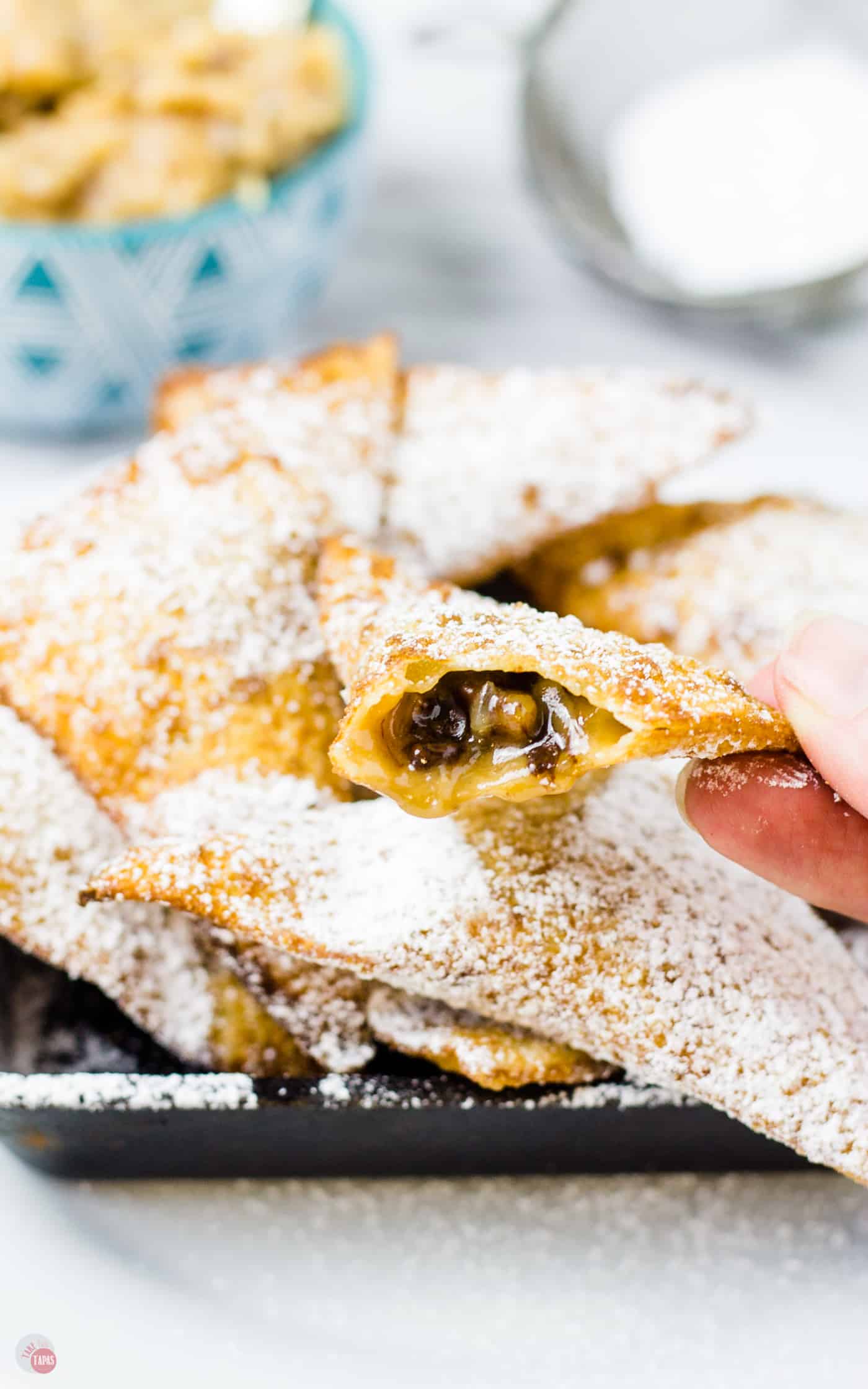 If you love German Chocolate cake then you are going to love these! A two-bite (ok maybe three depending on how big your mouth is) treat that will blow your mind and make you forget that huge cake and fall in love with my German Chocolate Wontons.
Choctoberfest continues and I can't stop thinking about German Chocolate Cake! Earlier in the week, I posted a recipe for German Chocolate Popcorn, and as you can see I am following through with another German Chocolate recipe.
I just love it so much! As I explained in the popcorn post, I love the cake but I really only eat it for the frosting.
The frosting is something I can eat by the spoonful all throughout the day with reckless abandon.
It might be my dinner tonight actually. I love it so much it is even the surprise ingredient in my Louisiana Stranger Cake.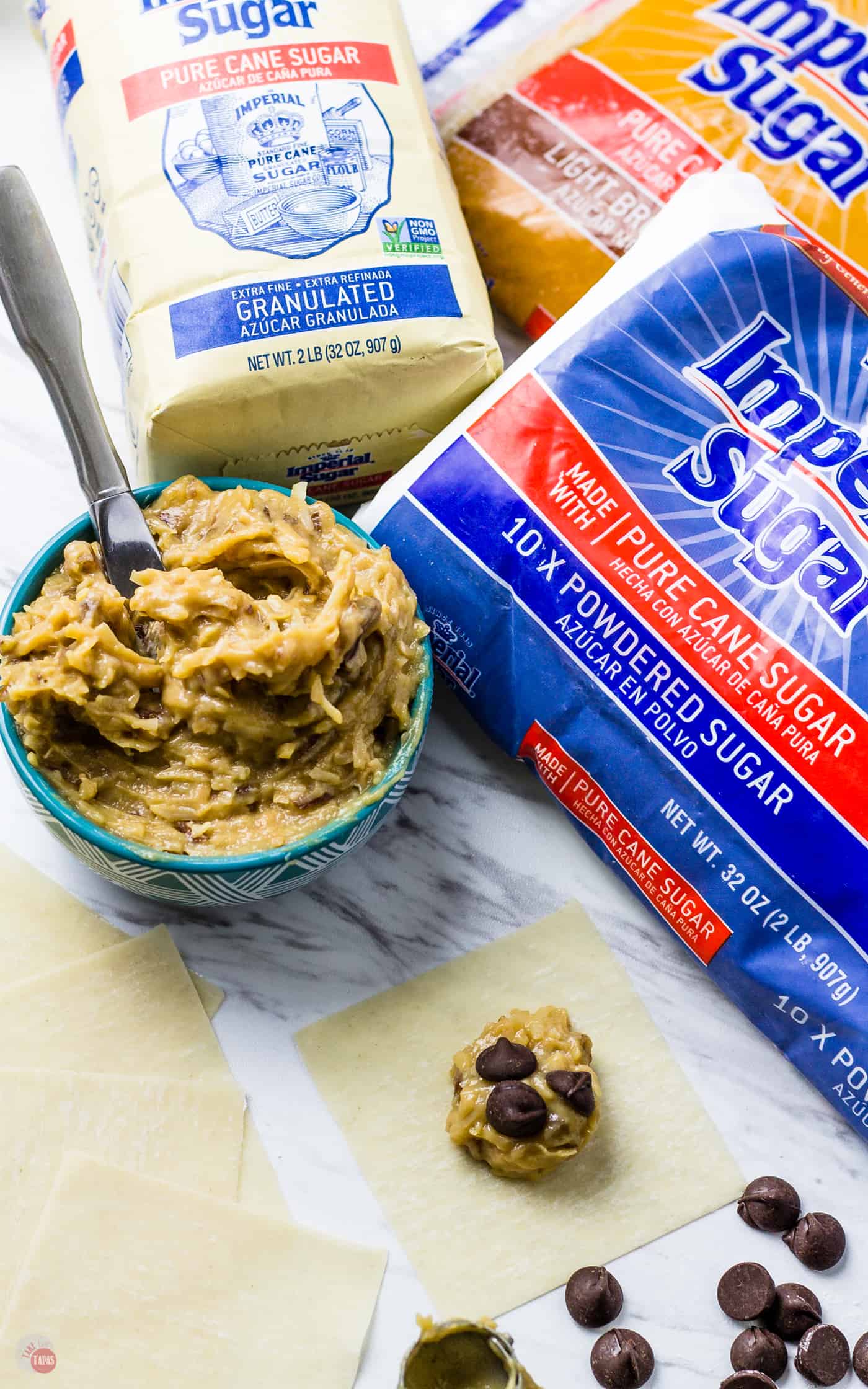 This Choctoberfest recipe is brought to you by our gold sponsor Imperial Sugar. Imperial Sugar provided me with all three sugars used in the making of this recipe.
The frosting is the hardest part of making this recipe. Just set aside some time to be in front of the stove for about 2o minutes getting an arm workout. German chocolate frosting has the most amazing flavors of caramel, coconut, and pecans.
The inspiration for the frosting actually came from the back of the Imperial Sugar brown sugar bag. They have a recipe for German Chocolate Cake printed right on the back, I just took the recipe for the frosting and ran with it.
The only change I make to their recipe is to make half the amount and instead of using all granulated sugar, I split it with brown sugar. The molasses in the brown sugar will make the frosting more "caramel-y" and a little richer.
Not that it needed it but since I am only using a small scoop of this fabulous frosting in each wonton, I wanted to really make it count.
This post may contain affiliate links. As an Amazon Associate, I earn from qualifying purchases. Read my disclosure policy here.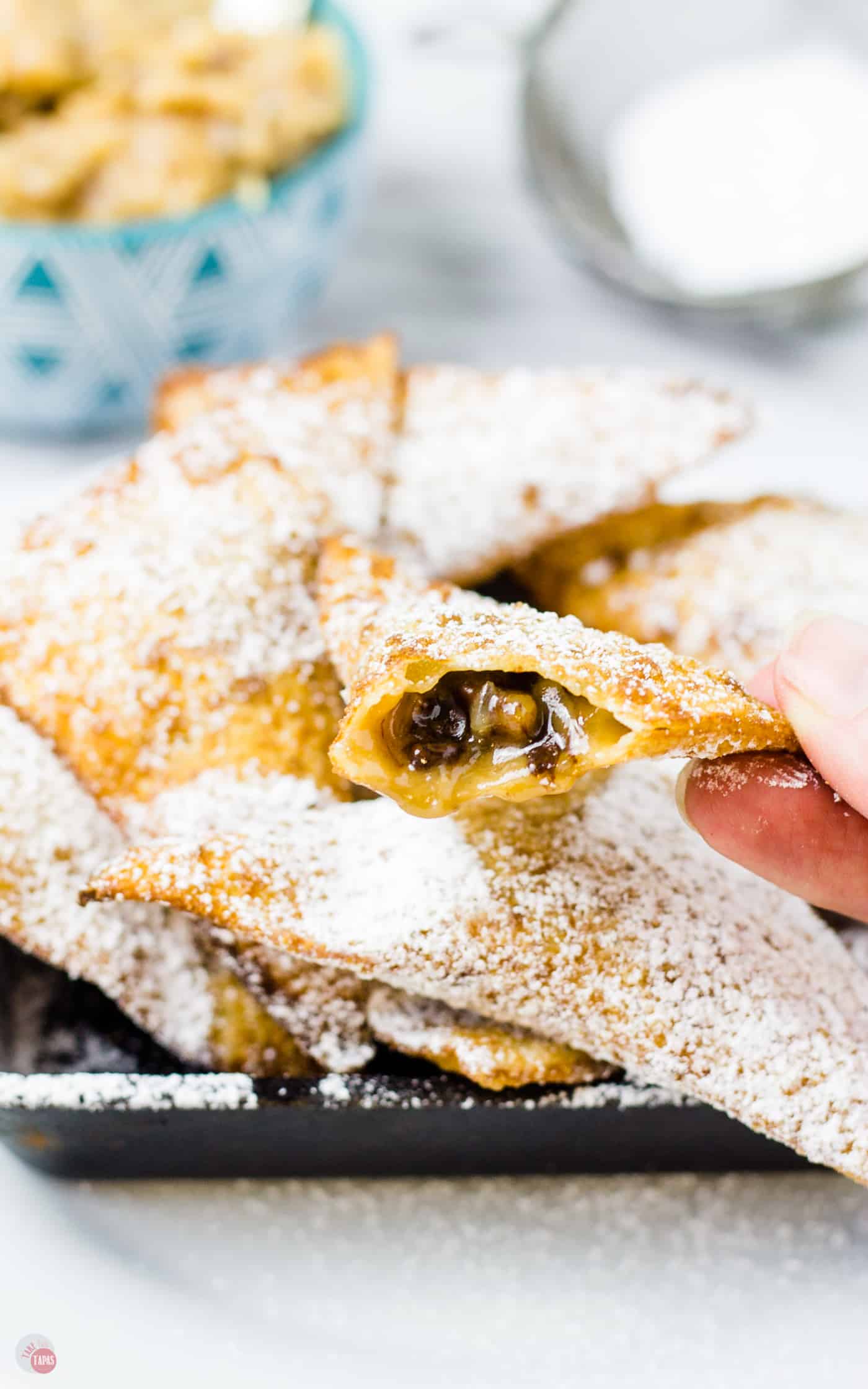 Once the frosting is out of the way you can make the wontons at your leisure. I keep my frosting in the refrigerator along with my wonton wrappers, so when the mood strikes, I can whip up a few or an entire batch.
A scoop of the amazing German Chocolate Frosting in the middle of a wonton wrapper, a couple of dark chocolate chips, and you have all the flavors in one bite.
You can make the wontons into any shape you want but the triangles are the easiest. The German Chocolate Wontons can be "fancified" if you are serving them at a party with a special theme or just don't like triangles.
Fold them in rectangles or like my Gyozas if you are feeling adventurous! These are your wontons so make them into the shape you want.
For more insider tips & tricks, and a candid behind the scenes look follow me on social media! Check use out on Pinterest, Facebook, Instagram, & Twitter (yes, people still use Twitter, LOL!)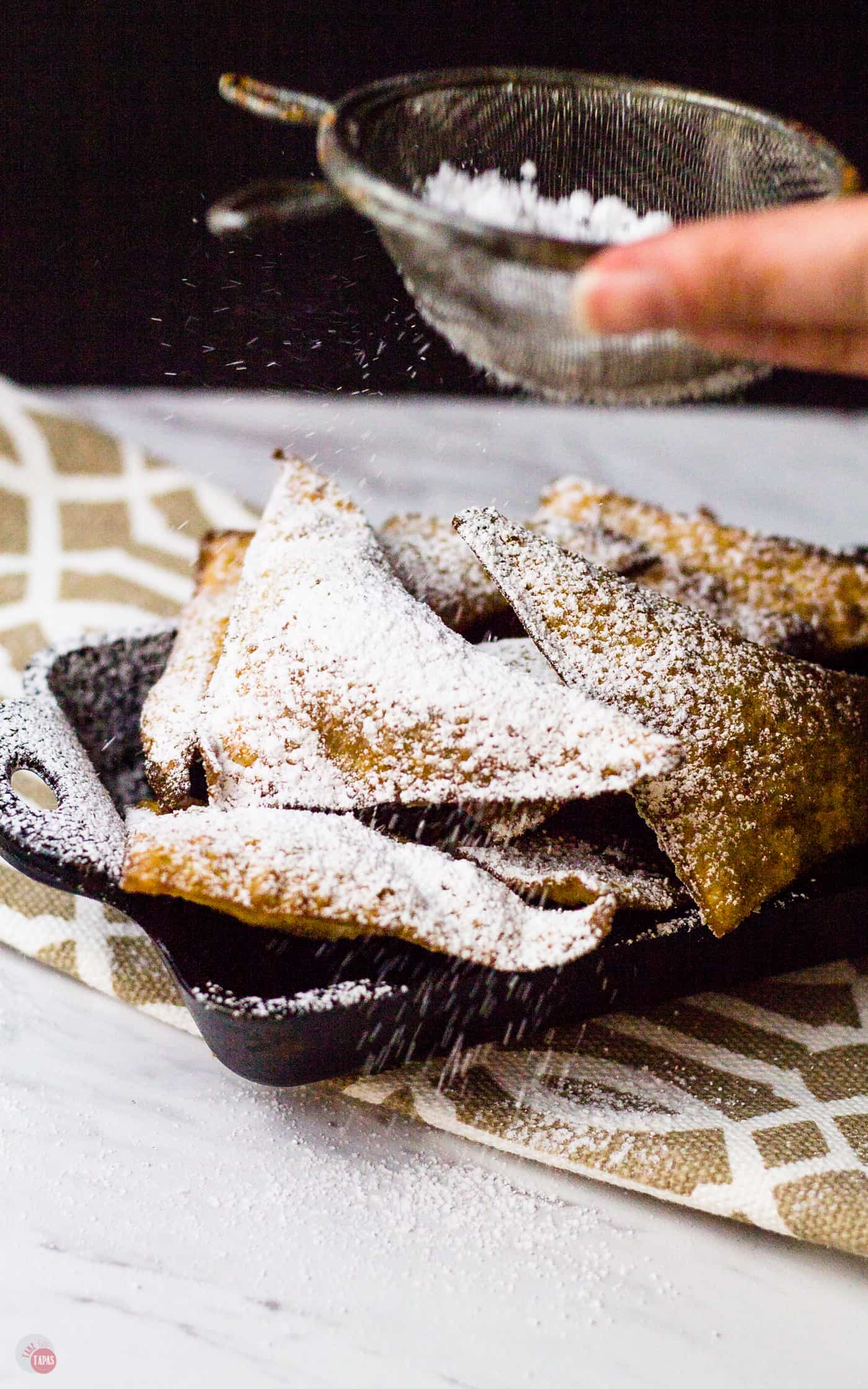 Fold all the wontons you are planning on eating and heat up some oil in a frying pan.
A quick dip in the hot oil will get the German Chocolate Wontons crispy and give them a nice golden brown color and make the frosting and chocolate tucked inside warm and gooey.
Once the wontons are out of the frying pan and a little cooler, dust them with some powdered sugar.
It not only looks nice but it adds a touch more sweetness, not that it needed it, but why not go all out?
Scoop, fold, and a little dip in the frying pan is all it takes. You can even make these earlier in the day and then reheat them in the oven for a few minutes to crisp them back up before serving!
MORE PARTY FOODS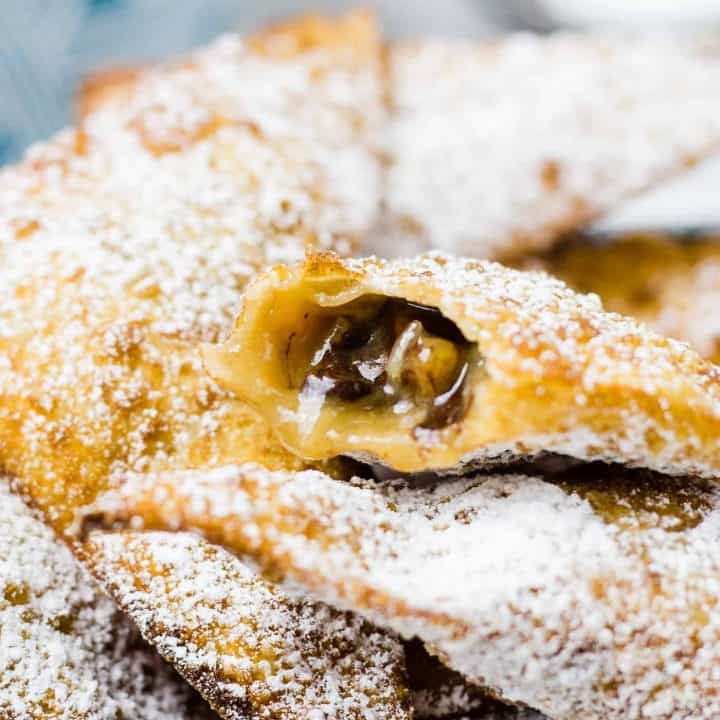 German Chocolate Wontons
Forget the whole cake, enjoy all the flavors of German Chocolate cake but in a two-bite deep-fried treat, my German Chocolate Wontons!
Ingredients
For the German Chocolate Frosting
1/2 cup Imperial Sugar granulated sugar
1/2 cup Imperial Sugar brown sugar
1 cup evaporated milk
1/2 cup butter (unsalted)
2 teaspoons vanilla extract
3 egg yolks
1/4 teaspoon salt
1 1/2 cups shredded coconut (toasted*)
1 cup pecans (toasted, buttered, and salted)
For the German Chocolate Wontons
1 package wonton wrappers (48 wrappers)
1 cup dark chocolate chips
Imperial Sugar powdered sugar (for garnish)
1 recipe German chocolate frosting
oil for frying
Instructions
Make the German Chocolate frosting
In a medium-sized saucepan, combine the sugars, evaporated milk, butter, vanilla extract, egg yolks, and salt.
Cook over medium heat, whisking continuously, for about 15-20 minutes or until the mixture is thick, without boiling.
Remove the pan from the heat and stir in the pecans and coconut.
Pour the frosting into another container and chill completely.*
Make the German Chocolate wontons
Add 1-2 inches of oil in a frying pan and heat to 375F.
In the center of each wonton, add a scoop (a heaping teaspoon) of the German Chocolate frosting.*
Top with a few chocolate chips.
Wet the edges of the wontons and fold over to make a triangle.
Press gently to remove all the air while sealing the edges together.
Continue until all the wontons are filled.
Fry for 1 to 2 minutes, turning occasionally to prevent burning, until golden brown.
When done cooking, remove to a paper towel covered plate to drain off excess oil.
When all the wontons are done frying, dust with powdered sugar for a garnish.
Serve warm with a tall glass of milk or red wine!*
Notes
* If you haven't toasted your coconut, toast at 300F for about 15 minutes.
* I chilled my frosting in the freezer and then stored in an airtight container in the refrigerator until ready to use. The frosting will last up to a week!
*I use this scoop to get consistent amounts of frosting.
*Or your dessert drink of choice.
*If you like this recipe don't forget to rate it with some stars!
Nutrition Information:
Yield:

24
Serving Size:

1
Amount Per Serving:
Calories:

211
Total Fat:

13g
Saturated Fat:

6g
Trans Fat:

0g
Unsaturated Fat:

6g
Cholesterol:

37mg
Sodium:

85mg
Carbohydrates:

23g
Fiber:

1g
Sugar:

21g
Protein:

2g
This nutrition information was generated via a third party, Nutritionix, and can not be held liable for any discrepancies in the information provided.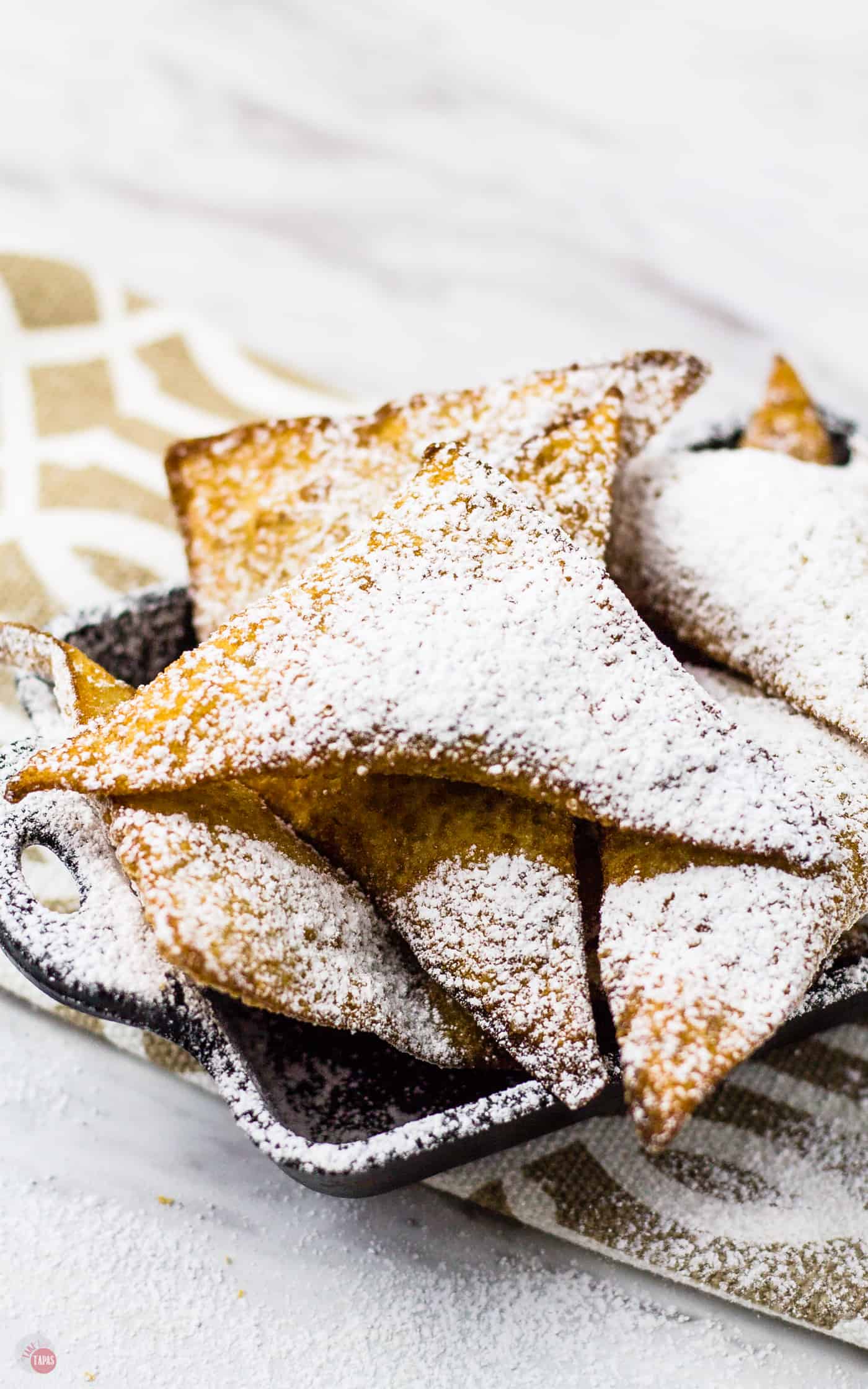 You know you want more chocolate! Check out the other Choctoberfest chocolate recipes shared today:
[inlinkz_linkup id=743274 mode=1]