I hope you have enjoyed reading about my first Fish to Fork Experience. This is a recap of the main event which included individual tastings from each of the guest chefs and an hour long "Iron Chef" team competition. Check out all the delicious photos below!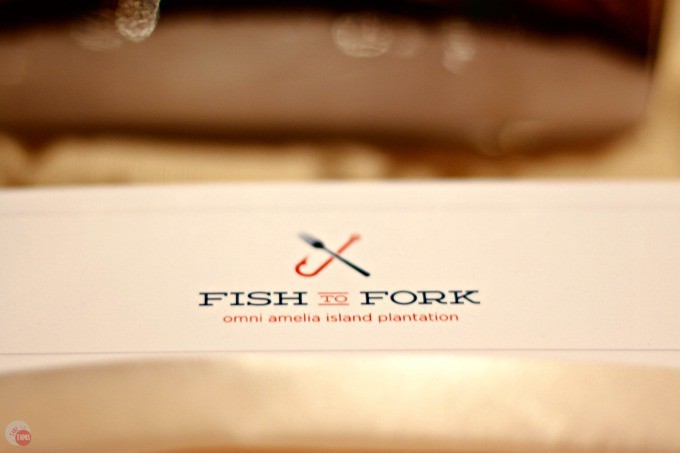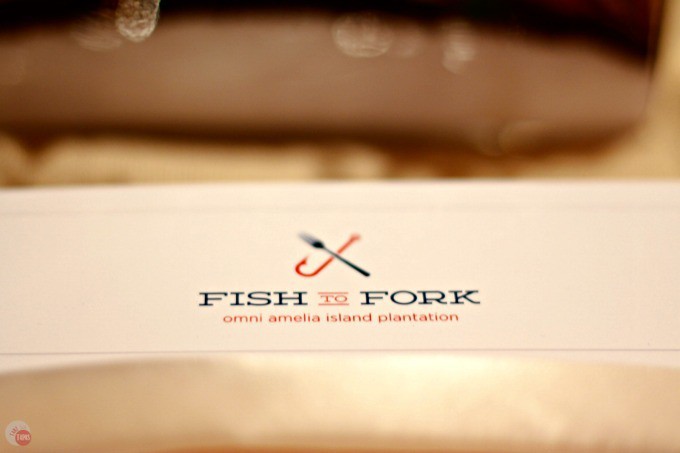 If you are just starting to read this three-part series, you might want to start with my first two posts: Wine-Paired Dinner and The Sprouting Project. Click on the titles and it will open up in another window so you can see all of those delicious photos! Then read this post about the Main Event!
Our group got semi-dressed up after our afternoon at the pool even though it was resort casual. I made the mistake of wearing wedges since the party was set up in a clearing. On grass. Thank goodness I didn't drink too much even though I was actively trying… Here was my first attempt to get the party started. A whiskey honey shot served in an adorable bottle reminiscent of a particular cola.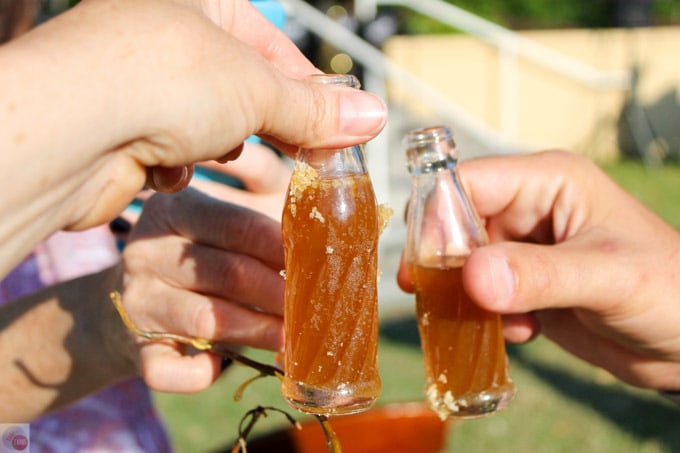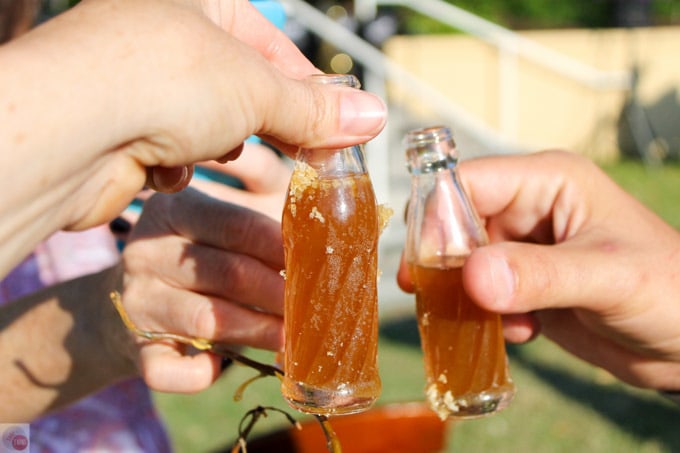 They served them on a tray with brown sugar "sand" that's why the bottles looked dirty. Never fear, I licked my fingers and it enhanced the flavor of the shot like salt does for tequila. Those shots came later.
Once we were acquainted with the bar staff and got our bearings straight it was time to eat. Preferably before we got too intoxicated to actually enjoy it. The first hour and a half the individual chefs showcased their talents with a special dish. Each chef had a station where they worked with their sous chefs to put out over 400 plates. Our first stop was from Guest Chef Jeremy Sewall from Boston Massachusetts. He presented us with a Smoked Tile Fish Salad with Cucumber, Giner, Radish, and a Spiced Crema. Delicious, light, refreshing, and with a peppery kick from the radish. A great way to start.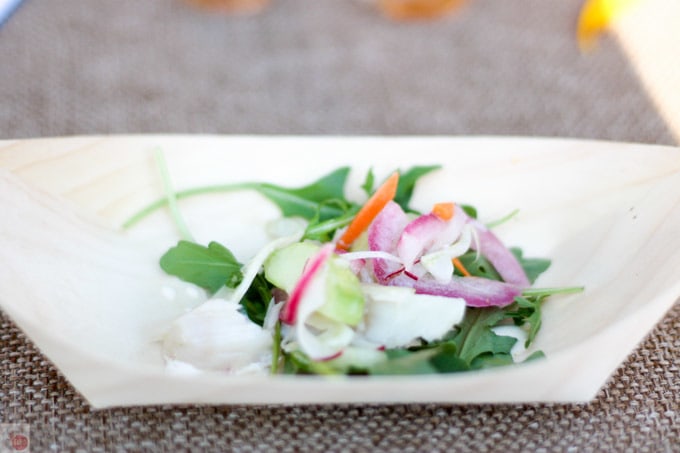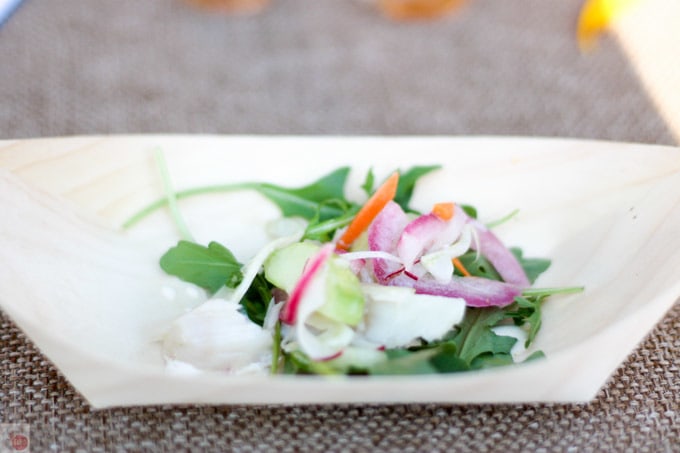 The second guest chef, Kathleen Blake from The Rusty Spoon in Orlando, kept it light with a Lionfish Escabeche with Smoked Avocado, hot and sweet pickles, and a sweet three seed brittle made to mimic the skin of the Lionfish and temper the heat from the pickles. Also light and refreshing, it brought a bit more presence with the addition of the heat. I also enjoyed the texture of the brittle.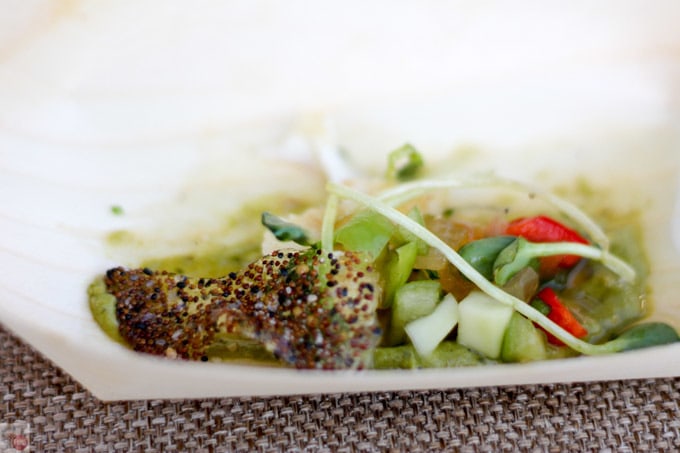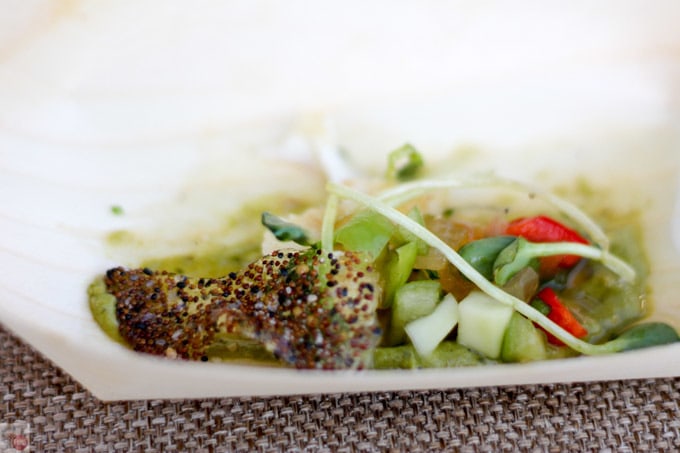 After those two, and the myriad of butlered appetizers that were arriving at our table I had to rest and have some more cocktails. Each chef had also prepared a special cocktail to accompany each dish if you were so inclined. Once I had the cucumber gin cocktail at Chef Kenny's station, I abandoned all others. Brooks had started working backward through the chefs and he already brought be two of those babies. So tasty! By this point, I had already mixed whiskey, scotch, bourbon, wine, tequila, vodka, and gin. Time to gather some focus.
Back on my feet after a rest and a listen to the band, I was ready to continue eating. My next stop was guest chef Cesar Zapata from Miami. He brought the umami with a fried Black Drum with Pickled Whiting, Coconut Rice, Pineapple, and finished with a Fish Sauce Caramel.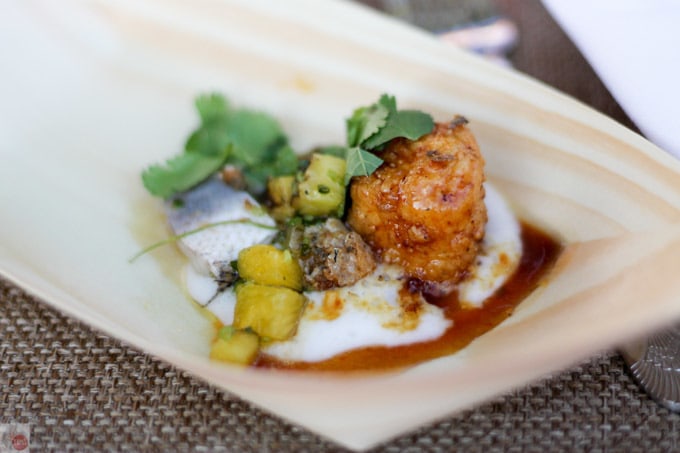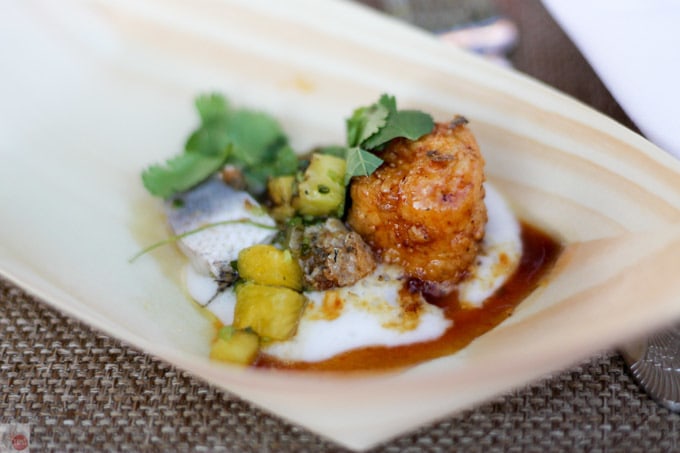 The dishes were starting to get more intense as I went along. Almost as a normal dinner would progress. I didn't plan to do that as the stations were placed randomly but a welcome course of action. Dish four brought us to Chef Kenny Gilbert from Amelia Island. A local and definitely a favorite for the popular vote!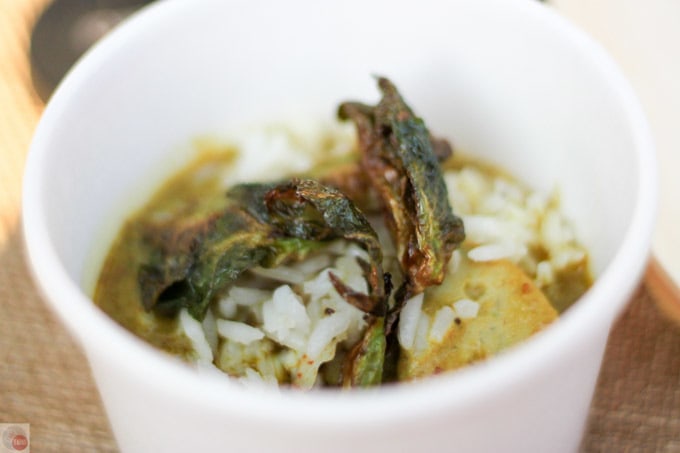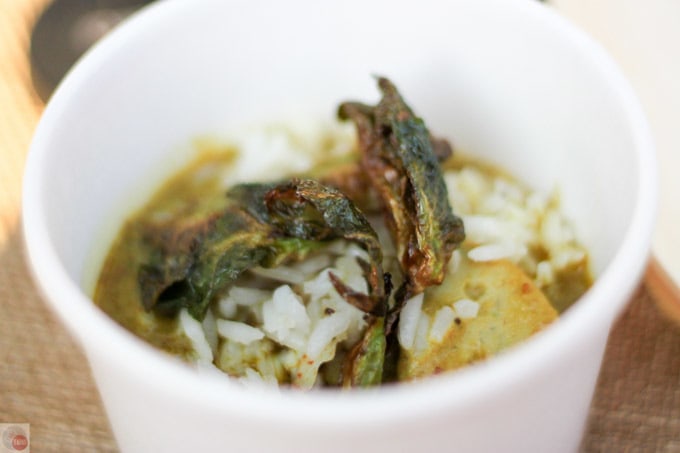 Chef Kenny changed up the spice level with a Southern Mustard Green Curry made with Drum, Black Tip Shark, and a Whiting fish cake. The broth boasted sun-dried tomatoes among the other aromatics and was served atop Jasmine Rice with Crispy Brussels chips. A welcome change in direction and certainly a surprise for the palate. I could have had a few more bowls if not just to eat the crispy chips on top. I had high hopes for his dish being that he has been on Top Chef and Cutthroat Kitchen. A true celebrity. I met him the night before in the bar and had a hard time coming up with questions that weren't lame. I should have had a few more shots of liquid courage and might not have been so intimidated.
On the other side of Kenny's station stood guest chef Craig Deihl of Charleston, South Carolina. He gave us an offering of creamy grits accompanied by a Red Drum and Fish Head Stew with corn, leeks, green garlic, and salsa verde.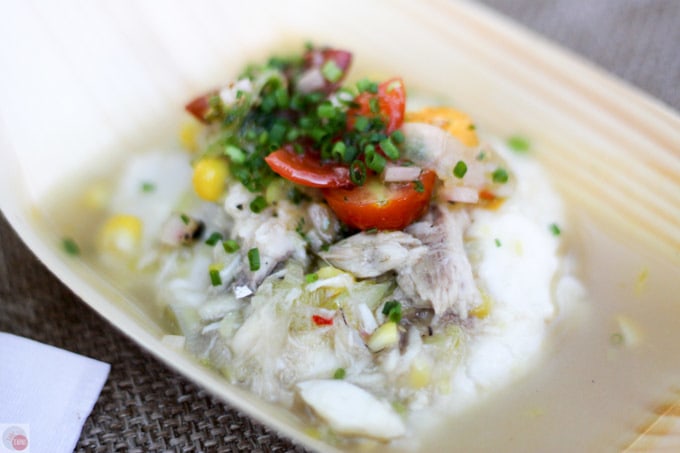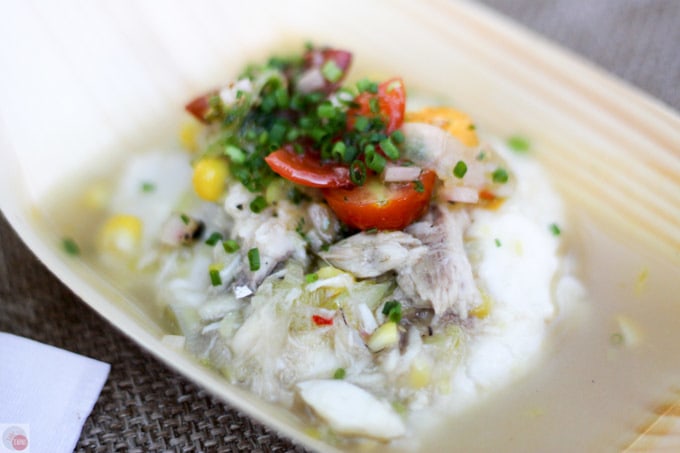 This bamboo boat of goodness also served as a comforting and filling dish. I was thinking that I should start to hold off as not to get too full before the final offerings. It was hard to control myself with all the food the chefs were preparing and the other dishes provided by the Omni chefs. Seared tuna, skewered shrimp, ribs, and desserts were all around us.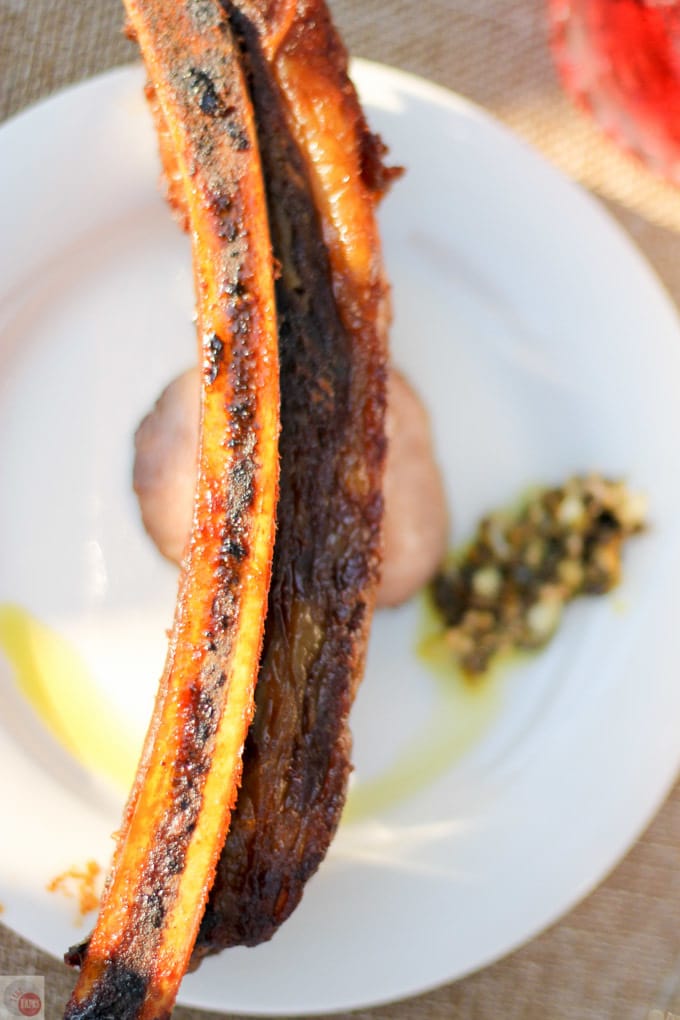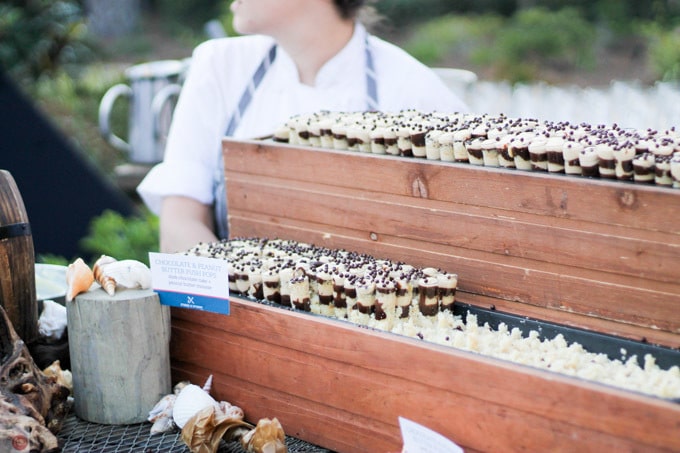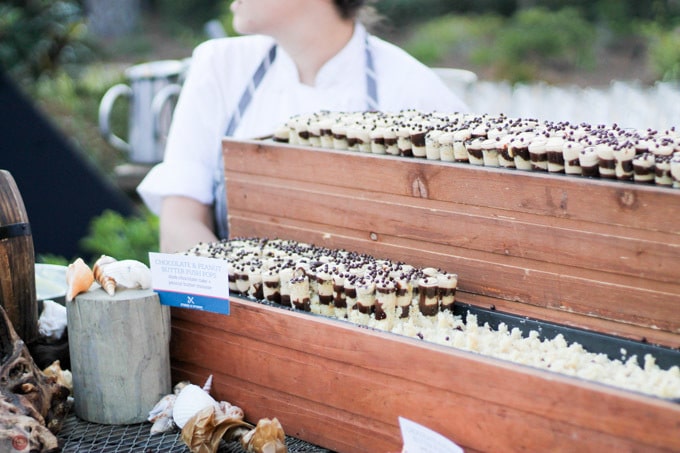 I think I ate 40 of these chocolate and peanut butter push pops. They were just too easy to eat! Just next to these, they were frying fresh doughnut holes with a variety of flavors to toss on them. Just grab your own personal brown bag and get started!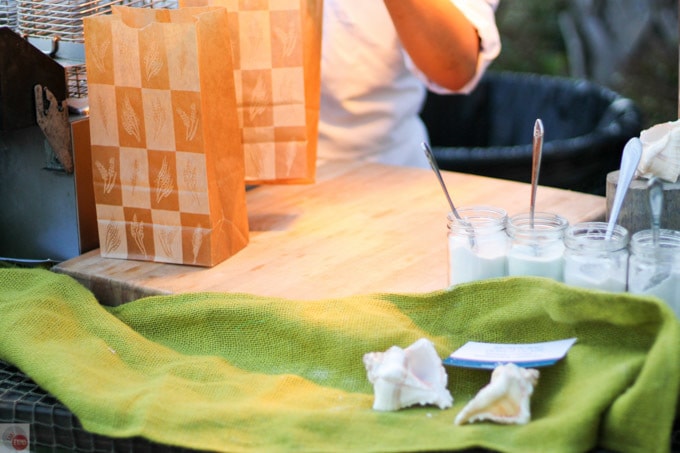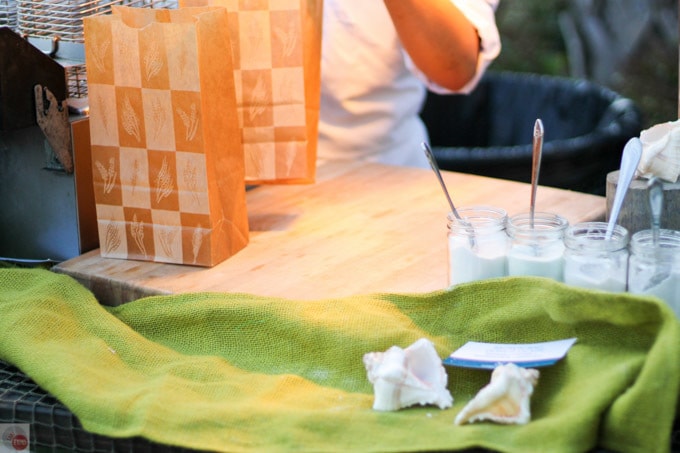 I tried the banana powder since banana is near and dear to my heart!
One more run to an individual chef and it would be time for the Main Event! My last stop was guest chef Joey Ward from Atlanta, Georgia. He gave us a ceviche of Black Drum, the shrimp they were caught with, a Caipirinha gelee, and a coconut, banana, and peanut crumble for texture. If you purchased the VIP ticket, you were able to accompany the chefs on their Friday AM fishing trip to catch all the main ingredients. Or you could opt for a lunch on the beach. Next year, we are getting VIP tickets for sure. Getting to spend some quality time on board with the chefs, in a small group setting, makes them feel more comfortable with your and you get to pick their brains.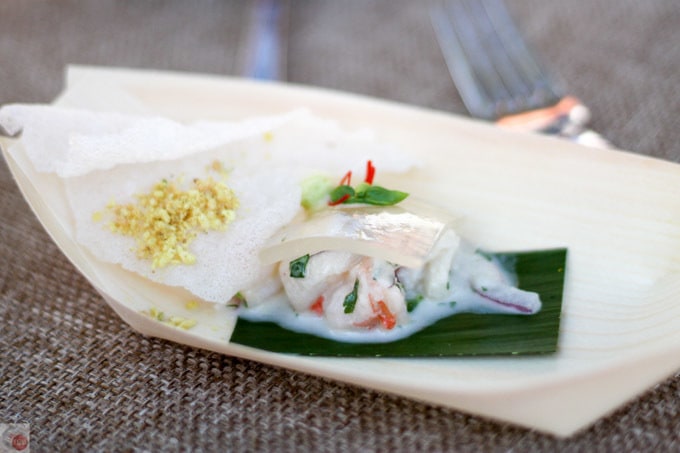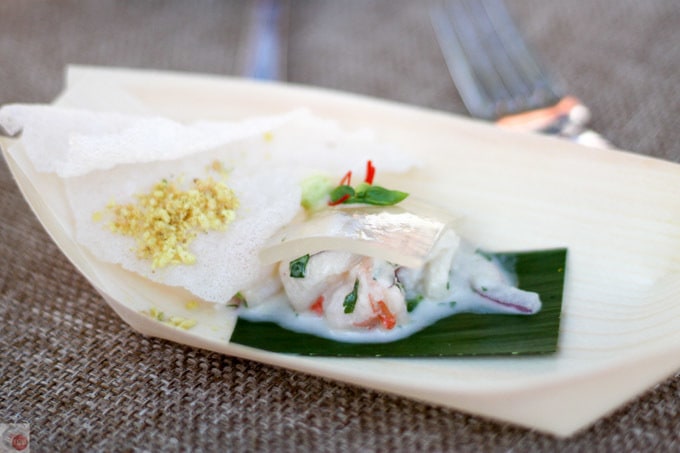 After all of these fabulous dishes, it was time to mark your ballots with your vote for chef favorite. I had a clear winner in mu head which was quite different than everyone else at my table. We listened to more music, drank more cocktails and got ready for the main cooking event.
Music that night was provided by Amelia Crescendo and kept us dancing for quite a while! While the chefs were divided into 2 teams, we were gearing up for the final showdown!
Blue team consisted of Chefs Kathleen Blake, Craig Deihl, and Jeremy Sewall. The white team consisted of Chefs Kenny Gilbert, Joey Ward, and Cesar Zapata. The secret ingredient for the challenge was honey!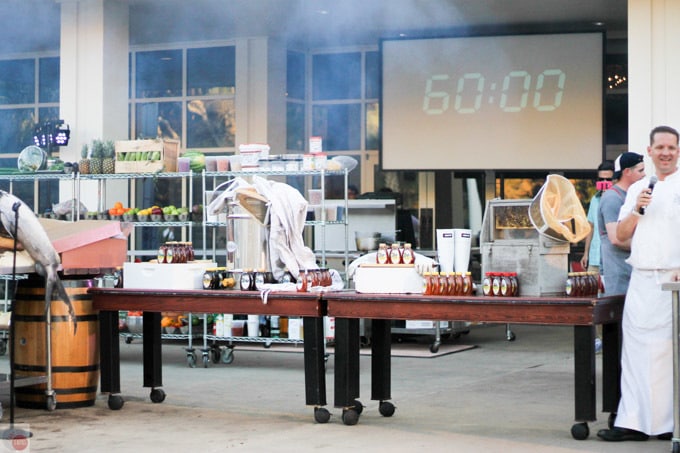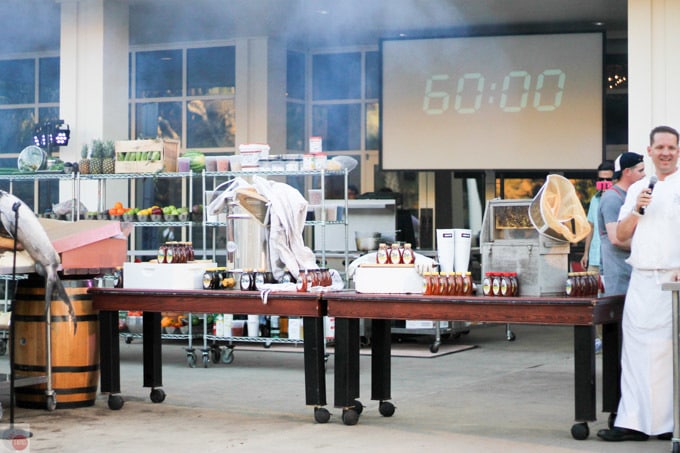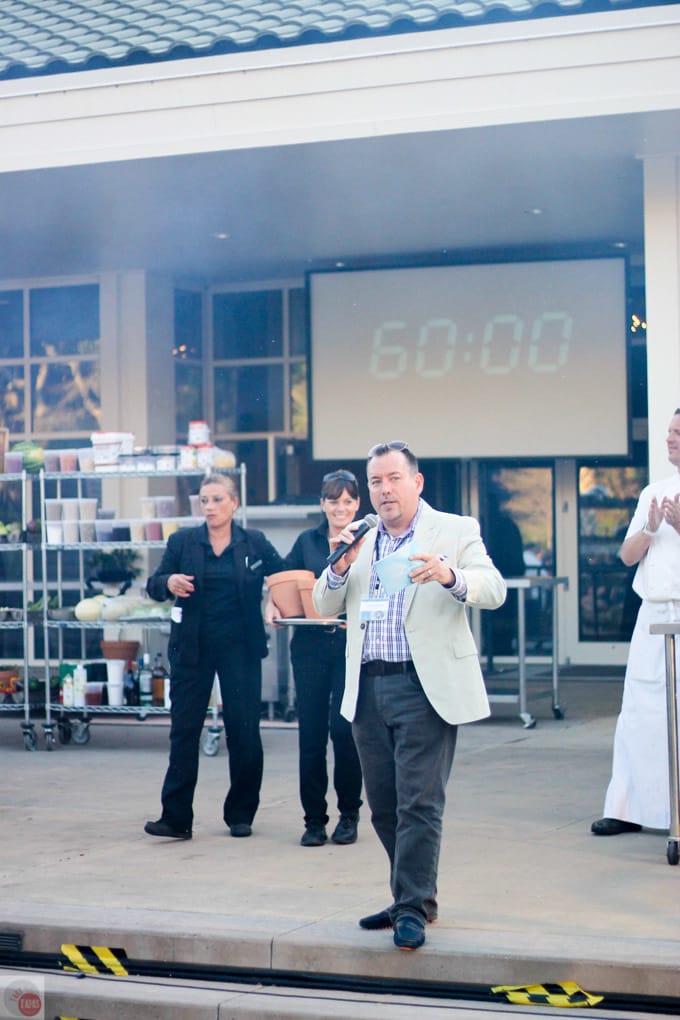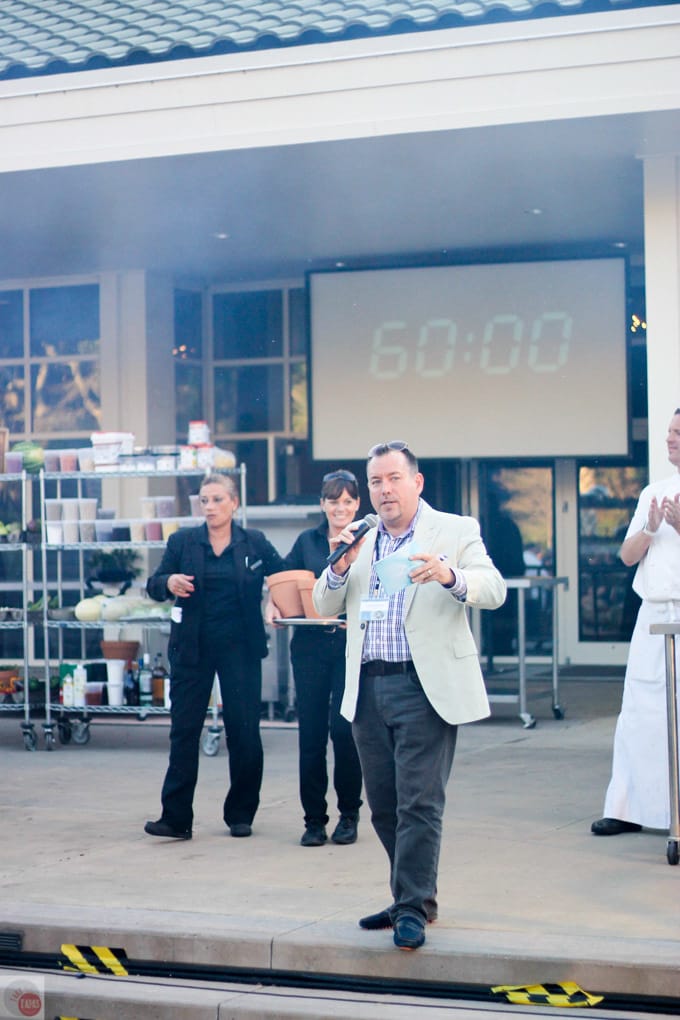 Here is Donald Stamets, Managing Director of the Omni Amelia Island Plantation to kick off the comp. 60 minutes on the clock is all the time they have to make enough food for 400 people!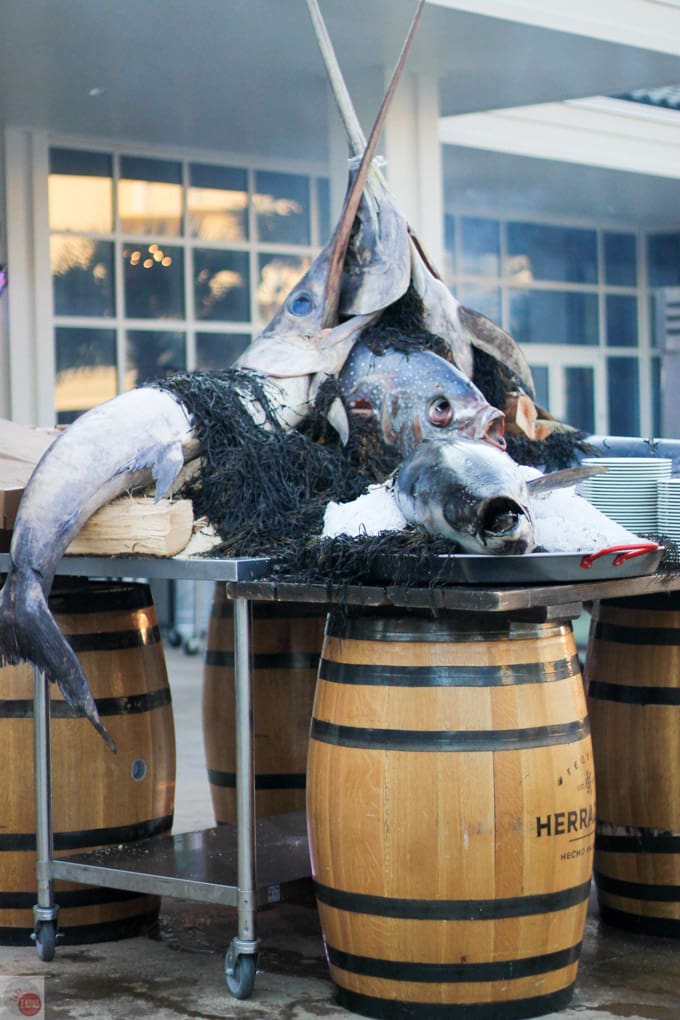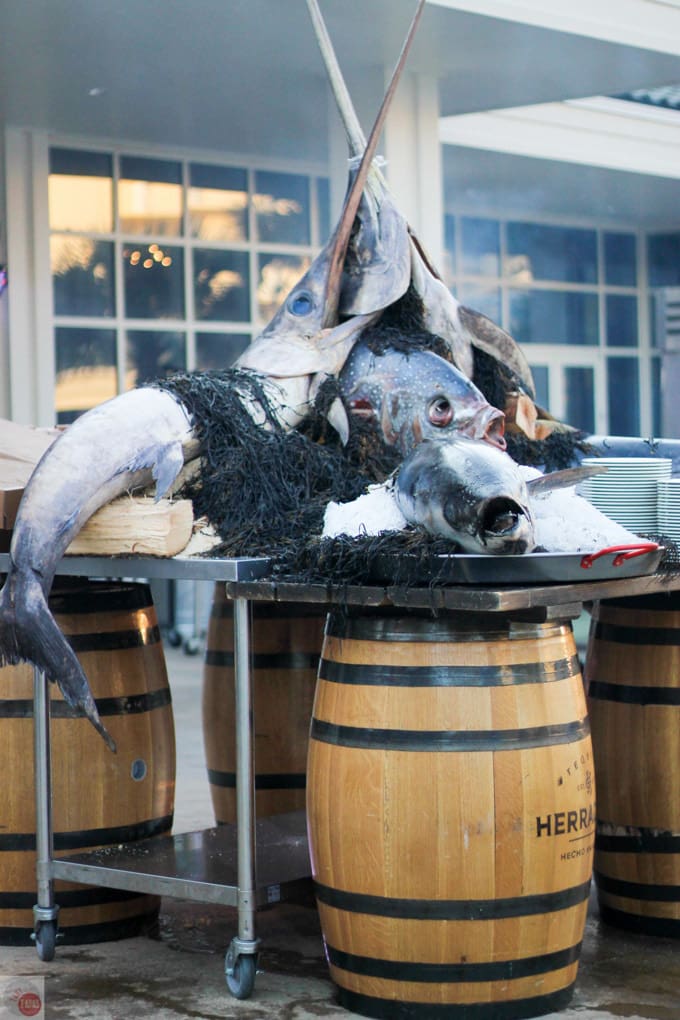 The catch from the fishing trip front and center!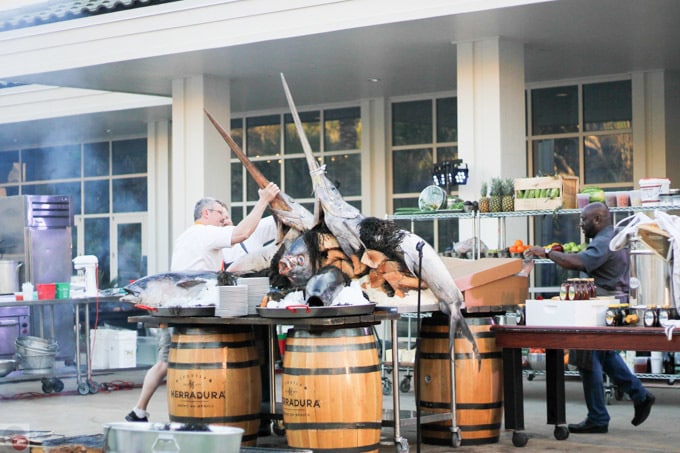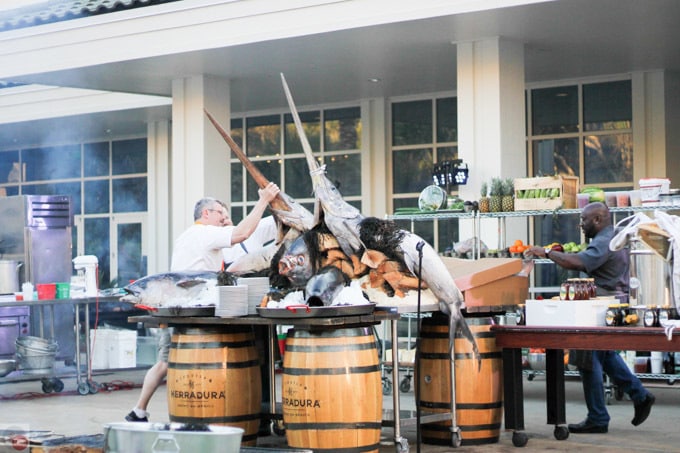 And go…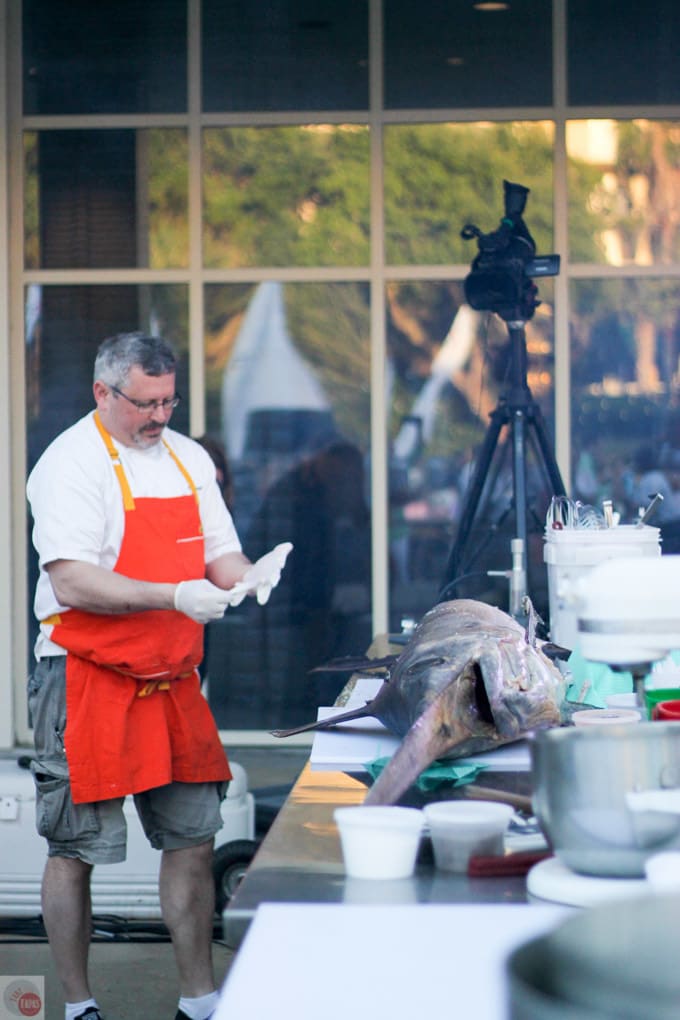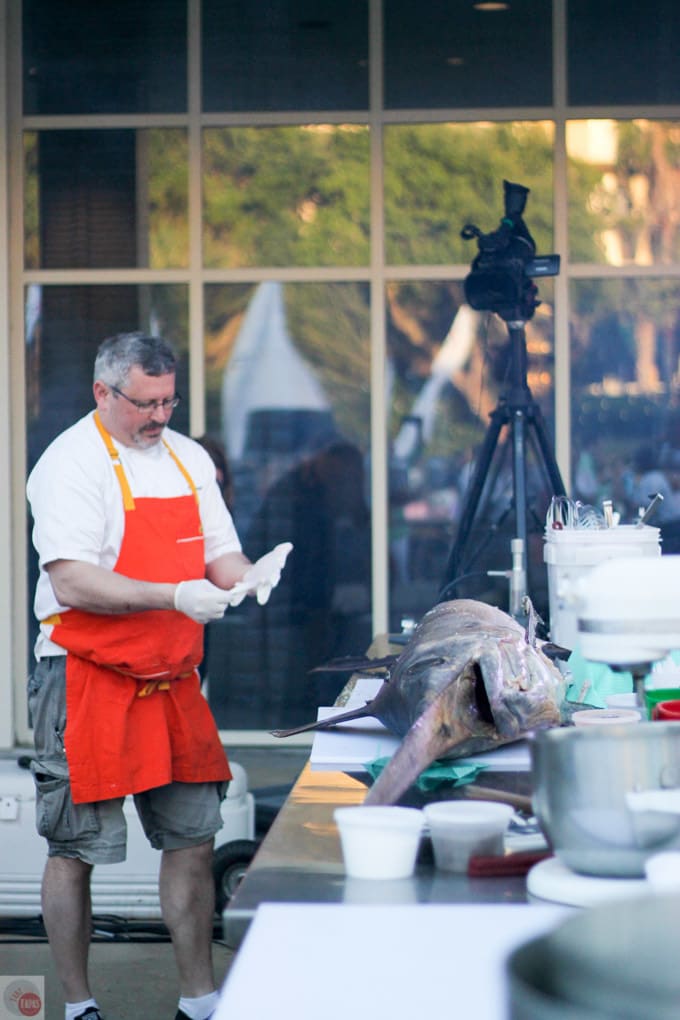 Chef Sewall about to break down this swordfish. I had never seen such knife work and at a crazy pace!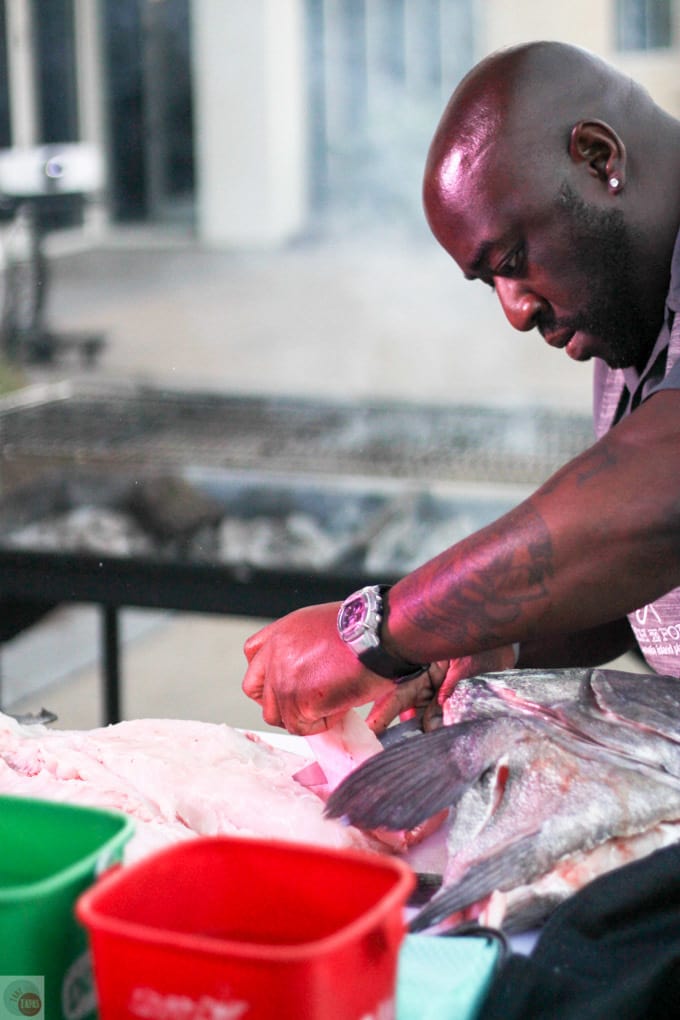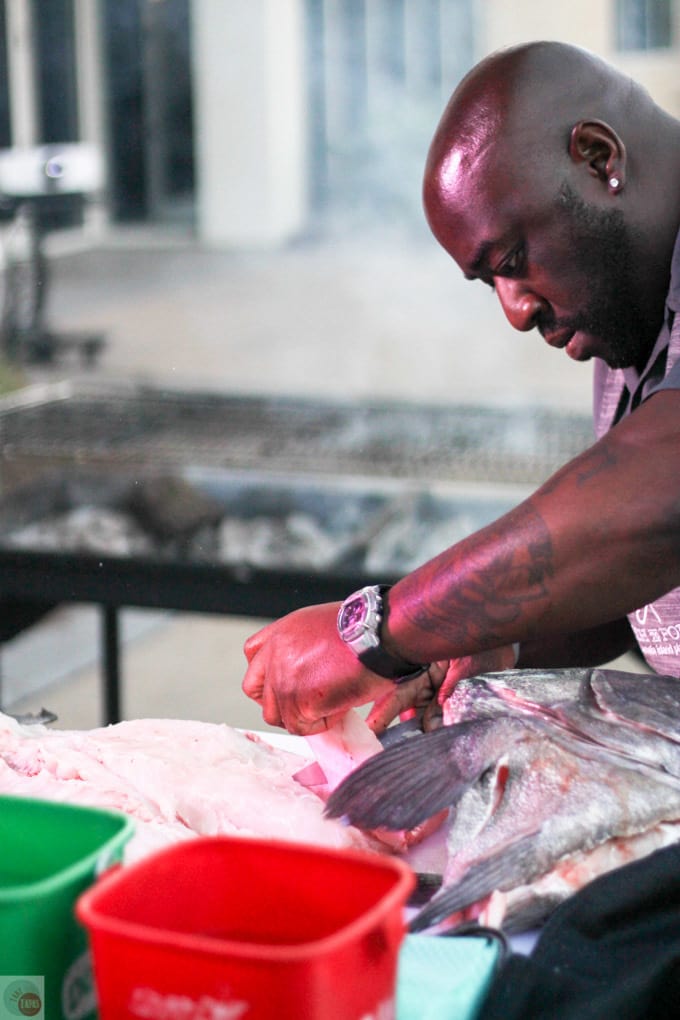 Chef Kenny at it too! I loved how close you could get to the action and all the chefs were open to questions while they were cooking. Made it even more fun. It was culinary Disney Land for me!!!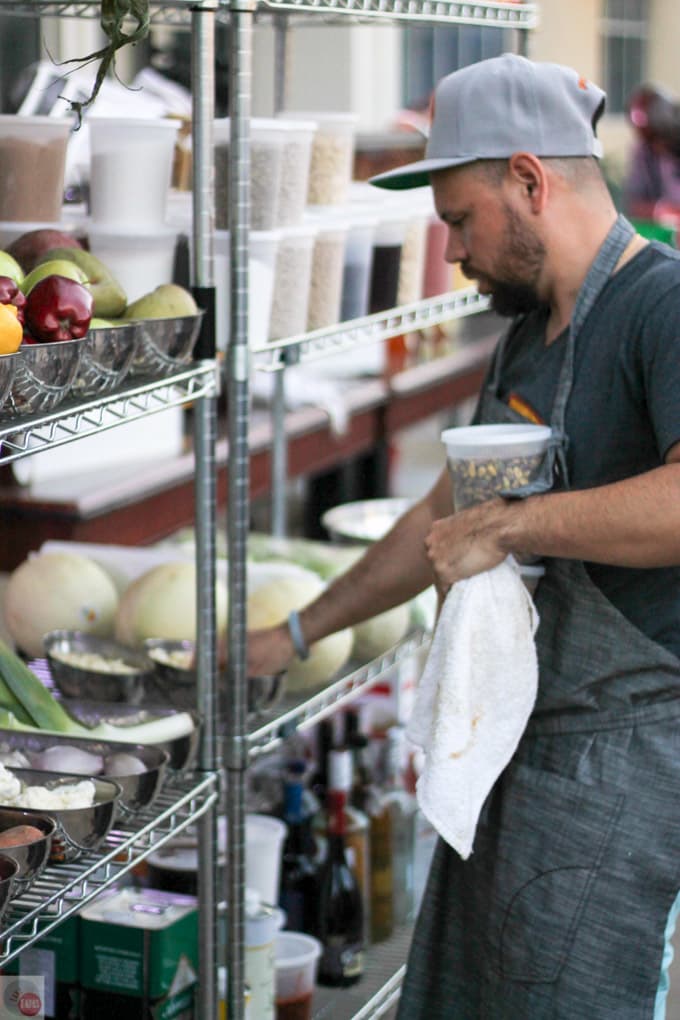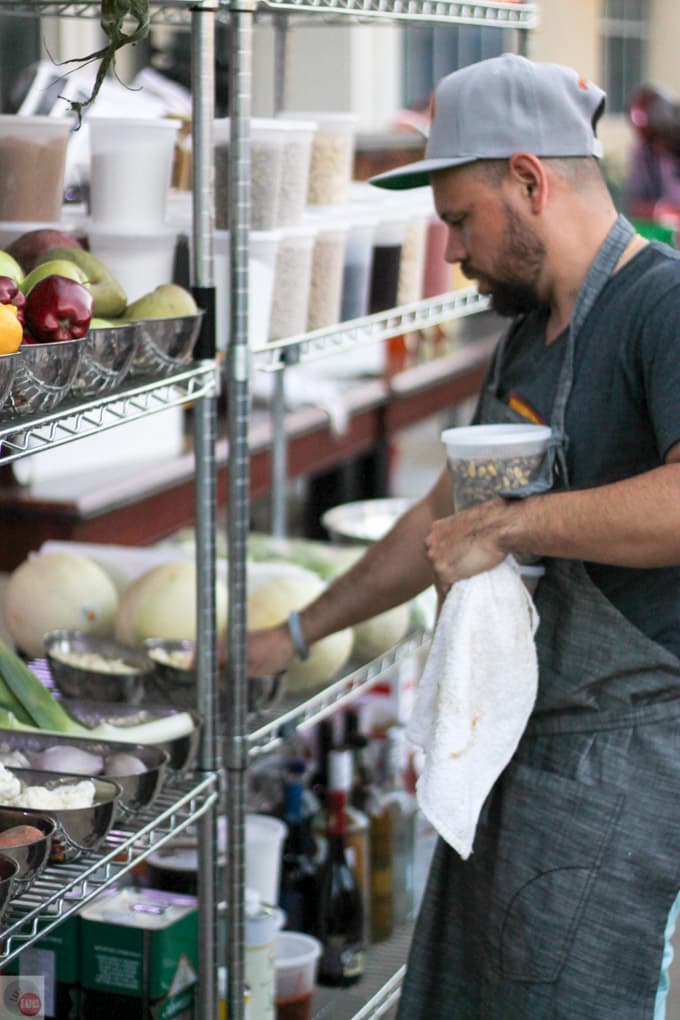 Chef Zapata grabbing ingredients from the modified "pantry" on the stage. Much like the pantry on TV it was cool to see all the ingredients lined up. I did notice the box of "goldfish" and "fruit loop cereal" on the shelves. The irony of them being placed next to the real fruit was not lost on me.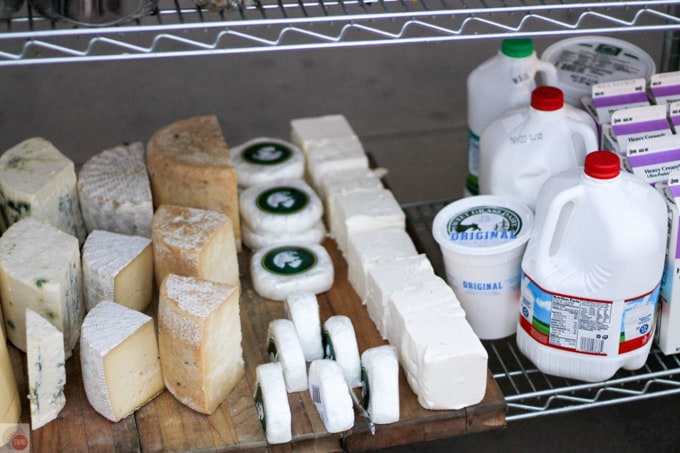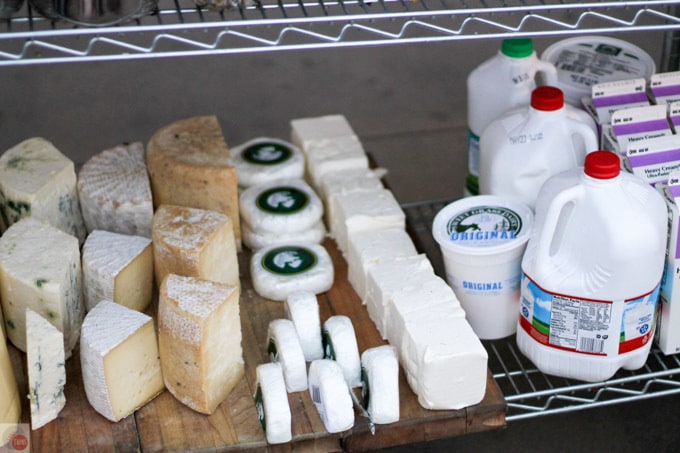 I would kill to have access to these ingredients all the time!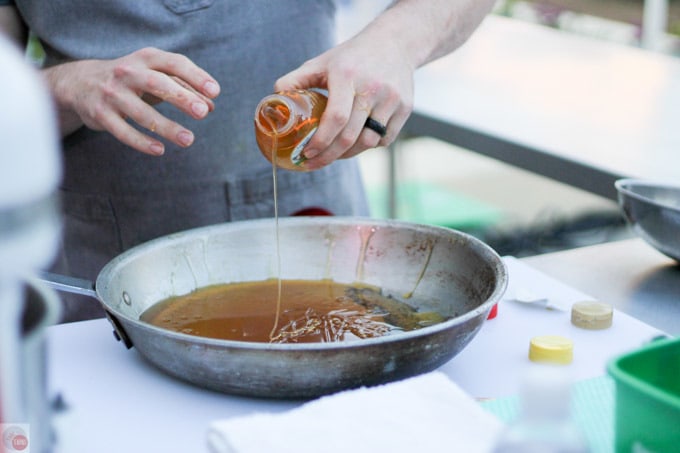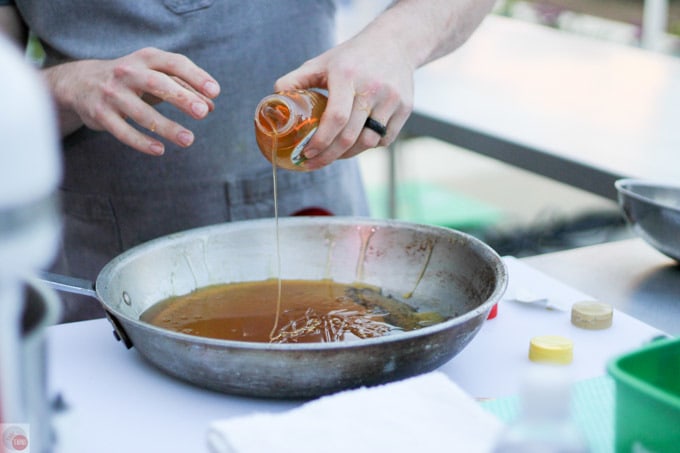 Chef Ward getting a honey caramel started.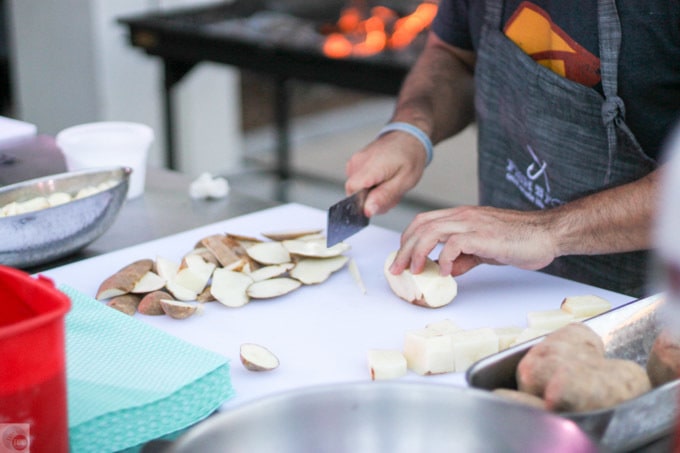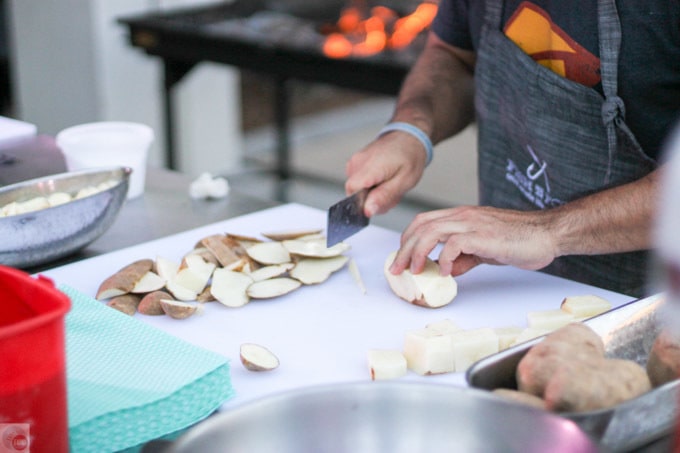 Chef Zapata breaking down some potatoes.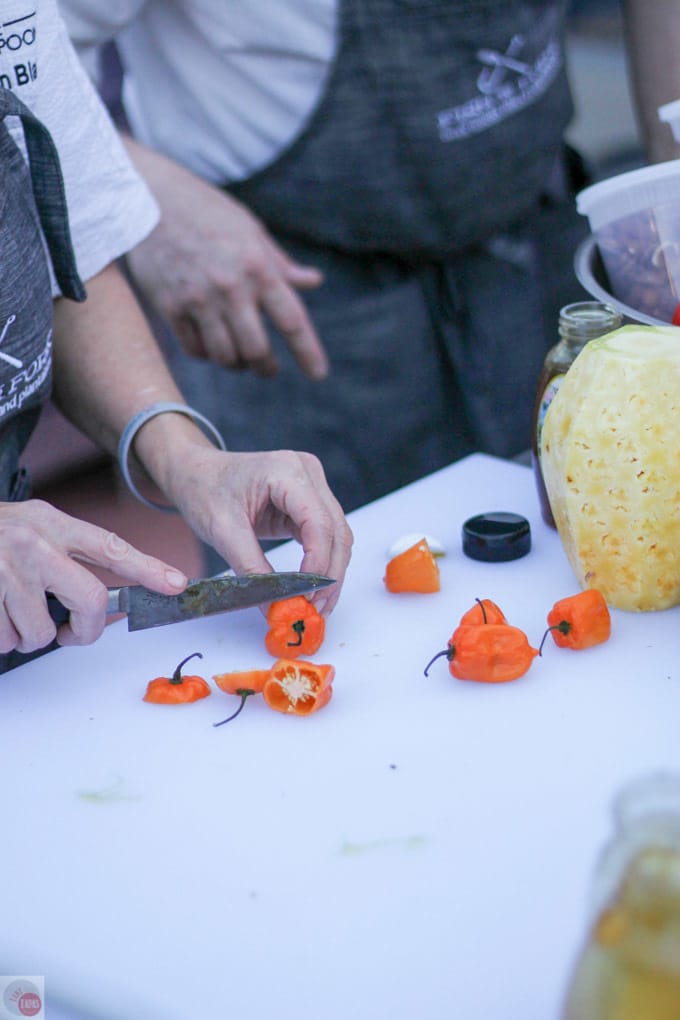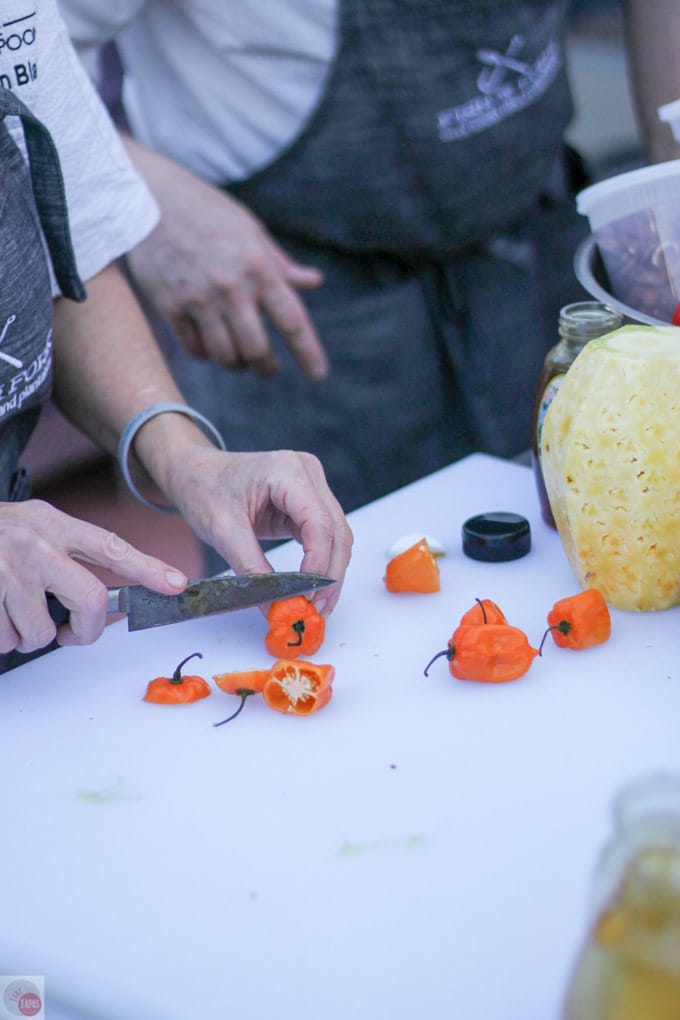 Chef Kathleen breaking down these habanero peppers bare-handed!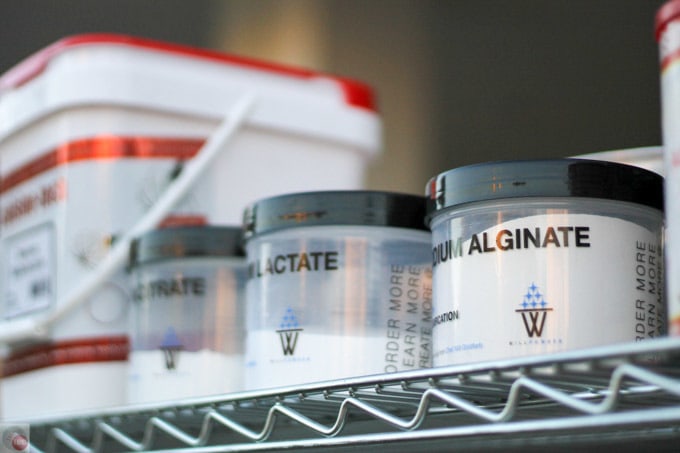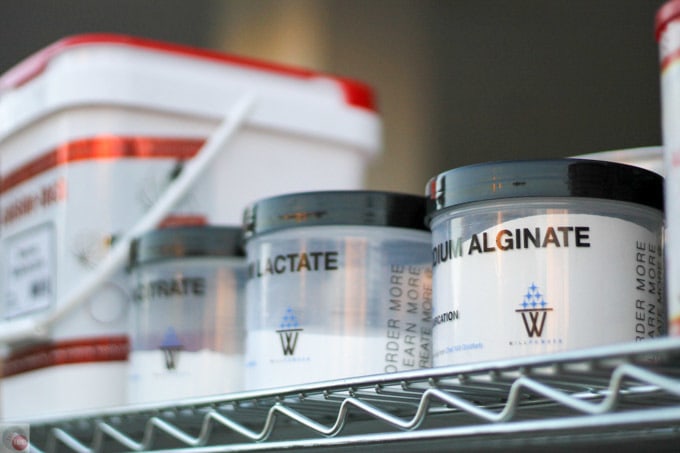 Even some molecular gastronomy!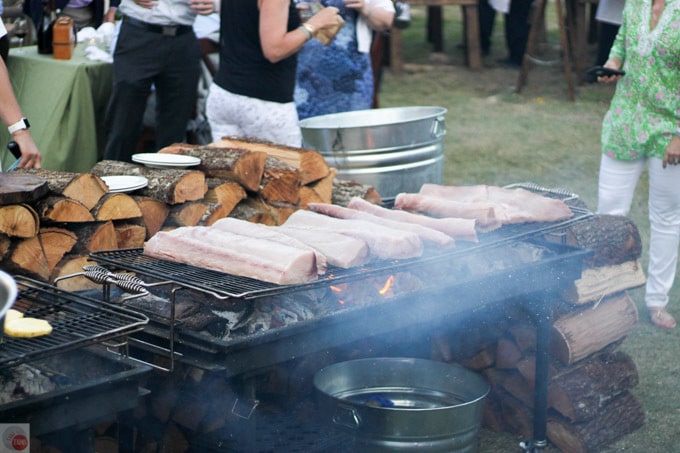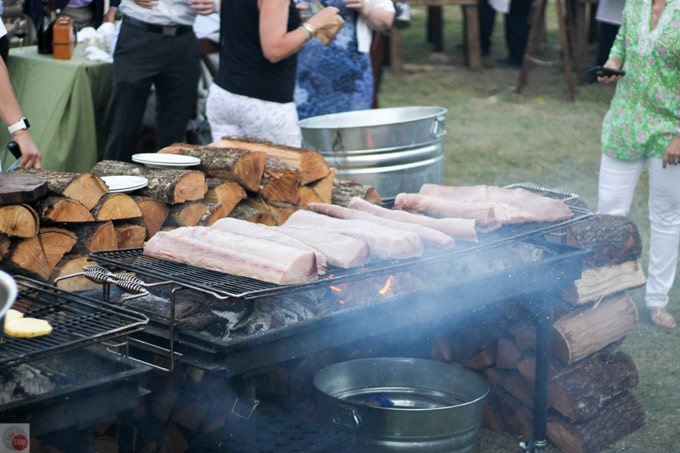 Swordfish for team blue on the grill!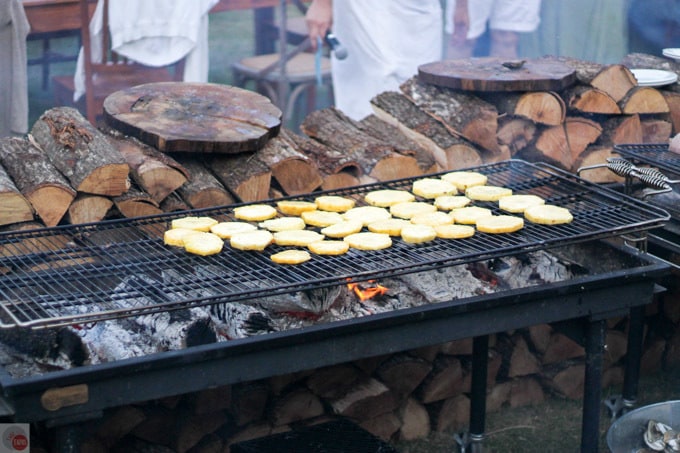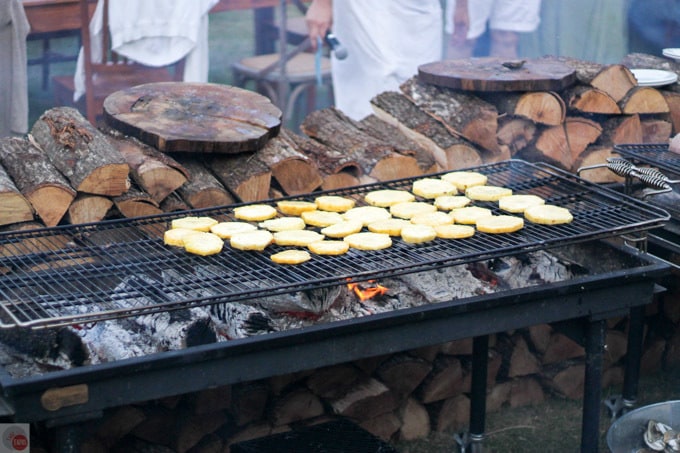 Grilled pineapple for the salsa! Team blue was definitely utilizing all the space available to them.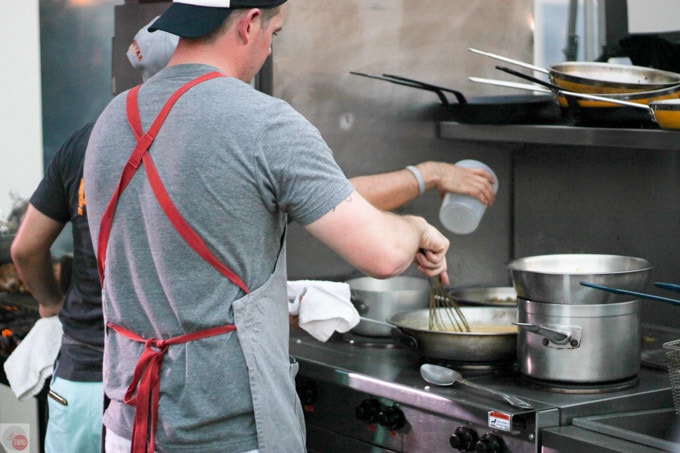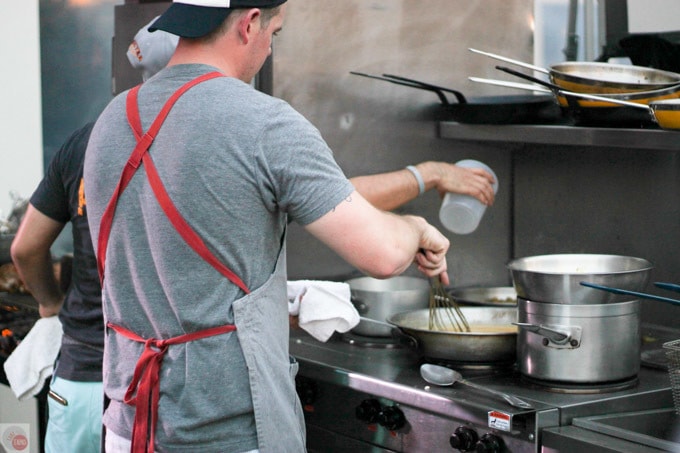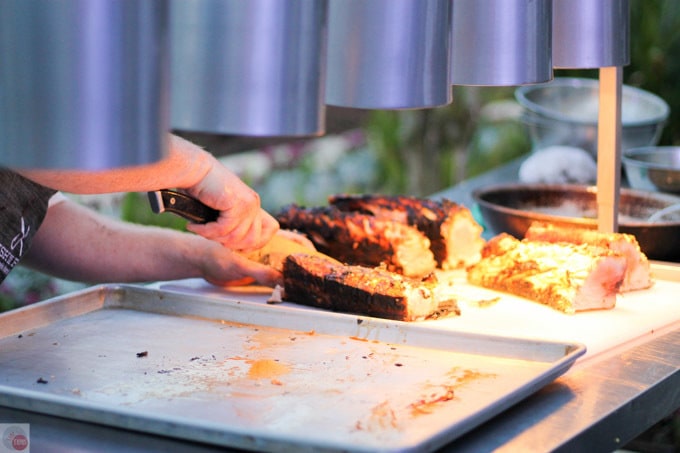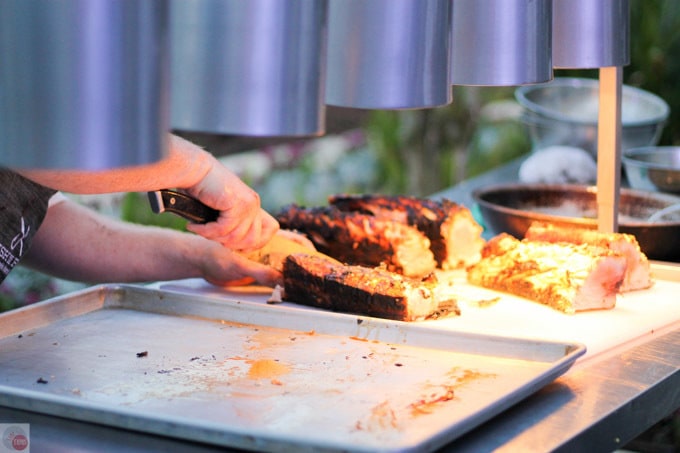 With everything finished, team blue started plating with a few minutes to spare!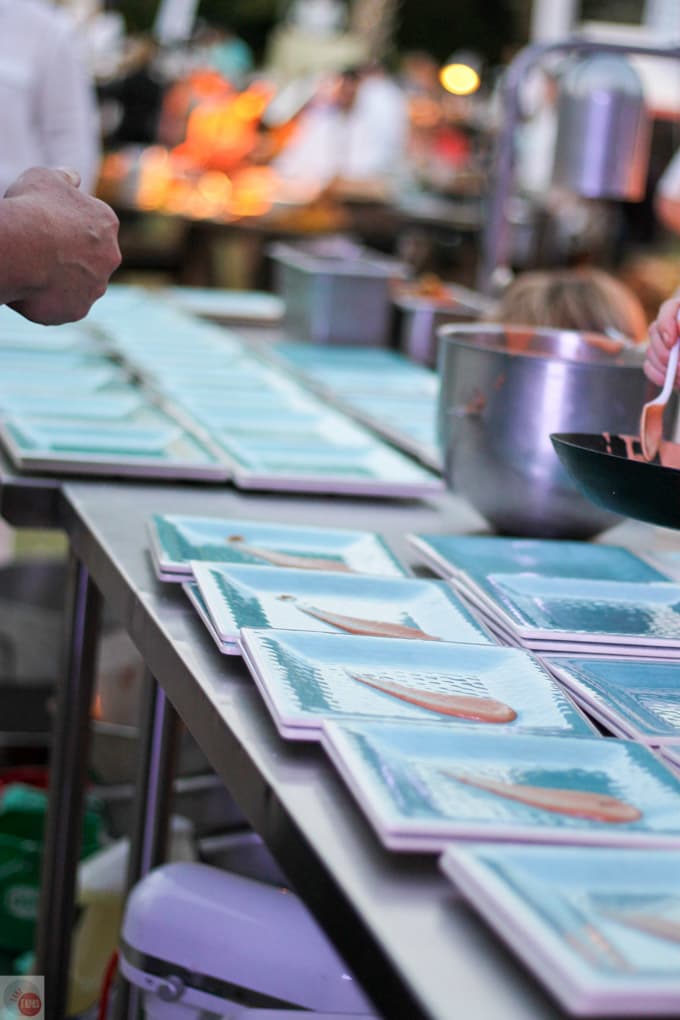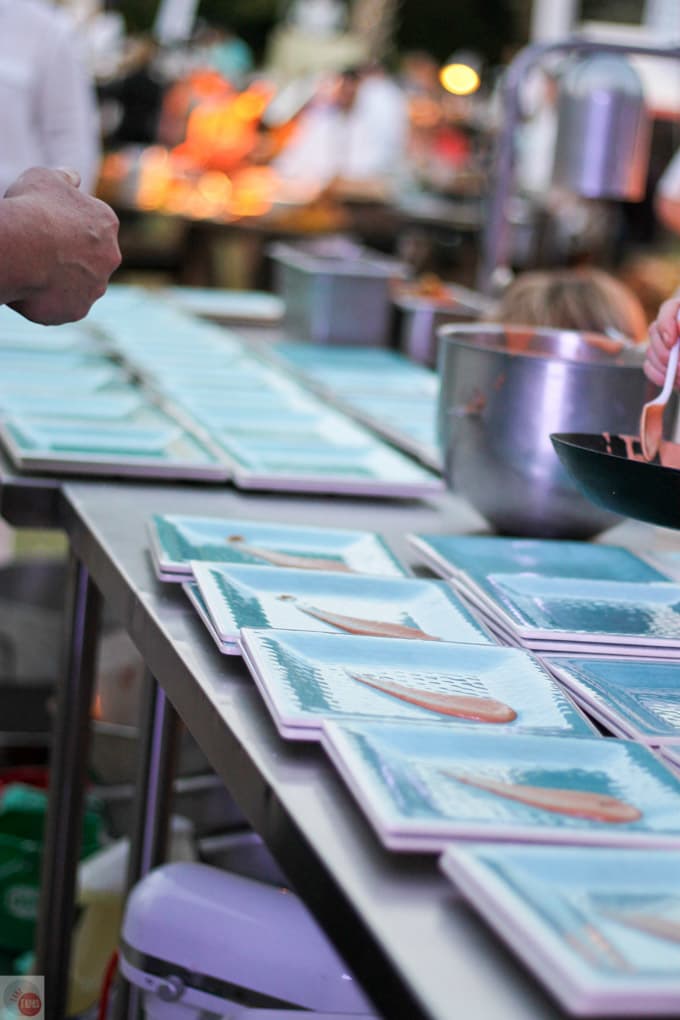 Hard to plate 400 plates on one table!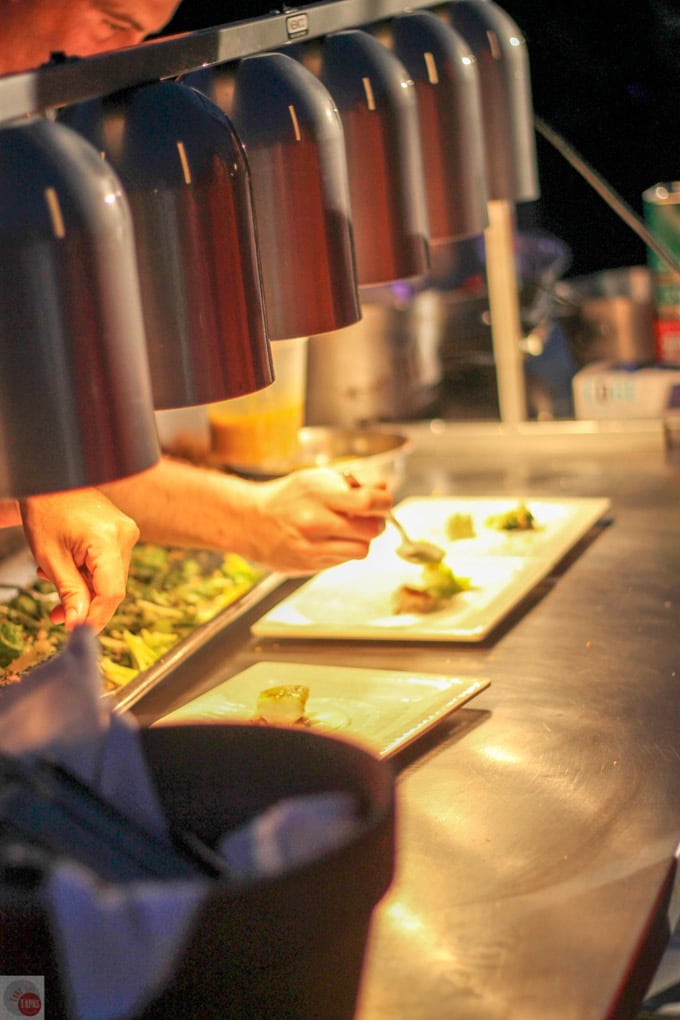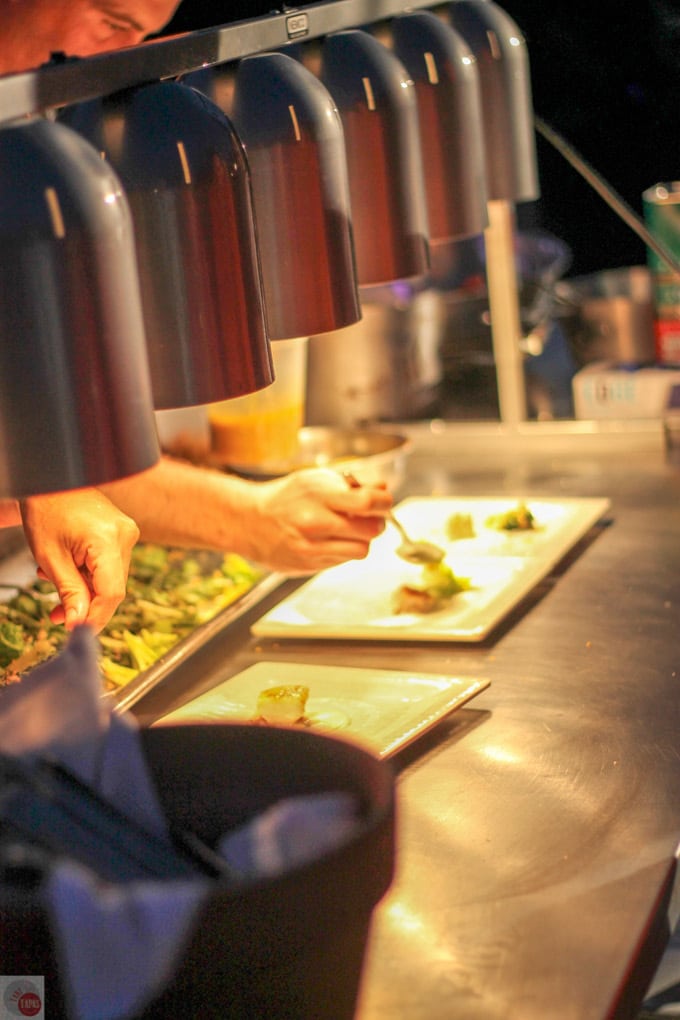 Here are the finished plates.
Team Blue: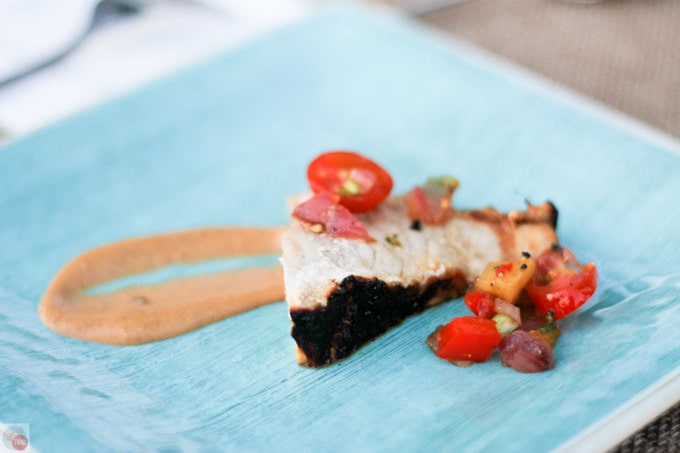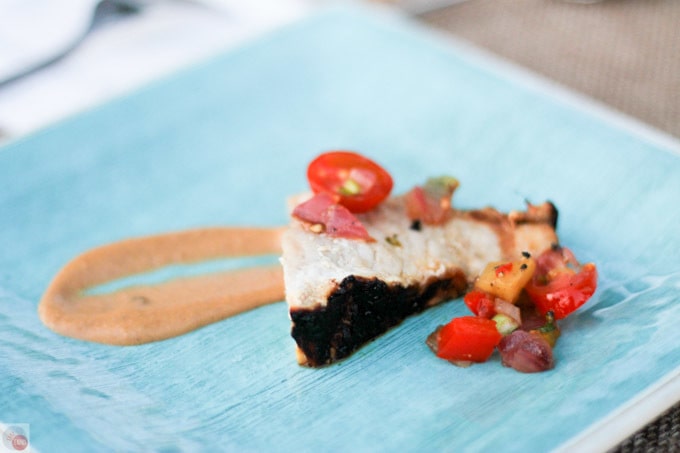 Grilled habanero and honey swordfish over a lentil puree and a tomato-pineapple salsa with a honey vinaigrette.
Team white: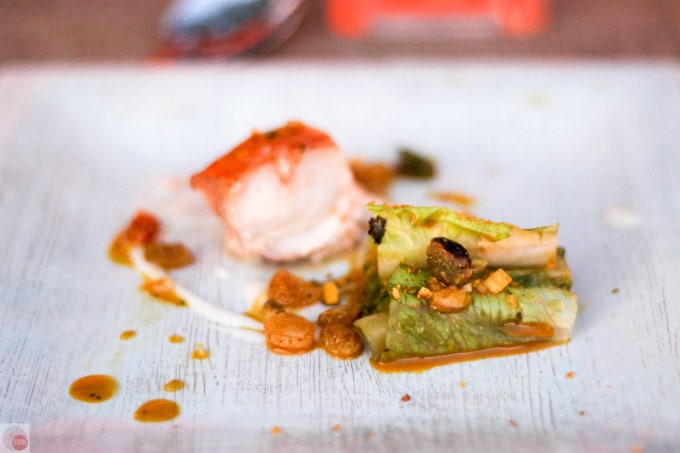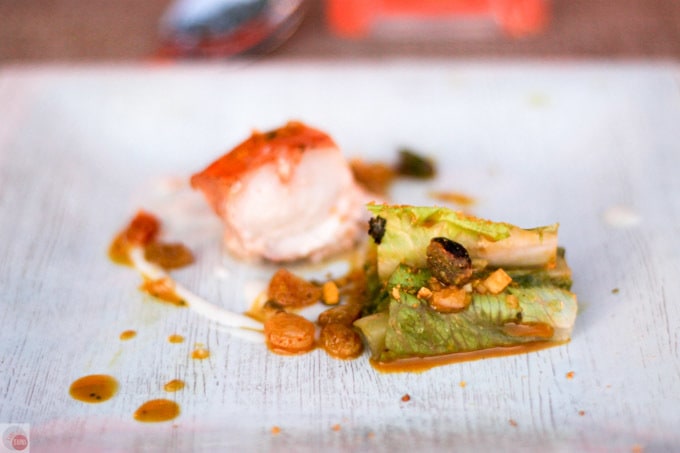 Smoked Mahi, grilled romaine lettuce, picked raisins, potato puree, honey caramel, and a bee pollen vinaigrette!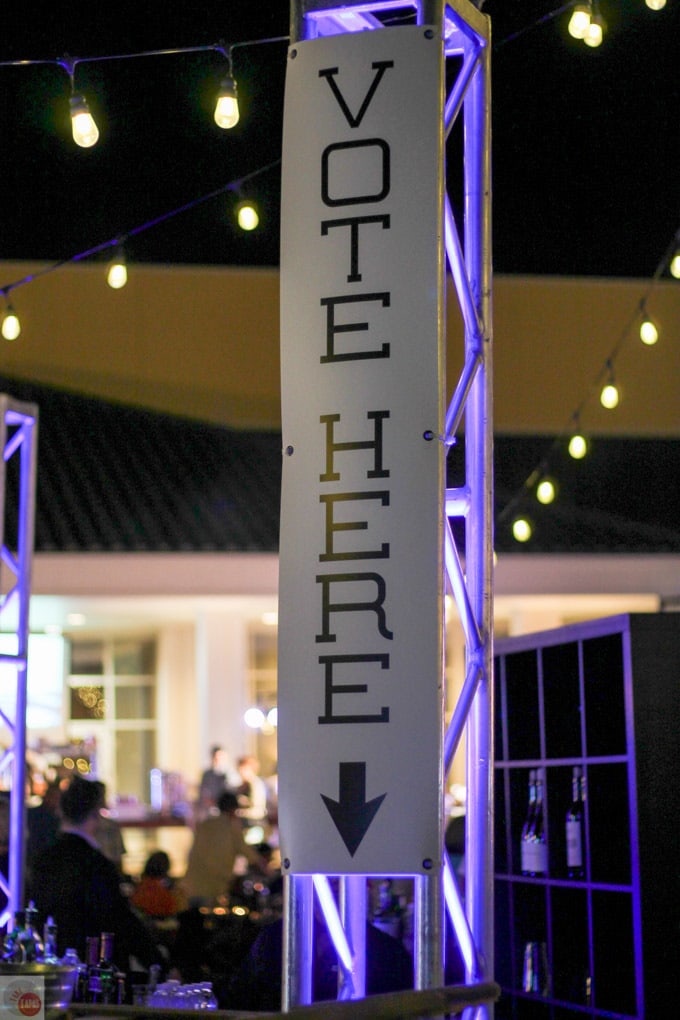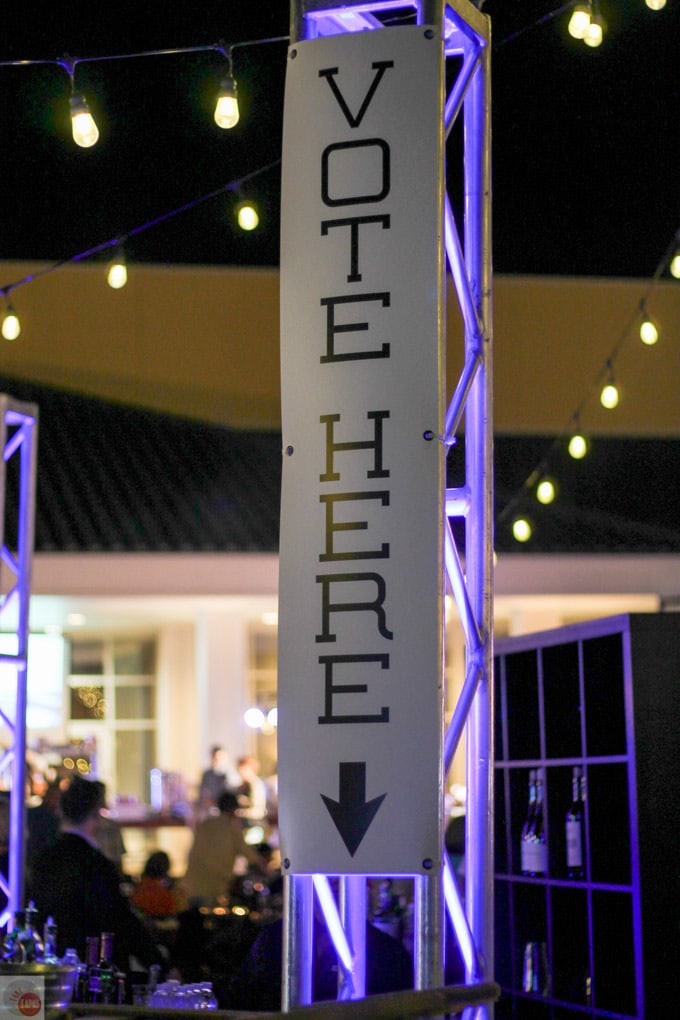 Turn in your vote for individual chef favorite and team favorite.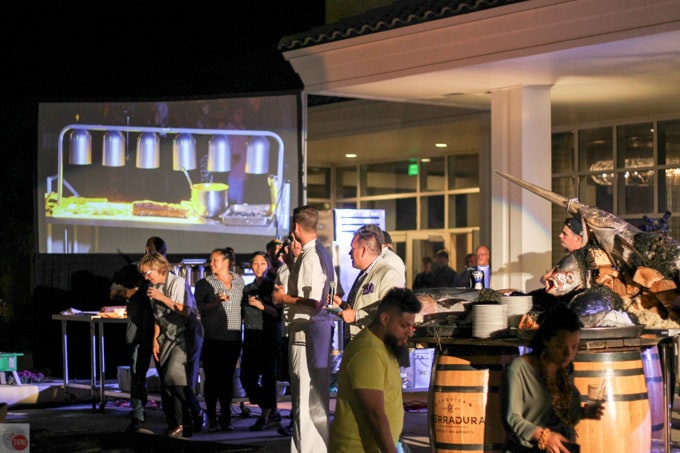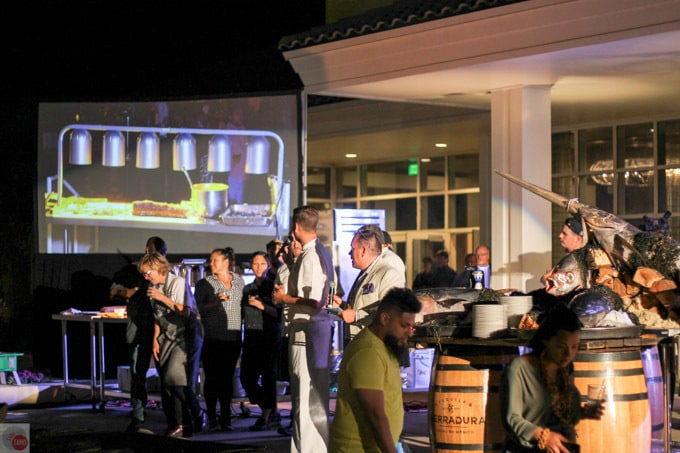 Chef Kathleen Blake won chef's favorite, and my favorite.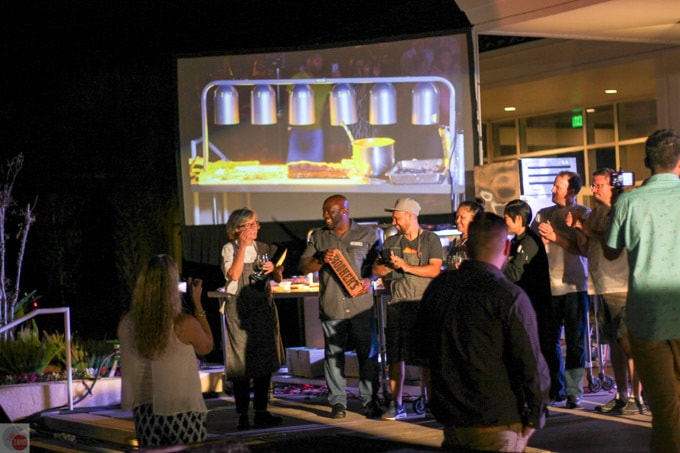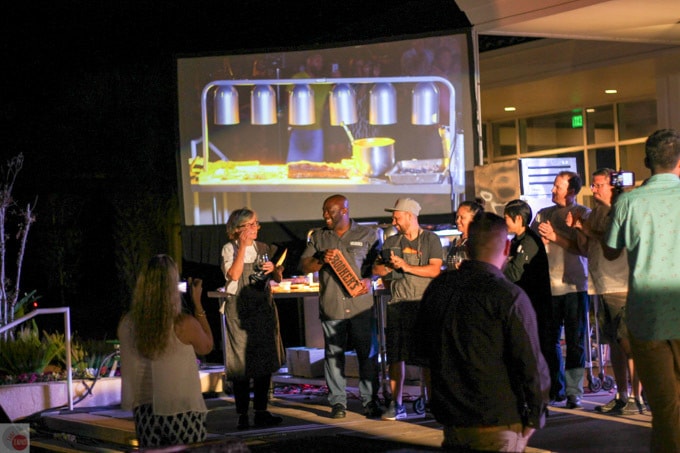 Chef Kenny Gilbert won Individual Favorite.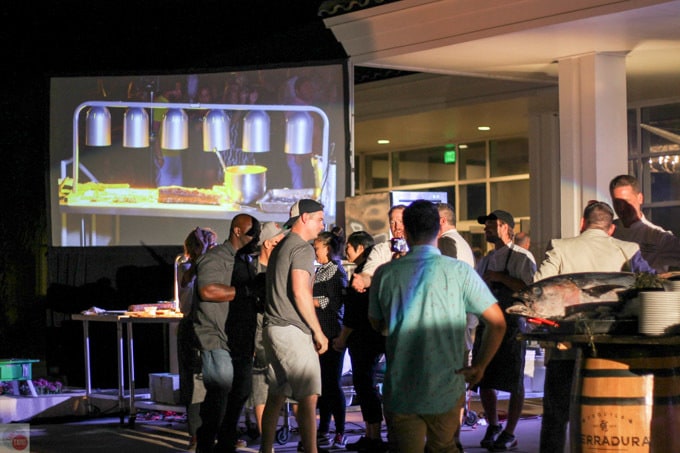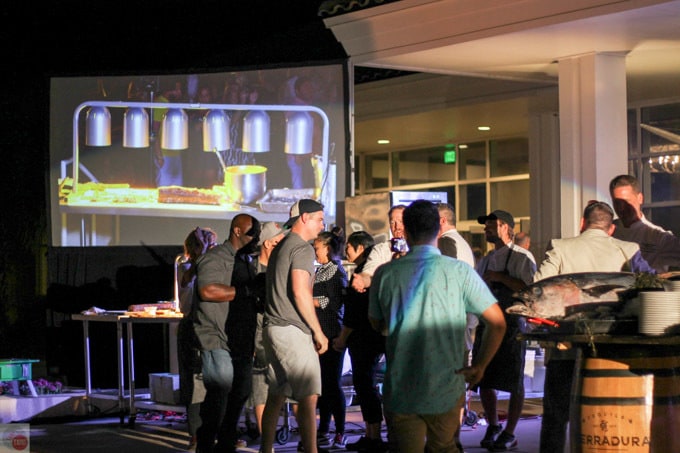 White team won with their smoked Mahi plate! Congrats to the chefs!
I thoroughly enjoyed my weekend. I was sad to leave, but I had to detox and exercise off all this delicious food that I ate. Time to start exercising so when next year's Fish to Fork comes around, I'm ready! Mark your calendars for the weekend of May 14th, 2017! Check back with the Omni's website for when tickets go on sale!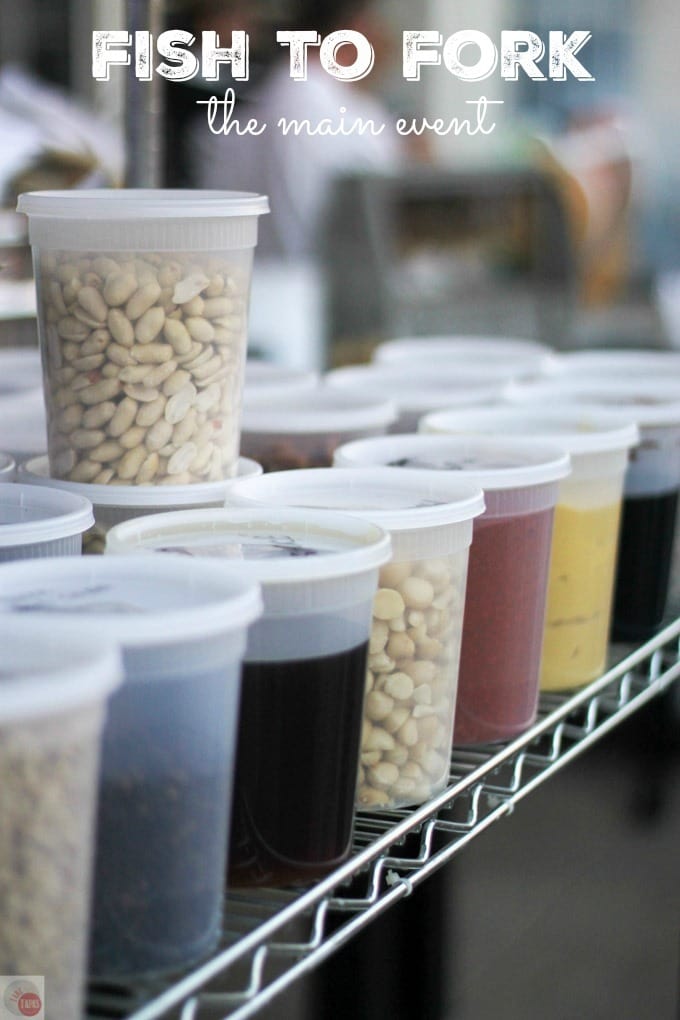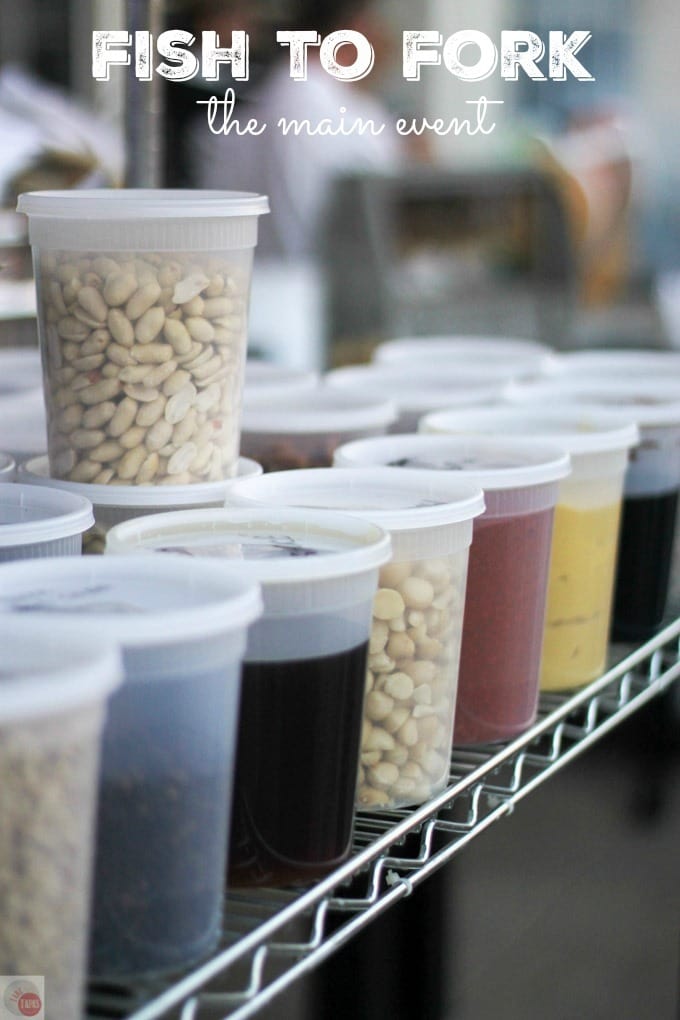 If you missed the first two posts check them out here.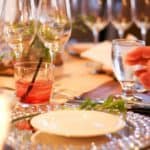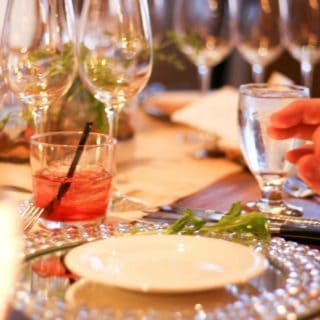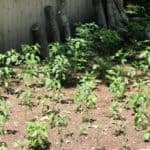 Thanks for reading about my culinary vacation. If you want to read about the rest of my crazy, food-filled life, subscribe to my emails. You only get about 2 a month unless I just get crazy with recipes:)