Want to know what my husband got me for Mother's Day? A very tasty, culinary weekend away in Amelia Island for the Fish to Fork Experience! Are you jealous yet? If not, let me show you all my delicious photos from the Wine-Paired Dinner on Friday night and make it so.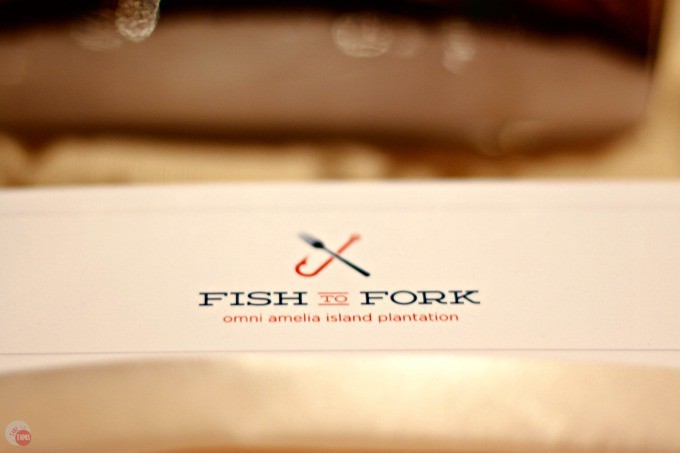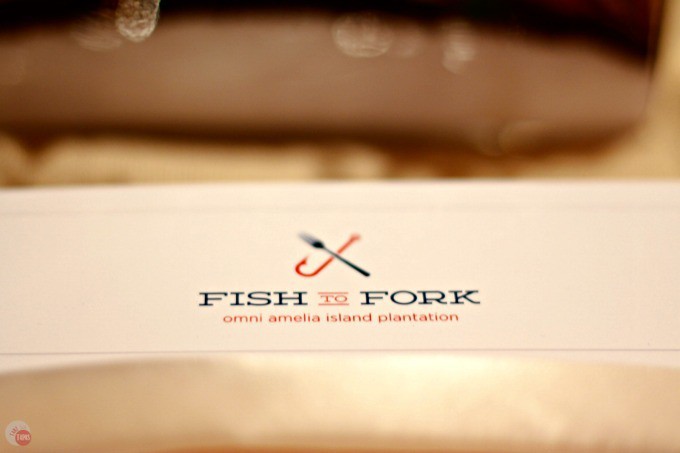 Before March of this year, I had never heard of Fish to Fork. Being that I am only an hour away, I was disappointed to see that I had already missed two of them. During my Anniversary weekend in Jacksonville with Brooks, I was reading a local food magazine and saw the advertisement for Fish to Fork. Immediately, I looked up the event information and was "all in!"
We grabbed another food-loving couple and bought our tickets. Combining Mother's Day and my birthday was the perfect excuse!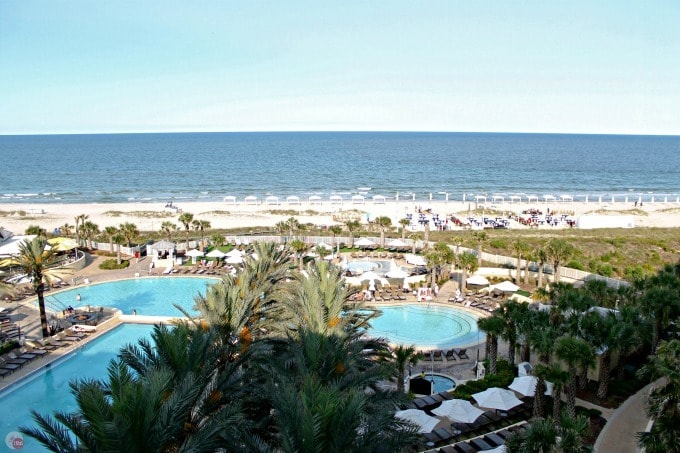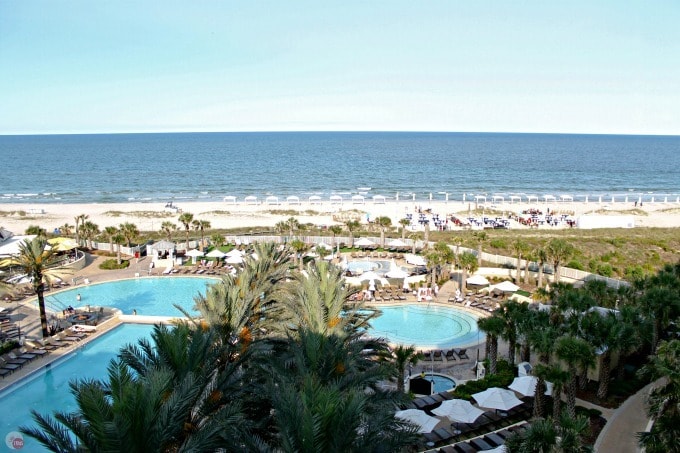 Not too shabby a view from our room at the Omni Amelia Island Plantation if I say so myself. We checked in, grabbed a cocktail and looked over the itinerary for the weekend. Ahead of us lay a cocktail party, wine-paired dinner, lunch at the Sprouting Project, and the main event: An individual chef competition, and a live, timed, team competition between the star chefs. I was starting to drool on my shirt.
The Fish to Fork cocktail party was my first introduction to the event. Passed hour devours and custom cocktails were ready to be consumed. Blue Point oysters with saffron sake mignonette and a uni aioli. There was nothing wrong with that starter. Soup shooters with olives and raisins topped with a rosemary cracker were next on the docket. Washed all that down with a cucumber gin cocktail topped with zinfandel… I know you are swooning already because I certainly was. The star chefs for the weekend were mingling with the guests and I stayed huddled in my corner with my group. Too nervous to speak to them for I felt very intimidated. Not because they were stand-offish, but because as a relatively new blogger, I felt that I would ask a ridiculous question such as :"what is your favorite food? or Why did you become a chef?" Such mundane questions, and with all these journalists and food writers there, who was I? I'll tell you who I was…
A very excited, very hungry blogger who was experiencing their first big food event. And by big, I mean not a BBQ in my backyard with more than 10 people. I got into food blogging because I love making appetizer recipes and sharing them with my friends and readers, but I also got into blogging to meet new people who also share my love of food. Plus meeting chefs is so much better than meeting movie stars!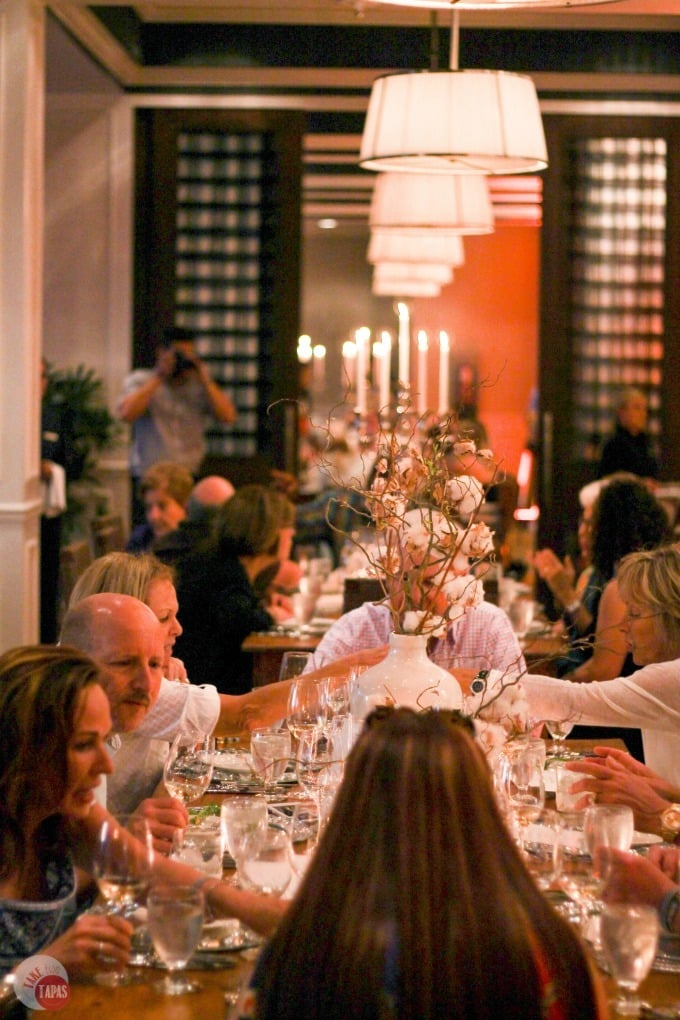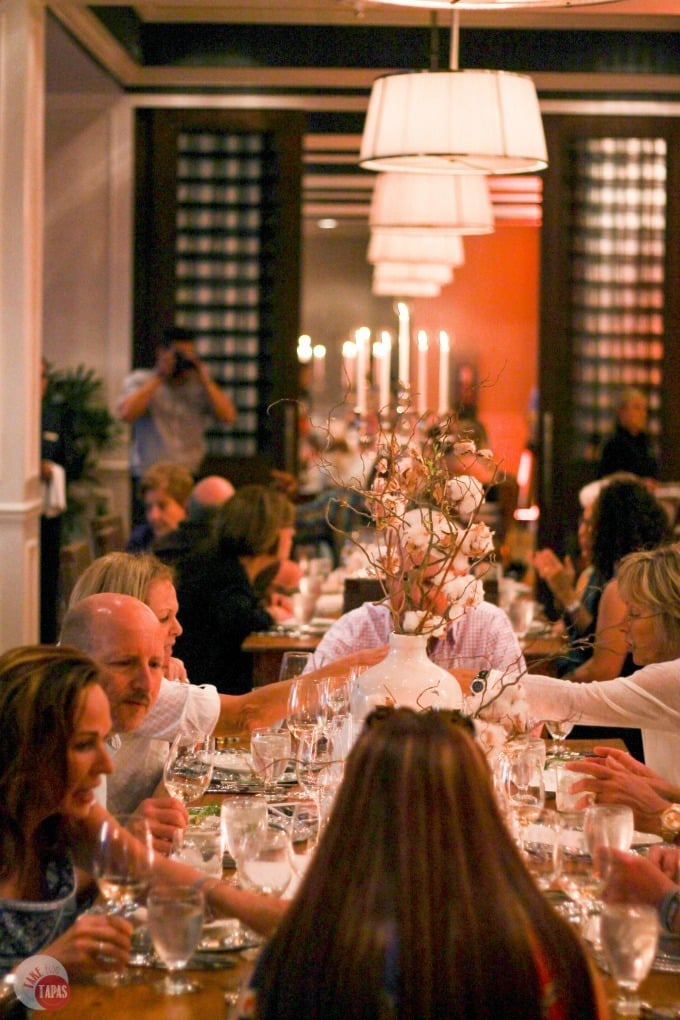 I am going to try and describe my experience at Fish to Fork to you and hopefully do justice to this event. Hang on while I show you how the wine-paired dinner went!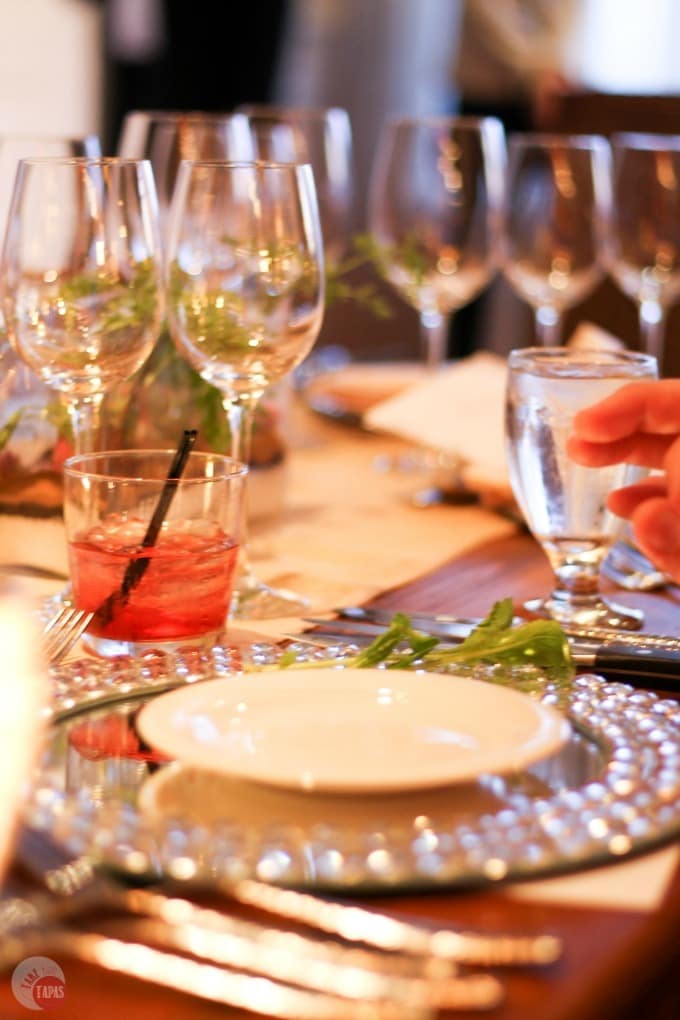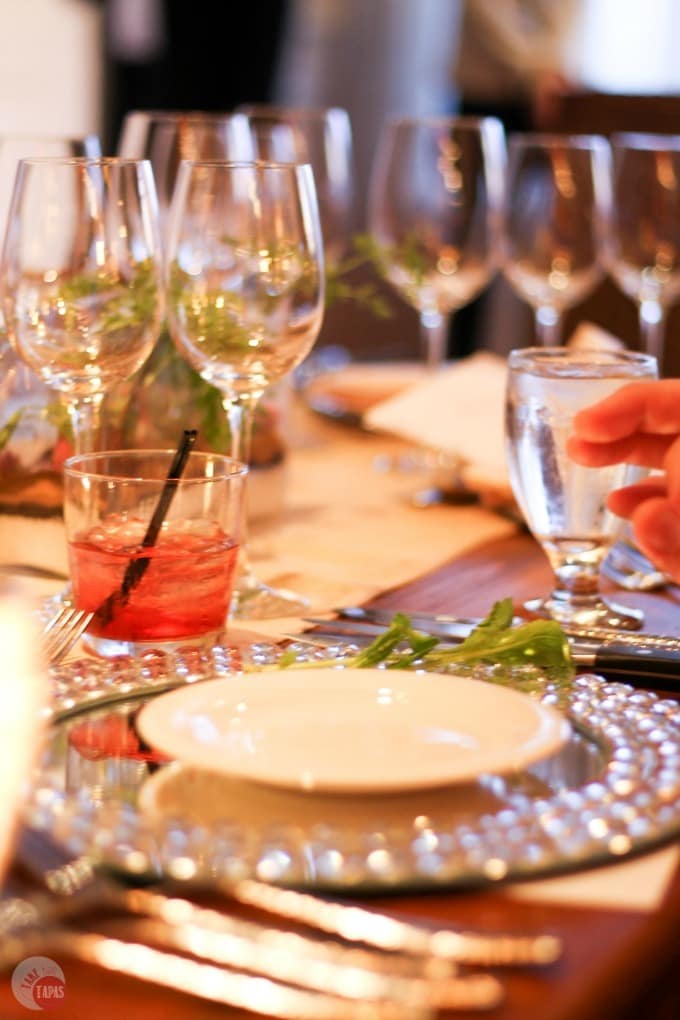 We were ushered into the dining room and grabbed some seats next to the kitchen. I know most people don't like to sit next to the kitchen because it is noisy but that is where all the action is. I love to see kitchen action as much as I like to taste the results of that action. As soon as we sat down, the wine started flowing and the doors opened. My favorite thing about the dinner was how open the kitchen was. The room where they typically used for the breakfast buffet but this but tonight was transformed were cooking and plating is. They let us just walk in and take pictures and ask the chefs as many questions as they could answer between platings. I mostly stayed out of the way and took pictures. I even abandoned my husband and friends so I could watch the chefs cook. It was a dizzying display that was choreographed and synchronized to perfection as they brought the plates to life. Better than any musical I had ever seen…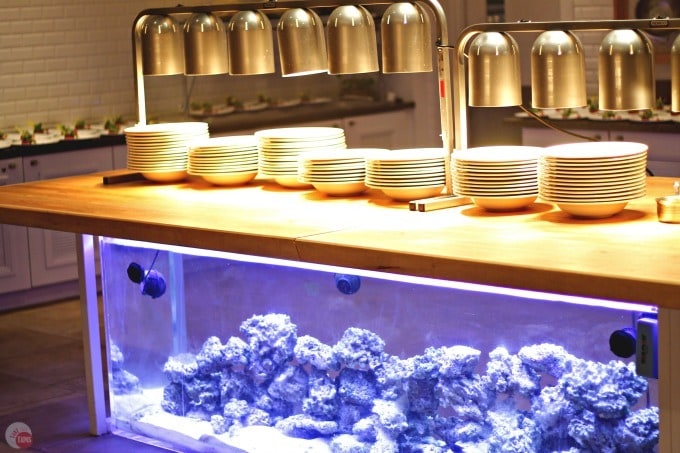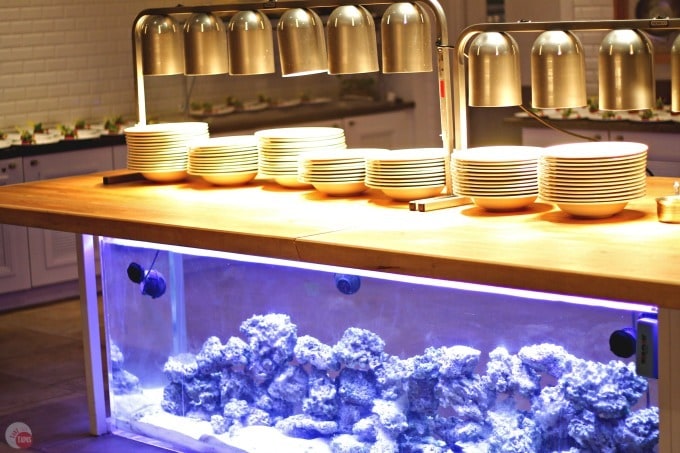 My adrenaline was flowing now. By this point, before the first course had even be set on the table, I had already run back and forth between the table and the kitchen 7 times and taken about 100 pictures. Most of them were blurry because I was shaking. Might have been the cocktails and wine…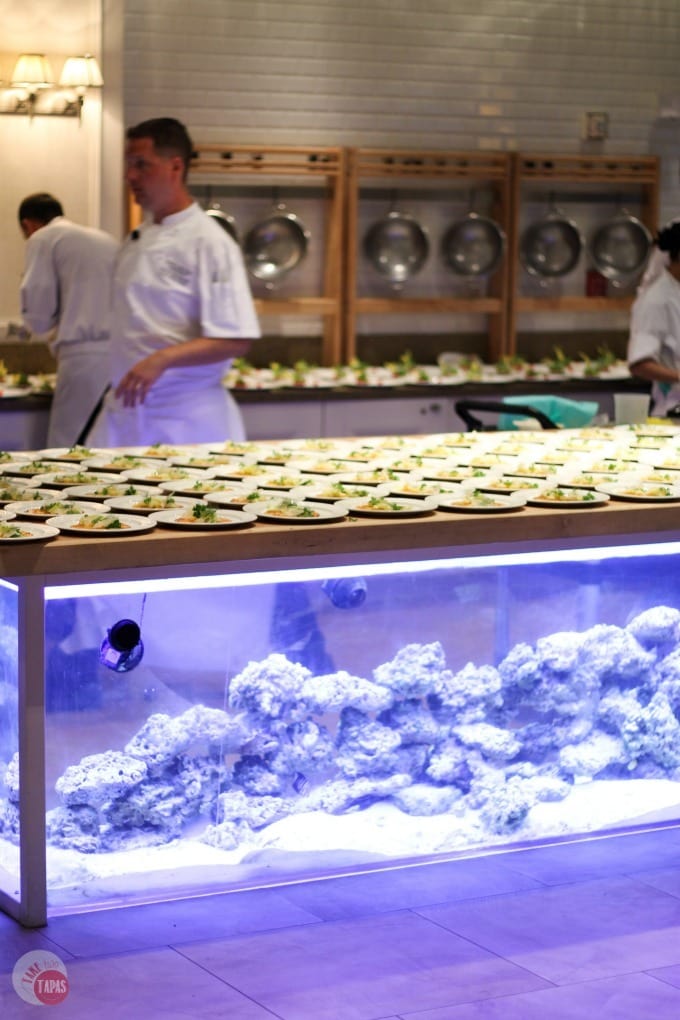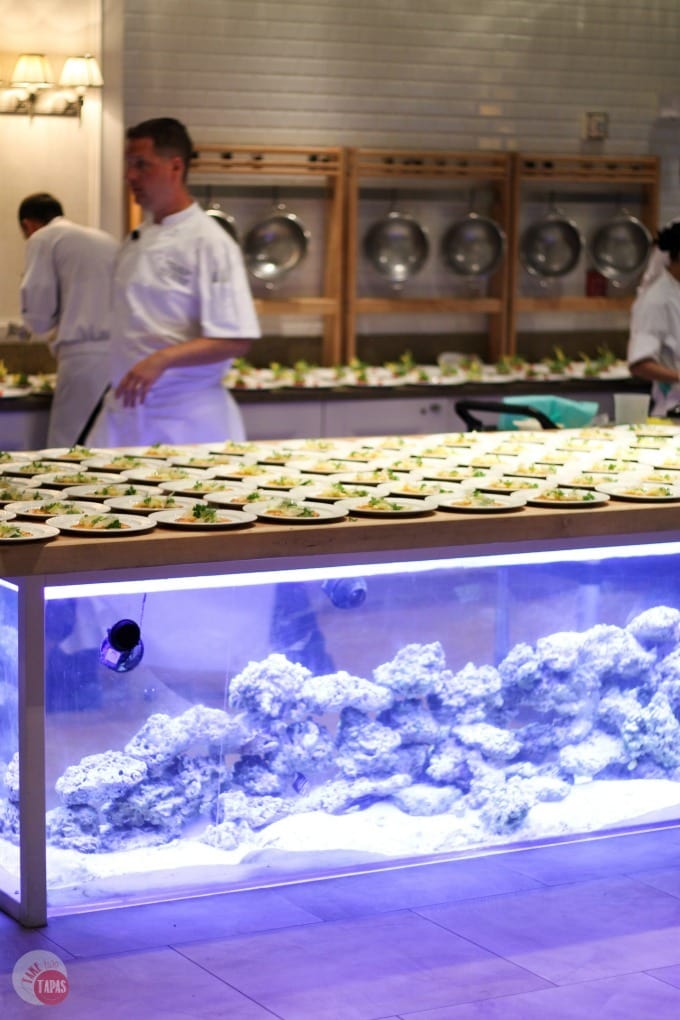 Here is a glimpse of the first course ready to be sent to the tables and a cameo by executive chef, Daven Wardynski. Yes, that is an aquarium under that table!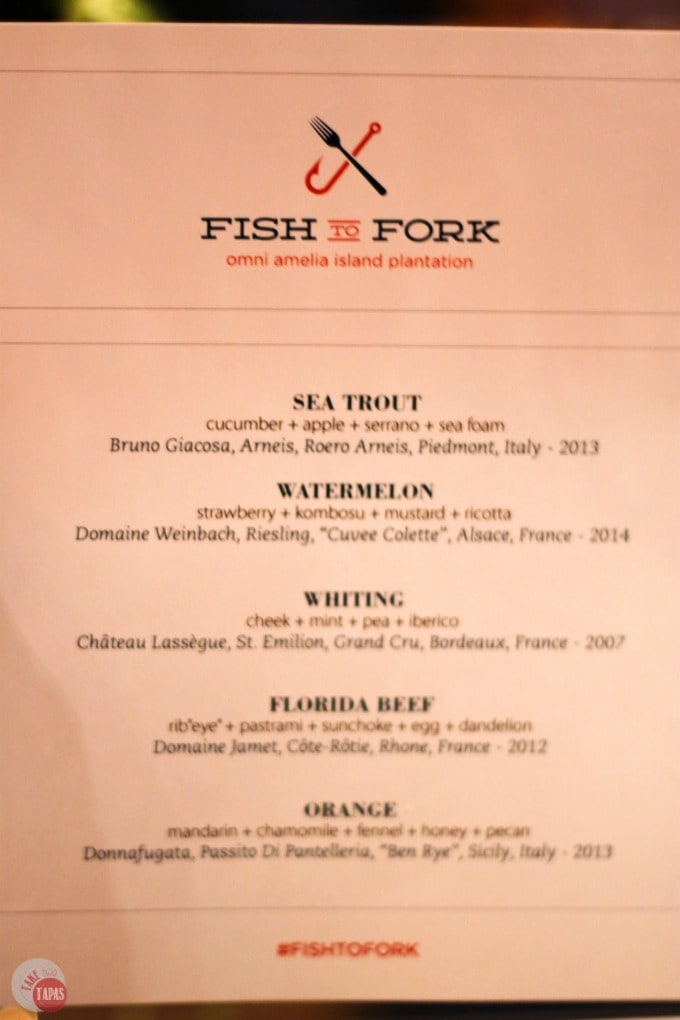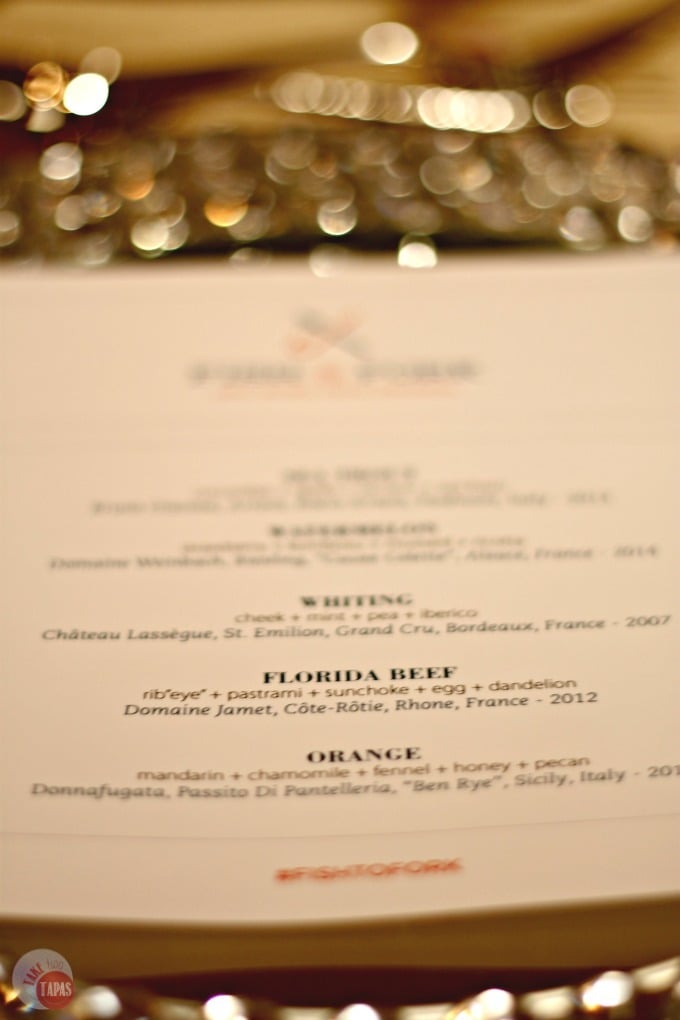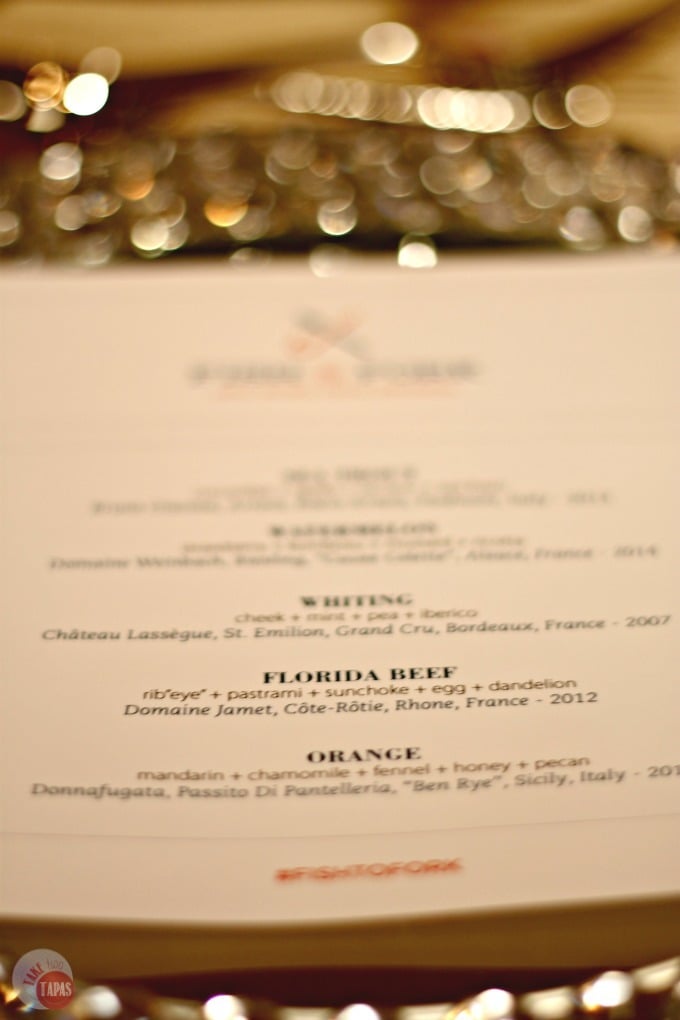 Here are a few pictures of the menu so you can play along as I show you the courses. I will try and highlight my favorite parts of each one for you.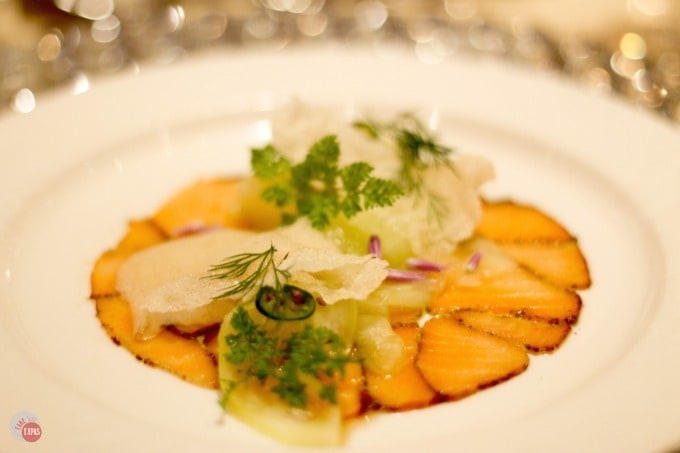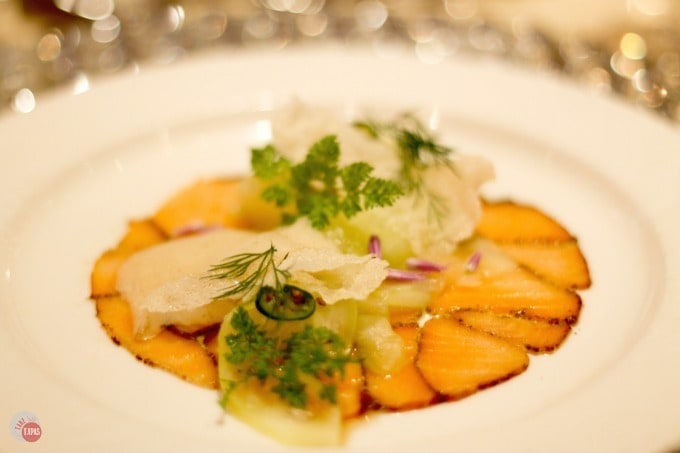 First Course: Smoked Trout with shaved cucumber and apple. A hint of heat with the Serrano chilies and a light and airy foam. I am not usually a trout fan because of the strong fish flavor bur this was just right. The pairing of the wine, a Bruno Giacosa Roero Arneis complemented the trout perfectly. I had to stab my husband in the hand with the fork so he wouldn't take mine. A few more trips to the kitchen before the next course comes out. I hope Brooks doesn't miss me too much. I doubt it as we met some new friends at the table.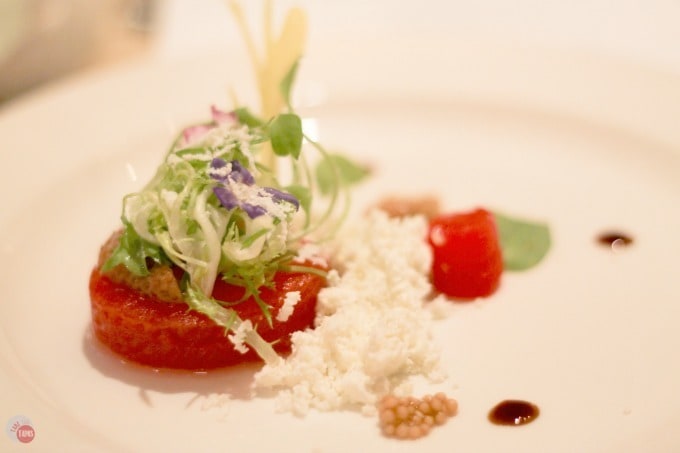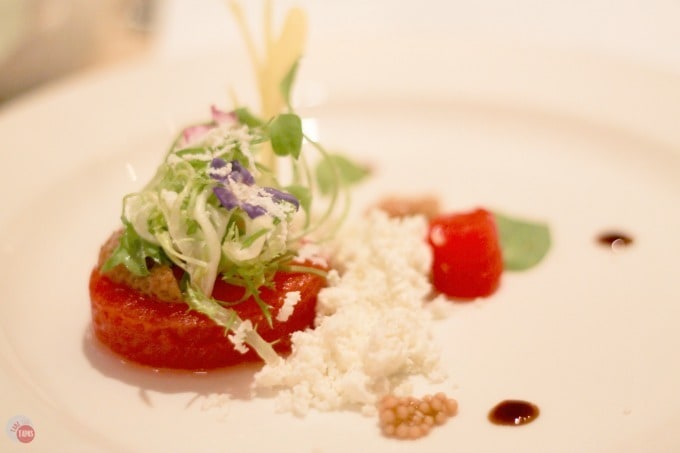 The next course was compressed watermelon, house made ricotta powder, pickled mustard seeds, and hidden away under the frisee was a puree that had the whole table stumped. It tasted like French onion dip, then we thought it was corn chips. But it turned out to be popcorn pureed, made from air-popped popcorn pureed with corn stock. The texture was velvety, the taste slightly salty, and the perfect addition to the watermelon. The pickled mustard seeds cut through the richness and added a brightness to it. To round out the dish, a Domaine Weinbach Riesling was served with it.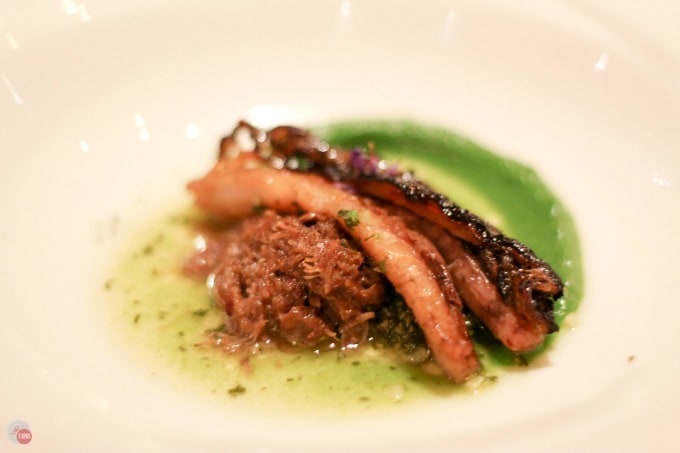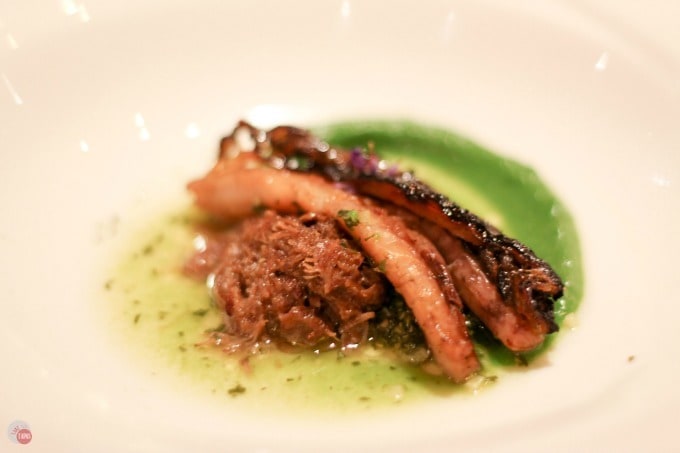 The third course brought a unique pairing not only on the plate but in the wine glass too. A flaky whiting set atop a mint and pea puree was nestled close to a braised beef cheek. I found it unusual to pair a light fish with the rich beef cheek but I was willing to try it. The pea puree was bright and in contrast to the tanginess of the cheek. I was not expecting a Chateau Lassegue Bordeaux to be served with a fish but was willing to try. It was delicious so I was put in my place.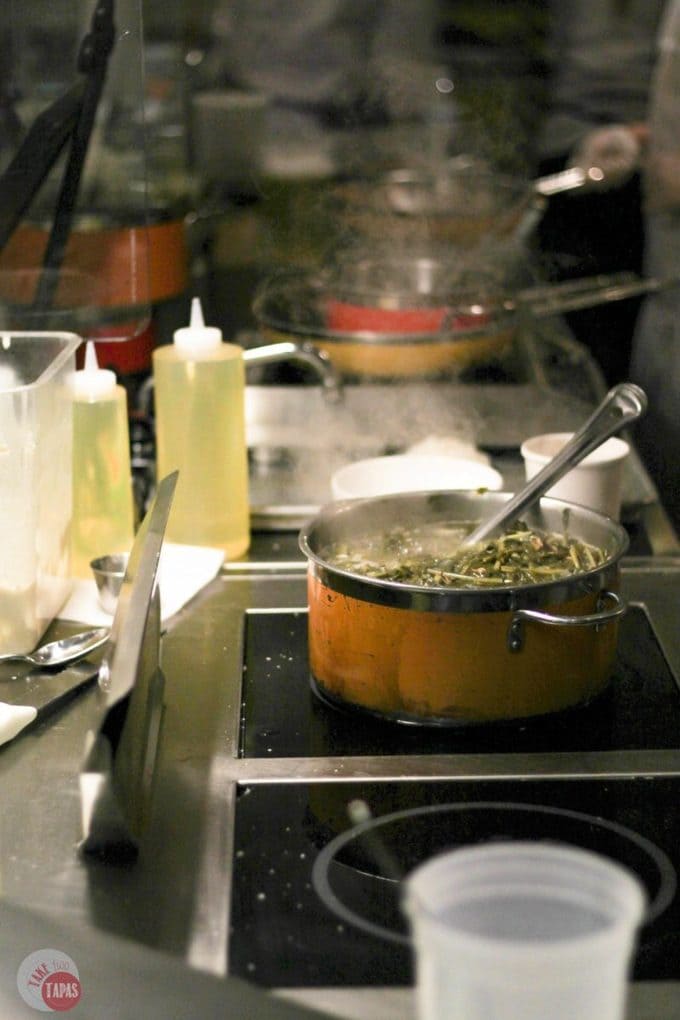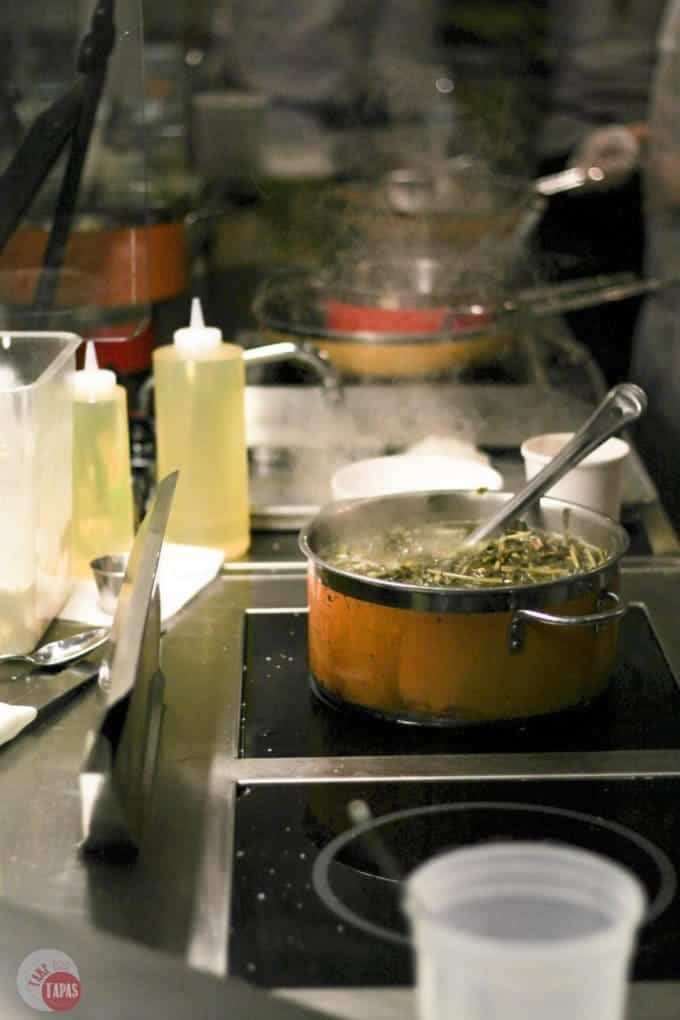 I had to get up and mingle at this point. Oh who was I kidding, I wanted to get back in the kitchen to see some more action. I could hear the clanking of plates and the delivery of orders to the chefs and it called to me like the dinner bell on a ranch. Here is a picture of the dandelion greens that we to be on the next plate.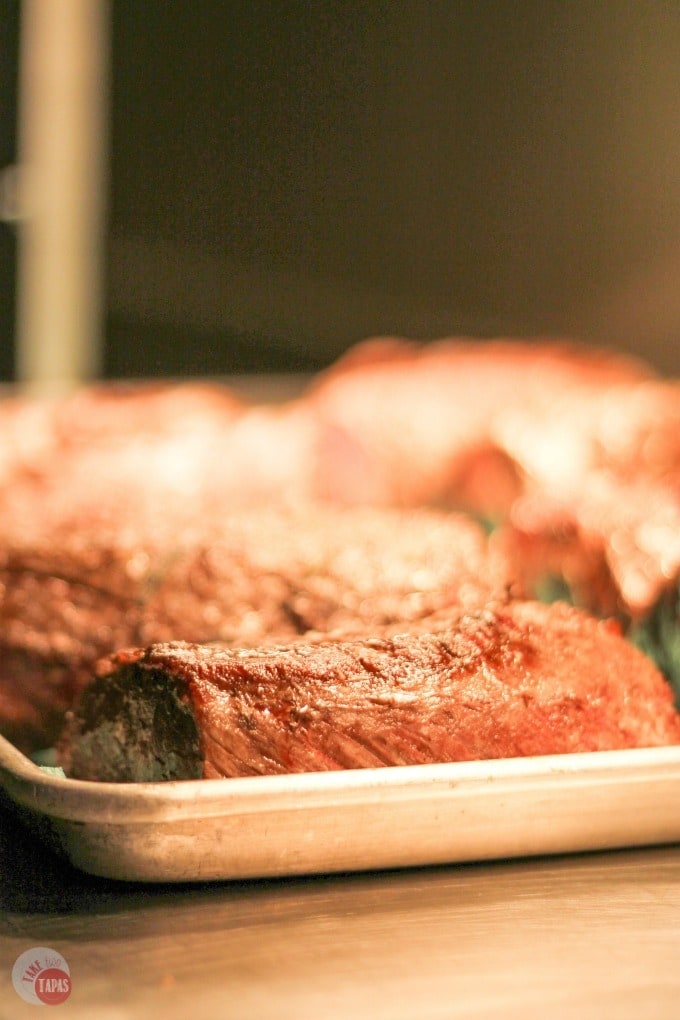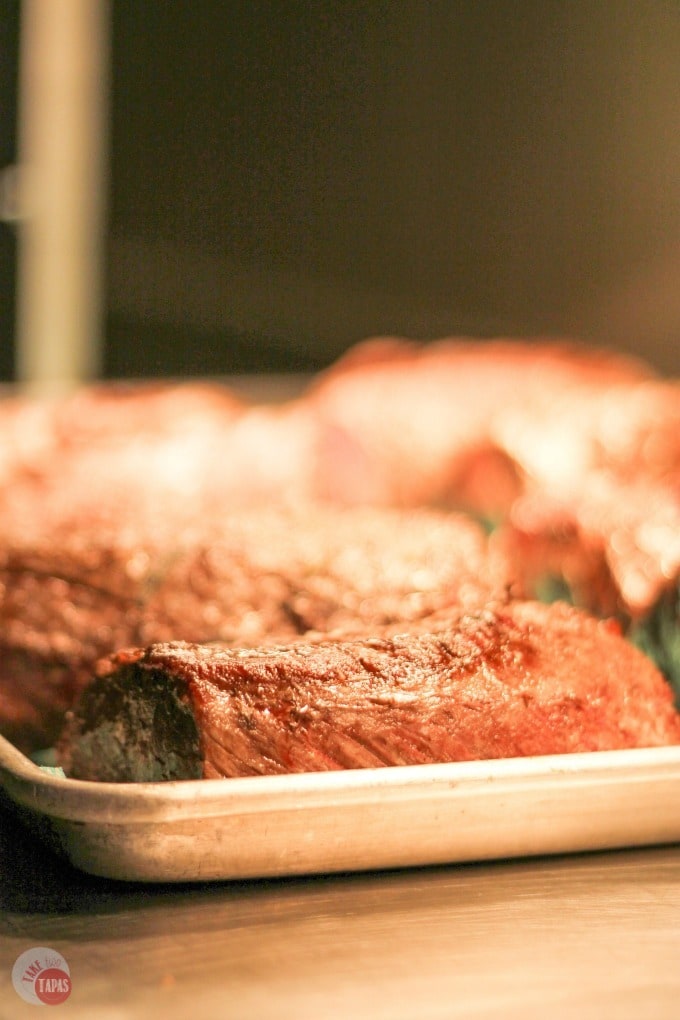 Our rib eye resting before it's grand entrance. Look at that perfect sear and how it glistens! I wish I had just taken a fork and stabbed one and bolted for the door. How far do you think I would have gotten? As tempting as it was, I wanted to stick around for dessert.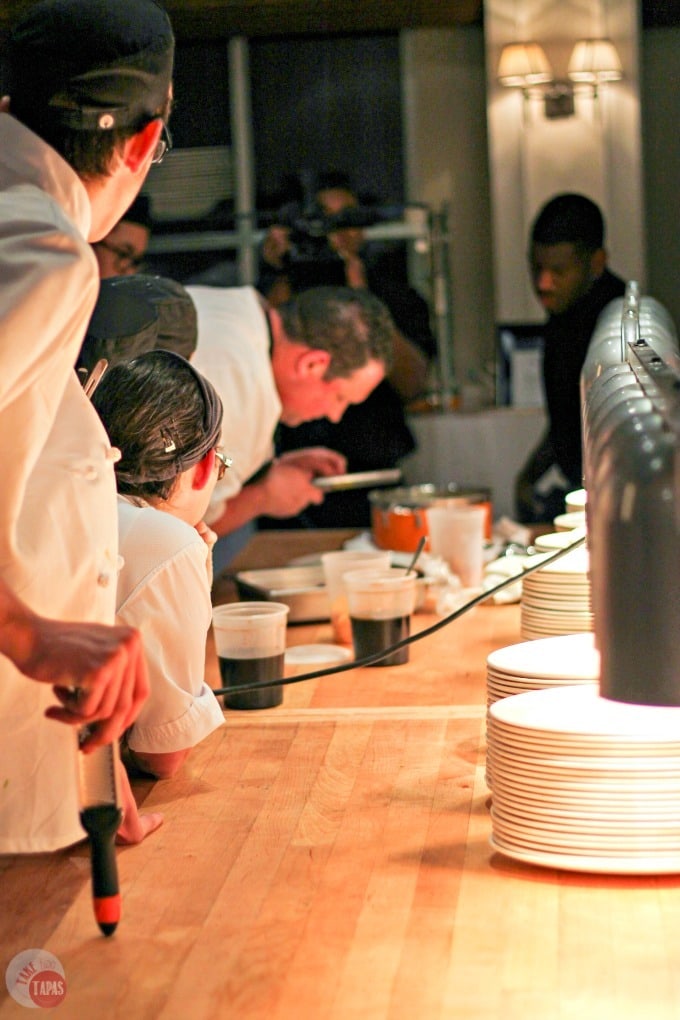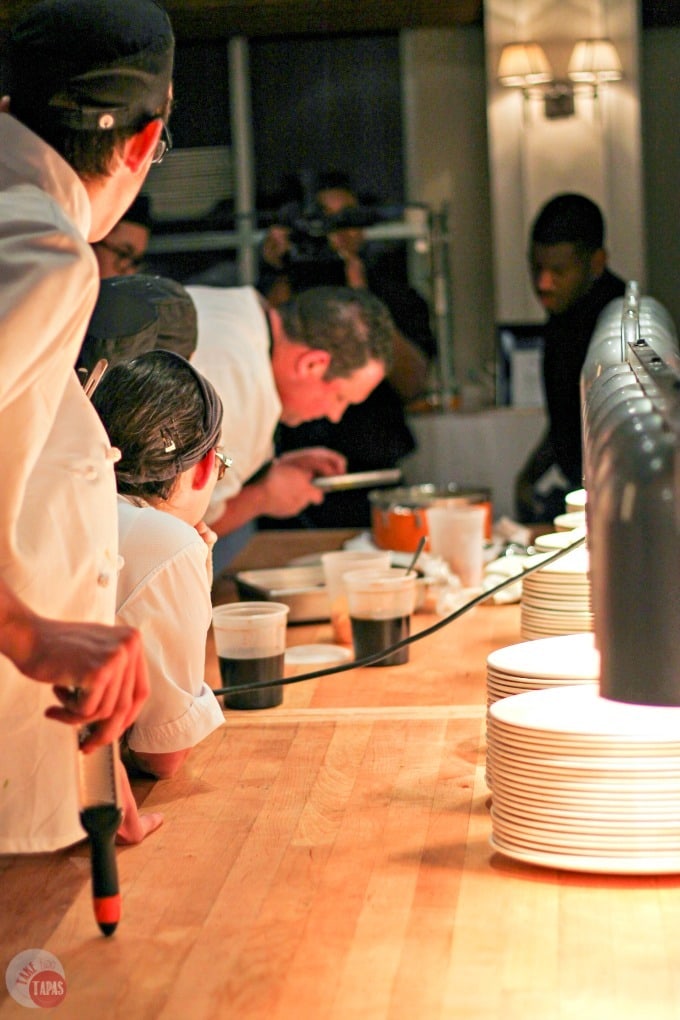 Here is a picture of the chef plating up the steak course and the other chefs looking on to see how the plates should look. It was impressive to see everyone taking it all in. Check out the chef in the lower left corner ready to go with his zester! Once everyone had taken a good look at the plate, they are scattered to their various stations on the assembly line and went to work. The synchronism that took place rivaled anything I had seen. Chefs moved at a blurry pace but never bumped into each other, spoke in a "shorthand" vocabulary, and within 3 minutes had plated over 70 identical dinners. Order from organized chaos. I needed to run back to my seat quickly before they served me or I got in the way.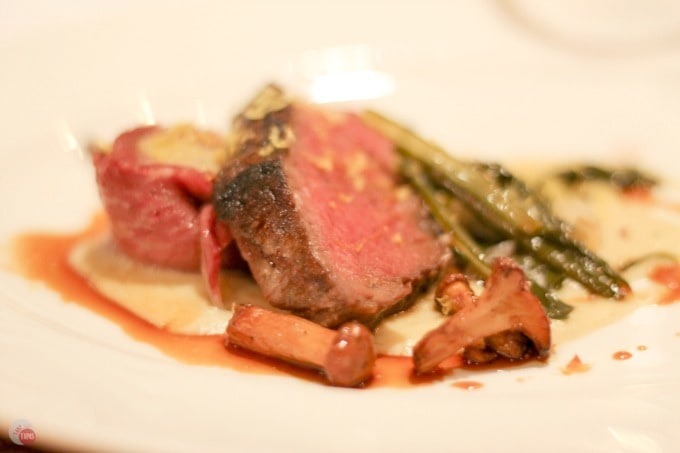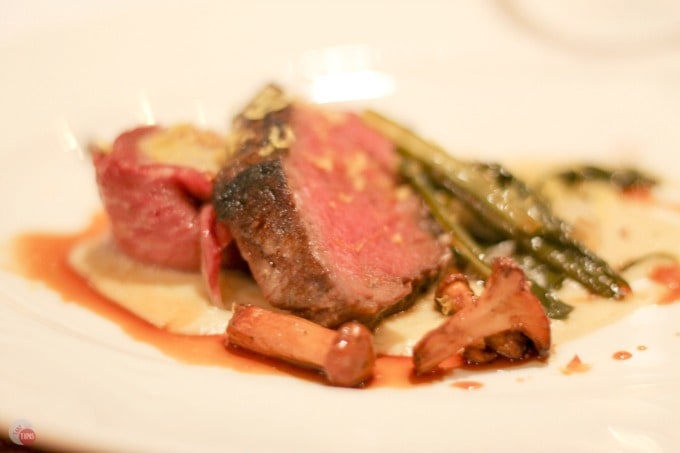 Here is what all the fuss was about. A sous-vide rib eye, seared, and served with a stuffed pastrami roll, sunchoke puree, and those tender dandelion greens. Paired with a Domaine Jamet Cote-Rotie to compliment the earthiness.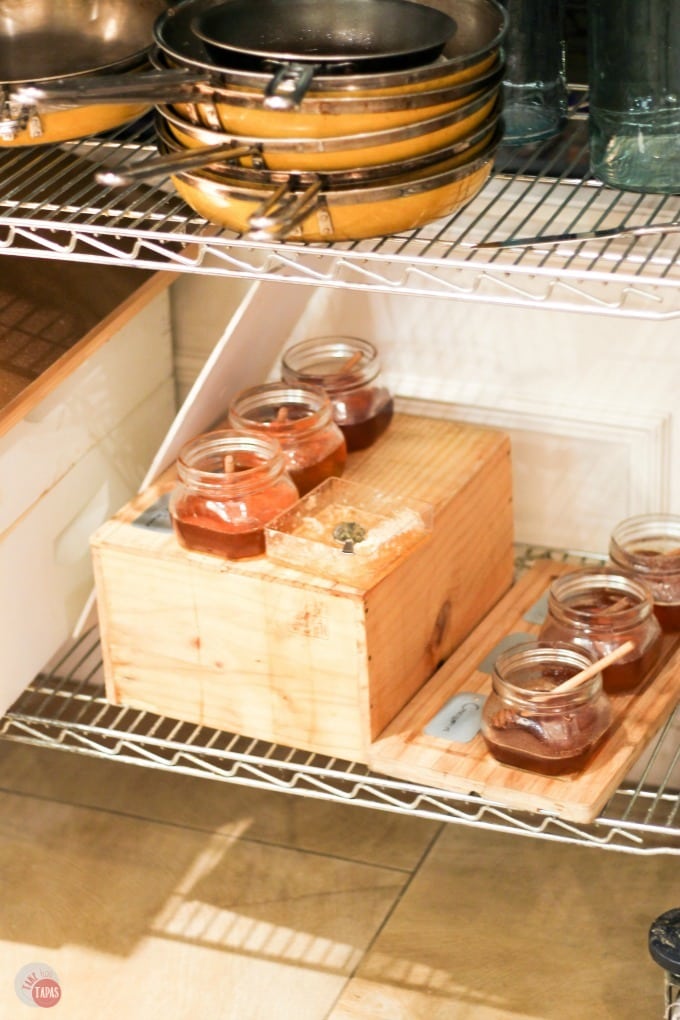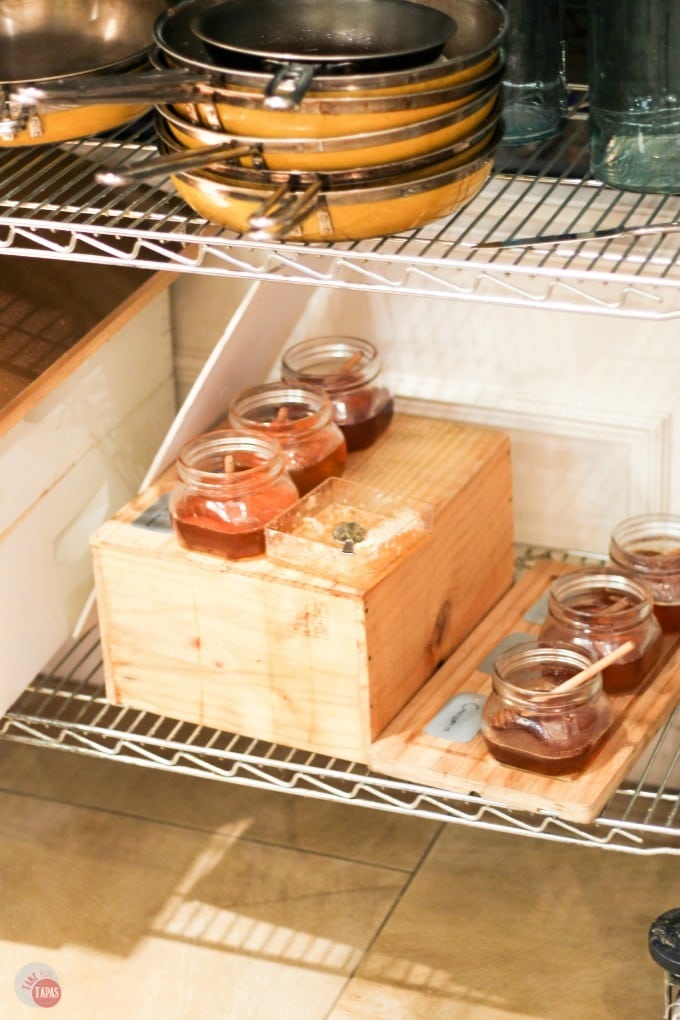 Dessert was sure to showcase the Omni's honey, which I will talk about next time, so I snuck back into the kitchen for one last peak at the chefs.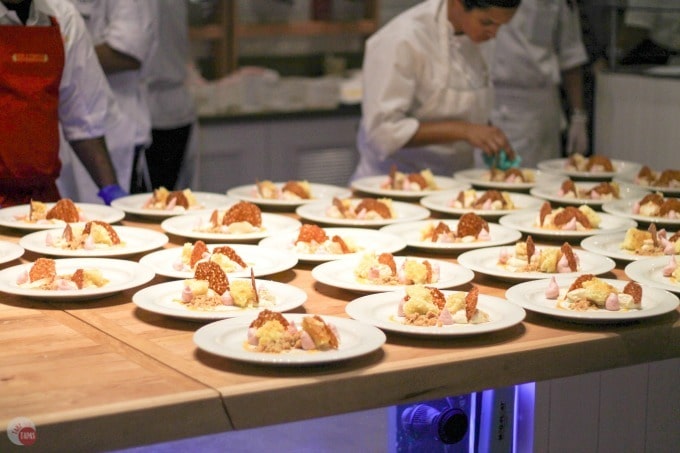 Honey ice cream, two tuille cookies, a pecan crumble, and chamomile fennel puffs. A delightful song of textures, flavors, and temperatures. Brooks inhaled his so fast he couldn't even remember what it looked like. He actually did a double-take when I showed him the pictures. Paired with Donnafugata "Ben Rye" dessert wine, the notes of apricot and orange, brought out the hints of mandarin orange in the dessert.
If this look at the first dinner of Fish to Fork didn't get you excited for next year, wait till the next post when I show you the Sprouting project started by executive chef Daven Wardynski, the Omni's aquaponic greenhouse, and beehives that produced the honey in the dessert. There is also a hot sauce hotel! Stay tuned!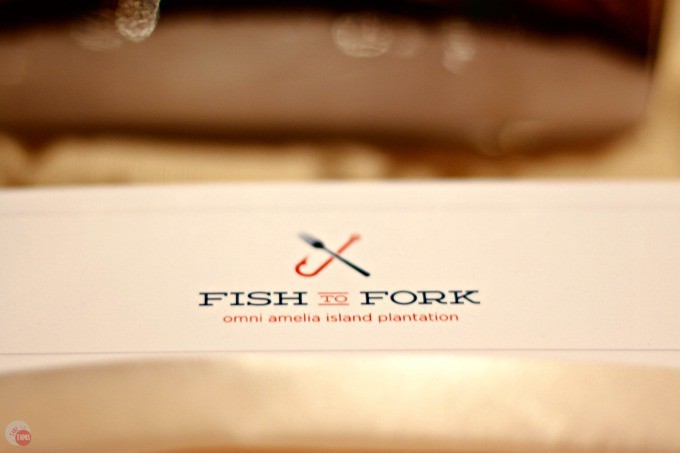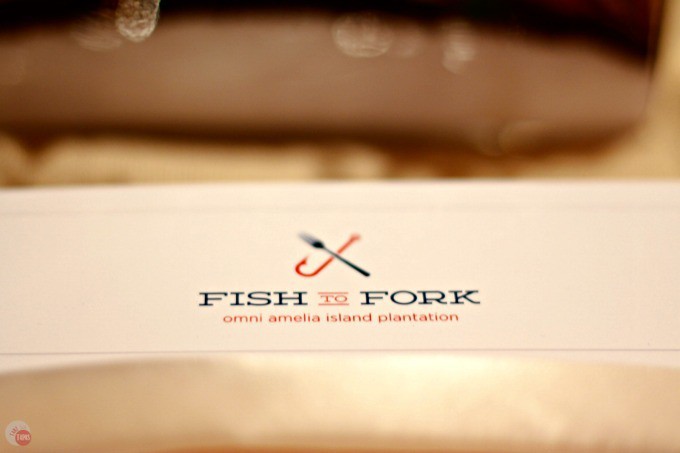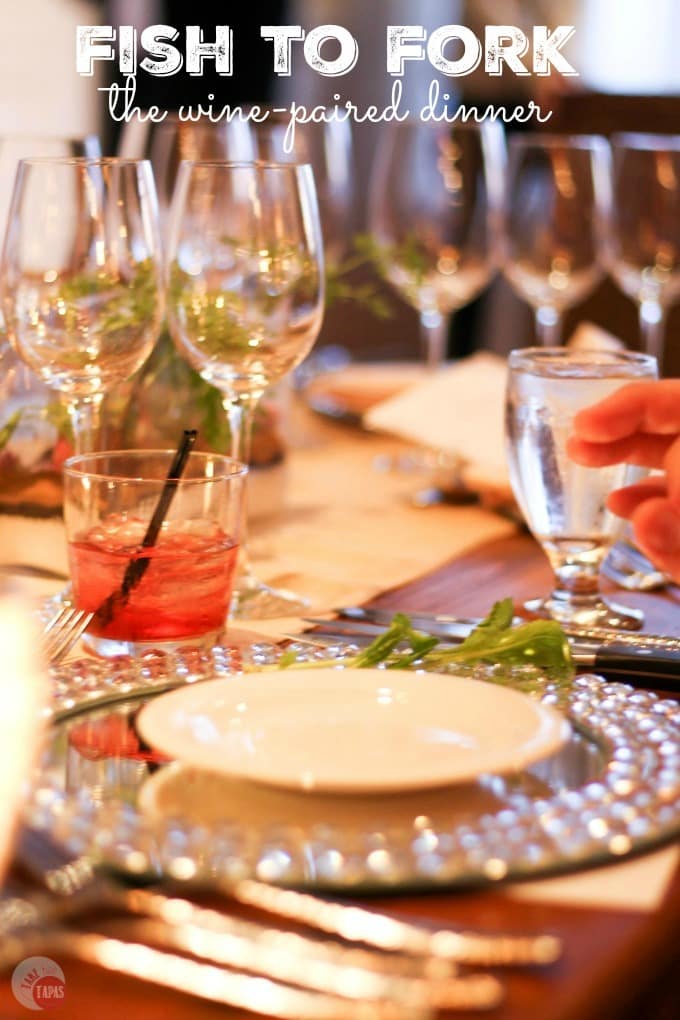 To continue along with my adventure check out