On a recent trip to Atlanta, GA for Brooks' 40th birthday, we were craving burgers and decided to grab lunch at a restaurant called The Vortex. As we perused their menu, we noticed one burger that listed some very interesting ingredients. The name alone seemed to say it all: Big Bad Voodoo Patty! It promised to be a juicy burger patty topped with chipotle cream cheese, hot pepper jelly, BACON, and served on Texas Toast. Brooks and I were fascinated, and very hungry, so we split it and another burger, so we could try two different items. All of their burgers looked good, but once we took that first bite of the Voodoo Patty, we knew we had made a grievous mistake! We had ordered another burger that would never live up to the one we just tasted. The unwanted burger sat there, forgotten, as we fought over the last bite of the Voodoo Patty. That was, hands down, the best burger I have ever tasted! I have been dreaming of this burger ever since and thinking about my next trip to Atlanta when I can go back and eat another one.
I did learn my lesson and, next time, I am NOT sharing!
In an attempt to relive that culinary experience, I tried my hand at a slider version of it for a Superbowl party. Must have come pretty close because it was among the first things to disappear that night (I ate three of them). I thought that this wonderful combination of ingredients would be great as a meatball, thus making it easier to eat and a lot less messy.
Try out these great meatballs at your next party!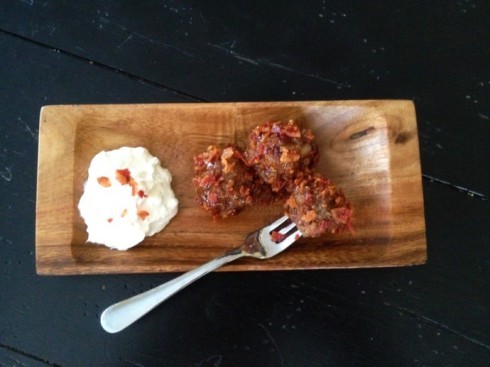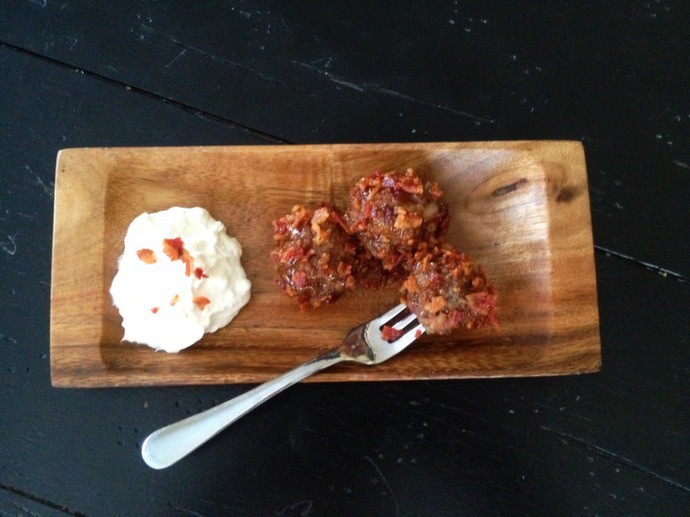 Chipotle Meatballs with Hot Pepper Jelly Glaze
Makes 25 meatballs
Active time: 15 minutes plus baking
1 lb lean ground beef
1 lb hot pork sausage (you can use mild to keep spice down)
one 3 ounce can chipotle peppers in adobo sauce
1 egg
1 teaspoon salt
1 teaspoon black pepper
1 teaspoon garlic powder
1 jar hot pepper jelly
3 tablespoons water
12 slices of bacon, cooked and chopped small
4 ounces cream cheese
1 cup Greek yogurt or sour cream
Heat oven to 375 degrees. In a food processor, chop the can of chipotle peppers and adobo sauce. In a mixing bowl, combine the ground beef, pork sausage, chopped chipotle peppers, salt, pepper, garlic powder, and the egg. Roll into small meatballs about 1.5 inches in diameter.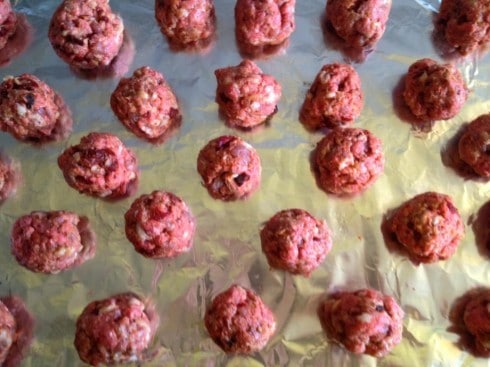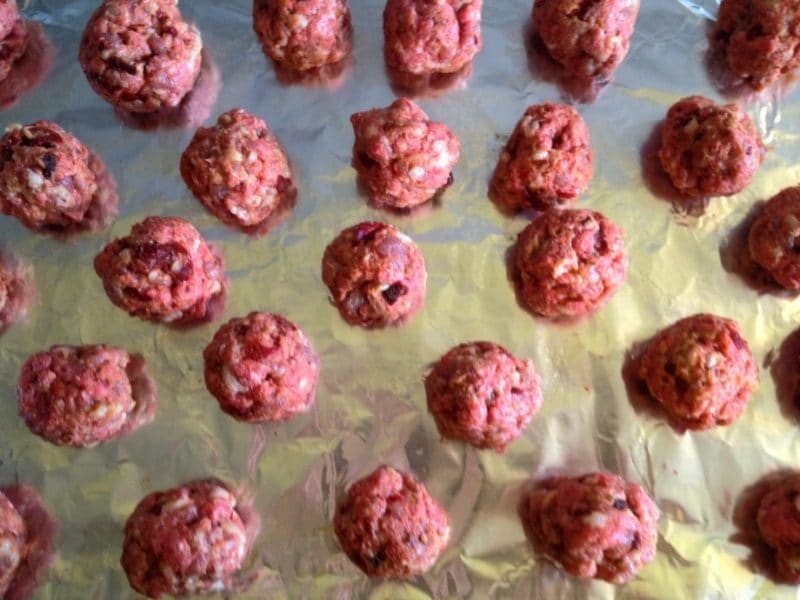 Bake in the oven for 15 minutes or until cooked through. While the meatballs are cooking, add the hot pepper jelly and water to a small saucepan. Bring to a simmer and keep warm until meatballs are cooked through. Combine the cream cheese and sour cream, or yogurt, in a small mixing bowl. Keep chilled while you are finishing the meatballs. When ready to serve, toss the meatballs in the jelly to coat them and roll them in bacon crumbles. Place on a serving tray with your cream cheese dip! For more of that jelly flavor, you can pour some of the jelly mixture into the cream cheese dip! It's also yummy on toast or bagels.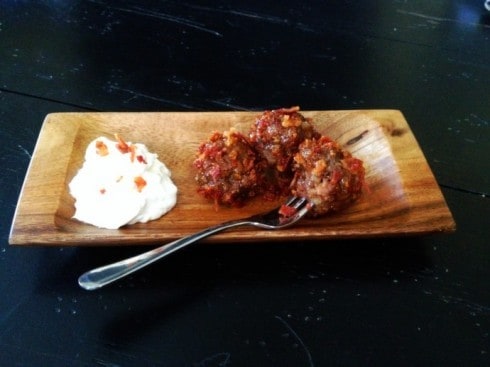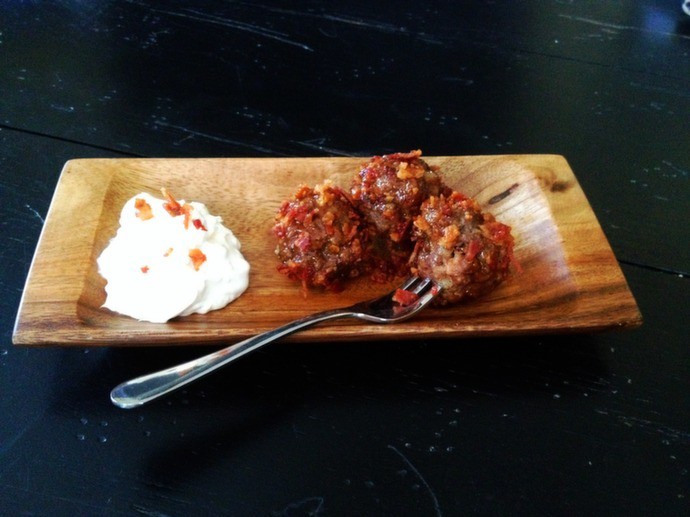 If you like reading my posts and seeing my recipes, follow me on your favorite social media channel for behind the scenes photos and much, much more: Pinterest, Facebook, Instagram, and Twitter!
©TakeTwoTapas.com. Content and photographs are copyright protected. Sharing of this recipe is both encouraged and appreciated. Copying and/or pasting full recipes to any social media is strictly prohibited.