This post has been sponsored by 7UP. All thoughts, recipes, and opinions are my own. Must be 21 or older to consume alcohol. Please drink responsibly!
When the summer heat starts to rise don't just chill out! "Chill-Up" with some ChillUp cocktails, mocktails, and shots!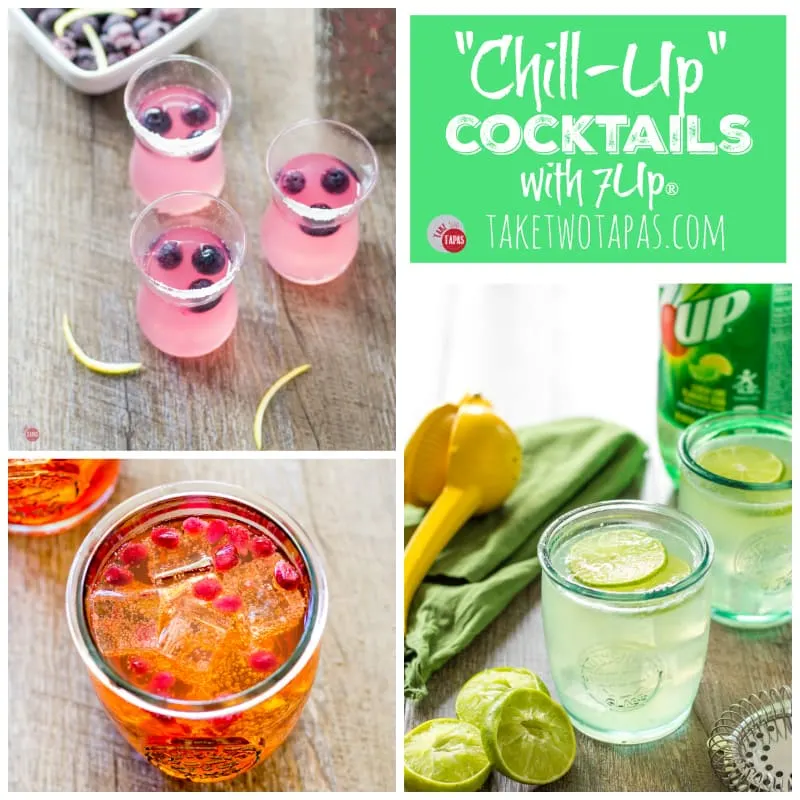 Summer is almost here and I am on the move! We are about to move from sunny and humid south Georgia to a dryer, yet even hotter, Arizona. As I navigate finding new schools for the boys, unpacking our new house, and still bring you fun recipes, I won't be doing much chilling out.
The kids will be out of school but I will be working overtime! Instead of chilling out, I need to make sure I am keeping cool as well as "keeping my cool." The best way to do that is with my new ChillUp cocktails! Grab a few ingredients from the store and the always perfect 7Up® for these crisp and cool ways to ChillUp this summer!
This summer is shaping up to be a hot one and moving to Arizona is going to make it even hotter. As if that was possible! The kids and I have been traveling to Arizona the last few summers and staying for a couple of weeks each time.
The family vacations while the hubby is working during the week. On the weekends, we are either exploring the area or hanging out with his work friends and their families. Having some adult beverages is a great way to celebrate the weekend. I love making my Blood Orange Cinnamon Margaritas when blood oranges are in season!
Speaking of making cocktails…
My hubby always makes fun of me when I have a cocktail during the day. Especially a weekday. I am not sure how many more times I can assure him that when I have a cocktail during "traditional" work hours it is called Research and Development.
I'm "working" on new drink recipes for the blog, during "working" hours, so it counts as actual WORK.
Am I right?
I know my kids, or those not partaking of alcohol like to be involved with all the festivities so I try to make a mocktail version of each drink for them.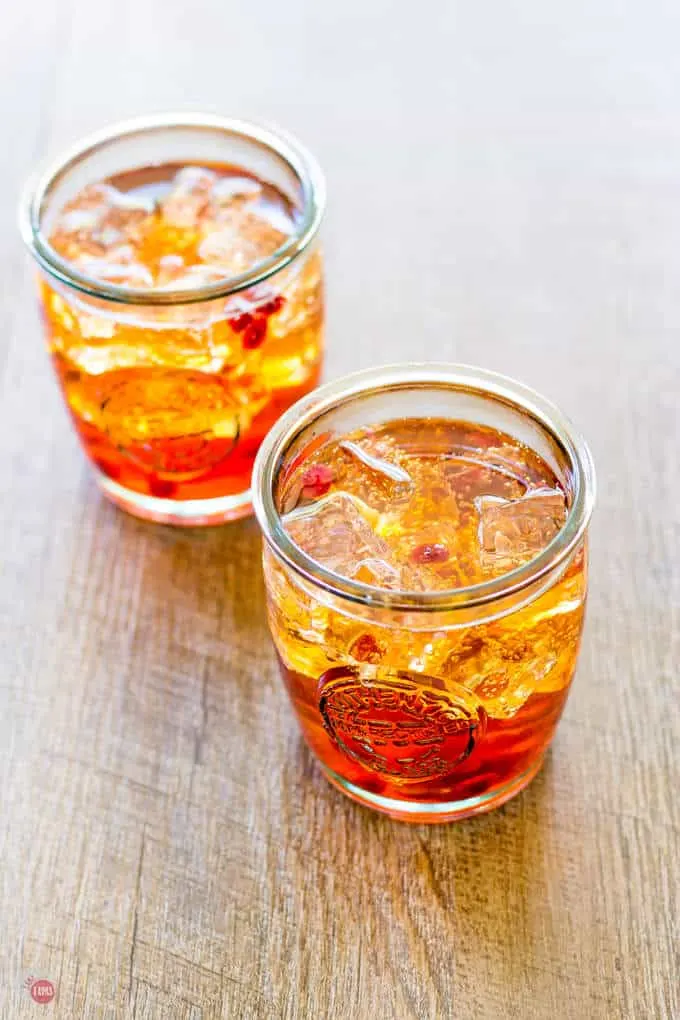 The first cocktail I have for you is a riff on a tequila sunrise. A tequila sunrise is a fabulous drink consisting of orange juice, tequila, and grenadine.
I'm switching grenadine for straight pomegranate juice, tequila, and using a Satsuma orange liqueur made from rum. I also use Satsuma Orange Liqueur in my Orange Satsuma Shandy! My Sunrise Spritzer is perfect for morning, brunch, or getting the party started around noon.
The crisp flavors or the Satsuma Orange Liqueur mix well with 7UP's lemon and lime flavors. The tartness mixes well with just about any juice or mixer and the acidity brings out their flavors even more!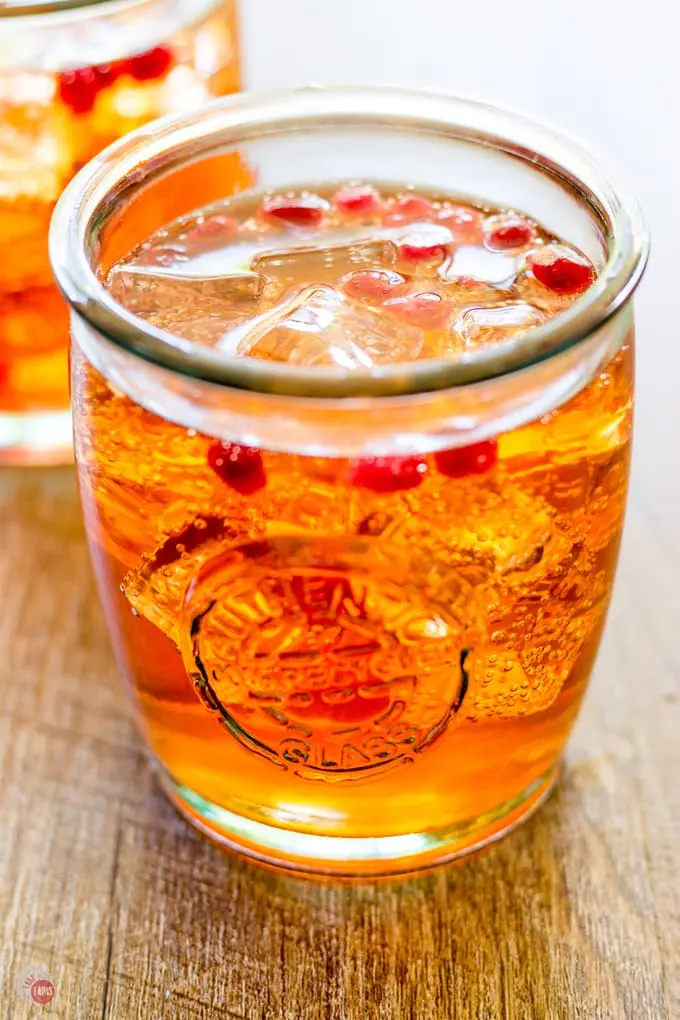 If you can't find pomegranate juice, or just prefer something else, you can use grenadine in its place. I used to think that grenadine was made from maraschino cherries when I was little because of the color. Come to find out it is made from pomegranate juice and sugar.
This is why I chose to use pomegranate juice for the Sunrise Spritzer!
Pomegranate arils are such a festive garnish. Peeling a pomegranate might seem messy and tedious, but I avoided this by purchasing some frozen pomegranate arils while I was at the store. I will admit that when I walk by the freezer I tend to pop a few in my mouth!
My Sunrise Spritzer is perfect for sipping in the morning and feeling like you are getting your vitamin D from the oranges!!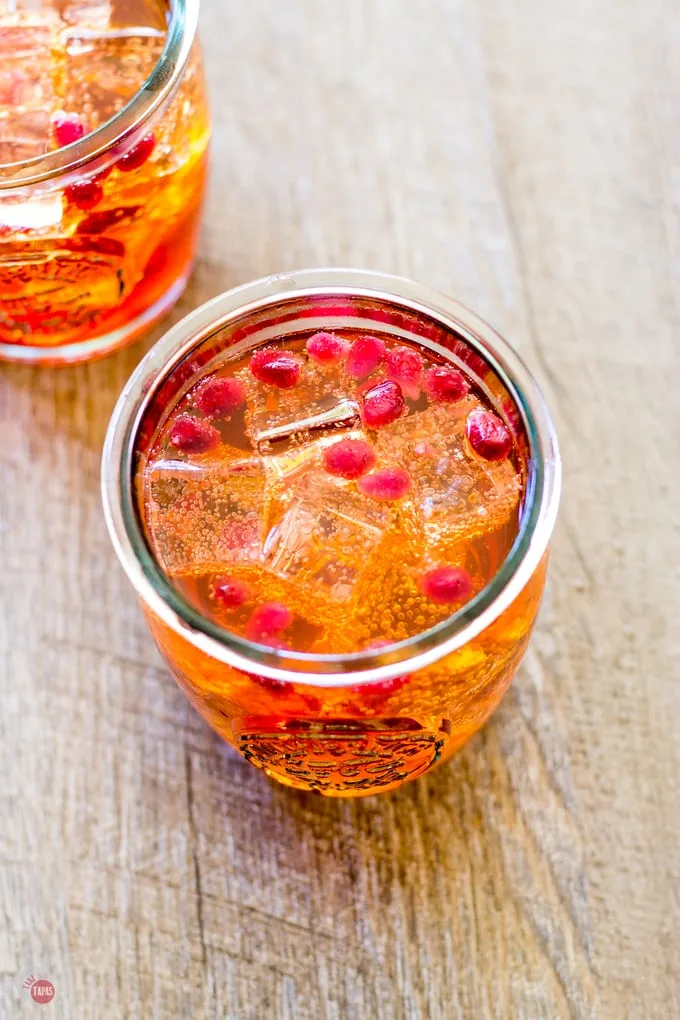 Once we have our morning or brunch-time cocktail, it is time to move into the afternoon! The orange and pomegranate got me through the morning and now the sun is high in the sky and I have been baking all day long.
Cool, clean, crisp is the direction I want my chillup cocktails to take for the afternoon ahead. Because 7Up already has lemon and lime flavors, I figure I can stay in this realm and just build on it.
Slightly tart and a not too sweet mixer is a great base for any cocktail. One of my favorites is the Paloma. A simple cocktail of tequila and grapefruit soda.
It has a salted rim and is served with a lime wedge. Perfect for the afternoon but I am not sure I want grapefruit since it reminds me of the morning I just suffered through. I think sticking with lime is the way to go. Can I still call it a Paloma if I am using lime instead of grapefruit?
How about a Lime Paloma or Limeloma?
This post may contain affiliate links.
I may earn a small commission for my endorsement, recommendation, testimonial, and/or link to any products or services from this website. Your purchase helps support this blog at no additional cost to you and allows me to continue to bring you delicious recipes.

This Limeloma is my type of cocktail! I can't get enough of the flavors of lemons and limes. After reading that keeping 9 lemons or limes in a bowl in your house or office will bring you good fortune, I always have lots on hand.

Plus, I love having fresh juice for my drinks! It takes some time to squeeze that citrus, but with my favorite juicer, the task doesn't seem as daunting.

Lime, for me, is essential when having tequila. Just like salt is essential for life, it is also essential with tequila.

I chose not to rim these glasses with salt, even though a Paloma cocktail is usually served with a salt rim, to keep the flavors crisp. Salt tends to dehydrate me as well so given that I will be drinking a few of these Limeloma cocktails, I'm keeping the salt to a minimum.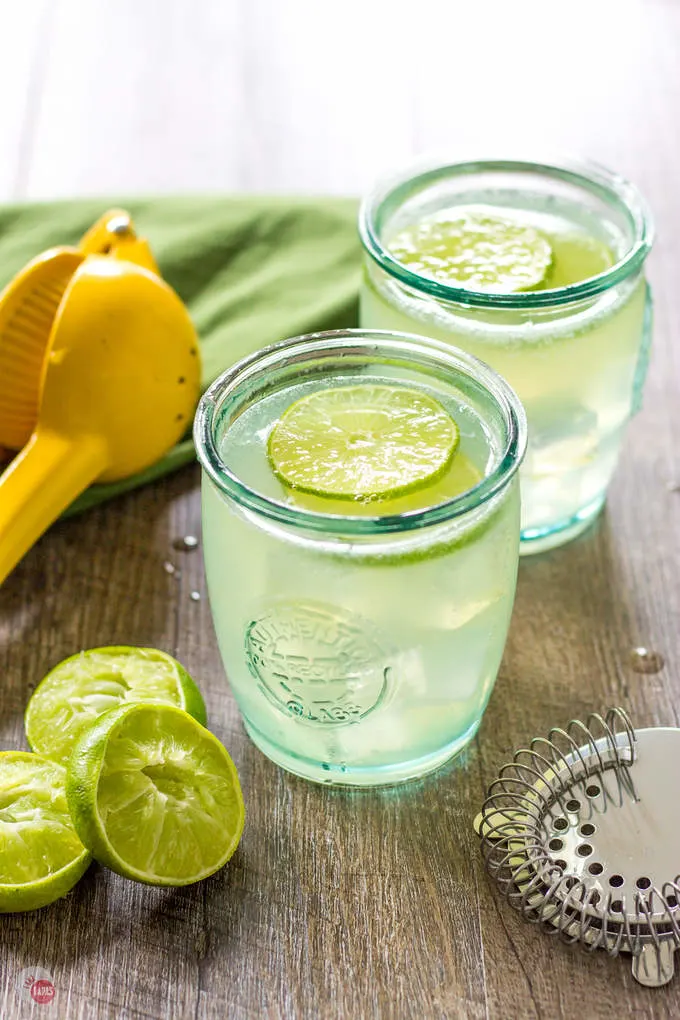 The addition of 7UP in the drink brings the flavors of lemon and lime even more to the forefront.
While sipping my Limeloma, I can feel the bubbles from the 7UP tickling my nose and almost aerosolizing the citrus flavors of the cocktail.
Like a refreshing spa treatment for my face! The 7UP makes the tequila and lime dance on my tongue! You are going to love this twist on a Paloma!
I am currently experimenting with garnishes and I find that these lime slices look pretty and are functional. Two fit nicely in the top of my glass and when I drink, they block the ice from splashing the drink on my face. A win-win!
Grab your ingredients and start mixing!
With 7UP being the perfect addition to any cocktail, make sure you have plenty on hand! There are so many drinks that you can make with simple spirits and 7UP. The carbonation lends itself to so many fun concoctions!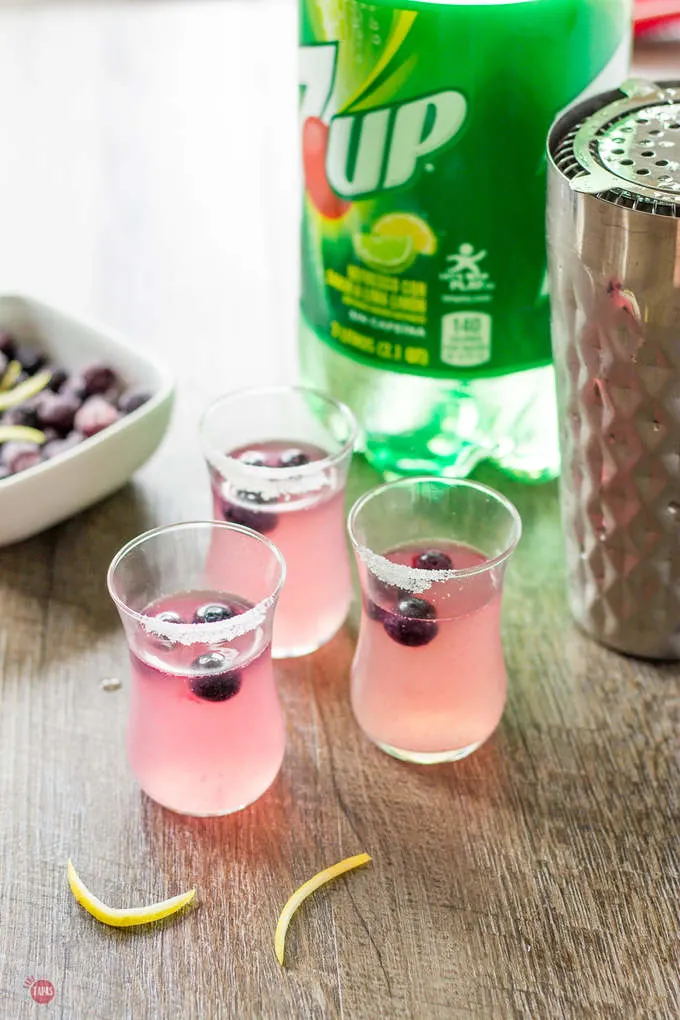 Blueberries and lemons are in full swing over the summer so blueberry lemonade is a must. I like to add a little vodka to mine to make a light and summery cocktail. Vodka being a pretty neutral spirit, the blueberries and lemons really stand out!
After the Sunrise Spritzer and the Limeloma, we want to start winding down. Drinking responsibly means knowing your limits and when to stop. Adhere to my one glass of water between shots to help you!
I purchased my blueberry lemonade, already mixed when I bought the other ingredients. One less thing to make, perfect for the kids to drink with some 7UP, and a great addition to any spirit when you are in the mood for a cocktail.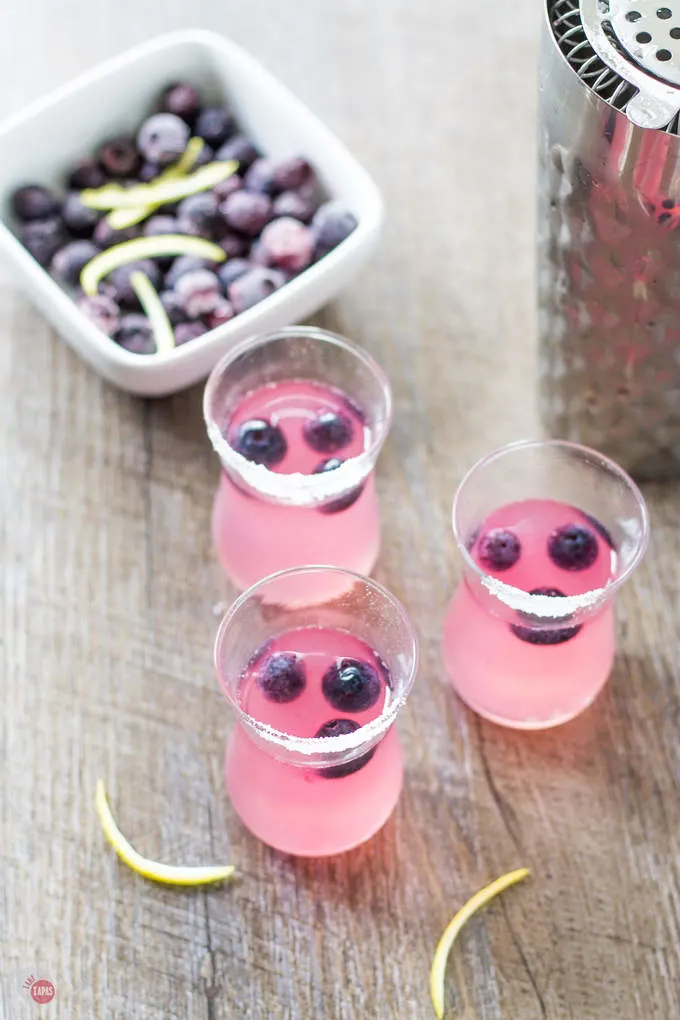 Freezing my blueberry haul when I pick a bunch in the summer makes it easy to have blueberries on hand all year round. These frozen blueberries, or pops as my family calls them, make pretty garnishes and keep your shots cool without diluting them!
I use frozen blueberries in my Blueberry Margarita! You can see some silly pictures of my boys picking blueberries for the first time. We had a blast!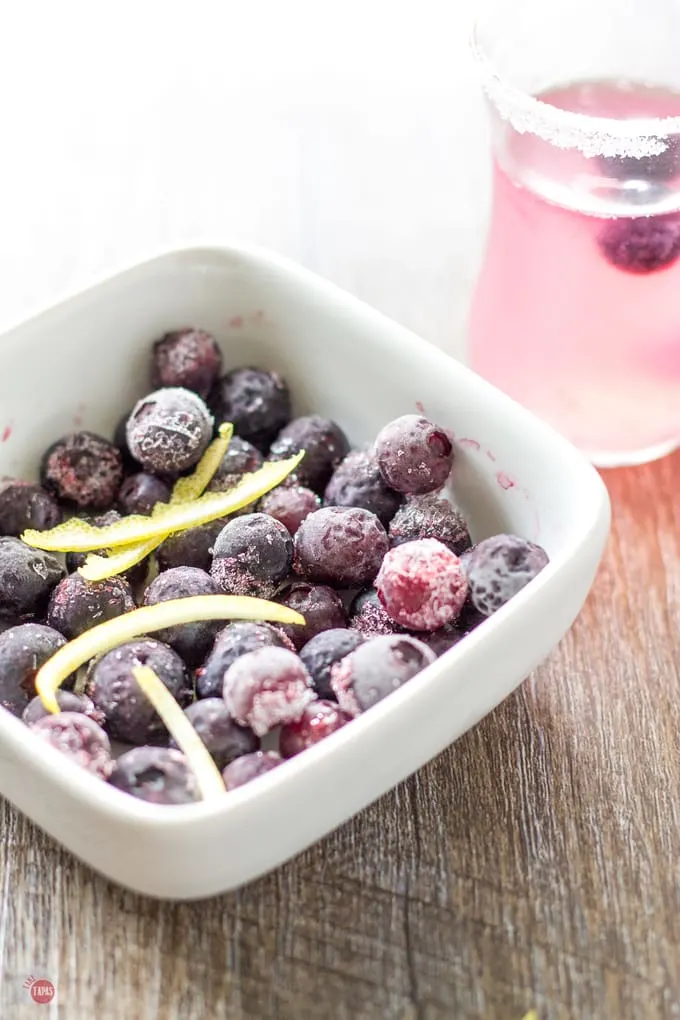 A few of the frozen blueberries and thin strips of lemon peel are pretty garnishes for these shots if you can keep everyone from eating them beforehand. As the frozen blueberries thaw in the shot glasses, they add a little more color to the shot in an almost swirling manner. Pretty and tasty!
A sugared rim on the shot glass completes the Blueberry Lemonade Slammer Shot. This recipe makes 12 shots so be sure to share with your friends or drink lots of water in-between!
I hope these ChillUp Cocktails keep you cool and chill this summer as the temperature heats up!
Check out these ChillUP cocktails and other great recipes featuring 7UP to help you ChillUp all summer!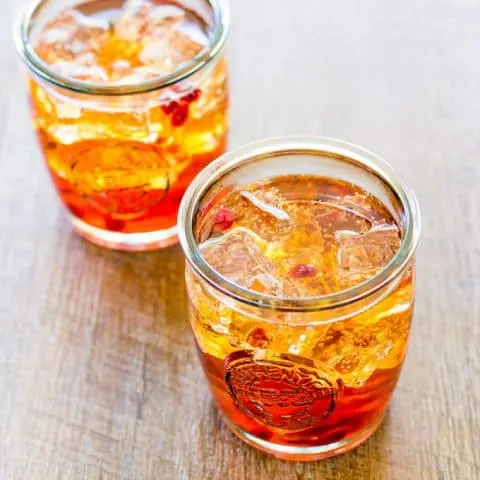 Chill Up Cocktails
This take on the traditional tequila sunrise uses orange liqueur, pomegranate juice, and 7UP for a refreshing way to start your summer day!
Ingredients
Sunrise Spritzer
2 cups Satsuma Orange Liqueur
4 cups 7Up (diet or regular)
4 tablespoons Pomegranate juice
1/4 cup pomegranate arils (optional)
Lime Paloma
1 cup lime juice
1 cup silver tequila
2 tablespoons lime simple syrup
1 cup Lemon Lime Soda
8 slices of lime
Blueberry Lemonade Slammer
1/2 cup frozen blueberries
1 tablespoon lemon peel (sliced thin)
6 ounces blueberry lemonade
6 ounces vodka
6 ounces lemon lime soda
2 tablespoons sugar
Instructions
Sunrise Spritzer
Combine all ingredients in a cocktail shaker.
Add ice.
Shake to mix all the flavors.
Strain over 4 glasses with ice.
Garnish with pomegranate arils.
For the "mocktail" version of this Sunrise Spritzer simply substitute the orange liqueur for orange juice.
Lime Paloma
Mix all the ingredients in a cocktail shaker with ice.
Shake to chillup.
Pour over 4 glasses with ice.
Garnish with 2 lime slices each.

To make lime simple syrup, simply dissolve 1 cup sugar in 1/2 cup water and 1/2 cup lime juice. Cool before using. This can be stored in the refrigerator for up to 2 weeks. I love this lime simple syrup in quite a few cocktails.
To make the "mocktail" version of this Limeloma cocktail, simply replace the tequila with 7UP.
Blueberry Lemonade Slammer
Combine the blueberry lemonade, vodka, and 7UP to a cocktail shaker with ice.
Shake to chill.
Wipe a portion of the lemon peel on the edge of the shot glass.
Dip into the sugar to add a sugar rim section to the shot glass.
Strain the cocktail mix into the shot glasses.
Garnish with frozen blueberries.
Shake to chill.
Wipe a portion of the lemon peel on the edge of the shot glass.
Dip into the sugar to add a sugar rim section to the shot glass.
Strain the cocktail mix into the shot glasses.
Garnish with frozen blueberries.
This makes 12 shots. 3 for each person or 1 each for 12 people. If you are making them for 4 people you might want to reduce the amounts to only make 4 shots at a time or the remaining 8 shots will dilute in the cocktail shaker with the ice cubes. Or you can remove the ice cubes until you are ready to chillup and pour some more!
To make the "mocktail" version of this Blueberry Lemonade Slammer Shot simply replace the vodka with 7UP soda or additional blueberry lemonade.
Notes
For the "mocktail" version of this Sunrise Spritzer simply substitute the orange liqueur for orange juice.
Nutrition Information:
Yield:

16
Serving Size:

1
Amount Per Serving:
Calories:

183
Total Fat:

0g
Saturated Fat:

0g
Trans Fat:

0g
Unsaturated Fat:

0g
Cholesterol:

0mg
Sodium:

12mg
Carbohydrates:

34g
Fiber:

2g
Sugar:

28g
Protein:

1g
This nutrition information was generated via a third party, Nutritionix, and can not be held liable for any discrepancies in the information provided.