Deviled eggs are a classic for parties and family gatherings and anything I can make ahead of time is a win in my book. When time is a constraint, can you make deviled eggs ahead of time?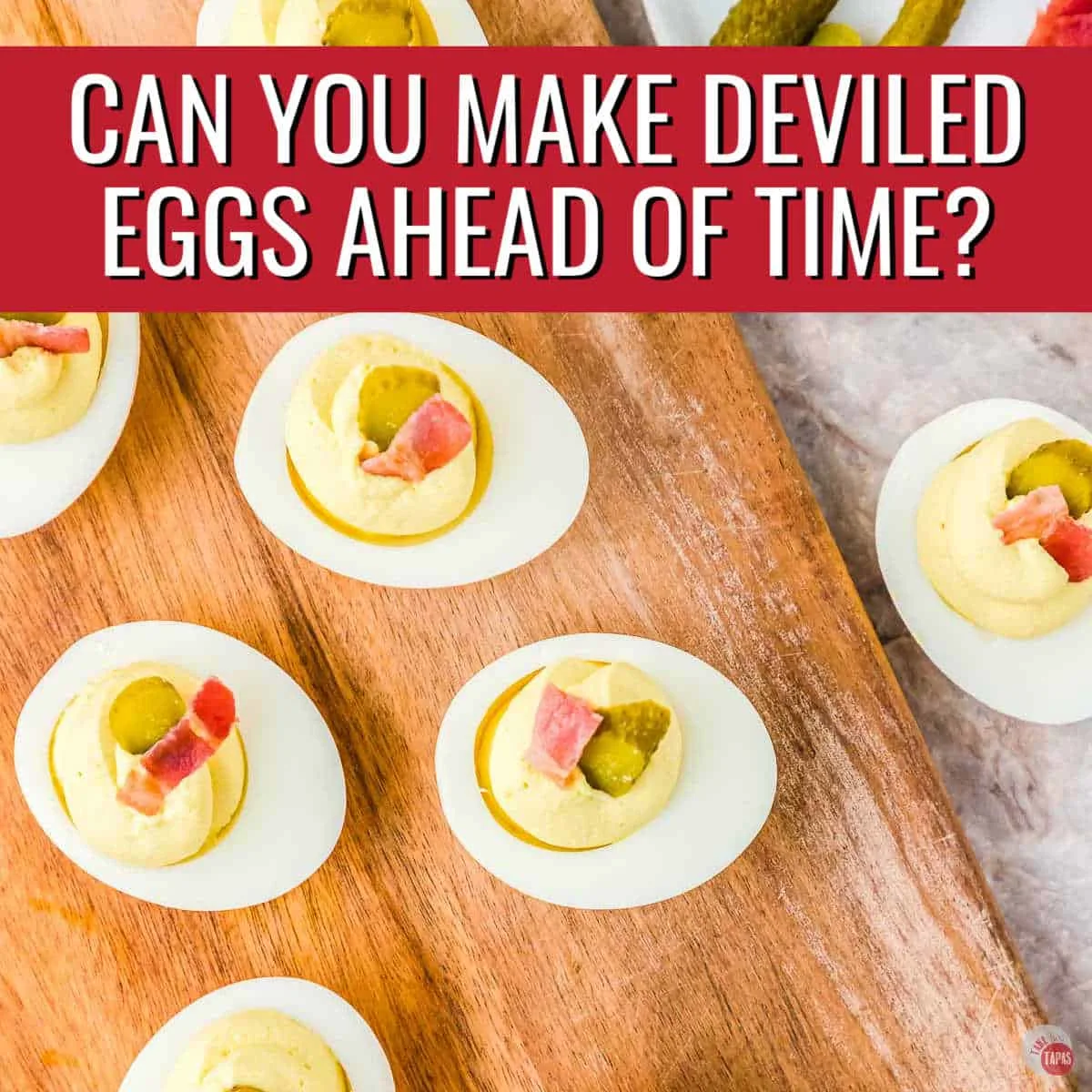 Why yes! Yes, you can….it's actually a perfect make ahead dish and always a crowd favorite. Read on to learn how to make this easy appetizer ahead of time.
Can deviled eggs be made a day in advance?
YES! Most of the prep work of making deviled eggs can be done ahead of time, even more than a day in advance. There are 4 steps to making deviled eggs:
1) Boil the eggs. Do this step up to a week ahead of time. Eliminate this step altogether if you buy eggs already boiled. Most grocery stores carry them and are a life-saver.
2) Slice the eggs lengthwise and separate the yolks from the whites. This step can be done up to 2 days ahead of time.
3) Make the egg yolk filling. This can also be done up to 2 days ahead of time.
4) Pipe the filling into the egg whites and garnish. The piping can be done 12-24 hours ahead of time. I recommend waiting to garnish your eggs until serving.
Find more detailed instructions check out my Complete Guide to Perfect Deviled Eggs. Read about why they are called deviled and how many you will need for your party!
This post may contain affiliate links. As an Amazon Associate, I earn from qualifying purchases. Read my disclosure policy here.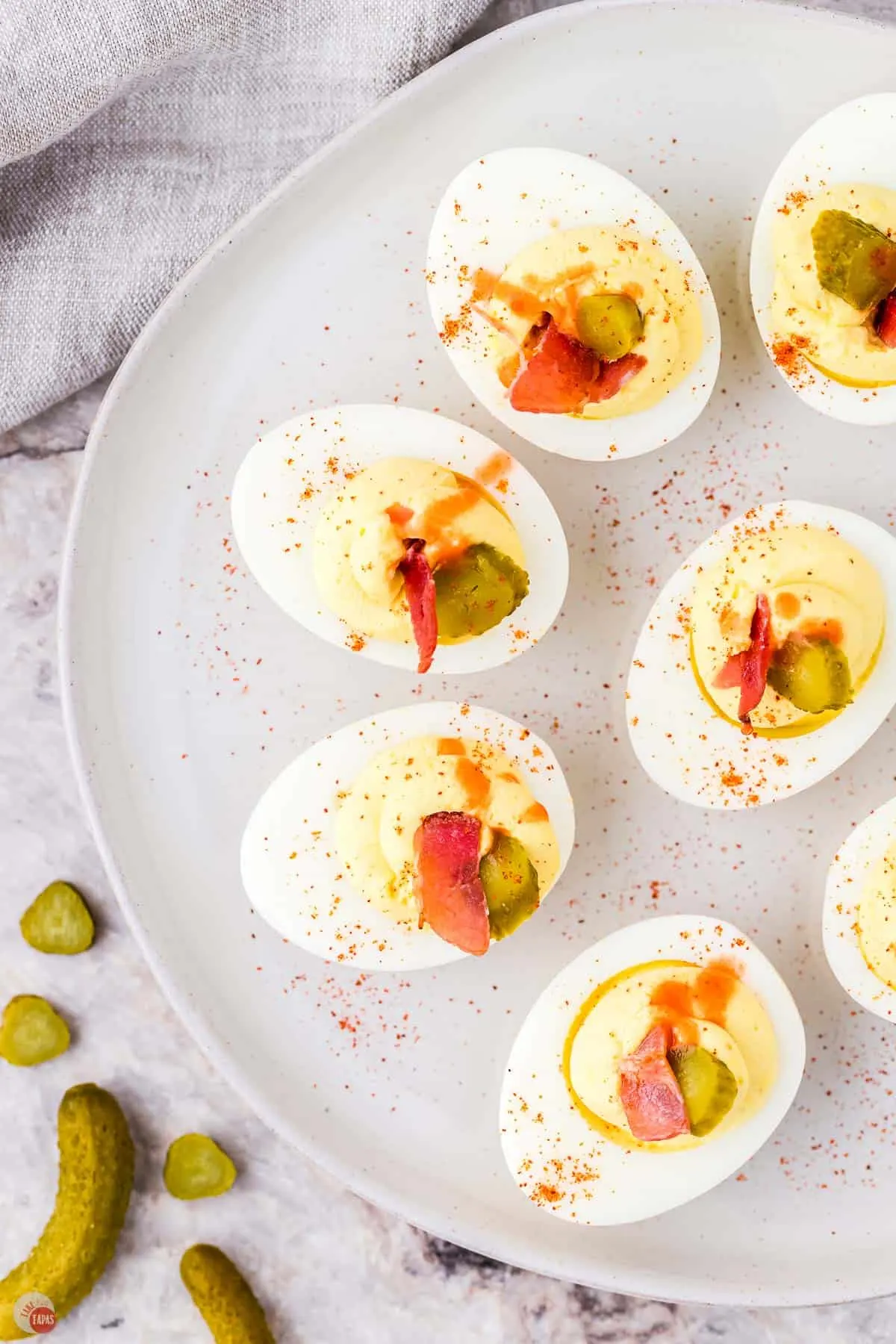 Is it OK to boil eggs the night before making deviled eggs?
You can actually boil the eggs up to a week in advance. Everyone has different ways to boil eggs, but I have a foolproof method that I have posted for you below.
Once your eggs are boiled, peel and store them in the refrigerator for 5-7 days.
Can deviled eggs be refrigerated overnight?
Before assembling your eggs, you can separate the yolks from the whites and make the filling. Store filling in a resealable bag, making sure to squeeze extra air out.
Wrap the white halves with plastic wrap and store in an airtight container. Your filling will stay fresh for 2 days in the fridge.
You can assemble your eggs 12-24 hours in advance and store them in the fridge in an airtight container. I would recommend holding off on toppings or garnishes until serving time.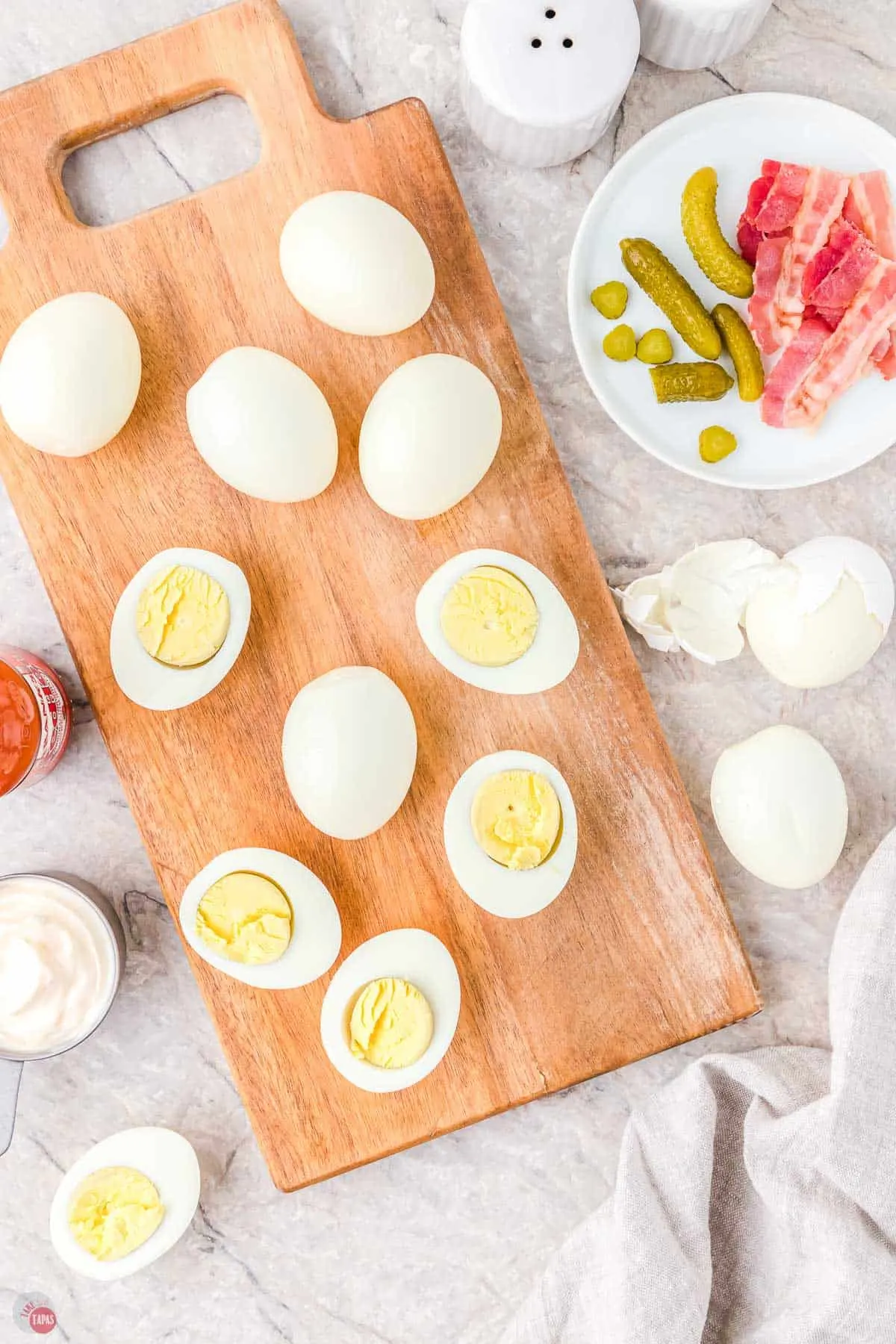 What's the best way to hard boil eggs?
There is many ways to boil eggs including but not limited to cooking in a stockpot, slow cooker or instant pot, but this is my favorite way and I find the following method to yield perfect hard boiled eggs:
1 dozen large eggs
water
ice water bath
Place eggs in a pot large enough that all the eggs are in a single layer. Cover the eggs with 1-2 inches of cold water. Remove eggs. Bring water to a boil on the stove.
Carefully add the eggs to the hot water. I like to use a slotted spoon to add them so I don't burn my fingers or drop the eggs in and crack them.
Boil for one minute. Turn heat off. Cover the pot with a tight fitting lid. START TIMING! Let the eggs sit for 10-12 minutes.
Remove eggs gently and place in an ice bath. Chill for 15 minutes before peeling or storing in the fridge.
It is recommended that you bring them to room temperature before placing in the refrigerator, but don't leave them out for more than 2 hours. Room temperature eggs will also result in easy peeling.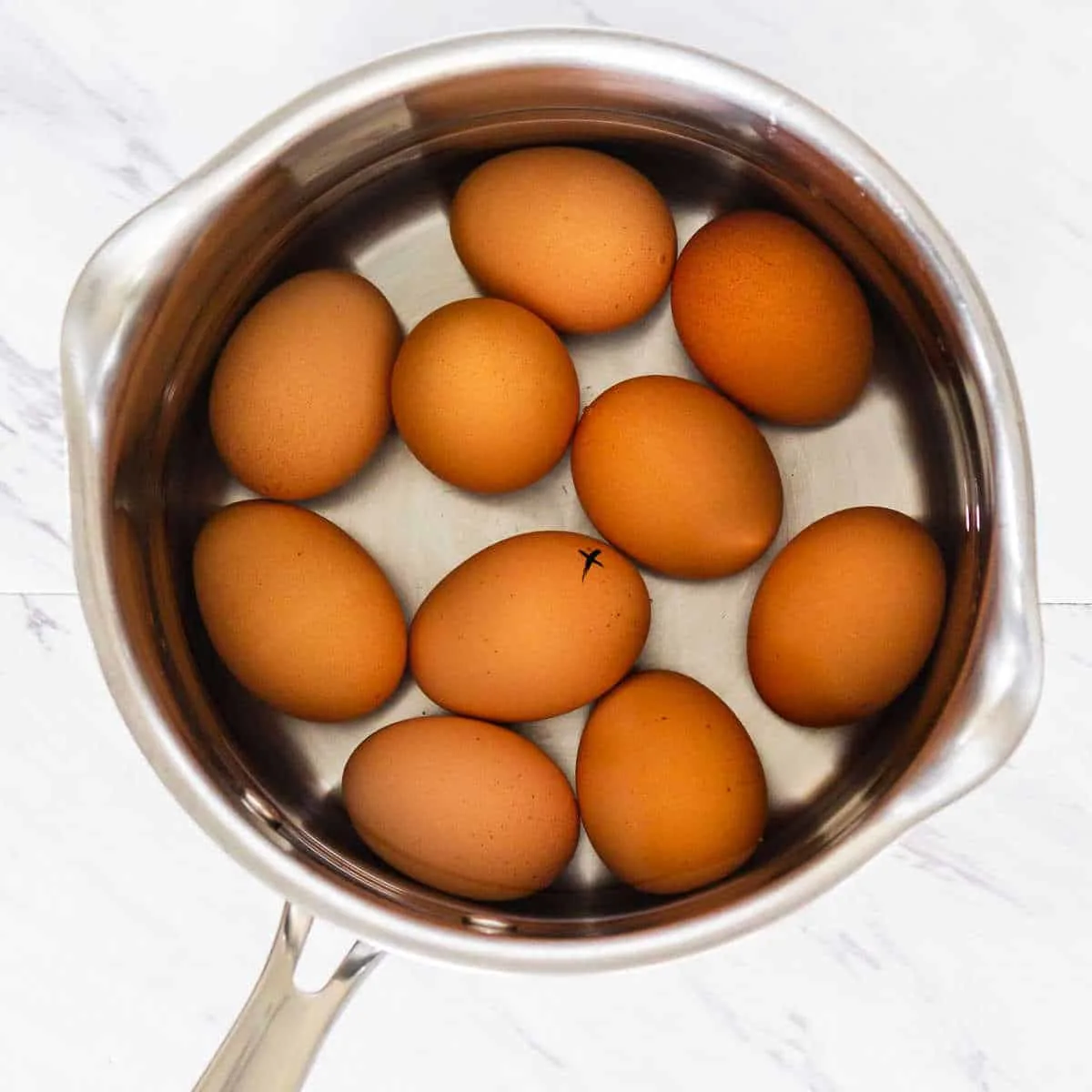 How to Make Deviled Eggs
Now that we have established that we can make this easy appetizer ahead of time, here's my favorite recipe for deviled eggs with 4 simple ingredients:
6 hard-boiled eggs, peeled
1/4 cup mayonnaise
2 teaspoons yellow mustard
1 teaspoon white vinegar
Instructions
Peel the eggs and cut in half lengthwise.
Remove the yolks to a separate bowl.
Smash the yolks and mix in the mayo, mustard, and vinegar.
Taste and season with salt and black pepper if desired.
Place filling in a piping bag or zip-top bag and fill the egg white halves.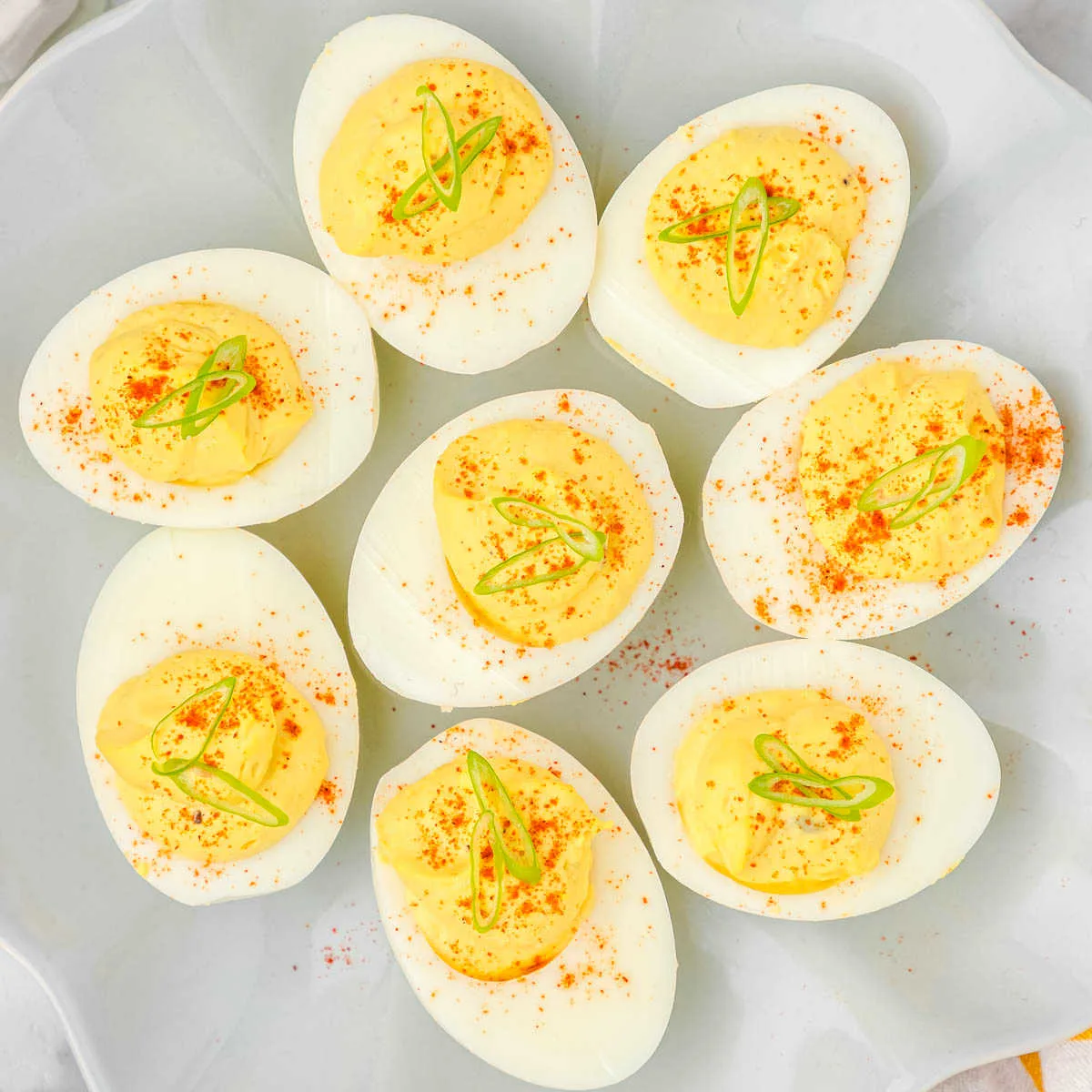 Tapas Tips & Tricks
You can freeze deviled egg filling but not the egg white halves.
Use a fork to mash the yolks before adding anything else. This makes for a smoother filling.
For a super creamy yolk mixture, pulse in a food processor until smooth.
To keep them from sliding on the serving tray, place on lettuce leaves or a pinch or two of salt. Or, if you often serve deviled eggs you can invest in a deviled egg tray that is going to be best for holding those wobbly oval-shaped egg whites! You can even use muffin tins.
The best way to fill the eggs is with a piping bag. Use a decorating tip to make them "fancy."
Other tasty garnishes are: crispy bacon, green onions, cheddar cheese, and a gherkin pickle slice.
Some other popular mix-ins for the egg yolk filling are pickle relish and dijon mustard instead of yellow mustard.
Leftover deviled eggs will stay fresh in your fridge in an airtight container for up to 4 days.
Older eggs are actually better for hard boiling, so this is a great way to use up eggs that have been in the fridge for a while.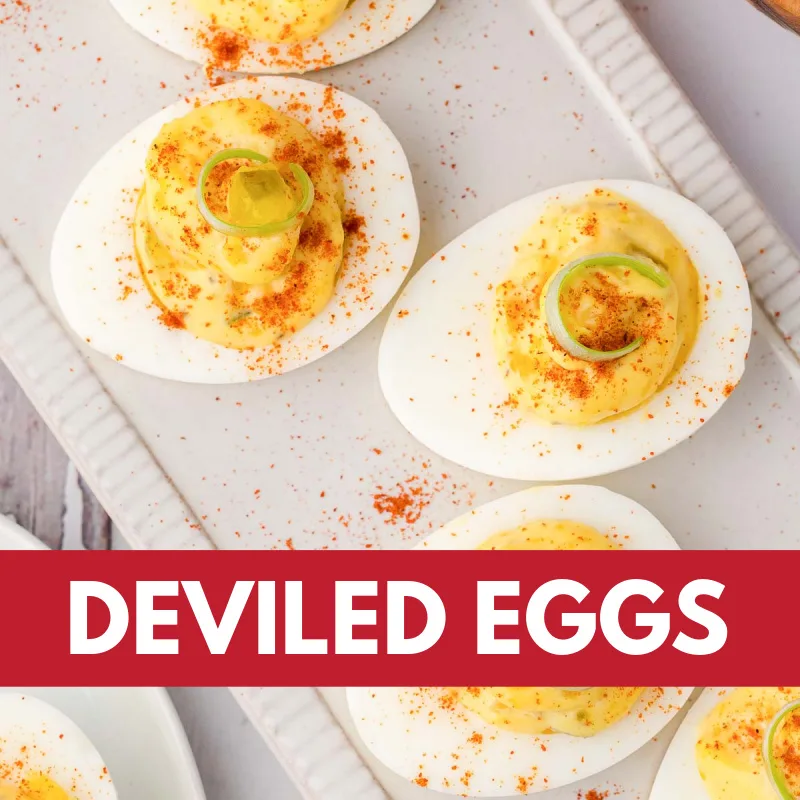 Best Deviled Eggs Recipes
So now that you know that preparing deviled eggs in advance is a time saver, let's get to making them! I am a huge fan of deviled eggs and have so many delicious recipes for you!
If you love this recipe as much as I do, please write a five-star review in the comment section below (or on Pinterest with the "tried it" button – you can now add pictures into reviews, too!), and be sure to help me share on facebook!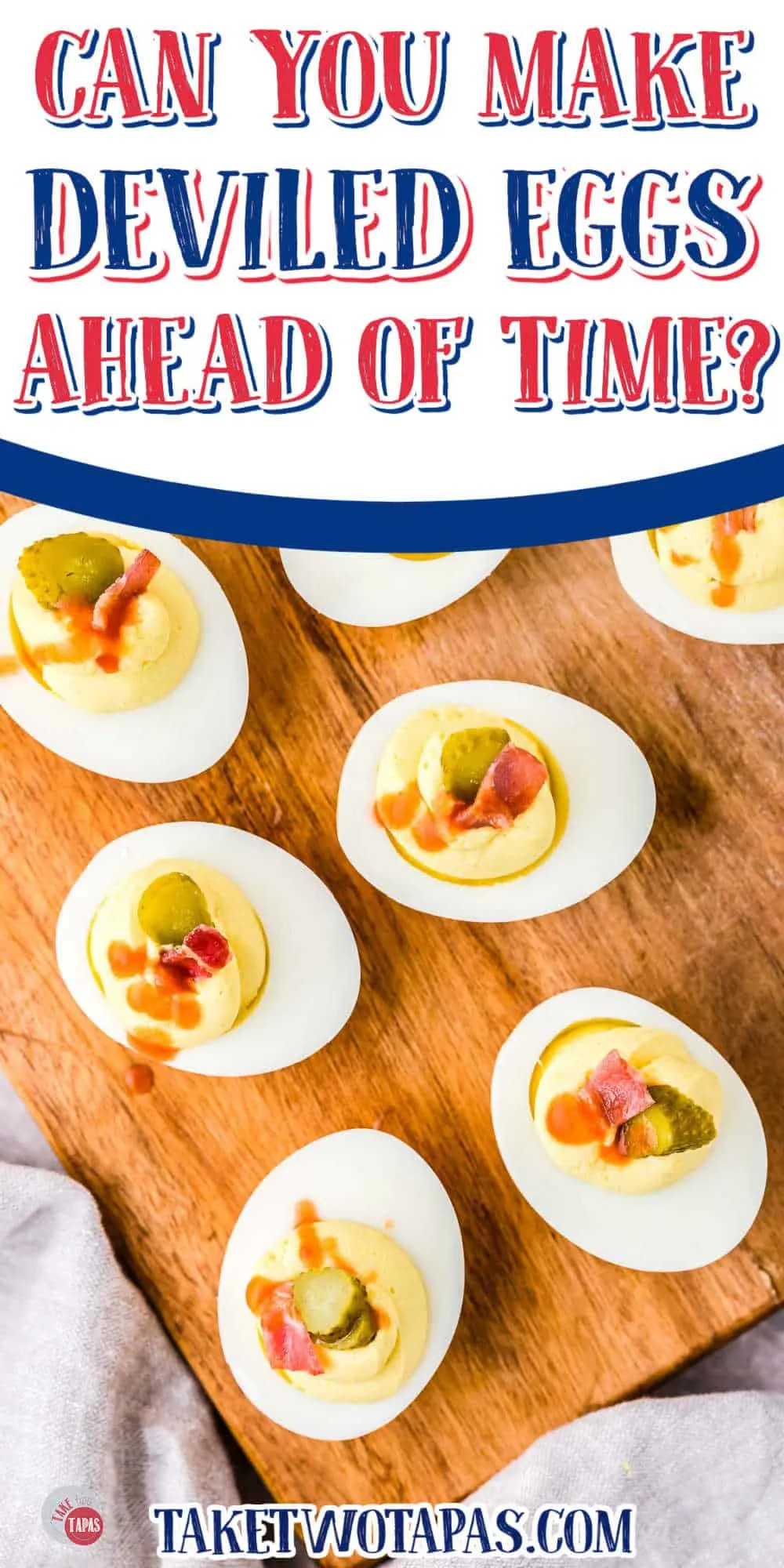 TakeTwoTapas.com. Content and photographs are copyright protected. Sharing of this recipe is both encouraged and appreciated. Copying and/or pasting full recipes to any social media is strictly prohibited.