You made one of your favorite recipes for cream cheese spread for the party last night. And now you have a TON of leftovers – what can you do with it now? Luckily, you can freeze cream cheese dip or frosting to make sure that you're not wasting any food!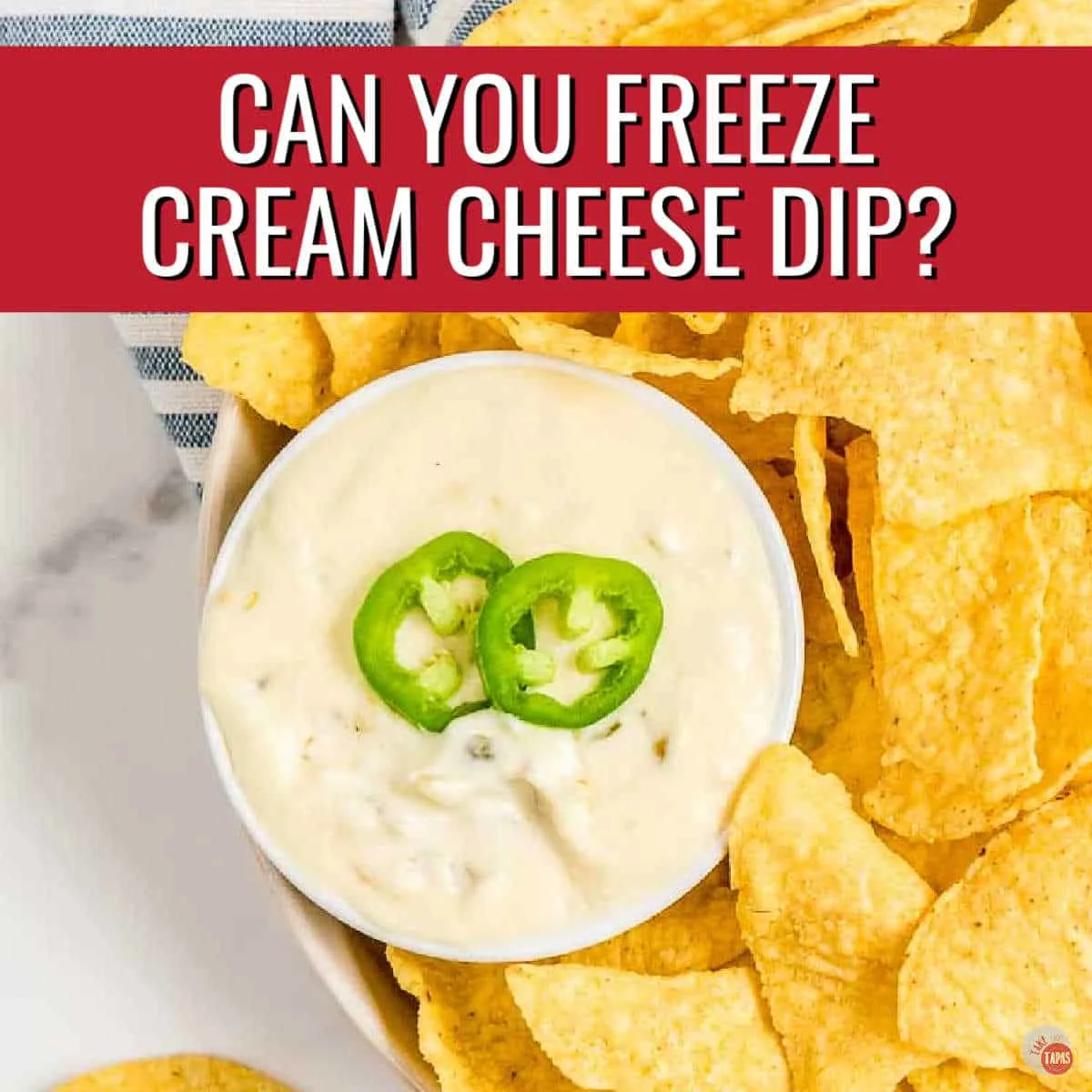 Can I Freeze Cream Cheese Dip?
When it comes to the best way of freezing a cream cheese dip, this has been one of the easiest methods that I've found for making sure that you get future use out of that delicious dip that you created.
Whether you thought it was a good idea to make double the taco dip and now you have too much.
Or you prepared a cream cheese icing and realized you won't be able to use it for another few weeks, you can take savory dishes and preserve them for different uses.
My favorite cream cheese dips to freeze are my refried bean dip and my jalapeno popper dip.
This post may contain affiliate links. As an Amazon Associate, I earn from qualifying purchases. Read my disclosure policy here.
How Can I Freeze Cream Cheese Dip?
All dairy products need to be frozen in a very specific way because of their high water content. Especially if you're hoping to save fresh cream cheese, sour cream, hard cheeses, or soft cheeses.
Since they don't have a long shelf life, I would recommend freezing by the sell-by-date at the latest. The sooner you freeze them after bringing them home from the grocery store the better!
Like unopened cream cheese, there is a trick to freezing leftover cream cheese dips that have a more creamy texture.
Use an Airtight Container
To start, place your dip in an airtight container. Choose from a Ziploc bag, plastic tubs, or plastic container sealed tightly with a cover.
Make sure to remove all excess air from the ziplock bag. Use a vacuum sealer if you have it. Try to use a freezer bag specifically, to avoid any unnecessary freezer burn to your dip.
Freeze Smaller Portions
If you want to freeze in smaller blocks of cream cheese dip, transfer it onto a piece of aluminum foil. Close tightly, removing as much air as possible.
Add an outer layer of plastic wrap to help facilitate the freezing process.
You can also portion the cream cheese dip into ice cube trays, for easier removal.
For best results, place the cheese in the freezer as close to the side as possible. This will prevent ice crystals from forming on top.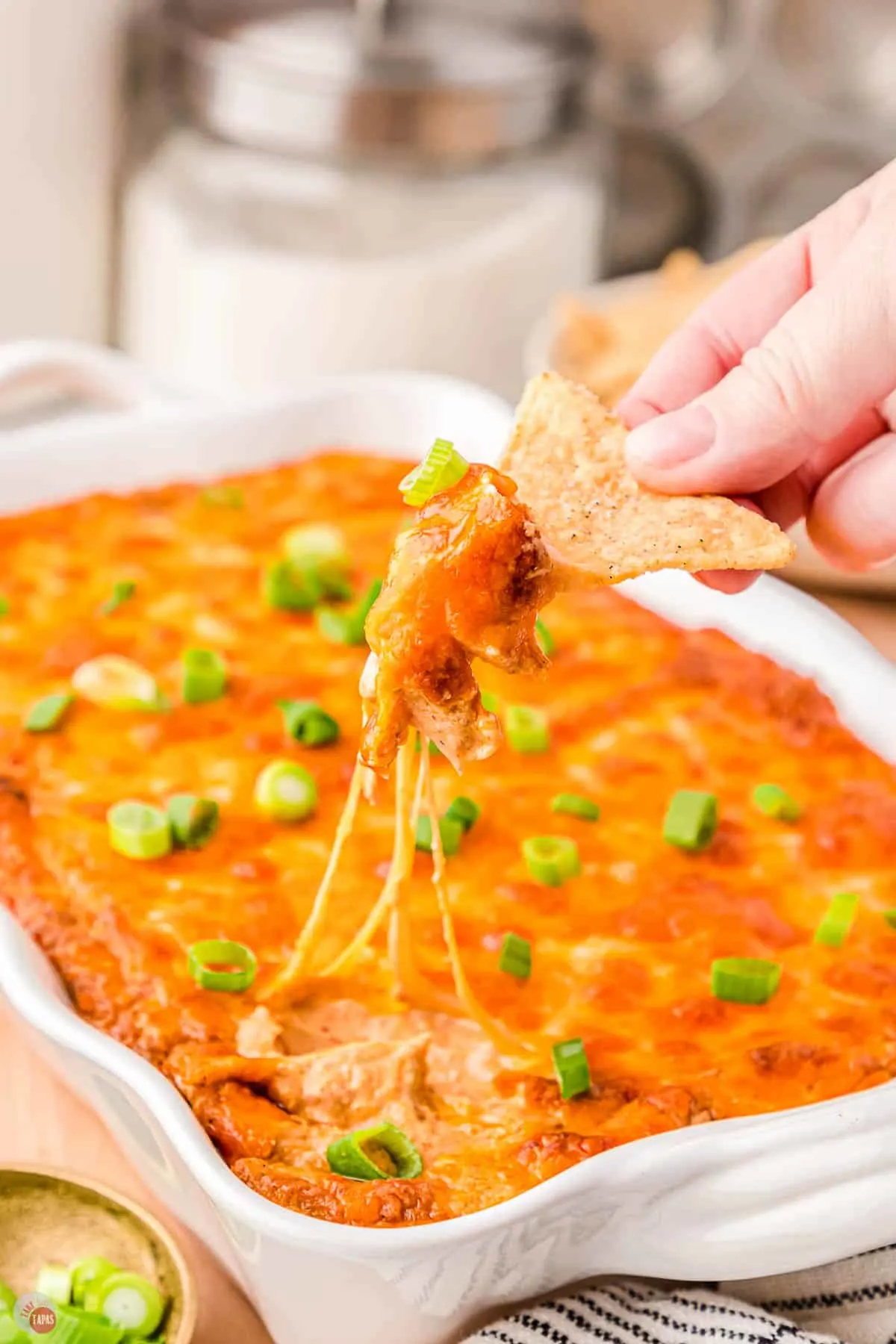 Can I Freeze Philadelphia Cream Cheese Dip?
The short answer – yes!
The long answer is that Philadelphia cream cheese has a higher amount of water than other brands. And a difference in fat content.
Different types of cheeses have to be frozen in different ways to avoid a higher growth of bacteria. Because of this, I don't recommend freezing Philadelphia cream cheese dip for more than a month.
How Long Can I Freeze My Cream Cheese Dip For?
When freezing cream cheese, you have to be very careful of how long to store them. They will undergo a massive texture change.
Generally, the texture of the dip should remain a creamy consistency. If you use it within the right period of time.
When it has passed its expiration date in the freezer, it will take on a harder and grainy texture. This makes it very unpleasant to eat.
The good news is that you can still keep it in the freezer for up to two months, giving you plenty of time to eat it while still preserving the smooth texture of the frozen cream cheese.
For more insider tips & tricks, and a candid behind the scenes look follow me on social media! Check use out on Pinterest, Facebook, Instagram, & Twitter (yes, people still use Twitter, LOL!)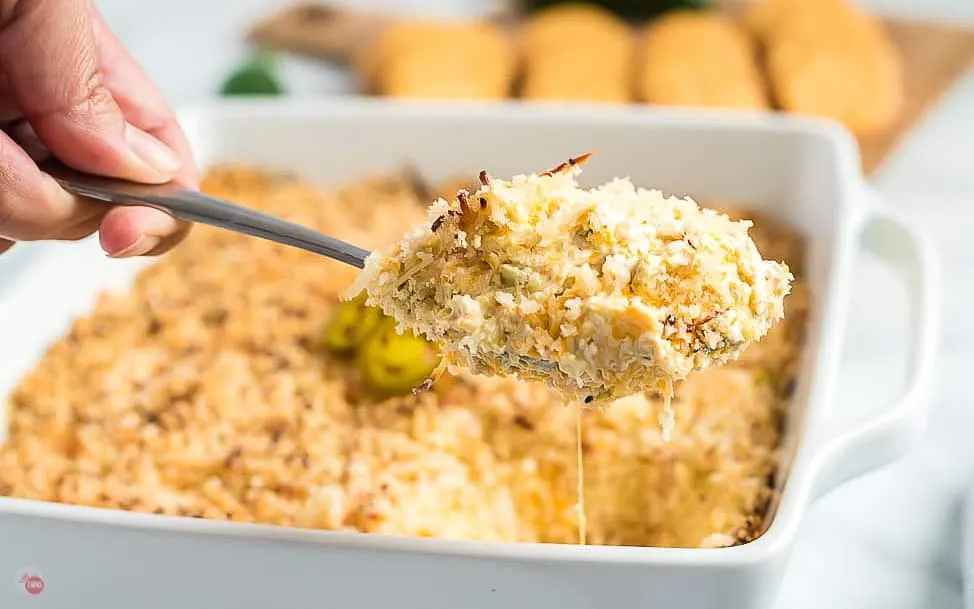 How Do I Reheat My Cream Cheese Dip?
To serve your cream cheese dip, you want to put it in the fridge for 12 hours or more until you reach a thawed cream cheese consistency.
If you want to cut down on the time it takes, a great way of doing so is by placing the extra cream cheese dip into a bowl of warm water, until it reaches room temperature.
Lastly, if you're really in a rush, you can use different ways such as the microwave method or stovetop method.
Place the block of cream cheese dip in a microwave-safe bowl and heat for 20 seconds at a time until you achieve the warmth that you want.
Alternatively, place the whole thing in a small saucepan and turn on the heat, giving it a good stir every few minutes as it warms up.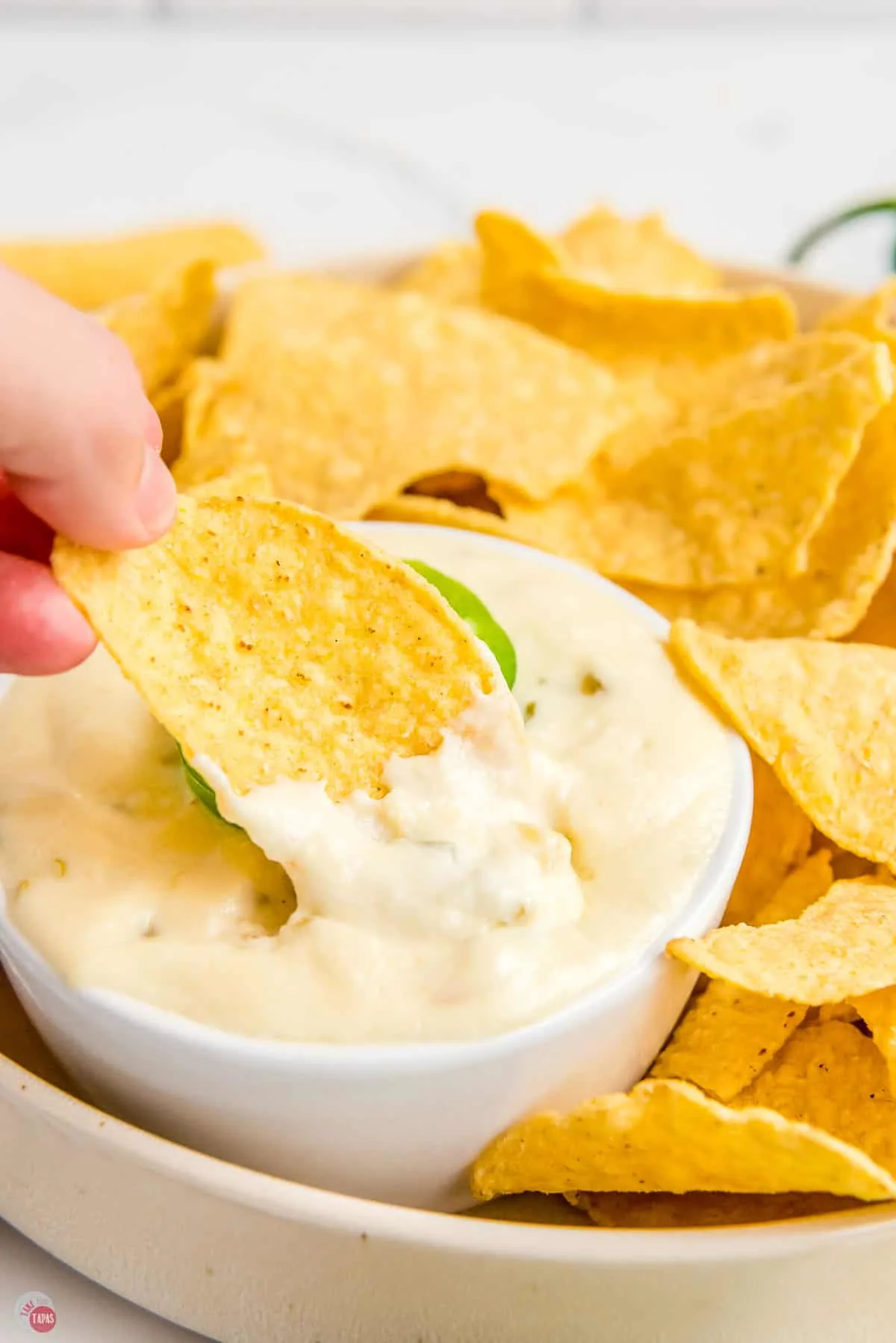 How Can I Keep My Cheese Dip Fresh?
Whether you want this cream cheese dip for spreading on your morning bagel as a step up from regular cream cheese or you made a cream cheese pound cake icing that you need to save, there are ways to preserve it to ensure it tastes just as good as when you made it in the first place.
When cream cheese freezes, it tends to lose some of its liquid when the water separates, which can make certain types of cream cheese turn hard.
Try adding some heavy cream to the dip to bring it back to life, or mix in cottage cheese, greek yogurt, or even some extra from the package of cream cheese.
These can help to balance out the texture and get it back to the cream cheese creamy texture that you would expect.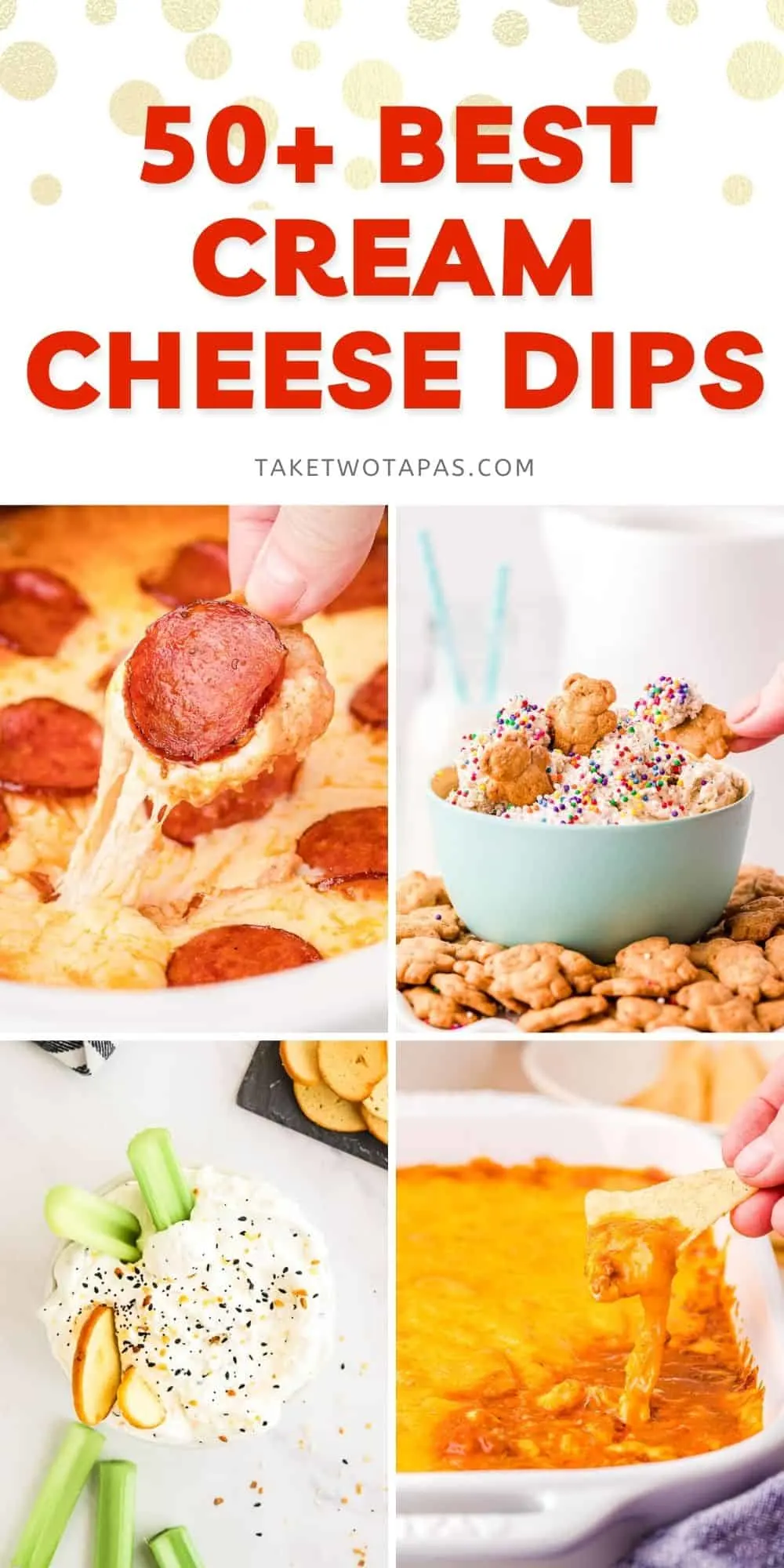 Then use all your cream cheese knowledge and make the best cream cheese dip! Here are some delicious recipes.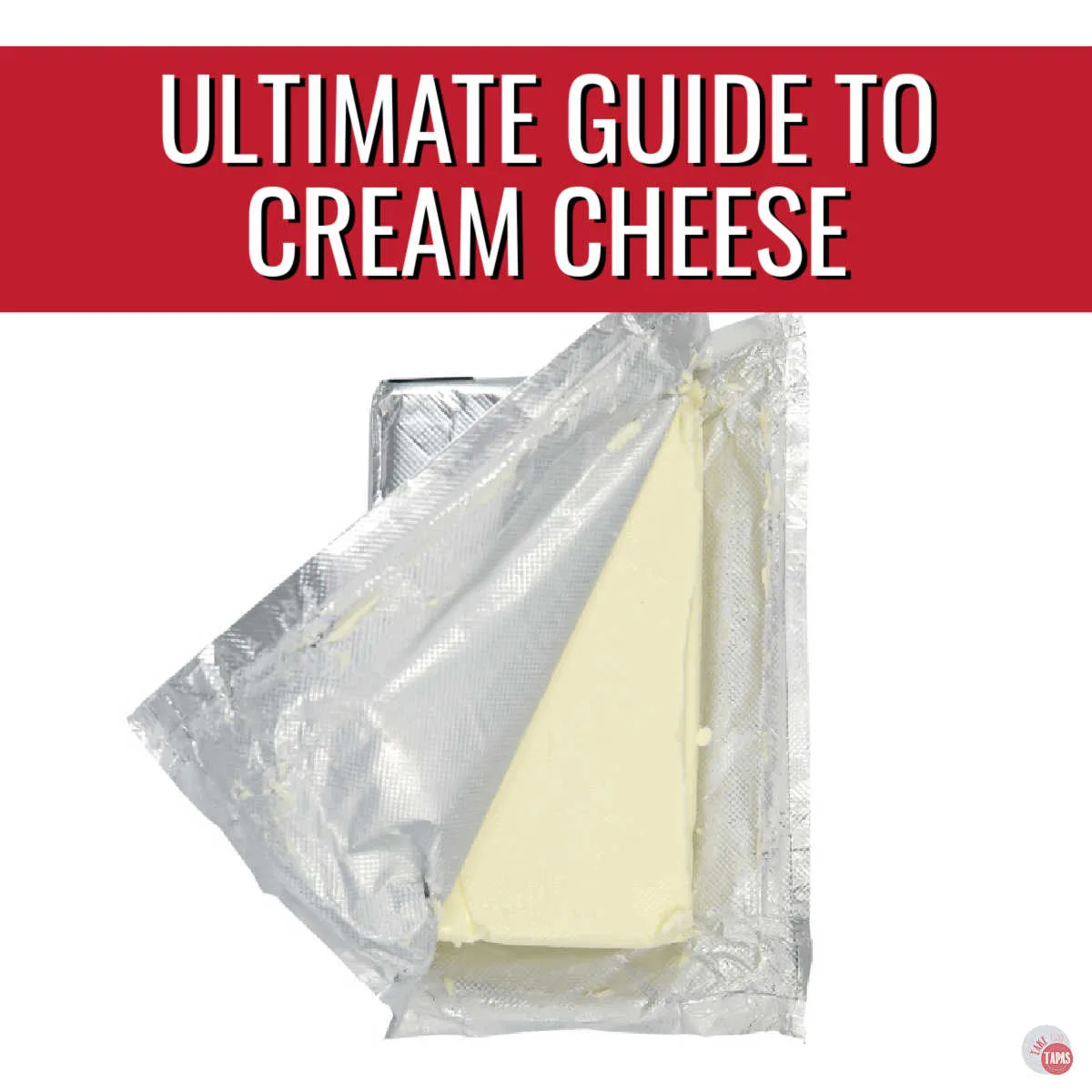 Want more information on cream cheese? Check out my Complete Guide to Cream Cheese! It answers all your questions, including:
If you love this recipe as much as I do, please write a five-star review in the comment section below (or on Pinterest with the "tried it" button – you can now add pictures into reviews, too!), and be sure to help me share on facebook!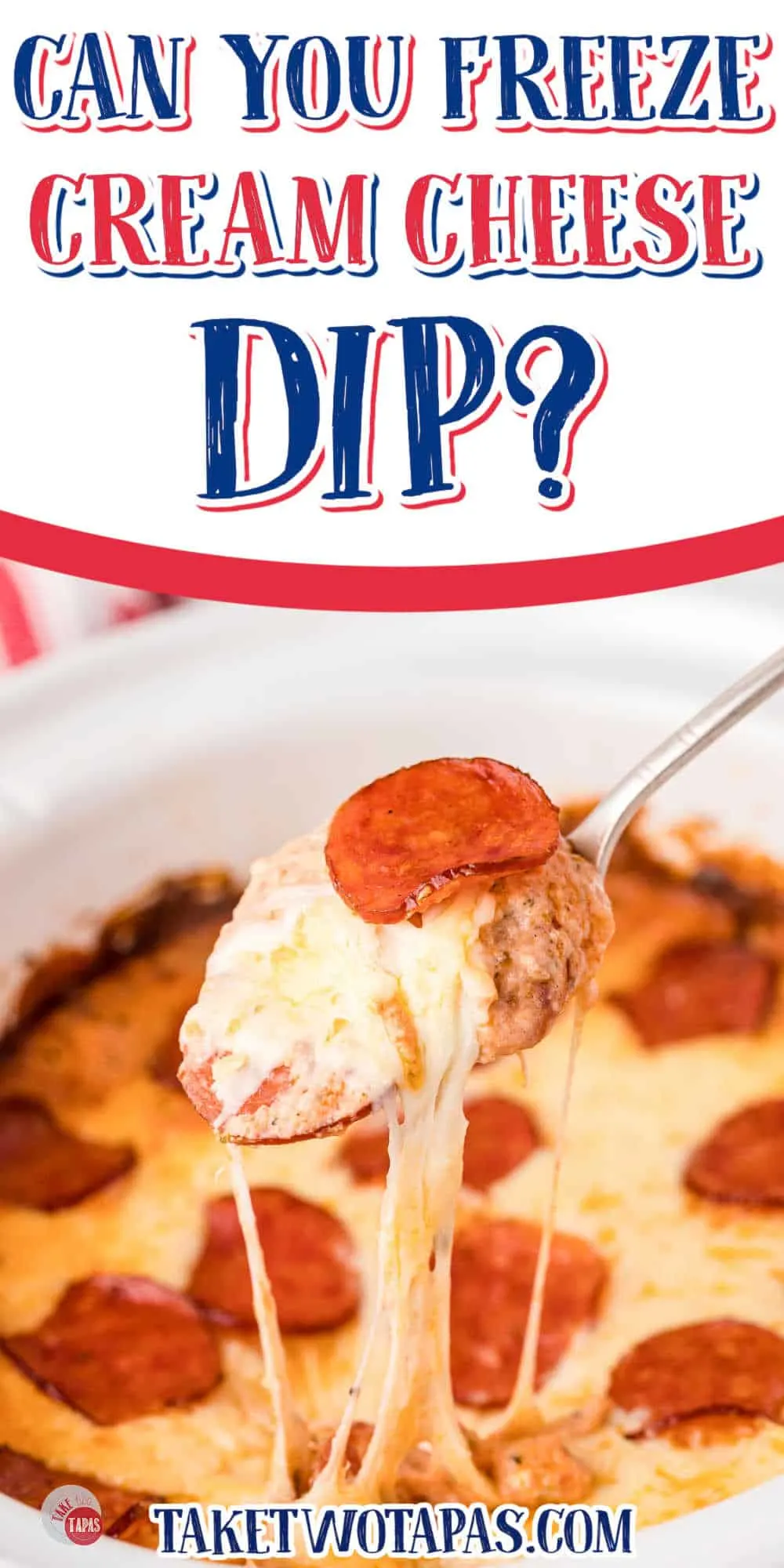 Cream cheese dips are my favorite use of cream cheese, so I've become somewhat of an expert when it comes to learning the best ways of freezing cream cheese blocks. Overall, this is a great way of preserving a delicious dip and making sure that none of it goes to waste.
Easy Party Foods
TakeTwoTapas.com. Content and photographs are copyright protected. Sharing of this recipe is both encouraged and appreciated. Copying and/or pasting full recipes to any social media is strictly prohibited.