Want a great dip that is easy to make with minimal ingredients?  Check out my 2-ingredient butternut squash dip with garlic and herbs.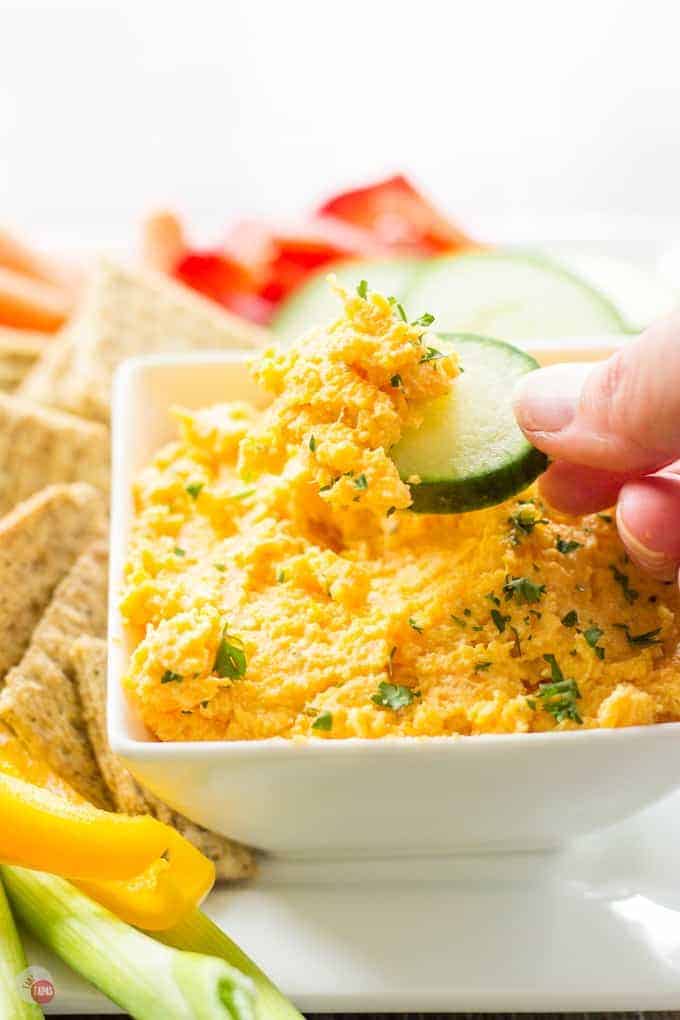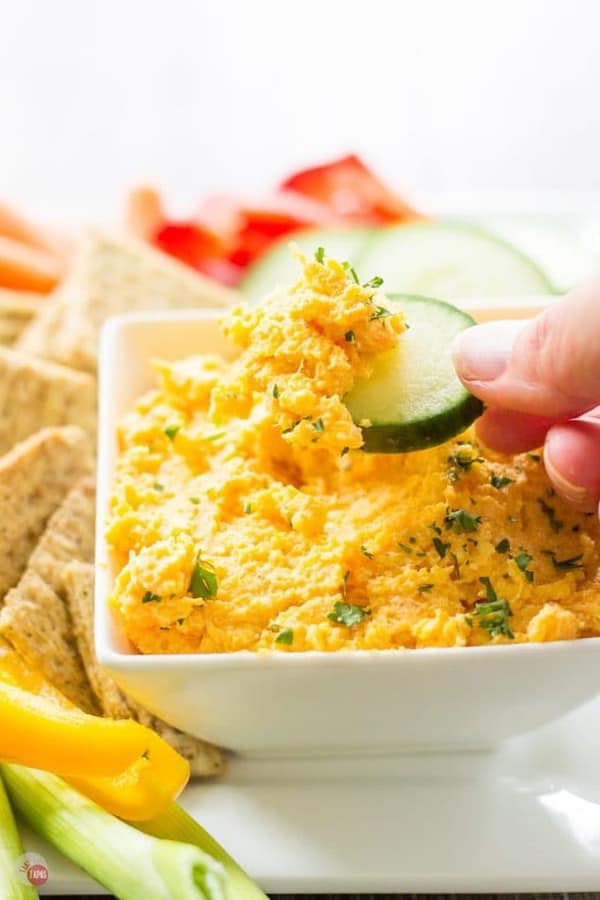 I have been promising to make some dips that have minimal ingredients and are easy to make.  You can't get any easier than 5 minutes and 2 ingredients!  The marriage of butternut squash and a garlic herb spread tastes amazing and is super easy to make!  This butternut squash dip will be a hit at your next party!
Or for lunch on top of a salad.
How about with crackers for an afternoon snack?
And just because you don't want to stand in front of the fridge eating ice cream out of the carton.  I won't judge if you want to stand there eating spoonfuls of this butternut squash dip!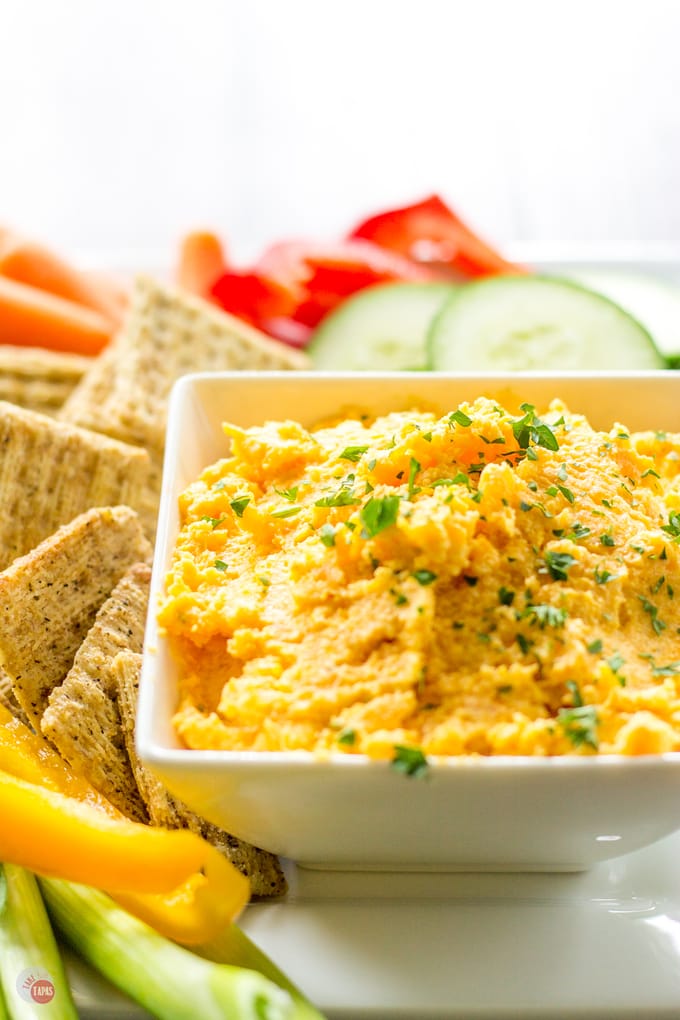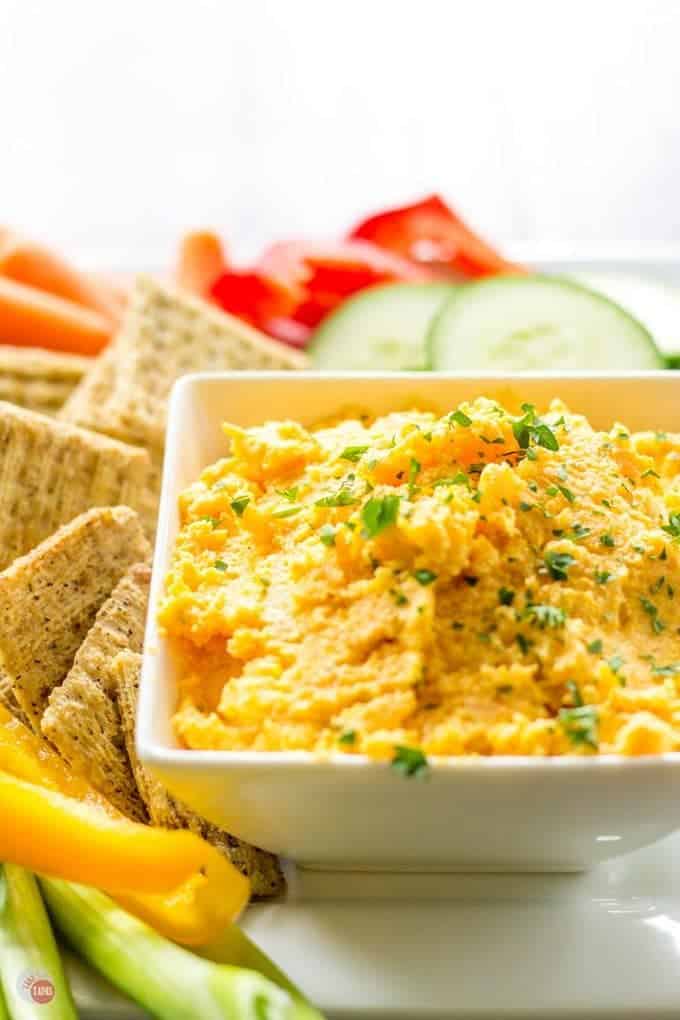 I know the title may seem misleading a bit.  Especially when you read butternut squash, garlic, AND herbs dip with 2 ingredients.  I mean, the words herbs imply more than one herb and there are already two ingredients.  Butternut squash.  That's 1.  Garlic.  That's 2.  So how can there be any room for herbs?
Let's define what I'm calling an ingredient.  If I have a package of something be it a bag of cheese, a block of cream cheese, or a handful of fresh veggies, it's considered an ingredient.  In the case of this butternut squash dip, I am using a bag of peeled and cubed butternut squash, and a package of Boursin garlic and herb cheese spread.
butternut squash
Boursin cheese spread.
Boom.  Done.
*This post contains affiliate links. That means I earn a tiny commission, at no extra charge to you, if you purchase any products.  This helps to support the blog and allow me to bring you tasty recipes!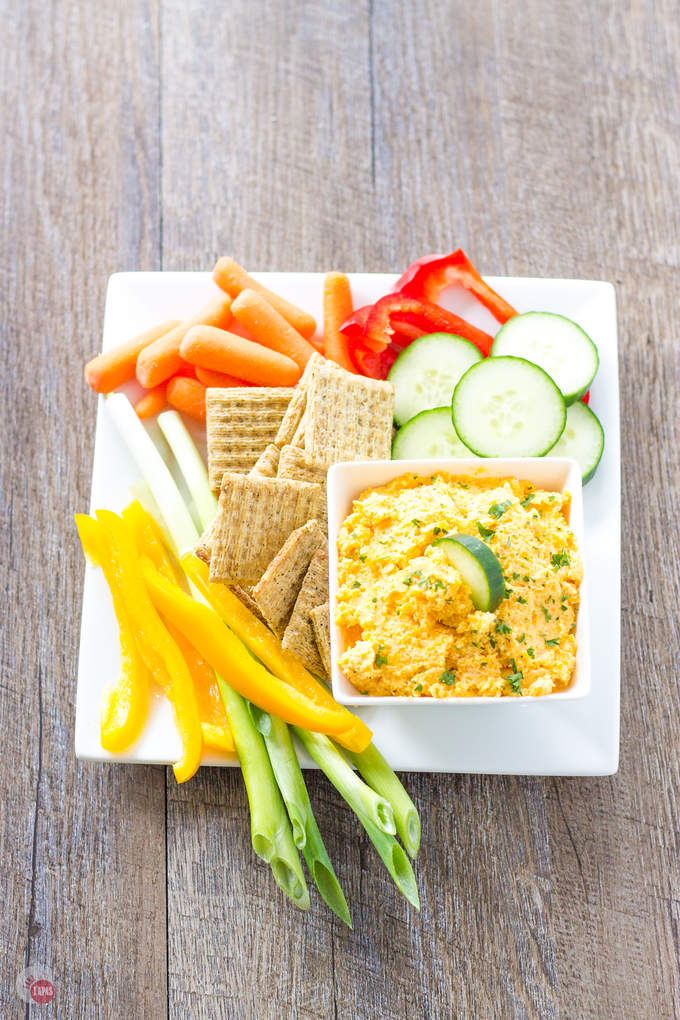 Don't get all high and mighty and say that the cheese spread counts as more than one ingredient because it doesn't.  The spread is all contained in one package, therefore, it is one ingredient.  Remember when I used the Boursin garlic and herbs spread in my Skillet Arrabbiata Dip?  No one freaked out there.  Just like the 3 ingredient dips that are cream cheese, whipped cream, and honey.  3 ingredients and done.  It just so happens that the cheese spread already contains all the yummy herbs and garlic and salt.
Now in the cooking competitions that I watch, and they have restrictions on the number of ingredients the chefs can use, olive oil, salt, and pepper don't count. Those are 0 ingredients or necessities.  Even this dip doesn't require these 0 or "gimme" ingredients.
Two packages to open.  Two ingredients to mix. One dip.
One creamy, tasty, and downright amazing dip!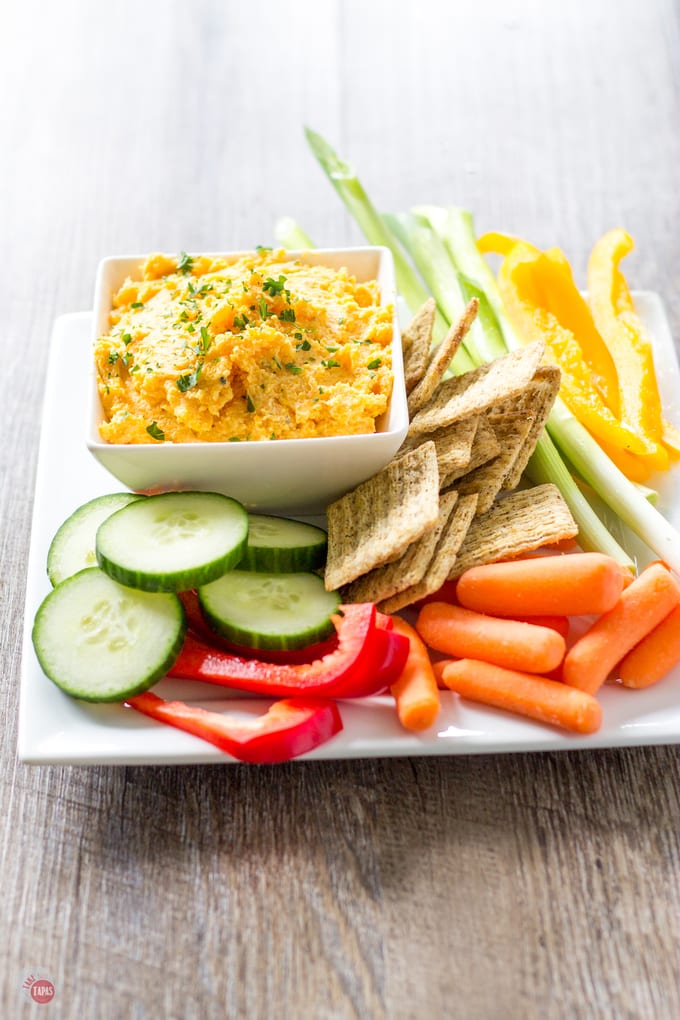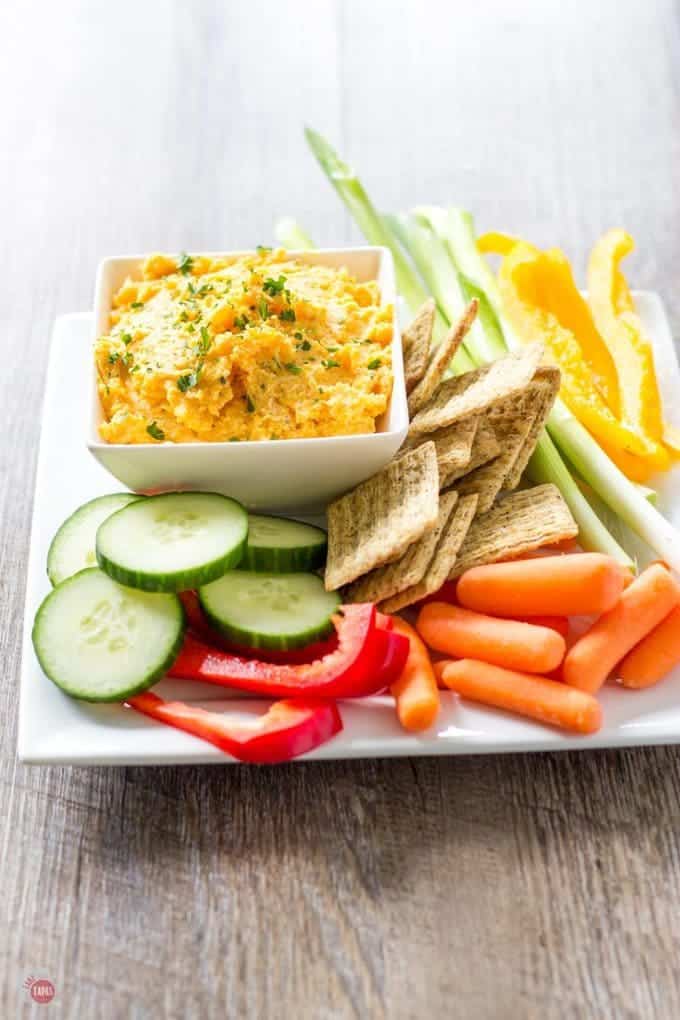 Now, as you make the dip, you might think it looks like my Pimento Cheese Spread, and you are right in thinking this.  This got me thinking that you can use it like pimento cheese and spread it on crackers, put a scoop on a bowl of salad greens for a light lunch, or just dip your veggies in like I originally intended with it.
I bet it will be great on a grilled cheese sandwich too!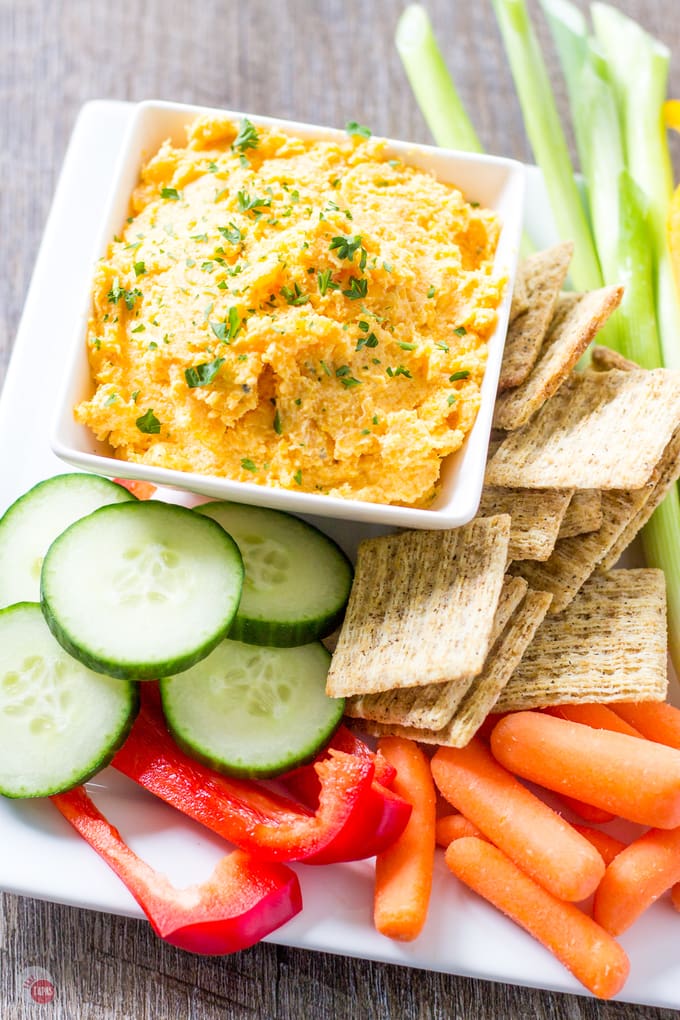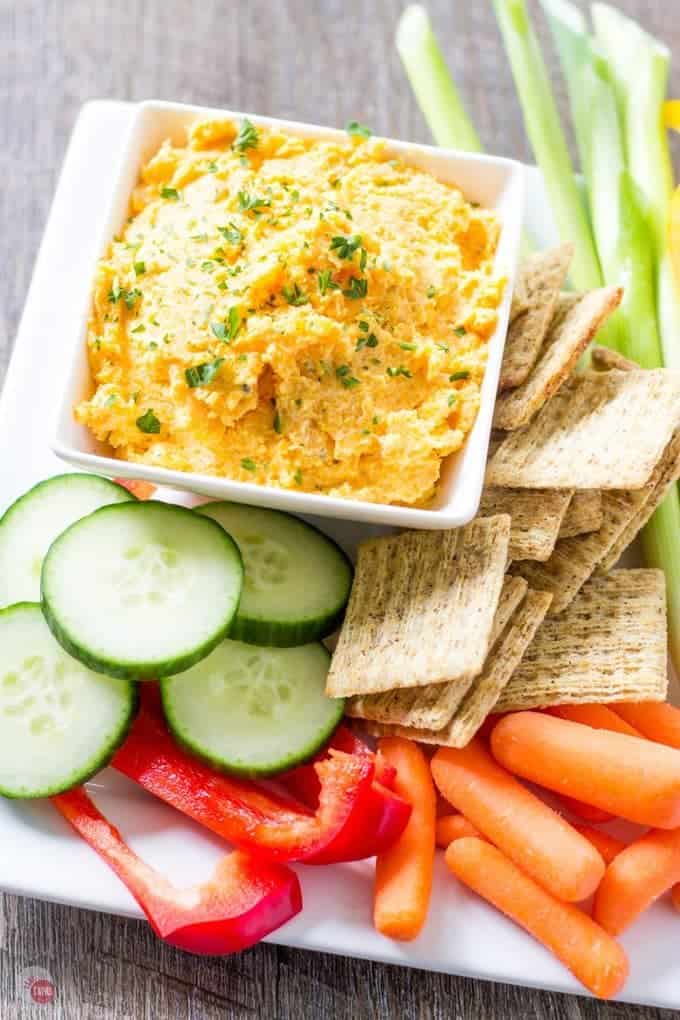 Let's talk butternut squash for a second.  This is a tough squash to handle and prep so I am so excited that you can get it already prepped for less of a mess.  There is nothing wrong with grabbing a whole one and working your peeling and cubing magic.  Probably cheaper but I won't turn away a bag already peeled, cubed, and packaged in a steamer bag.  I love me some convenience.
As my hubby is always trying to tell me, my time is worth money too.  While window shopping at Trader Joe's last weekend and looking for my favorite coconut jerky, I found tiny bags of butternut squash.  Peeled, cubed, and prepped.  3 cups to be exact.  I grabbed a few along with a package of Boursin and left.  In a sad state, I might add as someone took the last bag of coconut jerky before I could get down the aisle.
No worries though, I grabbed two boxes of candy-coated sunflower seeds and now all is good.
Upon arriving home, I steamed my butternut squash (in the package no less) and then let it cool.  Once cool, I opened the bag and placed the squash in a medium-sized bowl. I added my Boursin spread and mixed until nice and creamy.
Your hand beaters or stand mixer work great for this but since I skipped the last two weeks worth of workouts I went old school potato masher. However you need to mix it together, just go for it.  Once the two ingredients are combined, you are done!
Grab your dip dippers and start chowing down!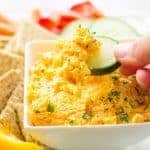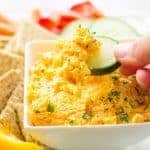 Butternut Squash Dip with Garlic and Herbs - Only 2 Ingredients!
This creamy butternut squash dip contains just 2 ingredients! Grab your crackers and veggies and start eating!
Ingredients
3 cups butternut squash peeled, diced, and steamed
1 5.2-ounce Boursin garlic and herb cheese spread
Directions
Mix the two ingredients together.

Serve with crackers, veggies, or pita bread!
Loading nutrition data...