New Year. New You. New Dessert Options. These paleo Berry Chia Pudding Dessert Shooters will feed your festive spirit AND keep your #healthgoals on track.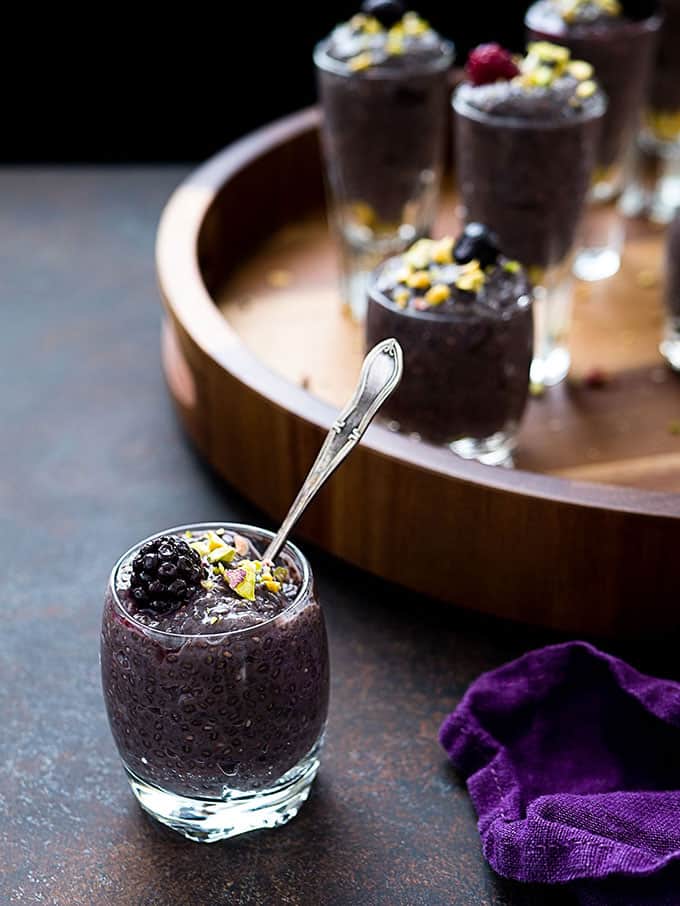 Hi, I'm Christine from Mid-Life Croissant and I'm thrilled to be sharing a healthy dessert favorite with the Take Two Tapas crowd today: Chia Pudding! If you are already a fan OR if this recipe turns you into one here are some more chia seed desserts to check out on my blog. And I'll let you in on a little secret.
Some of them…OK ALL of them… contain booze. But because we're just coming off of a very boozy holiday season and I'm looking forward to getting back on track, I left the alcohol out of this healthy paleo dessert. There is a little maple syrup though. Because I'm not a tyrant.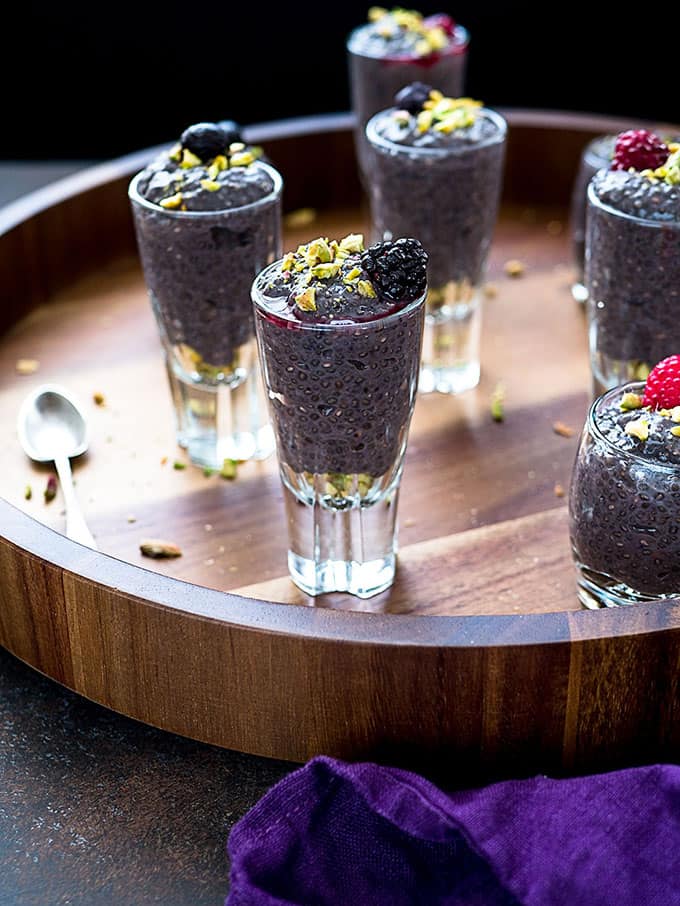 Maple syrup is OK on the paleo diet in moderation. So if this dessert is the only thing you've eaten all day with added sweetener, you're good to go. If not, you can leave it out because the banana will sweeten it some.
Also, because I know Jen likes to keep things bite-sized around here (as in these nomstrous Nutella Salted Caramel Cheesecake Shooters) these Berry Chia Pudding Dessert Shooters are served in shot glasses.
I think they're just adorable and I can't decide if I want to eat them or adopt them as pets. I'll probably go with the first option, though. The second could get messy.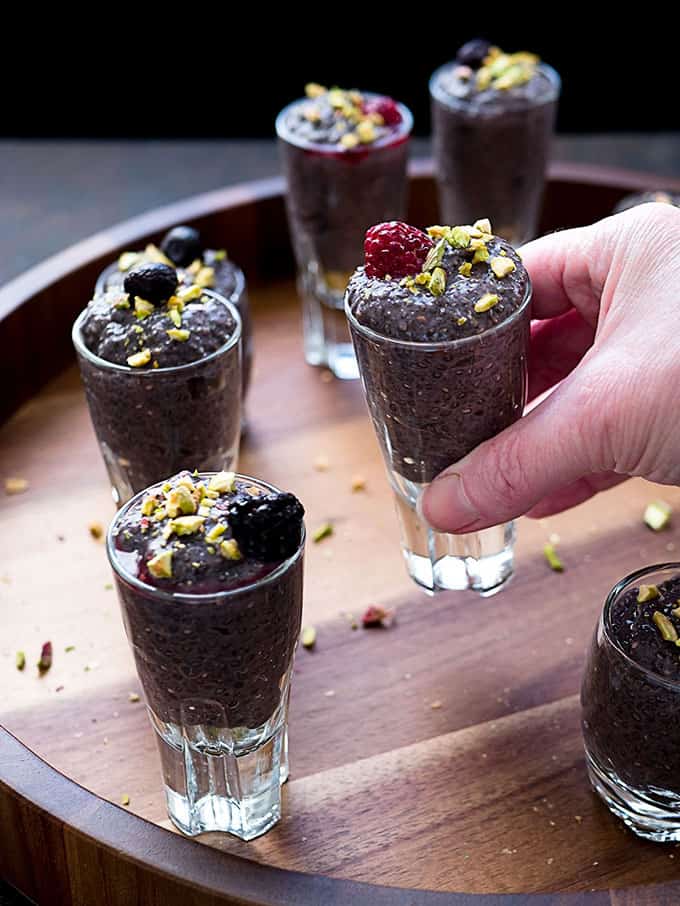 How is This Berry Chia Pudding Even Pudding?
I know. I was a hardcore out-of-the-box chocolate pudding freak as a kid. To be completely honest, chia pudding is not the same experience. It's not creamy.
There are seeds in there. And, with the possible exception of using full-fat coconut milk, chia seed pudding isn't nearly as rich as it's distant cousin.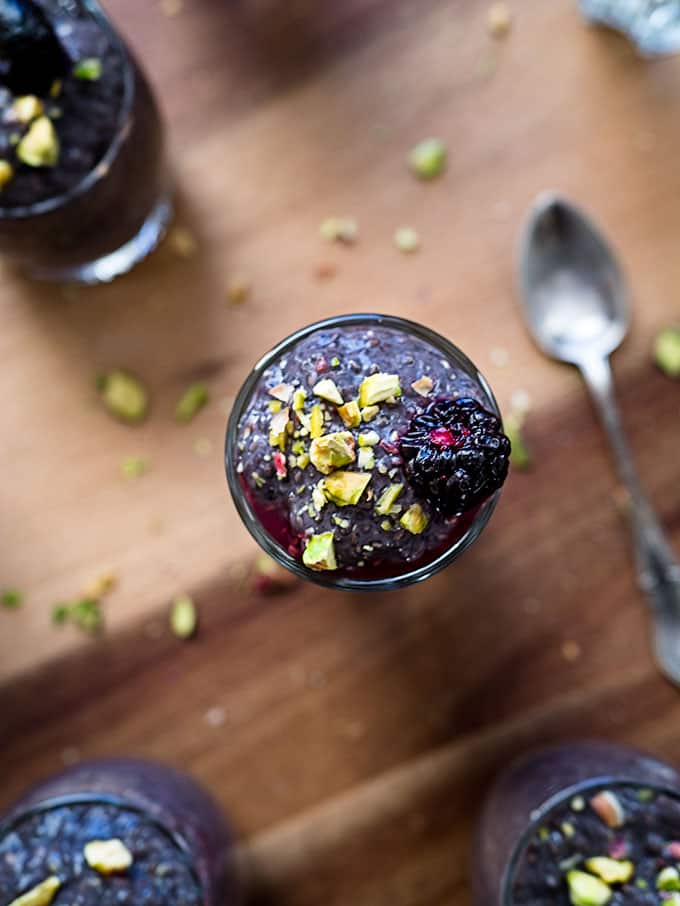 But, if you think of it as its own thing it makes a delicious healthy dessert option. it's all real food, easy to throw together and works with your body (not against it.) No starches. No gelatins. No heating necessary. You whiz it all up in a blender and chill it overnight. Chia seeds are great for your heart and blood pressure. They're loaded with fiber and Omega-3 fatty acids.
One tip before we wrap up. Let those chia seeds soak. Most chia pudding recipes will tell you to soak for 8 hours but I go for about 12 hours. The seeds are much softer at that point and the pudding is set firmly. For a looser pudding, use fewer chia seeds.
These dessert shooters are paleo, vegan and gluten-free. So whip some up, share with friends and stretch that holiday spirit all the way into SPRING (without stretching your pants any further.)
Looking for other Dessert or Sweet Shooters?
Check out Jen's Orange Sunrise Shooters, Nutella Cheesecake Shooters, and this Salted Caramel Kahlua Layer Shot!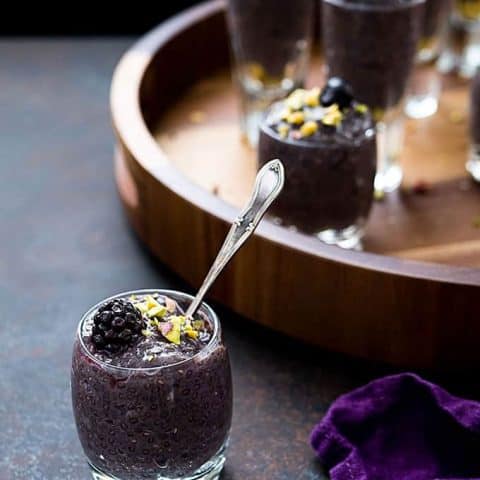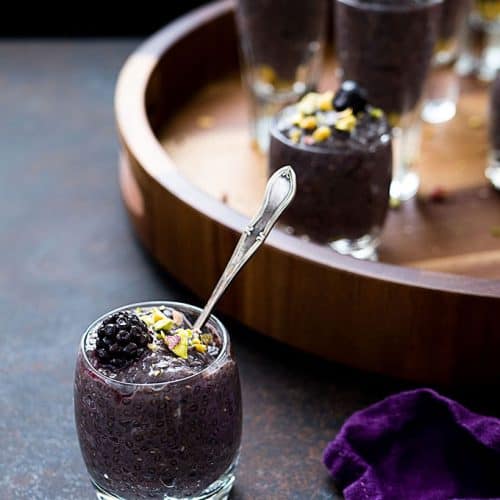 Berry Chia Pudding Dessert Shooters
Total Time:
8 hours
15 minutes
New Year. New You. New Dessert Options. These paleo Berry Chia Pudding Dessert Shooters will feed your festive spirit AND keep your #healthgoals on track.
Ingredients
INGREDIENTS
1 ¼ cup original unsweetened almond milk
1 small banana (cut up)
1 cup mixed berries (fresh or frozen)
1 Tablespoon pure maple syrup
½ teaspoon ground cinnamon
6 Tablespoons Chia Seeds
1 cup raw unsalted pistachios (shelled and chopped)
Instructions
DIRECTIONS
In a blender, combine almond milk through cinnamon and blend until smooth.
Add chia seeds.
Stir vigorously.
Let sit 10 minutes.
Stir again.
Refrigerate overnight.
To serve, layer some pistachios in the bottom of 8 to 10 shot glasses. Remove pudding from fridge and stir vigorously one last time. Fill shot glasses with pudding. Garnish with more chopped pistachios. Serve cold.
Nutrition Information:
Yield:

10
Serving Size:

1
Amount Per Serving:
Calories:

130
Total Fat:

8g
Saturated Fat:

1g
Trans Fat:

0g
Unsaturated Fat:

7g
Cholesterol:

0mg
Sodium:

55mg
Carbohydrates:

12g
Fiber:

5g
Sugar:

4g
Protein:

4g
This nutrition information was generated via a third party, Nutritionix, and can not be held liable for any discrepancies in the information provided.