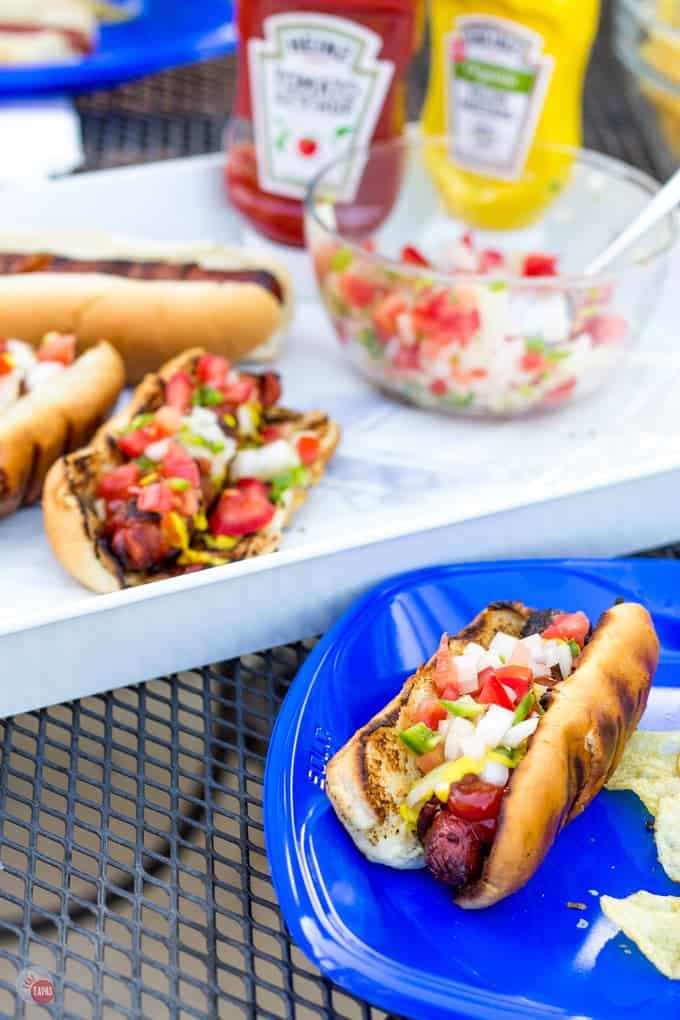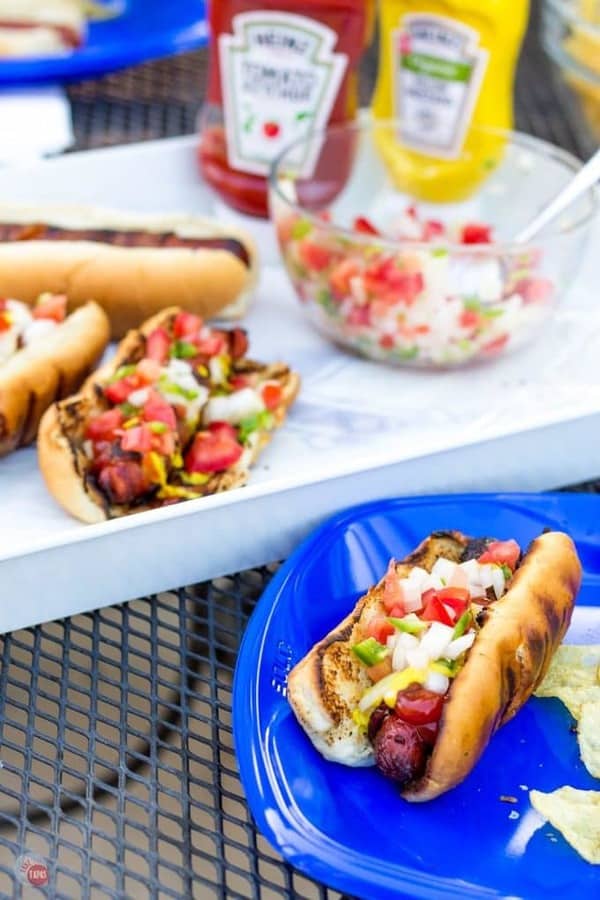 This post has been sponsored by The Kraft Heinz Company. All thoughts and opinions are my own.
These bacon wrapped hot dogs are perfect for your summer get-together. Summer has never been better with bacon on your hot dogs and a fresh tomato relish!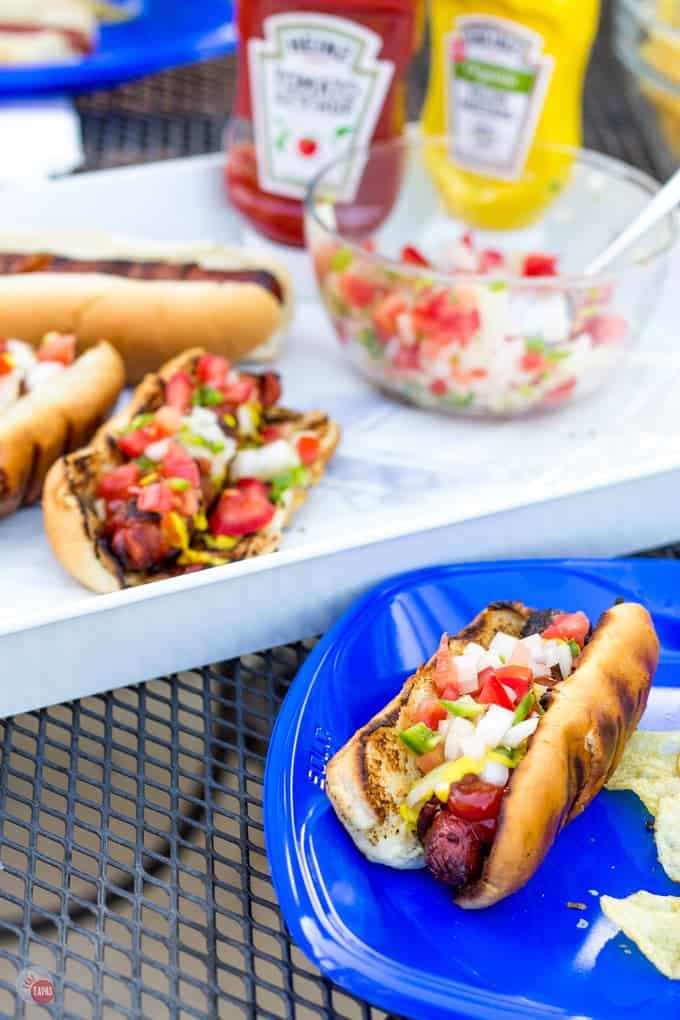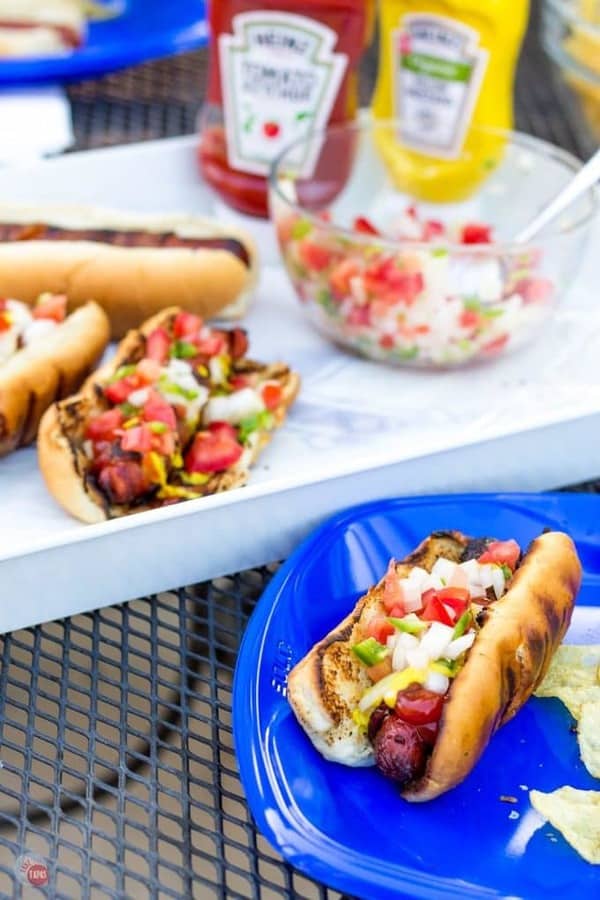 Nothing says summer quite like hot dogs on the grill but how about making your normal grill fare even better? Try these bacon wrapped hot dogs with a special trick for the buns to make the best hot dog of the summer! Your kids and your neighbors smelling all the goodness over the fence will thank you.
It's no secret that we just moved from Georgia to Arizona. We have been traveling here (Phoenix) during the summers for the last few years when the hubby was out here working. His travel schedule got to be too hectic so we made the leap and moved the family out. It's hot here, and it is a dry heat like everyone has been telling us, but we are still grilling up a storm.
It's also no secret that we love bacon in our house. My boys can polish off a pound of bacon in nanoseconds! Man can they put away some food. My mother in law tells me that it only gets worse as they get older. These growth spurts are killing me!
Having them home all day over the summer is leading to a crunch in my grocery budget. I need meals that can feed a crowd, or my two hungry boys, without breaking the bank and that are ultra tasty. Let me show you how a few essentials and a cool trick can feed 10 people (or my family with two growing boys) with a tasty recipe anyone will love.
Having them home all day over the summer is leading to a crunch in my grocery budget. I need meals that can feed a crowd, or my two hungry boys, without breaking the bank and that are ultra tasty. Let me show you how a few essentials and a cool trick can feed 10 people (or my family with two growing boys) with a tasty recipe anyone will love.
Follow this link for more summer recipes from Kraft!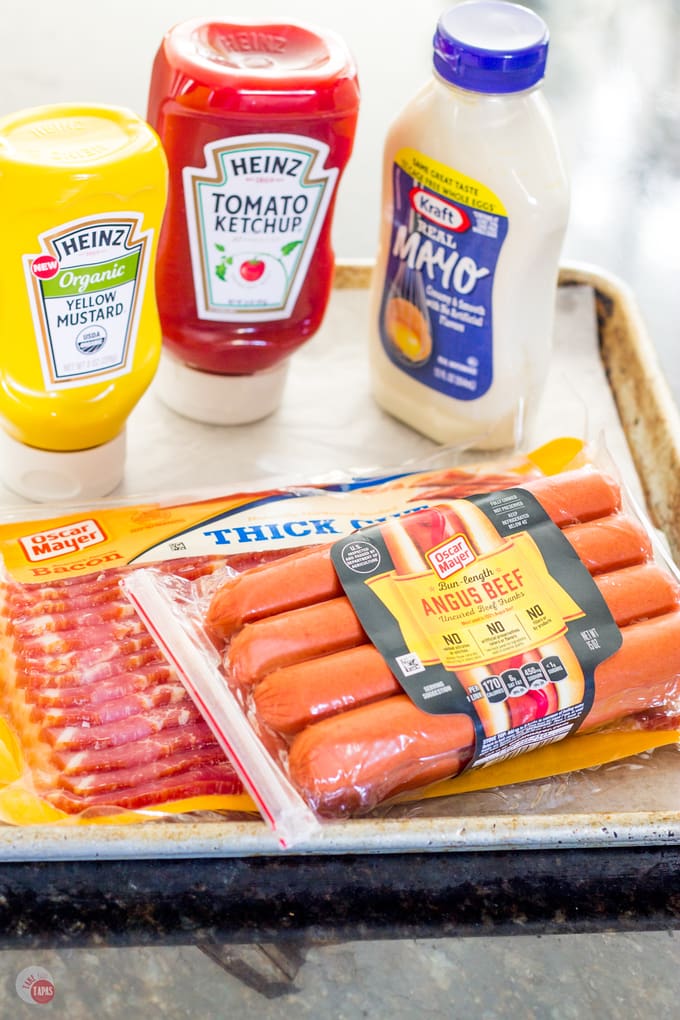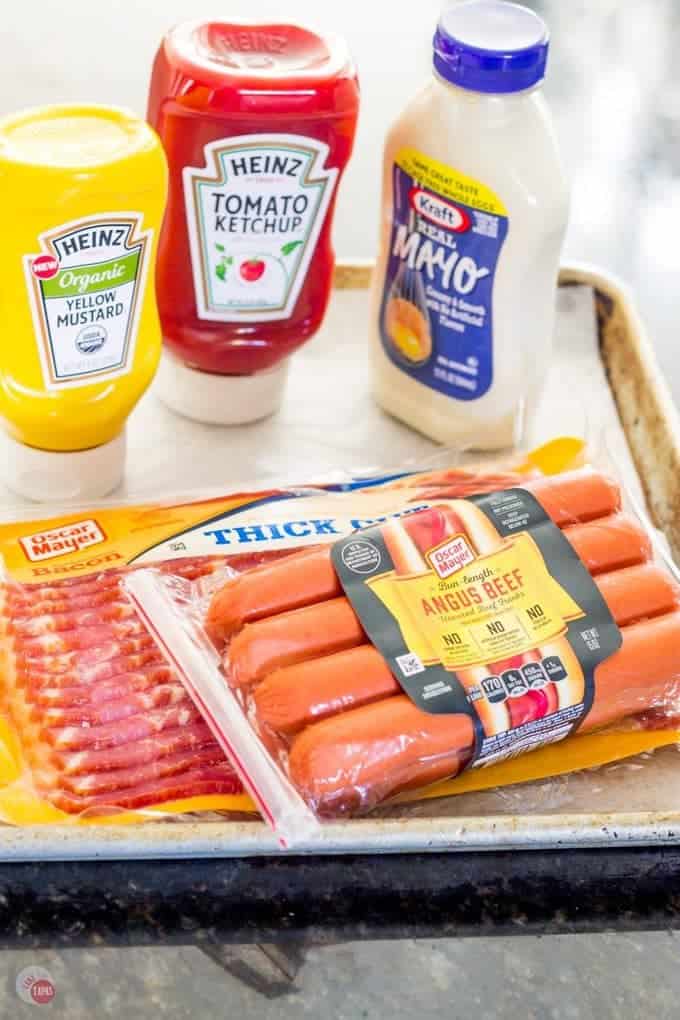 If you'd rather skip my (very helpful, I think) tips and tricks, essential cooking info, and similar recipe ideas – and get straight to this delicious recipe – simply scroll to the bottom of the page where you can find the printable recipe card.
Since the move last week, I have been to the store at least twice a day. I had to get rid of (donate to local friends and family) quite a bit of food from the fridge before we packed as it wasn't going to make the week-long trek in the moving fan for sure. But I never realized moving from one house to another will create shopping lists of items that I still needed.
Buying new pantry staples, condiments, meats to stock my freezer, and household items I thought I already had, has created a very tight budget for the summer.
I started making lists for my shopping trips to help me from making impulse purchases. Even with lists I still buy some extra things that are not on the list because I didn't know I needed them at the time. Case in point: light bulbs and batteries. I can't run out of those during the peak video game hours!
Good thing I can go to Walmart and get all those necessities without going to a grocery store AND a housewares store. I get lost just trying to go to the gas station right now.
While I am at Walmart, I can stock up on a variety of things. Kraft has a wide range of products, that are staples in my book, and you can use to create a ton of recipes! Save money and improve your summer meals when you buy Kraft Heinz products together.
Plus, I can afford to pick up that extra trash can I need for the new bathroom because of the low prices!
This post may contain affiliate links. As an Amazon Associate, I earn from qualifying purchases. Read my disclosure policy here.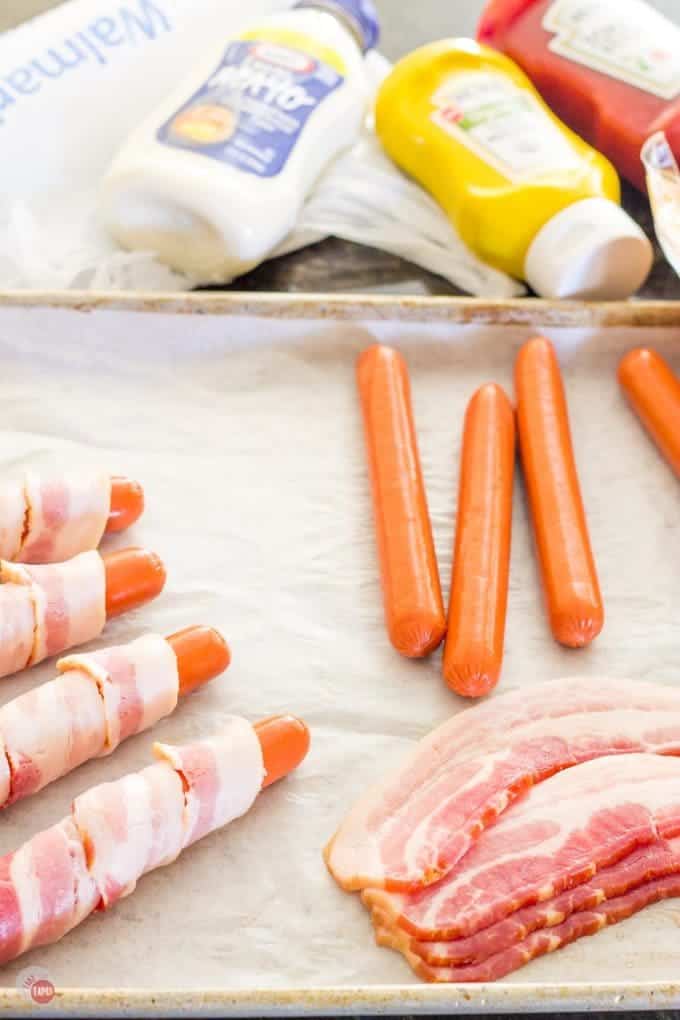 While at Walmart, I grab the essentials for the summer fridge. Ketchup, Mustard, Mayonnaise, Hot Dogs, and BACON are all essentials in our house. Looking for other summer essentials? Go to https://walmart.com/grabgowow for some inspiration!
I'm slowly teaching my kids to cook meals and they know how to make their own hot dogs when they get hungry. They don't use the grill yet, but for right now, I can get at least an hour or two between cooking something else for them to eat.
Don't think hot dogs are boring or that the kids will get tired of eating them. Even hot dogs can be fancy and exciting. Wrapping bacon around the wieners adds another layer of smoky flavor, plus you get a crunch when you bite into the hot dog with its crispy bacon "wrapping paper!" When I whip up these bacon wrapped hot dogs the kids go crazy for them!
A trick for the grill: I secure my bacon with toothpicks to help the bacon stay wrapped tightly around the hot dog as it cooks. Especially with a thick cut, the bacon tends to shrink or contract when it cooks and could cause it to unravel.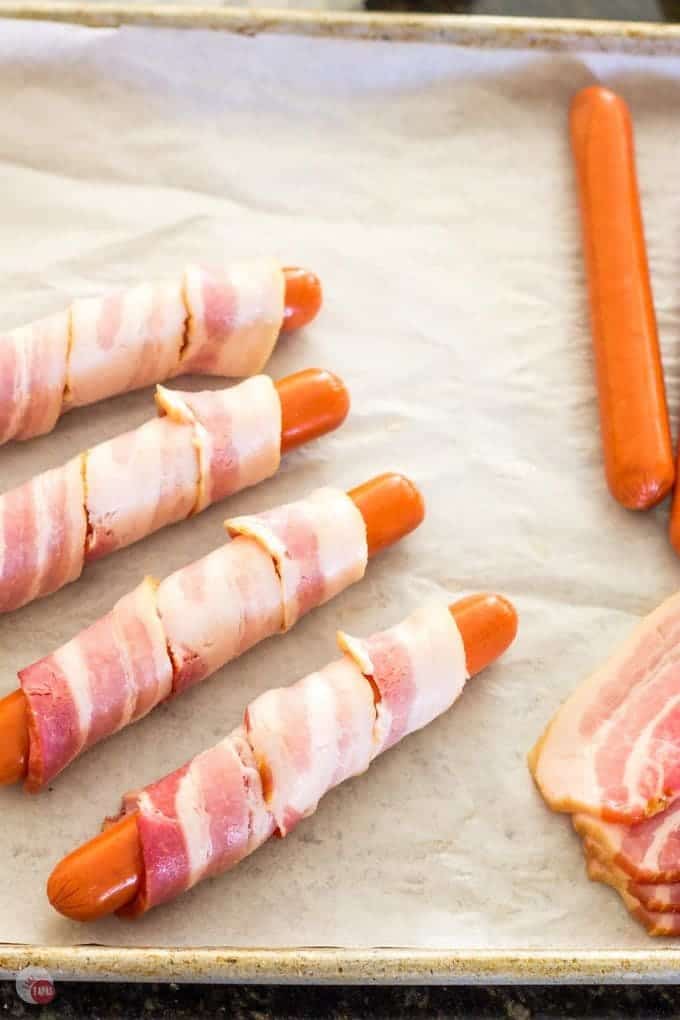 Wrap all the hot dogs inside while you are prepping a simple relish. The combination of tomatoes, onions, and jalapeno is the perfect partner with the smoky bacon, tangy ketchup, and bright mustard. Another layer of flavor comes from the trick for the buns.
Brushing the hot dog buns with a little mayonnaise makes them toast up on the grill without drying out. The mayonnaise also helps to make pretty grill marks on the outside of the buns for a festive presentation.
This works for grilled cheese sandwiches too!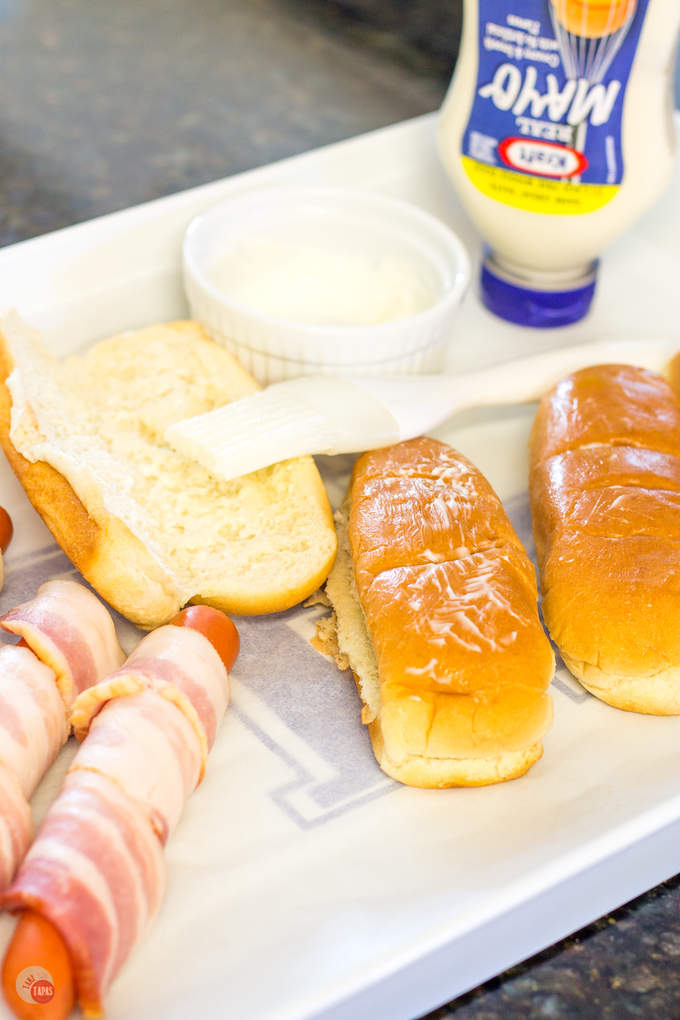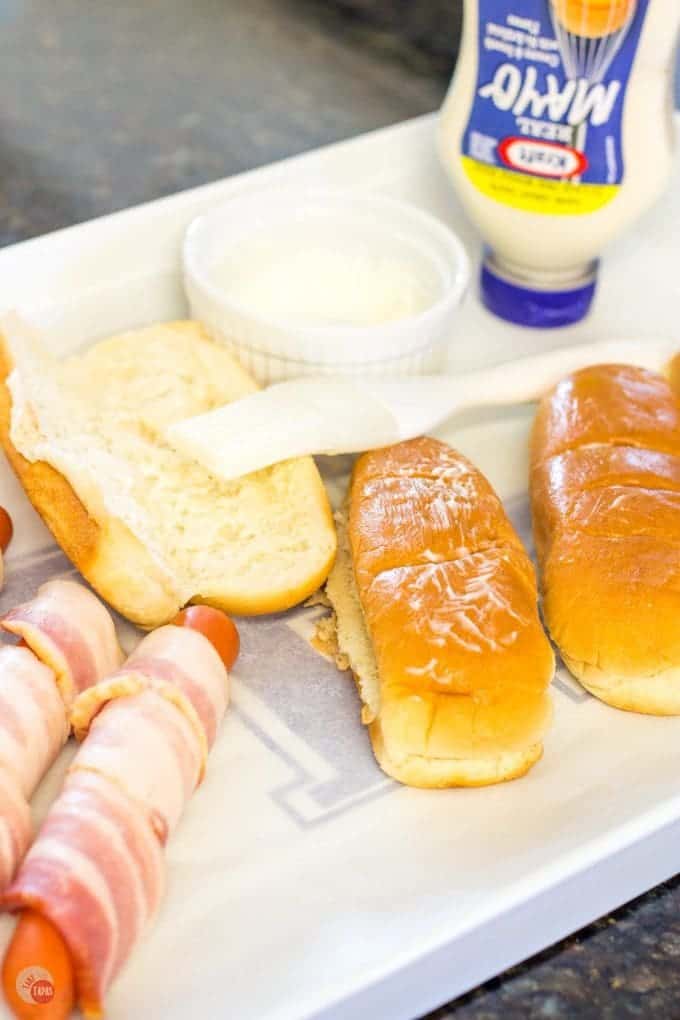 Grill up your bacon wrapped hot dogs right along with any other items you are grilling. We had a few leftover pork chops and found some ribs on sale while at Walmart.
They weren't on my list but now I can cook them along with my bacon-wrapped hot dogs for lunch another day.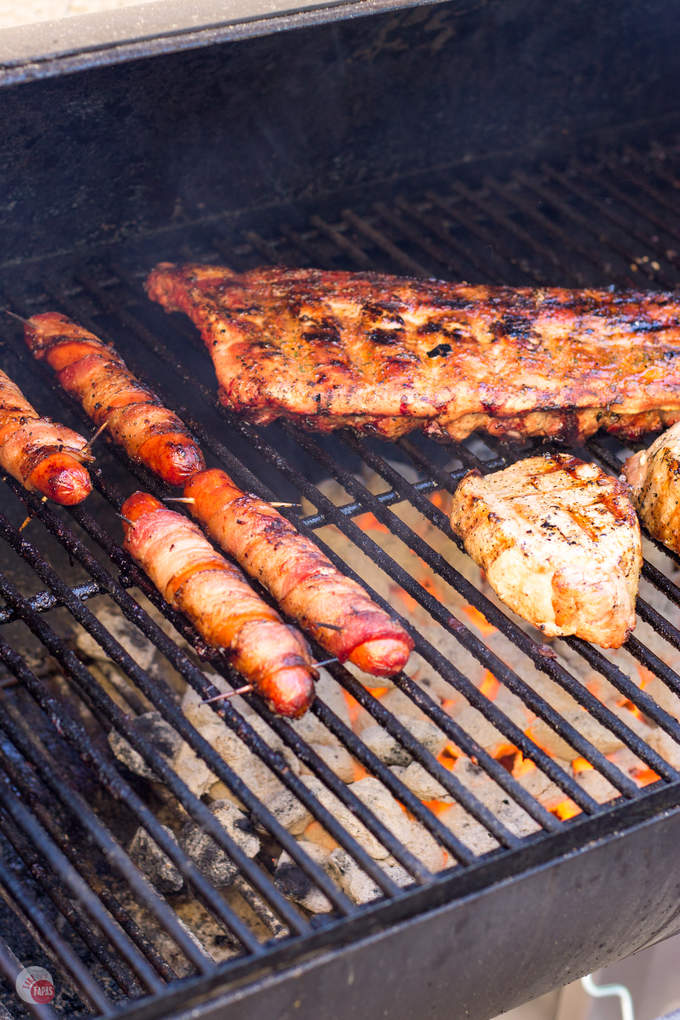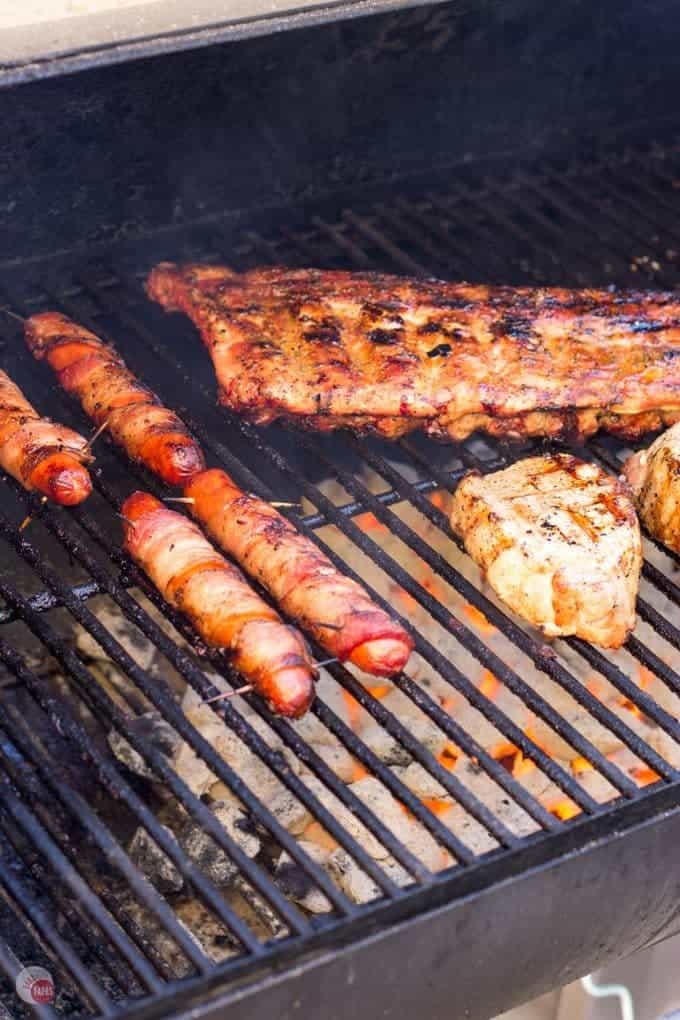 When the bacon wrapped hot dogs are done on the grill, I dress them up with Heinz Ketchup and Mustard, and the tomato relish from the fridge.
The cool relish goes great with the hot grilled dog. Click here for other great recipes using Kraft products!
I serve my bacon wrapped hot dogs with kettle-cooked chips because that is what my kids like, but my Comeback Crackers will make a great addition to the plate. And the recipe makes enough for 10 just like this hot dog recipe!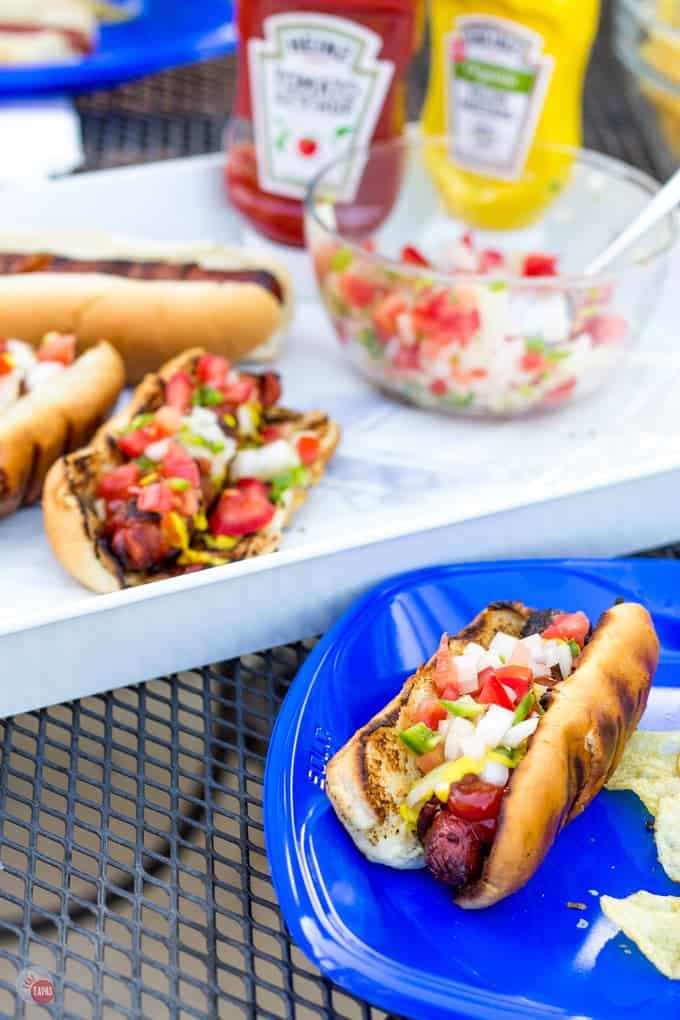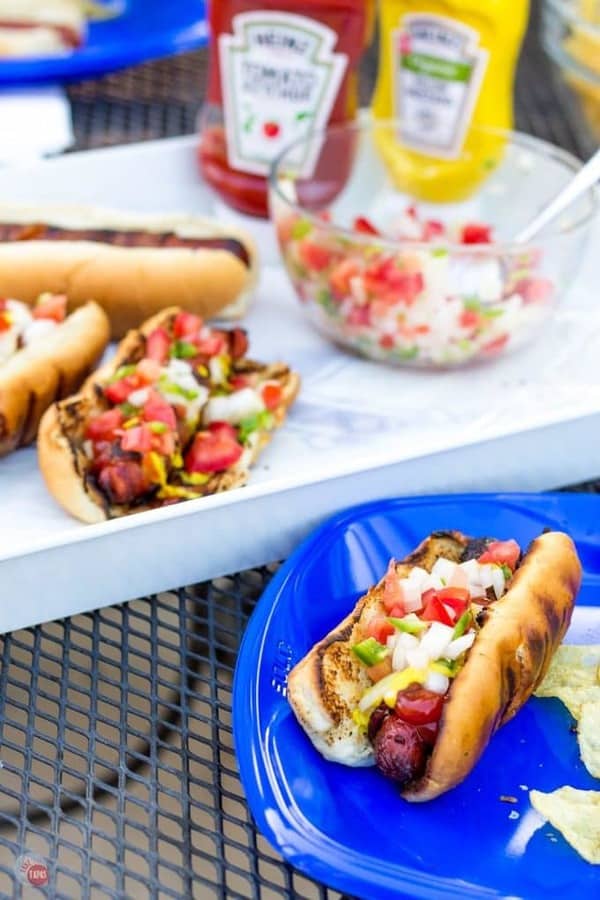 When you are ready for dessert, have some of my smoky Bacon Salt Brownies on hand. Portable, sweet, salty, and fit the summer grilling theme perfectly!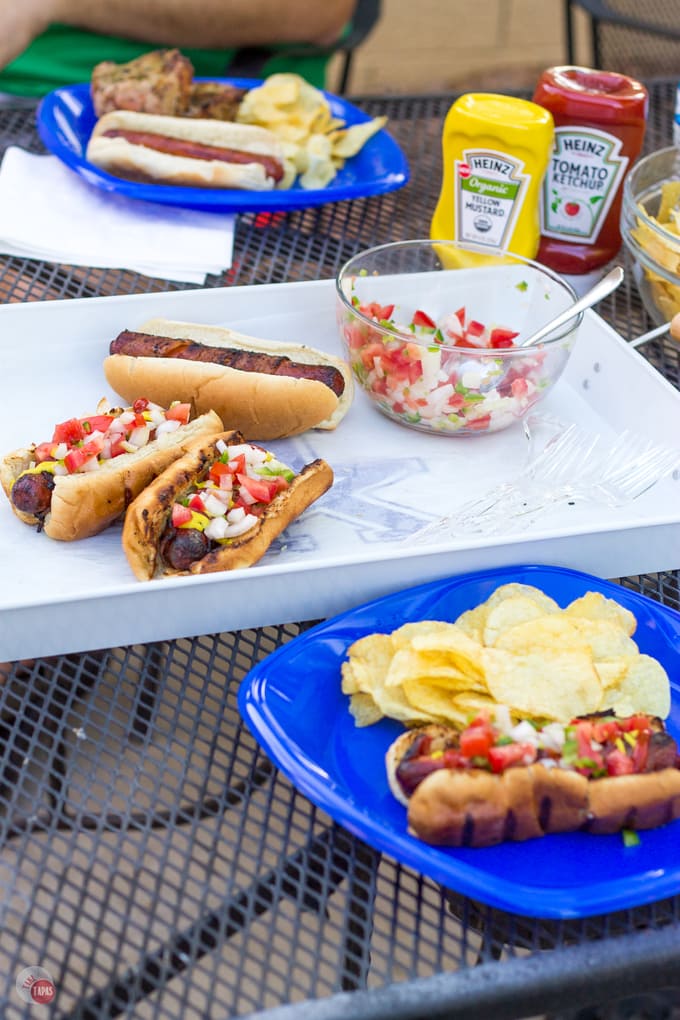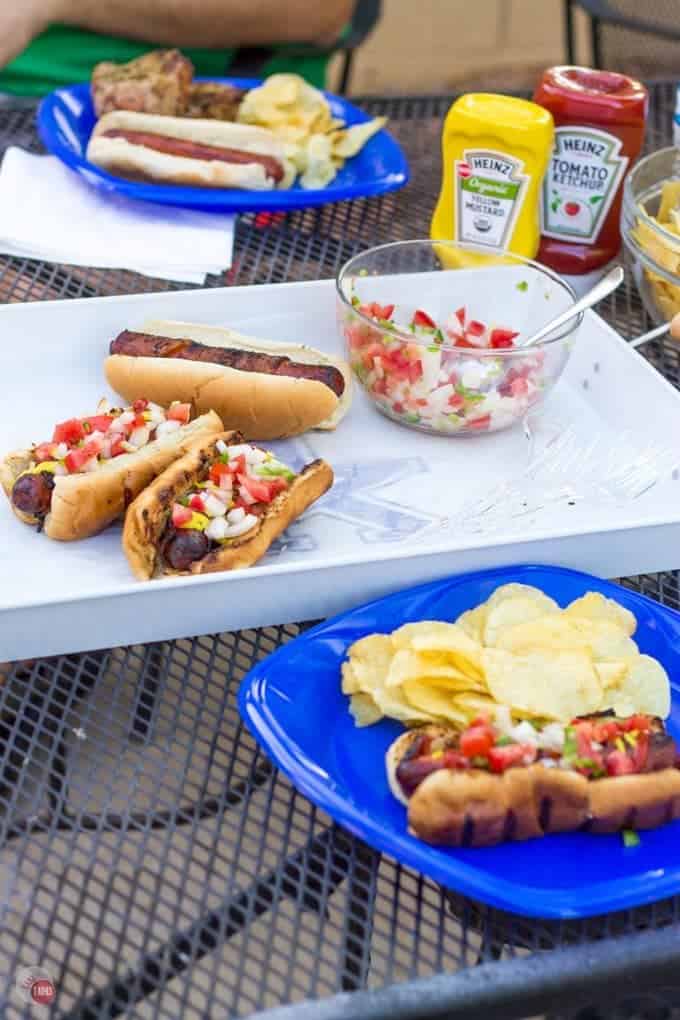 Get to Walmart, with your list, and pick up these essentials for summer fun! When you make these delicious bacon-wrapped hot dogs, and I know you will, tag me on social media with a pic and the hashtags #TakeTwoTapas and #GrabGoWow
Looking for more summer inspiration with Kraft? Check out these recipes!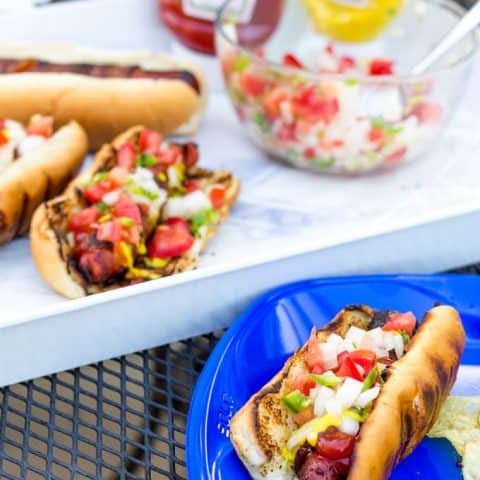 Bacon Wrapped Hot Dogs
This simple and tasty Bacon Wrapped Hot Dog recipe is perfect for feeding a crowd and keeping summer fun while keeping costs low!
Ingredients
1 medium-sized tomato (chopped)
1/4 cup onions (chopped)
1 jalapeno pepper (seeded and chopped fine)
10 slices OSCAR MAYER Bacon (I used Thick Cut)
1 16-oz package OSCAR MAYER Wieners (10 pack)
10 hot dog buns
1/4 cup KRAFT Real Mayonnaise
1/2 cup HEINZ Ketchup
1/4 cup HEINZ Yellow Mustard
Instructions
Heat grill to medium heat.
While the grill is heating up, combine the tomatoes, onions, and peppers to make a relish.
Keep relish in the refrigerator while you prep the hot dogs.
Wrap 1 bacon slice tightly around each wiener, tucking in ends of bacon slices to secure. I used toothpicks to help keep the bacon in place.
Grill bacon-wrapped hot dogs for 8-10 minutes or until bacon is done, turning occasionally.
Drain on paper towels as they come off the grill.
Meanwhile, brush mayo evenly onto both sides of buns, then grill 1 to 2 min. on each side or until lightly toasted on both sides.
Yes, put mayo on all sides of the buns. The mayo on the outside will help keep the buns from drying out and give you pretty grill marks!
Fill buns with wieners; top with tomato mixture, ketchup, and mustard.
Serve with chips!
Nutrition Information:
Yield:

10
Serving Size:

1
Amount Per Serving:
Calories:

379
Total Fat:

21g
Saturated Fat:

6g
Trans Fat:

0g
Unsaturated Fat:

13g
Cholesterol:

44mg
Sodium:

1034mg
Carbohydrates:

31g
Fiber:

2g
Sugar:

7g
Protein:

15g
This nutrition information was generated via a third party, Nutritionix, and can not be held liable for any discrepancies in the information provided.